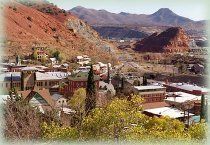 I recently traveled on business to Bisbee, in southeastern Arizona, and decided to take my children along. What does this historic Arizona town have to offer for family travelers? What a wonderful family destination! It's remarkable that the city is so well preserved from its turn-of-the-century Gold Rush heyday.
Actually, it was known as "Queen of the Copper Camps;" Bisbee used to be the center of the copper mining industry and in the early 1900's was the largest town between St. Louis and San Francisco.
In the historic center of town, there are a number of opportunities to get to know the area. Guided tours and self-guided walks are available to point out where there used to be lynchings in the town square, dozens of saloons known for their gambling and prostitution, and more than 300 breweries. Bisbee Trolley Tours (520/220-4192), which operate from the Copper Queen Plaza, provide visitors with another sightseeing option.
Also, Queen Mine Tours (520/432-2071) offers a fascinating visit to an old copper mine just outside of town. Queen Mine opened in 1877 and was one of the richest copper mines ever discovered. We had to put on a rain slicker, helmt and headlamp, then a real-life miner took us underground on a train ride into the mine and spoke to all our families about what life was like in those days.
The Bisbee Mining & Historical Museum, actually affiliated with the Smithsonian Institution, is another spot where visitors can learn about Bisbee's rich mining history. Brewery Gulch, the Copper Queen Hotel and the Lavender Pit are also open for sightseers — but my kids had already seen enough.
Bisbee is much quieter now than it was then. It has become very artsy, with a main street lined with art galleries, gourmet restaurants, coffee houses, bookstores, and specialty shops. But my kids loved imagining what it had been like during the Wild West.
Anyone visiting Tucson should pay a visit. For more information on Bisbee, Arizona, check out www.discoverbisbee.com or call 877/556-3733 or locally, 520/432-6000.
For more information about Arizona, visit www.arizonaguide.com. or www.arizonavacationvalues.com.
---
This story was accurate when it was published. Please be sure to confirm all rates and details directly with the companies in question, and stay up to date with current events to ensure a safe and successful trip.