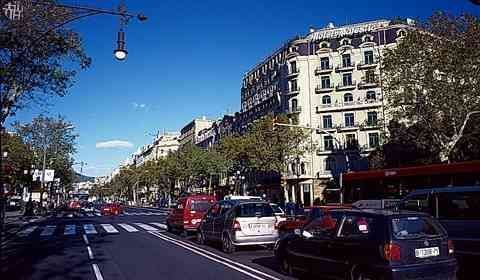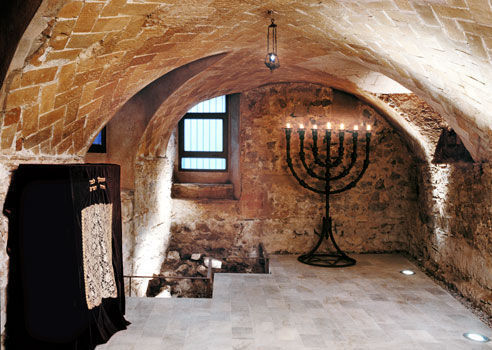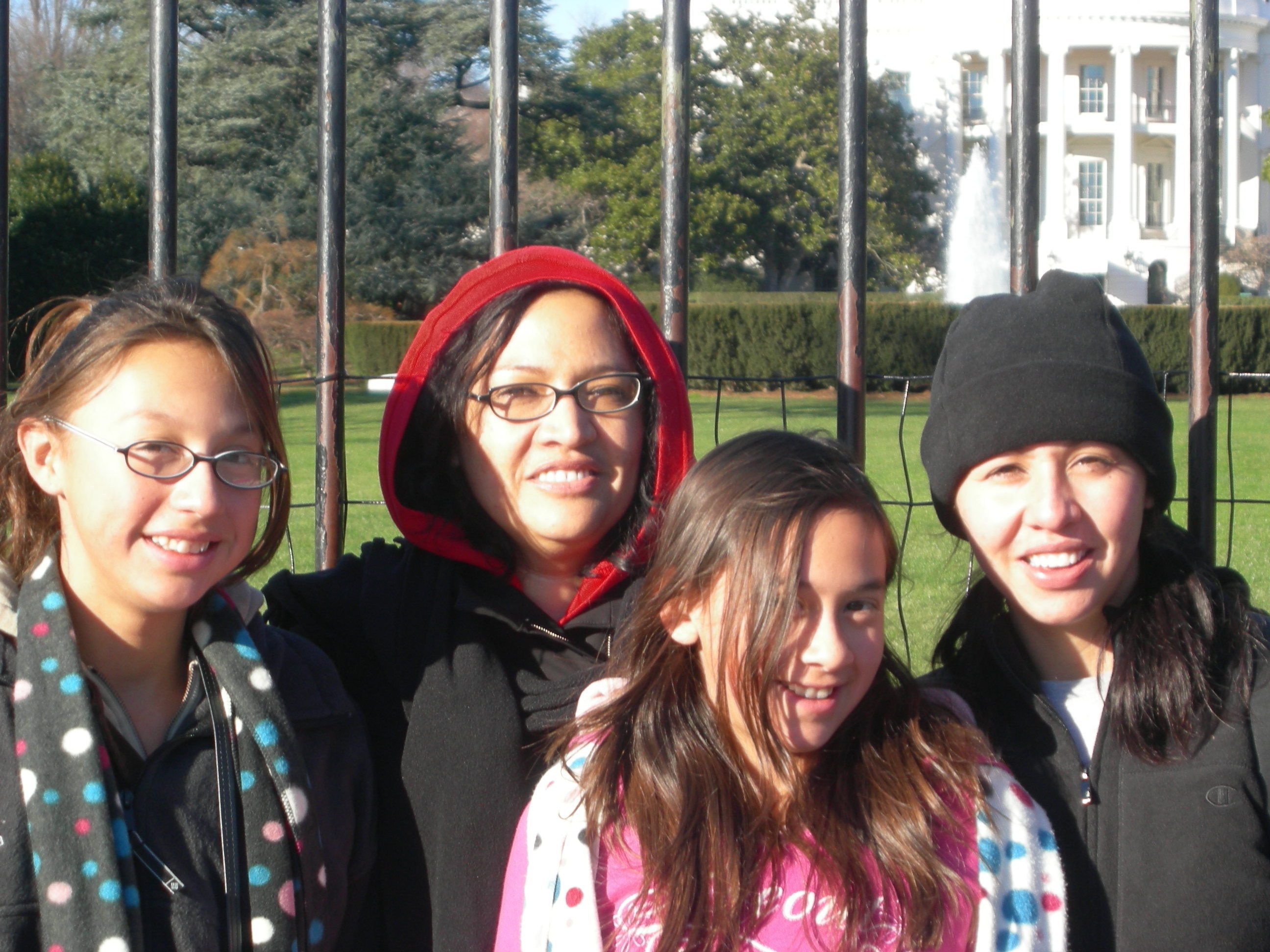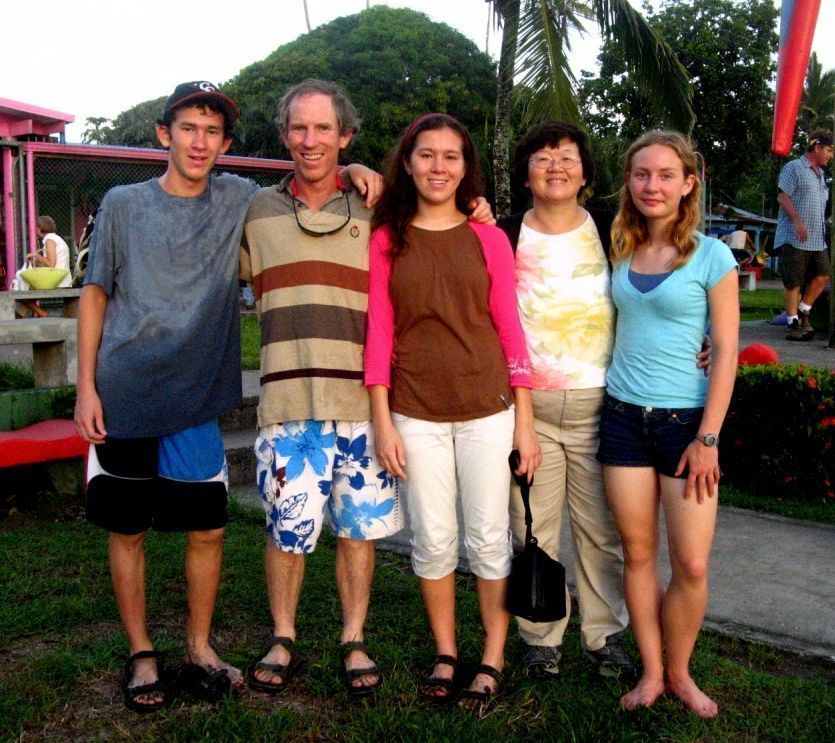 Buenos dias! Here are some thoughts on getting around Barcelona, things we consider to be "must dos," things you might like to do, places to shop and and eat, and day trips.
Buenos dias! Here are some thoughts on getting around Barcelona, things we consider to be "must dos," things you might like to do, places to shop and and eat, and day trips. We collected this information during our August, 2003 visit and wanted to share it with other families.
Our Hotel in the Eixample Neighborhood
Hotel Majestic
Passeig de Gracia 68 (corner of Carrer de Valencia)
(011 34) 93 488 17 17, 866/376-7831 (US toll-free, attended by Epoque Hotels)
Breakfast is served in the Condal Restuarant. It's a big buffet (€21) and is not included in the room rate. There is also room service. As an alternative, cafes in the neighborhood provide simple coffee and pastry.
Don't miss the gym and the view from the pool on the roof. One can sit up there and read even if it's too cold to swim. The pool isn't large, but children seem to have a ball in it.
The Business Center has computers/email on the lower level and there is also WiFi access in all of the 303 rooms.
Rooms have hair dryers and safes for valuables.
Use the Concierge!: All the concierges speak English. Let them make your dinner reservations, get tickets and suggest places to visit in Barcelona. Also, the concierge can tell you where a local laundromat is. Be sure you tell them you want the kind where you can drop off your laundry as opposed to do it yourself (they resisted helping us with this because the hotel provides laundry service but it's too expensive–just press them on it–look, a pun!). You can tip these guys at the end (as we did) or as you go.
The neighborhood around the hotel looks like the equivalent of Chicago's North Michigan Avenue, in an area called Eixample. In the block or two just south of the hotel on Passeig de Gracia, there are several bookstores with great English language sections. If you walk five blocks south along Passeig de Gracia you will come to Placa de Catalunya, leave the Eixample, and enter the Ramblas area and the older section of town–just like crossing the Chicago River and continuing on South Michigan Avenue! The Eixample has the best shopping and restaurants, but more importantly, it has the most architectural jewels (more later). Passeig de Gracia has all the big label stores just like North Michigan Avenue, but the side streets have wonderful little stores, chocolate shops, delis, and local designers.
One block west of de Gracia is Rambla Catalunya, which is a nicer, quieter extension of La Rambla and has lots of easy cafés and shops. La Rambla itself begins at Placa de Catalunya, continues south, and is a zoo–at least it was in the summer. The area feels comfortable for walking around at night. Rambla Catalunya is a good street to grab a light bite for dinner rather than book a restaurant. There is also an old fashioned grocery/deli on its west side for hotel room snacks.
Getting Around and Finding Your Way
While Barcelona has a good subway system, we recommend taxis. Barcelona is beautiful and small like San Francisco so distances are short and you get to see so much more in a taxi. There are taxi stands all over the city and may be indicated on your travel map. You can also hail a cab. Tipping is 5% for cabs.
Use the doorman for a taxi at your hotel, even if there is a cab stand nearby. Unlike the waiters and salespeople at better restaurants and stores who likely will speak some English, taxi drivers speak no English— in fact they mostly speak Catalan rather than our high school Castilian Spanish. So tell the doorman where you want to go and let HIM tell the cab driver. We tipped the doorman €1 frequently, but not every time we asked for a cab.
A tip for fellow non-Spanish speakers: we found it effective when we needed help or information to begin by asking Habla usted Ingles? (Do you speak English?) rather than just barreling ahead in English. It got us on the right foot with people from whom we needed help, as did a lot of gracias and por favors! People were very helpful and communicated in English as best they could.
---
Shop Stops in Barcelona
Be aware- many shops close between 2pm and 5pm for siesta. The good news is that they are then open until 8pm!
A neighborhood sure to be popular with teens for shopping and hanging out is Gracia, an artsy enclave a few subway stops north of Eixample. Most of the crafts, books, music and funky clothes shops are along Carrer Verdi, north of the Placa Revolucio, and tucked in between are many small tapas and wine bars. The Verdi Park Cinema (+34 93 238 7990) shows foreign art films and draws students and expats. We didn't try, but had recommendations for the Catalan-style El Raco de les Bruixes at 4 Carrer Aulestia I Pijoin (+34 93 218 2379) and the Taberna del Cura at 83 Gran de Gracia (+34 93 218 1799) as fun restaurants. The same chef as the celebrated Botafumeiro (+34 93 218 42 30), a seafood restaurant nearby, runs Taberna del Cura, but the focus is on meat and the prices are much lower.
Cotelac is the only shopping that we will recommend. Debbie saw this store in Paris, when it was too hot to shop, and lo and behold, they have a branch up the street from the Hotel Majestic at 264 Carrer Valencia. We bought six outfits between us here; ask for Josephina and give her our best!
Our Favorite Things to See and Do
Following are descriptions of the things/places/ we really loved, as well as things we wish we'd had time to do, or wished weren't closed in August. We've organized this section by geographical areas so you can group things together. And, especially in summer, we recommend frequent gelato breaks!
Sights in Eixample
La Pedrera
+34 93 484 5900
An apartment building designed by Antoni Gaudi, this is two blocks north of Hotel Majestic on Passeig de Gracia at Carrer de Provenca. La Pedrera is the best place to visit first because the museum in the attic is the best overall introduction to Barcelona. We loved the audio guide! You can speed through some of the more detailed architectural spots, but the materials on Gaudi, Barcelona, and Spain provided a wonderful base for the rest of our trip. Don't miss the roof or the renovated apartment or whatever is on display in the gallery. La Pedrera can get crowded so try to go early. Children under 12 years old are admitted free.
Casa Batllo
+34 93 488 0666
This is one block south of Hotel Majestic on de Gracia, just below Carrer D'Arago. There are three fabulous Modernismo townhouses in a row called Mansana de la Discordia, but #43 is by Gaudi and open for tours. Again, use the audio guide. Dino's (the best gelato in town) is open late at the next corner, Carrer Consell de Cent.
La Sagrada Familia
+34 93 207 3031
This is Gaudi's masterpiece— it was begun in 1882 and is supposed to be completed by 2030! There are English tours offered, or use the audio guide, which we loved. We took the elevator to the upper floors— the views are spectacular but the staircases into the spires are really claustrophobic and may not be for everyone.
Sights in Barri Gothic
This is the old part of town— very diverse and fun— but most guide books mention that you don't want to be walking around here a lot at night. If you find a place to eat here at night, ask the restaurant to call a cab for you when you are ready to go home.
Palau de la Musica Catalana
Carrer Sant Francese de Paula
+34 93 295 7200
Montaner, a contemporary of Gaudi, designed this concert hall. It was being renovated when we were there, so we only saw the outside. If you see a concert, try to see it in the main concert hall, which is supposed to be eye-popping. Otherwise, take a tour— there are English tours available. In 1997, it was declared a UNESCO World Hertiage Site.
Barcelona Cathedral/Casa de la Pia Almoina
Place de la Seu
+34 93 315 2213
This is very beautiful. Don't miss the geese in the cloister.
---
El Call
This is the old Jewish Ghetto, just west of the cathedral. As the streets are fascinating and very narrow, it's a great place to stroll and eat. From the plaza in front of the cathedral, take Carrer de la Palla west. It runs into Carrer Banys Nous, a main drag in this old section. There is a café where these two streets meet where we ate lunch twice. It's like a casual charcuterie. Our favorite dish was the Catalan Toast (the waiter will show you the listing on the menu, which is multilingual). This is wonderful toasted bread on which you rub fresh tomato, garlic, and olive oil, and then add whatever meat, pate, or salad you've ordered. The duck pate is especially delicious! Or, just up the street is Caelum (+34 93 302 6993) café and bakery at Carrer Palla 8. Named after the Latin for Heaven, the monks make all of the baked goods and the café is downstairs at the site of fifteenth century Jewish baths.
Continue on down Carrer Banys Nous to Carrer del Call and find Carrer Marlet around the corner. Here remain the ruins of a medieval Jewish synagogue at #5 Marlet. It's tiny, but the guide there had much to say about medieval Spain and the Jewish community.
La Rambla
We didn't love La Rambla, but maybe in the off-season it's a fun walk. The western edge of El Call meets La Rambla at Mercat de La Boqueria, the biggest mercado (market) in Barcelona which is big and bustling, and you can buy every kind of meat, cheese, and fruit for a picnic or the hotel room. There's also another nice church nearby Iglesia de Santa Maria del Pi (+34 93 318 4743) in a square of the same name.
Also around the Cathedral are wonderful squares from different eras: Placa del Rei (medieval), Placa de Sant Jaume (15th century), and Placa Reial (19th century grandeur). There is rest and coffee available in any of these squares.
Sights in El Born/La Ribera
This is an old part of town but being reclaimed by artists and designers, so it feels part medieval and part Soho! Teens may enjoy this section, with its hip clothing stores, cafes, and bars.
Museu Picasso
Carrer de Montcada 15-23
+34 932 563 000
This museum, housed in four medieval mansions on a wonderful old street, is fabulous for the whole family. The audio guide works well. The museum covers only the years Picasso painted in Barcelona, so don't expect to see any Cubism here–that was all done in Paris! Needless to say, this museum gets crowded so you might like to get there early.
As you continue down Montcada into the El Born section, off one of the side streets is a very old nut store. Montcada ends at a square with a wonderful church called Santa Maria del Mar (+34 93 310 2390).
Our favorite chocolate store, XOCOA, stands at #8 Carrer Vidrieria just off the square at Passeig del Born. Barcelona is full of chocolate stores to a degree that we Americans have never seen at home. XOCOA has several branches throughout the city.
---
A Few More Places to See in Barcelona
We also visited Montjuic, which has the Fundacio Miró (93 443 9470), which we liked, but did not love, because that's a lot of Miró! We didn't see the Olympic Village but it's supposed to be interesting. Montjuic also has a large park where the 1929 World's Fair took place (lots of buildings shaped like wedding cakes), containing the Pavello Mies Van der Rohe (an emblematic, modernist pavilion for Germany at the World's Fair).
We enjoyed Gaudi's Parc Guell, with its wacky tiled buildings at the entrance, wavy benches, and wonderful view of Barcelona. Other kid-friendly parks that we didn't visit include Parc de la Ciutadella with a zoo, greenhouse, and lake with boat rental, and Parc d'Attraccions del Tibidabo, an old-fashioned amusement park high on a hill.
Day Trips Outside the City
We were not able to visit any of the following places on this past trip, but will see them all someday! Most of them are about an hour away by train which seemed to depart from the RENFE station across the street from our hotel. Since guidebooks often only contain summer information, your hotel concierge may be the best bet to confirm train schedules and departure and return points year-round.
Stiges: This town is close to Barcelona— only a 30-minute train ride away with trains leaving at least every half hour. In the summer, it's a popular gay destination and remains a swanky resort town for all well-to-do Spaniards. We loved San Sebastian— the swanky resort town for well-to-do Spaniards on the Atlantic and built in the same era— so we suspect Stiges is also enjoyable. For lunch, try El Velero (93 894 2051), which is on the water at Passeig de la Ribera 38.
Tarragona: Tarragona is farther down the Mediterranean (just over an hour by train). It features Roman ruins and several world class restaurants. Try Merlot (+34 977 228 153; opened daily for dinner and Tuesday-Sunday for Lunch) in the old part of town at 6 Caballers.
Aeri de Montserrat: About an hour by train. Once you arrive, take a cable car to the Monasterio de Montserrat (+34 982 404 715). Beautiful monastery, gorgeous setting, great hikes!
Girona: This is the town that we felt sorriest to miss as we drove up the coast. It's an hour and fifteen minutes away from Barcelona by train and has a cathedral, medieval Jewish quarter, and a 12th century Arab bathhouse. Plus it even has a branch of our favorite shop, Cotelac as well as a Museu de Cinema (+34 972 412 777)! Eat at Cal Ros (+34 97 221 7379; Calle Cort Reial 9) or Bronsoms (+34 97 221 2493; Sant Fransesc 7)–both in the old part of town.
Figueres: We enjoyed the Dali Museum (+34 972 677 500). It was, however, a two-hour train trip, which is a lot for a day trip, and we're not sure that Figueres has other charms.
For this trip, we traveled as sisters without Linda's kids, but she says Barcelona is a like a real-life Disneyland and her kids would love it! After the city, we went up the Mediterranean coast and then flew to San Sebastián and Bilbao. The beaches at San Sebastián were magical, and Bilbao was much more than the Guggenheim, but that's another story.
First published by FTF in 2003. Debbie Reinisch lives in Los Angeles, CA while Linda Reinisch lives in Chicago, IL.
Dear Reader: This page may contain affiliate links which may earn a commission if you click through and make a purchase. Our independent journalism is not influenced by any advertiser or commercial initiative unless it is clearly marked as sponsored content. As travel products change, please be sure to reconfirm all details and stay up to date with current events to ensure a safe and successful trip.
---