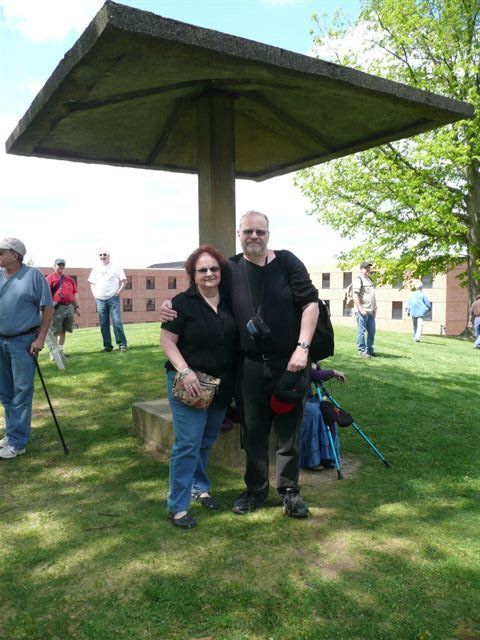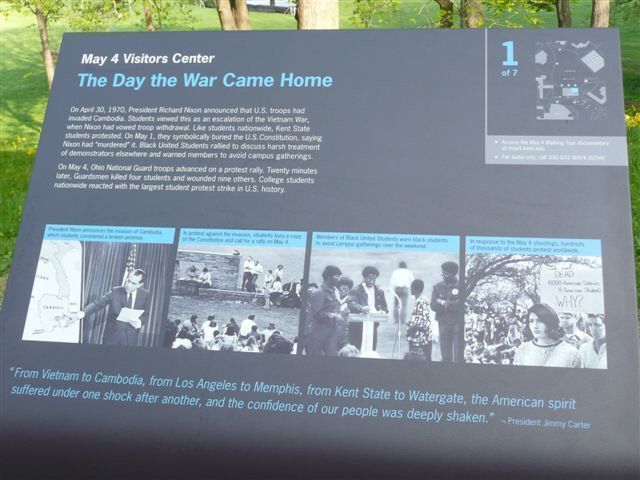 When people meet my husband and the subject of college attendance comes up, most are intrigued when he mentions having been a student at Kent State University in Ohio. Those of you who were around in the late 1960s and 1970s will know exactly why. This was the campus where four students were killed and nine others injured by the Ohio National Guard during a campus protest against the Vietnam/Cambodia Wars.
This event, the culmination of several days of protest, is sometimes referred to as the Kent State Massacre. It took place during tumultuous times, when teens and young adults were actively involved in protests against wars they felt were not ours to fight, affecting them directly, as there was a military draft in place. Their parent's generation was largely more supportive of the government's policies, creating anger and tension within families about the protester's rights. America was polarized and deeply divided. In some ways the events at Kent State brought the war home, and changed many people's attitudes about these issues.
On May 4, 1970, my husband was present on the field near the protests and observed much of the action. He never spoke about it in great detail, but over the years it came up from time to time. Earlier this year he told me that he wanted us to attend the 40th anniversary of the event and I was somewhat surprised about his interest as he never talked of going back for previous anniversaries. I agreed that it was an important milestone, and we made plans. What I learned while there made the event so real to me, and helped me understand perhaps why he wasn't ready to return before.
Seeing the lay of the land and hearing the stories being told, I realized how terrifying it must have been. The parking lot where the four unarmed students were murdered was small, and they all fell within a few feet of each other. Jeffrey Miller was the closest to the National Guardsmen at 265 feet; their average distance was 345 feet. Two of the murdered students were actively protesting, two were on their way to class. My husband showed me where he was standing, right on the periphery of the parking lot, and told me he heard a cracking noise as bullets passed around him.
Throughout the day, my brain kept singing Neil Young's "Ohio":

"Tin soldiers and Nixon's coming
We're finally on our own
This summer I hear the drumming
Four dead in Ohio"
After the 67 rounds were fired into the crowd, chaos broke out. While many angry students wanted to retaliate against the National Guardsmen, one professor pleaded "I don't care whether you've never listened to anyone before in your lives. I am begging you right now. If you don't disperse right now, they're going to move in, and it can only be a slaughter. Would you please listen to me? Jesus Christ, I don't want to be a part of this…!"
Shortly, the students dispersed in shock and fear. As this was before the days of cel phones and text messaging, they had no way to contact their families to reassure them that they were not among the injured or dead. The telephone lines were down (presumably cut by the National Guard) and kids scrambled to leave campus. One of my husband's friends was somehow able to get a phone line out and called his father, who then called my father-in-law. They drove to Pittsburgh and my husband took a flight back home to New Jersey. He did not return to Kent State in the fall.
At the anniversay events, several witnesses spoke about believing that the Guardsmen's guns must have been filled with blanks, and were stunned to find out otherwise. One witness spoke in tears of driving in the rain on a motorcycle with a broken headlight, with his textbook zipped into his slicker, to his aunt's home in Cleveland. A third, a good friend of one of the murdered young women, spoke of her parent's relief when she arrived home, and her father's comment that "they got what they deserved."
"Gotta get down to it
Soldiers are gunning us down
Should have been done long ago.
What if you knew her
And found her dead on the ground
How can you run when you know?"
Over the following weeks, more than 450 high schools, colleges and universities where strikes and demonstrations by four million students were held, were closed by their administrations. On May 9, Washington, DC was the site of a demonstration of 100,000 people outraged by the war and the killing of students. While the Nixon administration and other government officials had referred to the anti-war activists as "pawns of foreign communists", and "the worst type of people we that we harbor in America," photographs of the events at Kent State did increase the negative opinion of the country's invasions of Vietnam and Cambodia.
While the question of whether or not there was a formal order to fire continues to be disputed, and Guardsmen claim they were in fear for their lives due to the protester's behavior, the President's Commission on Campus Unrest, published in September of 1970, criticized the protesters as well as the Guardsmen, and concluded that the "indiscriminate firing of rifles into a crowd of students and the deaths that followed were unnecessary, unwarranted, and inexcusable".
Due to the efforts of a group of students and community members known as the May 4 Task Force, there have been several plaques and memorials to the event placed on the campus over the years. The most haunting are the four memorials in the parking lot, located in the exact spots where each student fell. They are small rectangular plots, surrounded by four-foot high pillars, with a plaque inscribed with the student's name in one corner. My husband participated in the vigils that were held throughout the day of remembrance this year, by standing in the center of one of the memorials with a lighted candle. In 2008, plans to construct a permanent May 4 Visitors' Center were announced and the project is now well underway.
On February 10, 2010, over 17 acres of the campus were listed as the Kent State Shootings Site on the National Register of Historic Places. A permanent exhibit will be installed at The Visitors' Center in a building overlooking the University Commons where the students gathered on May 4, 1970. There is a self-guided walking tour with trail markers, text panels, and audio narration by Julian Bond, a noted Civil Rights activist. Future plans include educational programs, lectures and special events for students and the public, as well as an online exhibit. I urge everyone who is interested in these times to tour this historic site.
We have seen many changes over the past 40 years. Hopefully we will never again see this kind of thing in America, or anywhere in the world.
Dear Reader: This page may contain affiliate links which may earn a commission if you click through and make a purchase. Our independent journalism is not influenced by any advertiser or commercial initiative unless it is clearly marked as sponsored content. As travel products change, please be sure to reconfirm all details and stay up to date with current events to ensure a safe and successful trip.
---