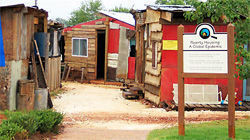 In the same day I see the latest report on poverty statistics in the United States and read a compelling Op-Ed piece about "slum tourism," the type of tour that takes visitors to a country's most impoverished areas.
Both are heart-breaking.
First the numbers, from a study by the Urban Institute "Childhood Poverty Persistence… Facts and Consequences" by Ratcliffe and McKernan. What is truly heart-breaking is the number of people born into or raised in poverty in this enormously wealthy United States. Childhood poverty rates, according to the U.S. Census Bureau, have ranged between 15%-23% of the U.S. population over the past four decades; in 2009, a family with two adults and two children was considered "poor" if its income was below $21,756.
More findings from the report about the impact of childhood poverty throughout life:
•  13% of all children (40% of black children and 8% of white children) are born poor.
•  37% of children live in poverty for at least a year before reaching age 18.
•  10% of children spend at least half their childhood years (9 years or longer) in poverty.
•  Black children are 9 times more likely than white children to be poor for at least three-quarters of their childhoods; 18% versus 2%.
•  69% of black children and 31% of white children who are poor at birth stay poor for at least half their childhoods.
The Urban Institute sums up the report this way: "In general, the longer a child is poor, the worse his or her adult outcomes. Only 1% of never-poor children spend half their early adult years living in poverty, compared with 32% of persistently poor children. The likelihood that an individual drops out of high school, has a teen non-marital birth, or has a spotty work record generally increases with the number of years poor as a child."
Then there's an intense look at "Slumdog Tourism" in his native Kenya by writer Kennedy Odede. Odede looks back on a life in Kibera, a slum of Nairobi, and how travelers passing through have been intrigued by the "colorful" poverty surrounding him. He writes about passing a man defecating in public while giving a neighborhood tour to a woman investigating community services:
"The woman took out her video camera and said to her assistant, "Oh, look at that." "For a moment I saw my home through her eyes: feces, rats, starvation, houses so close together that no one can breathe. I realized I didn't want her to see it, didn't want to give her the opportunity to judge my community for its poverty — a condition that few tourists, no matter how well intentioned, could ever understand."
Odede doesn't want us to tour his slum, nor any other. He acknowledges what others say: that exposure to poverty makes our affluent society aware of the misfortunes of others; he just doesn't agree that it makes a difference.
This is the same argument that hunters give:  that hunting animals in the wild makes people intent on saving species…
That swimming with dolphins in captivity makes vacationers more aware of the need to preserve marine habitats in the wild…
I have witnessed a man defectaing in public in midtown Manhattan, and I'd prefer that the 40 million annual visitors to my town didn't see that too.
On the other hand, the UN World Tourism Organization has committed to supporting the UN Millennium Development Goals, and the one that they feel tourism can impact most is the eradication of world poverty by 2015.  Where do we start?
Knowing full well the devastating effects of poverty, Habitat for Humanity runs a Global Village & Discovery Center in Americus, Georgia. Within the exhibit (pictured above) and open to the public, are dozens of life-size homes that illustrate to visitors the substandard housing conditions of nearly 1.3 billion of the world's people. Those living on $1 a day, not $21,756 a year. New style houses from Guatemala, Ghana and Papua New Guinea are on display to show improvements in new construction brought in by Habitat housing volunteers.
It's a successful fund-raising tool of course. But is this a Disneyland version of poverty?
Is it better than experiencing the real thing? What are your thoughts?
Dear Reader: This page may contain affiliate links which may earn a commission if you click through and make a purchase. Our independent journalism is not influenced by any advertiser or commercial initiative unless it is clearly marked as sponsored content. As travel products change, please be sure to reconfirm all details and stay up to date with current events to ensure a safe and successful trip.
---