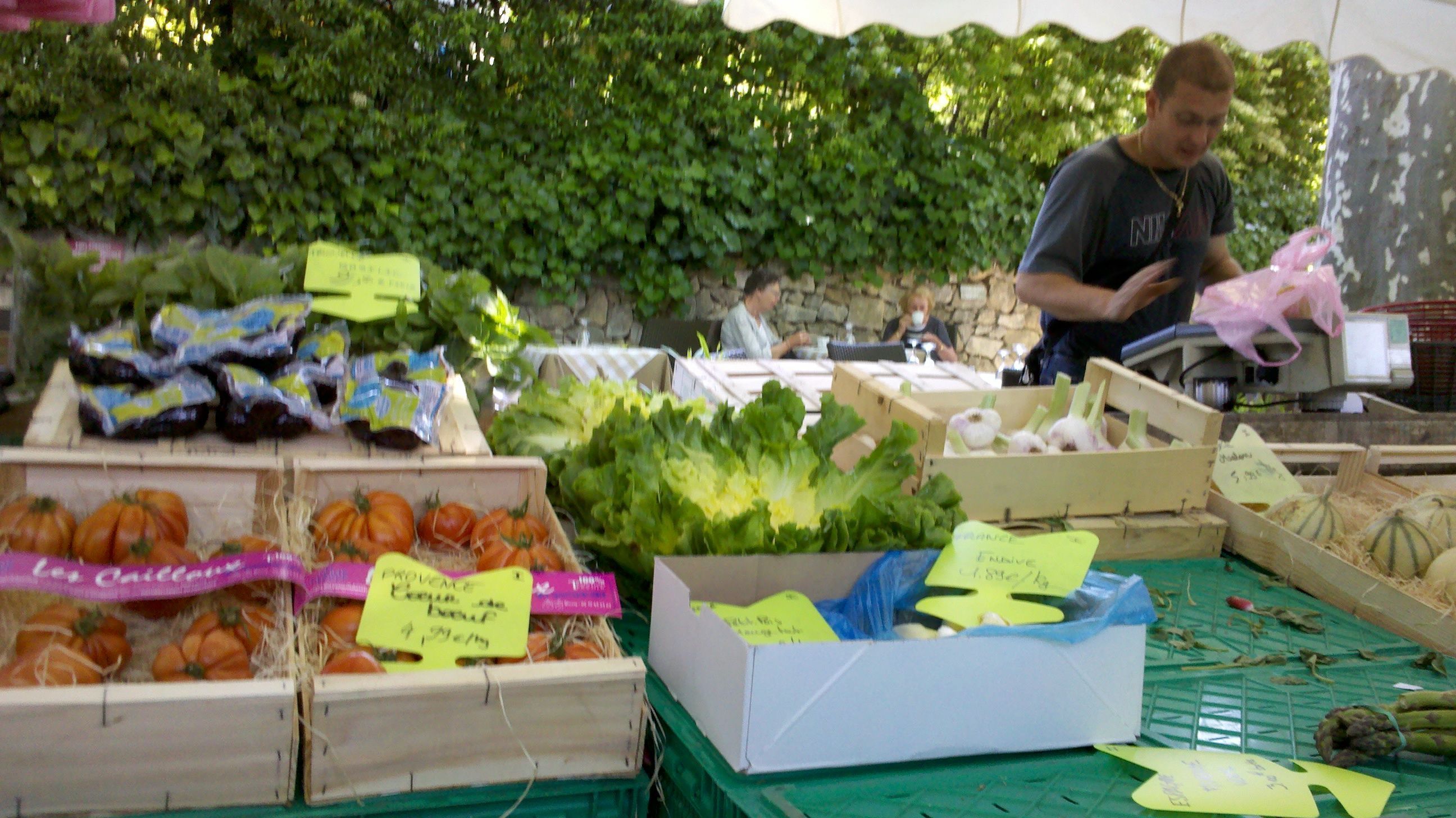 Awakening in le Mas des Etoiles, a farmhouse whose white sheers blow in carrying the lavender scented breeze and chatter of morning birds is quite disorienting to a family of New Yorkers who live 12 stories above the police sirens and passing ambulances. We have slept through a very long night of post jet-lag fatigue, and when I tiptoe down the hallway our son is still fast asleep, his Macbook and iPod casually piled at the foot of the bed.
Morning at the Farm
At breakfast we meet Paola and Andre from Rio de Janeiro who have found le Mas des Etoiles through the blog of Brazil's best known travel journalist. Although I work on a website every day I hate the computer and can't wait to be away from it. On the other hand I recognize the gifts of discovery and wonder that it makes possible, and how only the internet could have put us where we sit now.
Paola and Andre are delighted with their hotel de charme, and introduce us to the inn's morning routine of coffee and warm milk accompanying baskets of fresh whole grain bread, a sampling of goat cheeses, homemade fig and cherry jams, croissants from the nearby boulangerie, fresh orange juice and bowls of local cherries.
Le Mas des Etoiles owners Francois and Annette are at breakfast, maps and custom made guides in hand, to introduce us the Luberon and their favorite discoveries. We learn they have lived in the US, in Houston and Boston and New York at times; they have spent years in Madrid and Africa and many cities in Europe and have settled in Les Imberts, the tiny village at the foot of the medieval citadel of Gordes where they have built this wonderful farmhouse B&B. They are excited to have guests with a film at Le Festival de Cannes and promise to watch the Red Carpet the night my husband's film premieres.
Back Roads of Provence
Today we go to Lourmarin, where the large market brings together vendors of collectible tin kitchen advertisements; silk wraps; silver jewelry; vegetables and fruit; freshly grilled sausages, cheeses, olives, every sort of tapenade and tastings for one and all. Our teen buys some small tin advertisements of attractive women ca. 1950 peddling hosiery. The farmers are gregarious, the professional green market crew is just that, ready to sell the steady flow of tourists or happy to let you pass by.
We purchase way too many items to have a picnic and are too hungry to find a nice place to sit, so our nuclear unit of three perches on a town bench and eats with a view of the part 15th century, part Renaissance Chateau de Lourmarin.
There are many towns like this. All date from medieval times, all are in the Luberon, all Provencal yet so startlingly different. We don't usually travel like this, covering a small swath with a magnifying glass, but our son is practising driving a stick-shift car and it's too much fun to watch him grow up. We linger over the Chateau of Ansouis guided tour, whose proprietor was murdered in some sordid affair that our French is too poor to comprehend. After 90 minutes of studying a chateau under restoration with three French couples devoted to furniture from every period of the Louis Kings, our teen is suicidal, begging to be let out of a very French sort of capitivity.
The hilltop climb to the ruins of the chateau of the Marquis de Sade in La Coste seems to be a must. And, we wonder how those namesake polo shirts which defined an era of middle school cool fashion interface with the haute couture of Pierre Cardin, who owns the chateau and is funding its restoration as an art center.
We buy a half kilo of navettes, a local biscuit, and drive up and back and around the hairpin turns of Bonnieux, whose sidewalks are so packed with American Boomer tourists that we cannot bring ourselves to park and stroll. We want to discover Provence for ourselves.
At the Domaine Val Joanis we sit quietly on bar stools for a wine tasting. The wine production facility (Luberon is rated AOC for its blend of syrah and grenache grapes) is closed today but we sample their roses and their white wines, and we can soon tell what we prefer. Our son, trapped in the US drinking laws, is enjoying this and curious about the many other vintages they have. We buy some bottles for Francois and Annette, who host a nightly cocktail serving their favorite rose with a pate, tapenade, or variety of olives, a nice way to begin your evening out.
The good life at le Mas des Etoiles is bookending our days in Provence.
How we spend our last days in Provence
The breakfast at le Mas des Etoiles is both the same and changing day by day. Francois, our host, arrives to proclaim that today he has real cherries — ones picked from his neighbor's trees and not bought in the market. With a pain au chocolat and the strong Colombian coffee and warm milk, they are delicieux.
We ask Francois about Arles, Nimes, Orange and Les Baux – truly the best known of the painterly sights in Provence. But they are relatively far away. Our son has been doing so well driving the rental Renault that the thought of a 90-minute freeway drive really does not appeal.
So we stay local. For our last day of sightseeing we greet Menerbes, a surprisingly charming, small-scale Bonnieux which is perhaps more quiet than usual. Like we do at least a dozen times a day, we have read the traffic sign incorrectly and proceded right into town where all the parking lots are closed and the streets are too narrow to pass. In Menerbes, they are repaving the black top with cobblestone, and are using the only open road for a local Petanque (played with boules, like a French croquet done by rolling balls) competition. Great fun.
At the Abbaye de St. Hilaire — another restored estate that has been a 50-year-long labor of love for the family of Rene and Anne Marie Bride — there is a music rehearsal in progress, wonderful hymns being sung by a mismatched chorus of young and old, perhaps the local choir. The conductor, to be expected, has a wild head of hair that sways with the rhythm of his baton. I have made a video with my phone and will try to upload it so you can enjoy what we did.
Of course the colors of the ceramics of Provence, that red earth clay, are brought to light in Roussilon, the center of ochre mining. With dust in gold, orange, red and yes, siena to match our son's hair, we traipse through an abandoned quarry that has become a national monument. Packed with children ruining their fresh linens, it is a fantastic sight and a must-see for any visitor.
What we Learn about Provencal Cuisine
We have only a few days left before we must be at the Cannes Film Festival and the tranquility of Provence has envelopped us in a Zen sense of well-being. Now, our only topic of conversation is food.
With the farm's other guests we discuss le Mas de Tourteron, the farmhouse turned foodie haven of Elizabeth Bourgeois, a local chef who presents a tasting menu of her favorite seasonal dishes. There is asparagus or pate de canard or a tartare of beef to start; and roast lamb or a local fish or a poulet cooked in the French style, and several cuts of beef to choose from. The crowd seems to be young business people who have driven in from Paris this Friday night and are enjoying a nice meal before a weekend of gardening. This restaurant is especially beautiful because we eat outdoors in the front yard of their old farmhouse, seated on a crunchy bed of white gravel under arbors of still-young grapes.
Francois has assembled a wonderful list of the region's finest restaurants, organized by price and level of gourmet-knowledge. We don't even contemplate the new Alain Ducasse restaurant, instead focusing on recommended places in the 35-50 Euro prix fixe range. L'Estellan across the lane from him is as good as he says with excellent service, perhaps a bit more formal. Teens blossom under this kind of feeding and watering and we laugh (to ourselves) when he comments on a sauce or entree.
Our last evening is the most fun, at Cafe Fleure in Isle-sur-la-Sorgue, an unusual hill town criss-crossed by canals that apparently can transport guests, though they look very shallow where we sit. Cafe Fleure has flowers on the linens, in napkin holders, all over, and wonderfully delicate food spiced with the season's herbs and fruits. Though the ingredients are the same locally-sourced products such as asparagus, sweet onions, potatoes, lamb, beef, duck that we have had elsewhere, here they are fragrant and embellished with sprigs and buds.
Very nice place, even in the pouring rain we've had to navigate to get here.
Tomorrow, we are sad to say, it's on to Antibes, then to Cannes…
Dear Reader: This page may contain affiliate links which may earn a commission if you click through and make a purchase. Our independent journalism is not influenced by any advertiser or commercial initiative unless it is clearly marked as sponsored content. As travel products change, please be sure to reconfirm all details and stay up to date with current events to ensure a safe and successful trip.
---