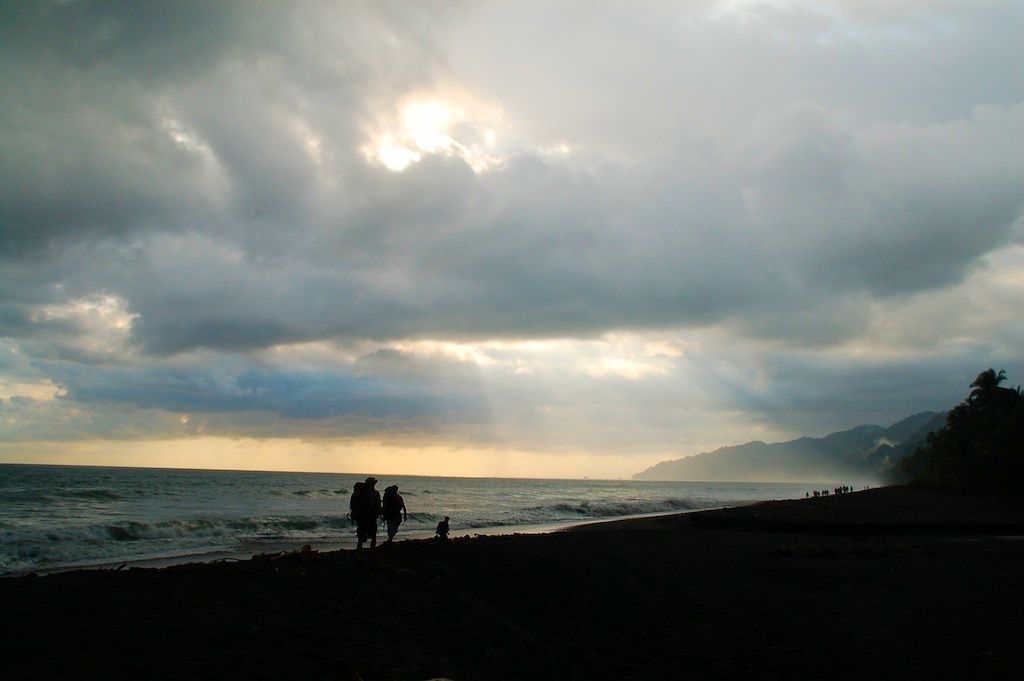 "This is worse than bland," declared Paddy in his London accent. "It tastes like wet socks." He passed the cup of watered oatmeal to Lochy.
"It`s energy," replied Lochy with a blunt Scottish twang. He slurped a dripping spoonful into his mouth.
"If you concentrate really hard, you can taste the milk and sugar," I suggested. "And some vanilla. And Cinnamon. And air conditioning." Lochy passed me the bowl. A bead of sweat wavered from the tip of my nose, paused in contemplation, and leapt to the clay path below.
"Well boys, I think we`ve almost made it – I`d say another hour at most," pepped Adam, with his usual Canadian optimism. I passed him the bowl, chewing the cardboard-flavored oats. Eating anything at all was a privilege. I noticed a tick burrowing it`s head into my calf, and began to pick it out.
"I've got waterfall on my mind," said Paddy. We all had waterfall on the mind.
The jungle seemed to change every 30 minutes of hiking. One flat stretch of dense growth, ropey vines, and shadowy canopies suddenly became leafy and verdant green. Rivers cut through our path – from fetid bogs sunk with rot, to shallow crystal waters reflected with golden sunlight. Jesus Lizards scurried over the ripples.The trees grew from the sky and slithered their roots over logs and under fallen leaves. Giant morpho butterflies with wings like blue papyrus fluttered across the path. Leafcutter ants marched up and down super-freeways – one variety carried green leaves, another yellow, and another red. The sound of the jungle changed, too. Sometimes the omnipresent roar of cicadas was overwhelming. Sometimes the scarlet macaws screeched, dressed in brilliant red. Howler monkeys screamed and grunted threateningly. Toucans hooted. Sometimes it was silent, except for the rhythmic crunch of boots.
Welcome to Corcovado National Park, the Osa Peninsula: home to untouched, endless Pacific beaches, a vast jungle, and thousands of animals, insects, and plants that could kill me.
I hitched up my pack, to momentarily to relieve the pain that pulled my shoulders. We had a fast pace to keep, because there was still some distance to get to the ranger station at Los Patos. It would be 21 kilometers that day, with 17 pushed out of the previous. I carried a pack that would sustain me for five months, rather than the 2 day hike. We were low on food, water, and were carrying 3 times the necessary weight. We were almost to the waterfall... almost to Los Patos.
* * *
I had left Panama City to spend Carnival in Bocas del Toro, then to the city of David for a night at Willy's (the toothless old man from the Rainbow Gathering in Panama), and then hitchhiked to Golfito, Costa Rica. At the boat launch to cross to the Osa Peninsula, I happened upon three friends whom I had met in Panama and in Bocas – Lochy, Paddy, and Harry. They decided to come to Carate with me, to see what happens.
We bought heavy groceries in Puerto Jimenez, cattle-trucked to Carate, where we met a Canadian named Adam. He was determined to trek into the jungle, and we decided to trek with with him.
* *
My socks were begging to be taken off, just as the sound of water crashing came to ear. We were excited. I felt my heart getting ready to jump in healing waters, with or without me – and there it was, just like they told us – the perfect swimming hole, supplied by a fresh roar of water.
My toes were blistered, my soles white, and felt as though the skin might slide off. We jumped in, swam around in water that was actually colder than the air! All day, we had been soaked from sweat.
The darkness was becoming threatening. It was close to 5pm, and the sun was tired for the day. The poison snakes come out at night, and the frogs whose toxic bite kills in three minutes. We hurried, despite limping, despite shoulders tearing and feet screaming, to the trail. It hurt. The longevity hurt.
* * *
After watching monkeys shake trees at us, crocodiles and sharks mingling at the river feeding frenzy, and elegant spiders drawing webs with pointy legs, we were back in civilization. Adam went his own way. Harry had already returned to Los Leones, rather than continue on to Los Patos. But Lochy, Paddy, and I stood for an hour with thumb out, on a road with a car every 15 minutes. We changed turns. I went to the empty road, opened my heart, and waited for two minutes, until a massive truck stopped for us. He happened to be going all 235 kilometers to San Isidro.
Dear Reader: This page may contain affiliate links which may earn a commission if you click through and make a purchase. Our independent journalism is not influenced by any advertiser or commercial initiative unless it is clearly marked as sponsored content. As travel products change, please be sure to reconfirm all details and stay up to date with current events to ensure a safe and successful trip.
---