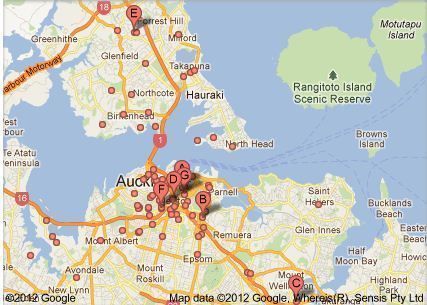 Three days into our travels we begin Day One of our filmmaker's tour of New Zealand. The skies are a brilliant blue, the light is surprisingly soft, and Ron, my producer husband, is excited to meet reps from the Film New Zealand office who will be showing us around Auckland.
We are on the Grand Recce of New Zealand. As a movie producer who won a raffle with Film New Zealand, Ron might call this trip an all-in location scout but as in many things, the Kiwis use British terms like reconnaisance for their filmmaking. They also drive on the "wrong" side of the street.
Our tour begins after a quick shower and unpack at our stylish center city hotel, the Heritage Auckland, where we are tucked into a large apartment-like unit with its own kitchen and washer-dryer. It's really a perfect setup for a crew person on location, just 5 minutes' walk from the harbor of one of New Zealand's prettiest cities.
The lone day in Auckland is spent on a whirlwind tour of the city's highlights, ranging from a look into one of the hundreds of dormant volcanoes to a hokey pokey ice cream at the beach. By late afternoon, the 18-hour time difference is taking its toll.
Auckland, what other Kiwis call the City of Sails, is all about the water and the myriad folds of sheltered harbor. Michael and Morgan from Film Auckland meet us at the Heritage Hotel and drive us to every overlook and high vantage point the city offers. They are right to use altitude to illustrate how vast the new Auckland is — a city now comprised of several former municipalities. With more than 1.5 million of the country's 4.5 million inhabitants, Auckland is by far the most densely populated region in New Zealand.
Green space is everywhere. Isolated hills topped by tufts of wild grass are dormant volcanoes imbued with the power of Maori belief. Residential neighborhoods of two-storey homes gently sweep around public parks to end in creases of land. Everywhere are pockets of wind-whipped sea fit for standup paddleboarding, kite surfing, swimming, sightseeing cruises and whale watching.
Viaduct Harbor is the city's new heart, a purpose built community of restaurants and shops that embrace a haven for state-of-the-art luxury yachts. Heavily secured yet open to strollers, Auckland Harbor boasts several hulls that have competed in Americas Cup races as well as mega yachts from Bermuda and Grand Cayman. There's the striking waterfront Voyager Maritime Museum, an events center and, nearby, SkyCity, a communications tower topped by a revolving restaurant, observatory and Bungy Jump center. Too bad we don't have time to climb the Auckland Harbor Bridge or jump off it I think.
I clock the tourist attractions; the harbor, parks and beach areas are packed with families enjoying a Sunday outing. The "What if?" questions play out — if Ron did a picture here, what would living here be like, the food, the culture, the receptivity of the locals to pushy strangers in their midst. (Movie people feel very entitled.)
Auckland is passing with flying colors.
Michael is a wonderful host — a former production person who's worked locally for years, he shares new finds with his 7-year-old twins.
We dine on local whitebait and moon fish at The Food Store, the retail side of a popular cooking show whose chefs prepare only dishes made from locally sourced and raised produce. Imaginative, artistic, healthy, delicious, unexpected really; we begin to understand why the "100% Pure New Zealand" slogan means quality.
Michael and his beautiful green-eyed assistant Morgan share their stories of working in Auckland, the film community where 70% of all projects are done. Many filmmakers come for the unique scenery and locations which can double for anything ranging from Vancouver to Long Island to Vietnam to Costa Rica. We are surprised to hear about the many Japanese, Korean and Chinese filmmakers who work here regularly.
At each brief stop, we learn a bit of Maori legend, a bit of movie trivia, some more particularities of Kiwis who call themselves after their national flightless bird. Everyone we meet is incredibly friendly, smart and proud of their heritage.
Ron and Michael talk film rates (generally moderate; fringes /none; bargains on equipment rental and stage space) which sound like they have an economic advantage over Los Angeles. I am surprised to hear the rates when compared to the cost of living. In our trip planning and 12 hours on the ground we New Yorkers have found life expensive: food at $35 per entree; fuel at $2.50 per liter; $80 for a 15-minute drive from the airport with the NZ Pound trading at USD.89. We always knew New Zealand was far away, but we didn't hold price against it, as you would in France for example. Once here, though, like in France, the experience is priceless.
Nonetheless, it seems many of the young find the economy soft, and prefer to offshore their talents in Australia where salaries and lifestyle are hotter. On our flight to Queenstown, I sit next to a 22-year-old with brilliant blue eyes wearing flipflops, a diamond earring and an iPad draped across his tattered surfer shorts. He is mining iron ore in Perth for $2200 per week instead of the $1500 he was making every two weeks back home doing construction. He tells me he will buy himself "lots of toys" with the money and try not to spend the rest partying.
A universal sentiment; our son couldn't have said it better.
Dear Reader: This page may contain affiliate links which may earn a commission if you click through and make a purchase. Our independent journalism is not influenced by any advertiser or commercial initiative unless it is clearly marked as sponsored content. As travel products change, please be sure to reconfirm all details and stay up to date with current events to ensure a safe and successful trip.
---