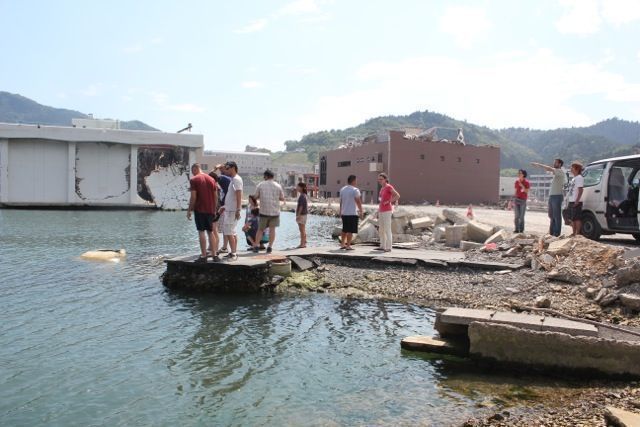 I began digging into the soil with my shovel. Not being able to plunge too deep, I carefully sifted through the debris and inch-by-inch I made my way into the destroyed park. Glass shards, wood chunks, and other kitchen utensils were popular items being excavated but this one particular item shot chills up my spine. It was a picture frame of a family, not knowing where they are currently present, only leaving your imagination to conclude with conjectures.
That was the first work day of my trip to Japan the summer of 2011, which was a few months after the earthquake caused tsunami devastation. It is definitely not a conventional trip but nevertheless I enjoyed my time and was able to experience a part of the world with lessons of life I can carry with me.
FINALIST 2012 YOUNG TRAVEL WRITERS SCHOLARSHIP
I had the opportunity to go to this particular area of Japan through an organization uniting other non-profit organizations, relief work groups, and Christian churches with the desire to help the affected people in whatever way possible. I went through my church, a team of six, ready to partner with other willing volunteers prepared to do anything and everything.
One of the projects was to demolish a house that was bought out by the neighboring church, in order to be used as a volunteer center. Another project was to clean up a few parks filled with debris in order to host barbeques for the locals of the area to encourage and uplift the spirits through the humble means of serving free food and allowing a place for conversations amongst the survivors. At the end of a days work with a couple hours before sunset, our team would play with the children of the neighborhood, who were victims of families who witnessed bodies being washed away only a few months prior. We went to one of the poorest towns of the northeast area of Japan which was last to receive the country's resources and resulted in more complications as the months past by. It was difficult to see the parents of these children and had a difficulty trying to understand the people of a foreign country that has experienced one of its greatest natural disasters.
But there is a twist to this seemingly depressing story. My team of six, partnering with others to make a team of about 50, we were able to do work that not many dared to do. Being willing for any kind of work, we noticed that one of the elephants in the tiny room that no one wanted to mention was the odor of the city itself; the tsunami water had left rotting fish and gunk into the street gutters and seeped its way into the foundations of homes that produced a smell that was difficult to get used to. Our group decided to take care of this issue by lifting up the floor boards, going under the house, and scraping out the thick top later of rotten gunk inch by inch of each home in the area, or by lifting up 50 pound cement blocks, hundreds of them, and shoveling out all that was under. For one person, this kind of work is impossible and discouraging, but with a team of 50, we were able to endure together and accomplish the task with enjoyment. We focused on one neighborhood, and the word spread that an organization was doing work that no others wanted to do. We received a response of gratitude and of amazement. Not expecting anything in return, we had received food made by the homes we were serving and lunch was taken care of for most days.
We had stayed in a karate dojo, being the only place large enough to host a volunteer group, and therefore were unable to take showers. This worked out better for us; we were "obligated" to take baths in the 'onsen', which are those outdoor bath house hot springs that the Japanese culture is known for. Talk about a trade in comforts! Each night deserved a nice bath at the onsen followed by delicious Japanese food. Being a two week trip, we made sure to try something new each night. It was a delightful experience to be a part of a team united in helping out families in need, relaxing together each evening at the onsen, and developing friendships through dinner.
It truly is more blessed to give than to receive. The utmost joy of waking up each morning to give what you can to bless others defines my trip to Japan. Have you had a trip like this?
Dear Reader: This page may contain affiliate links which may earn a commission if you click through and make a purchase. Our independent journalism is not influenced by any advertiser or commercial initiative unless it is clearly marked as sponsored content. As travel products change, please be sure to reconfirm all details and stay up to date with current events to ensure a safe and successful trip.
---