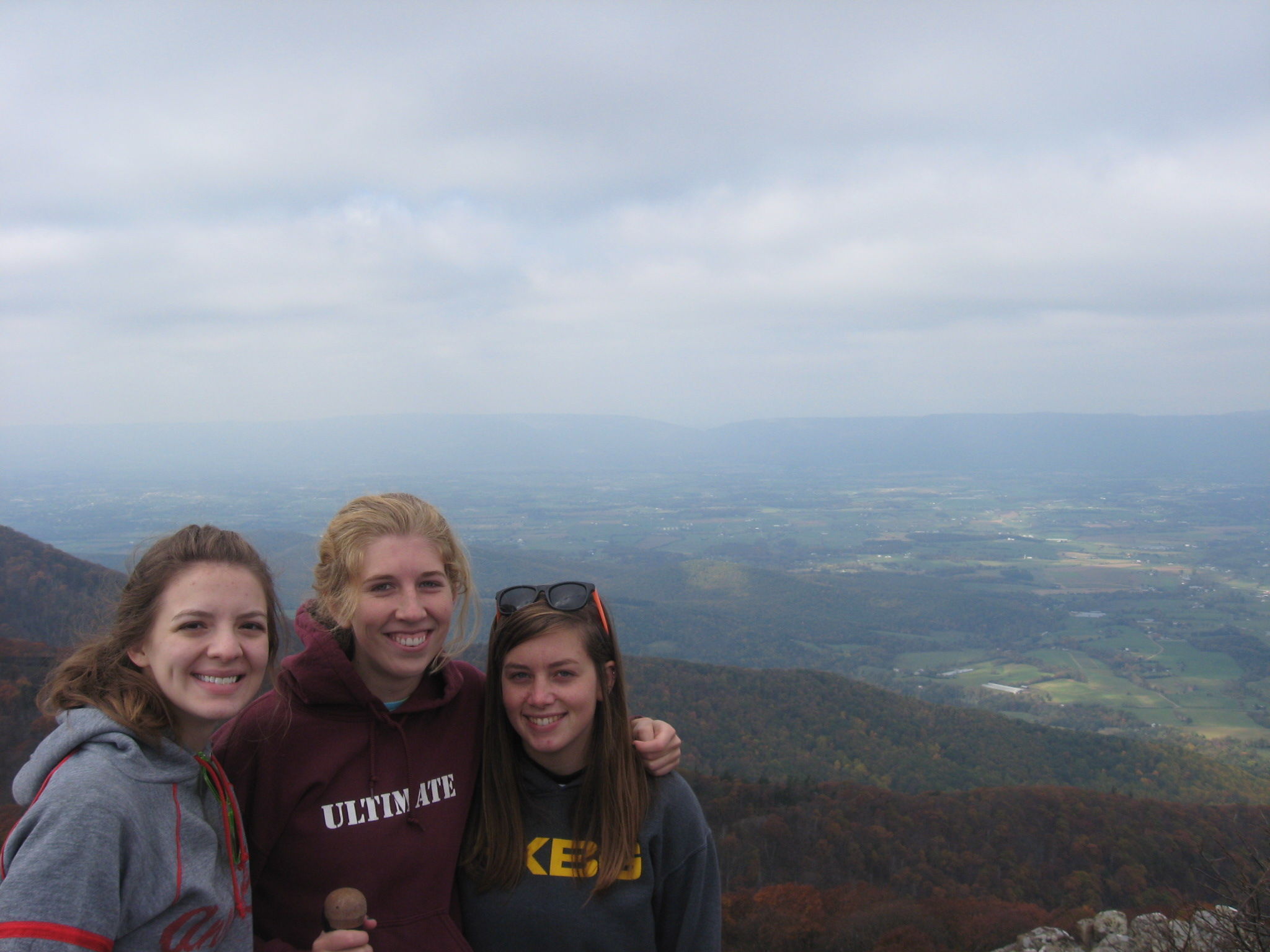 Look deep into nature, and then you will understand everything better.
Albert Einstein
I drank in the crisp autumn air as we climbed higher, feeling drunk with happiness over hiking for the first time in months.
When we surfaced out of the woods to the top of Stony Man Mountain, I saw what seemed like hundreds of yellow, orange, green, and red tree patches rising and falling with the undulating terrain. Clear blue skies in every direction, no car exhaust or second-hand smoke, the only clouds in the sky casting down mysterious shadow shapes on the land below. The tiny black rooftops and pointy steeples of the city off in the distance looked like a child's toy play set. It was the kind of view that simply cannot be captured in photos because the memory is not given justice with just a snapshot.
FINALIST 2012 YOUNG TRAVEL WRITERS SCHOLARSHIP
The three of us stopped on those rocky cliffs, perching over the breathtaking landscape and biting into peanut butter and banana sandwiches, wishing we never had to turn around to make the climb back down to real life. It was there on my own little top of the world that I stopped thinking about student loans and rent and an unfinished 12-page paper and a lost relationship and how I was going to make a comeback and what would happen after that inevitable graduation day.
I couldn't help but think, has this been here all along? Am I too consumed with thoughts of the future and bills and due dates to notice that the leaves have already changed? And where in the world has my focus been, that I am so unaware of my surroundings that used to inspire me so much? Where is my thirst for the adventurous life? No wonder a few hours of sunshine and fresh air was all it took to pull me out of the depression from my mundane everyday life and anxiety about the future.
Not only were the hike and the view refreshing to my soul, but it also helped me realize that I had stopped making time for the things that make me really happy. I was missing out on the little things like baking a batch of gooey chocolate chip cookies, trying new shots with my camera, even taking time out of the day to sit and be still. I could not even remember the last time I let myself sleep in late. I could barely visit with a friend without checking my watch every five minutes. I was stretched thin. Strained from letting a schedule rule my life, to the point where everything, each meeting, practice, class, or social event, felt like an obligation, not moments and experiences that I should appreciate and cherish.
Luckily, I was not too exhausted to make it up the mountain that day.
Looking out across the miles of stunning creation also helped me to realize how big the world really is and how incredibly small my problems are. I am just in one stage of an entire lifetime. In that moment of clarity, I was embarrassed that the stale and disheartening way I had been living was suddenly exposed, but it motivated me to make some changes. First, I would not stay in that mindset of a fixed agenda, running from one commitment to the next without rest. The little things may not seem like big deal, but they are definitely necessary to stay healthy and stay myself. Second, I would be more grateful for all that I have been given, never taking for granted the simplicity and value of nature that revives the mind and soul at no cost. And finally, I would optimistically welcome the uncertainty of the future. I am progressing through the stages of life just as others have before me and others will repeat after me, and I will do so ready to learn more and experience new things.
I didn't have to go far in order to have this revelation.
I didn't have to see a shrink or pay a fee.
I just had to leave the four walls of my enclosed mind to be inspired by a different perspective.
Dear Reader: This page may contain affiliate links which may earn a commission if you click through and make a purchase. Our independent journalism is not influenced by any advertiser or commercial initiative unless it is clearly marked as sponsored content. As travel products change, please be sure to reconfirm all details and stay up to date with current events to ensure a safe and successful trip.
---