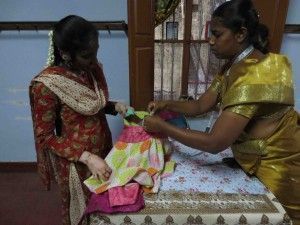 When Nicki and Kria heard there were more than 40 million widows in India — 10% of the country's female population — they had to act. The report from Radio Netherlands said that for the majority of these women, "life could be described as a living sati, a reference to the now outlawed practice of widow burning."
These two, bright 30-something professional women took a deep look at the lifestyle of India's women, especially the country's widows. They were disturbed, angry, moved to help by giving these women a skill to support themselves. The stuff of Fast Company. Entrepreneurism, with a heart and social media plan.
They would create a cooperative together, a business that would benefit the women there, and the two entrepreneurs here. They would teach some of these widows to sew, and produce a line of organic, fair-trade children's dresses.
Onwards to India with a Plan
They took a few bucks and went to India. They managed the chaos, colors and perpetual motion of Mumbai, and flew onward to Coimbatore, the south of India (Tamill-Nadu).
They traveled with the faith and good wishes of their family and friends. They packed weeks of research with them, and put social media platforms in place to share their story. They took a couple of terrific samples made by Kria's mom. And they had email exchanges with contacts in the Franciscan convent in Coimbatore.
"Thursday night Nicki and I sat in front of a group of about fifty widows and single women. They sang for us, covered our shoulders in white shawls, had us light a candle and tossed sweet flower petals over our heads. Several of the Sisters explained to them in Tamil, how far we'd traveled in the hopes of bringing them support and opportunity. Their language is poetic and inspiring, speaking about the seed of this project taking root and the light of God directing us."
"Our goal is twofold: to help establish The Women of a New Era sewing cooperative and to become their first client by commissioning them to produce an environmentally responsible children's clothing line that will be sold in the United States."
"Then, with perfect timing, the three shiny new black singer sewing machines arrived. Nicki and I, along with Sister Stella and Christina bought the machines from a small vendor earlier in the morning. After struggling with some basic math, we took out wads of rupees from the ATM around the corner (1 dollar is 50 rupees). The store owners delivered the machines in the small new room for the cooperative, and Josephine Margaret and Christina, eagerly set them up. They looked so beautiful and real."
"On Wednesday, we drove to Tirupur, a textile city about one hour northeast of Coimbatore, to find an organic cotton producer. With a list of five companies in hand, we were certain that this would be an easy task. Our first stop! Seemed promising, but after two hours we realized that the company had no existing contacts with organic cotton mills, even though they led us to believe otherwise. We spent the next three hours searching for addresses that did not exist and calling phone numbers that were disconnected. We were beginning to feel disheartened."Upon our return, Sriram's daughter had been waiting eagerly to meet us and give us small gifts that she had made. The generosity and kindness of the Indian people is a theme that we have seen over and over again."
These Women at Home in the US
Kria and Nicki have jobs. They work for a prestigious global health organizations in the States, a mission-driven nonprofit with a strong history of delivering medical and humanitarian services in Haiti and Africa. They were tired and according to emails, slept poorly because of the noise. They were shocked by the plastic bags clinging to trees, the piles of refuse on the streets, the proverbially poor.
"Today I wad blessed by an elephant. I put ten rupees in his trunk and he gently touched my forehead. I worry that he's lonely because he's the only elephant in the the Hindu temple we visited. But we're told they send all the elephants in the area to a one-month vacation where they can meet other elephants, exercise and play. Thank goodness!"
Follow Kria and Nicki at Bostontobindis and wish them well. Social media and good works in action.


Dear Reader: This page may contain affiliate links which may earn a commission if you click through and make a purchase. Our independent journalism is not influenced by any advertiser or commercial initiative unless it is clearly marked as sponsored content. As travel products change, please be sure to reconfirm all details and stay up to date with current events to ensure a safe and successful trip.
---