Hello, I'm basically a guy from Mumbai, Maharashtra. I enjoy visiting and exploring many sculptures and the natural beauties wrapped in the mist and that's exactly how me and my family got excited and received a ray about Munnar, the city of serene wonder where mountains kisses the clouds with at most pride. Munnar is a place located at an altitude elevation of 1,600 m approximately and is very close to the heart of various biodiversities with excellent undisturbed ecosystems.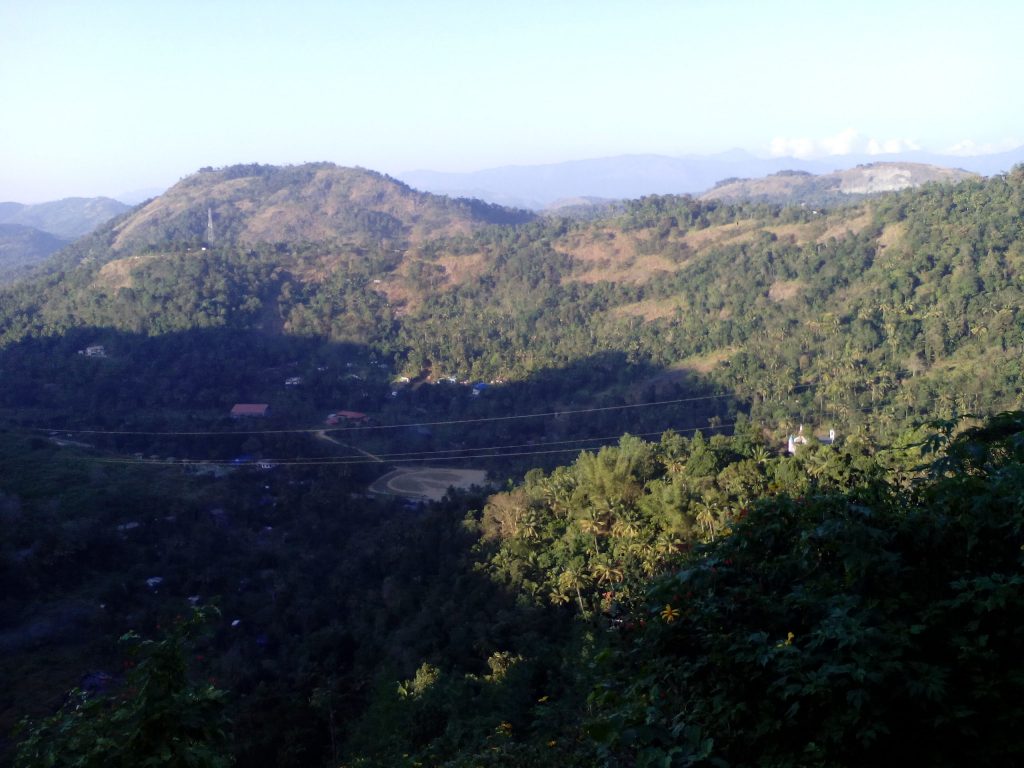 Munnar is a town located in the Idukki district of the state Kerala. The name Munnar was coined from the meet of three (called munnu in Malayalam language) rivers (called aars in Malayalam language). There are basically two ways and roads through which you can reach the destination Munnar, the former is from Cochin- Aluva-Muvattupuzha- Kothamangalam- Adimaly- Munnar, estimated distance of 140Km and the time required is 5hrs and the latter is from Muvattupuzha- Thodupuzha- Muthalakodam-Vandamattam- Ceenkal City- Venmany –Thottappura- Thokkupara- Munnar and the estimated distance of 77.6 Km (straight line distance) and time required is 2 hrs(Thodupuzha to Munnar).
The Muvattupuzha town acts as a hub from where we can basically begin the journey if we wish the journey to be commenced in respective transport buses.
Talking about the brief, let me describe my journey. We were four including me and my three member family. We scheduled our trip when it was a season in Munnar ( months are September, October, November, December, January, February). It is the duration when you can feel the breeze and chillness of the city and the nature.
Had booked a cab from aditya travels.The contact person is Mr Vinod (08281573822) and the driver was Rajesh .The service of the driver was simply outstanding. I would strongly recommend to avail his service if any one is planning a trip to Munnar, kumarokom, alleppy from cochin. We reached there at Afternoon 1pm around and went straight into the ABAD Copper Castle where we booked our rooms for a 3 day and 4 night stay.
The way to the Munnar wilderness was very exotic and fresh as we could breathe the fresh mist, we could enjoy the light air striking our faces and fading back into atmosphere. Even though the roads were very curvy, twisty and narrow, but that made it look more beautiful. The edges of the roads from where you can see the last road you travelled on. The mangroves and the herbs were the things that added a fine taste to our journey. The driver of the cab was indeed very helpful as he greeted us very warmly and since I knew the basic language Malayalam it wasn't a big task after all.
We took many snaps on the way as we glided through the National Highway 49 and we saw a couple of refreshing waterfalls namely Valara waterfalls which is surrounded by the dense forests and incorporates many flora and fauna. It is in the middle of non-exploited forest with chilly downpour of clear water. The next was Cheeyappara waterfalls which is even more magnificent than Valara and provides a truly fantastic spectacle for you to behold.
On our way apart from waterfalls we did some real wild experiences, the first was elephant washing- it was a good thing to watch about and then we turned onto the spice garden where we enjoyed a short duration educational talk and then continued to the destination after a small purchase of some Southern homely spices. The most important of all were the orderly arranged tea plantations and orange trees which were so beautiful that my camera got almost died with low battery.
After all this wonders and awesome things prevailed around, we finally reached the Munnar town. It is very less populated and includes very much of shops and prime things for one's enjoyment; our resort where we booked our stay was in a little outskirts of Munnar but even though we planned to visit Munnar town in advance and then headed straight to the hotel.
The life at the hotel was splendid in its own way. The resort was excellently flourished included a very good pieces of wooden arts. The staffs were polite and the communication was never a problem because of the reason I stated earlier ( language I knew), but even though there are staffs whom you can accompany and will help you in your own languages. The first sight which we had about the resort was amazing and so was about our rooms. We ate our lunch after a small registration process; the food was tasty and ample in quantity. We paid the cab its rent fee and the driver drove away, we rested for some good 3 hrs I think.
Then later at 6pm we all went for a short walk to the town, the town is at a distance of 4.5Kms from the resort but those distance was never so much because of the things you see around, mountains, headworks (Check Dam), the small waterfalls through the dam. We did roam around at town for sometime and later took an auto rickshaw back to resort. We ate the dinner, enjoyed some family discussions and the day turned into night and hence my eyes were shut down into darkness.
Day 1, POTHAMEDU VIEW POINT, CSI CHURCH, PUNARJANI TRADITIONAL VILLAGE AND A BIT OF PEEK INTO THE HISTORY
Fortunately the Pothamedu view point was just about a 200 meter distance from the place where we stayed and a 4-5 Kms from the Munnar town. There are small local tea shops from where you can buy your tea and enjoy the climatic beauty of the places, a perfect place for great photographs to be taken. One can see the roads travelled on their course of journey to Munnar. The early in the morning you go the more you enjoy here. Down from the view point you can head into tea plantations owned by the Pallivasal Estate Group, on the way down you can breathe out some happy air and get lost into the wild chillness
At the Munnar town itself, there's a CSI church situated which was established in the year 1910 during the duration of British, the church has its own history to say and looks a bit scary because of the hewn granites and stained glasses with which it is built up. The cemetery of the church came before the church establishment and many old British planters rest there in peace. According to a local person we met there, he spoke about this church, that it provided a refuge for many lives during floods in Munnar.
There exist many remains of the rope way transportation systems, the railway lines and many monuments that link the old memories together. It was a different feeling to get knowledged about all this things.
Later on we went to rent some two wheel vehicles for us and that took a 2 hour as we needed to find an agent who delivers them. We submitted our ID proofs and then once we received vehicles we drove into the markets of Munnar shopping a little bit and keeping in mind about the trip to Punarjani Village. 
Punarjani traditional village in basically a village in Idukki, it is a famous tourist attraction and every year thousands go there to watch the traditions and customs of Kerala in all real and pure form. It is 49 Kms away from Munnar in National Highway 44 through Moolakadai, Chithirapuram, Chalachuvadu, Vazhathope. Punarjani village are true deliverances of Kerala ethics including Kathakali and Martial Arts (Kalarippayattu in Malayalam language) .
The show timings are different for both;  Kathakali it is 5pm to 6pm and entrance fee was 200 per head. Kalarippayattu it is 6pm to 7pm and entrance fee was 200 per head. Rich in content, very beautiful and contains extremely well crafted arts which provides us with virtual images of ancient Kerala. 
Day 1 rolled down and we returned and drove back to the den, out resort. We ate and then slept deeply into our beds. Awaiting for the next day sunrise. 
Day 2, ERAVIKULAM NATIONAL PARK, ANAMUDI PEAK AND MARAYOOR 
Eravikulam National Park (Rajamalai National Park) is located in the Western Ghats of Idukki district. It is the first and the largest national park in the entire Kerala with an area of 97 Km². It was administered by the Kerala Department of Forests in the year 1971 from the Kanan Devan Hills Produce Company and this national park incorporates many other national parks too which are Chinnar wildlife Sanctuary, Kurinjimala Sanctuary etc. It is at a 14 minutes (7Kms approx) distance from the Munnar town. It is been honored as a World Heritage Site by the UNESCO World Heritage Committee. There are mini-buses which provide a scenic view of the entire park at a quick glance.
We reached the place at around 8am and hence were able to avoid long queues. The tickets are issued from 8:30am to 4:30pm after which no more entries are allowed. The charges depend on the season rate as said by a local of that place. We bought 4 tickets worth 65 Indian Rupees and the ticket rates for the Foreigners are Indian Rupee 245 per head.
The mini-bus provides a 30 mins trip through the park and lets us to see serene natural fame. After the 30 mins ride, we reach a place wherein we can see a photo gallery, stores and from there passengers can reach out for another 30 mins small trekking to a vantage point, it is an amazing place to look for, and way to the hills made us to see the Anamudi peak, the much told peak ( Anamudi means Elephants Forehead). It was such a nice observation from up the hills. The forest is divided into 3 categories namely the core area, the buffer area and the tourism area and all the humans are permitted only till the tourist area.
I did hear people talking about the specie called Nilgri Tahr, I even saw some of boards representing them but wasn't able to see any and was wondering was is it really and soon it provided an answer to my wonder; during the return from the vantage point, we all were able to see the beautiful, cute Nilgri Tahr and I could say it was a hybrid of dear and goat, a fusion in all sense and after the trek the bus leaded us back to the park entrance. 
Marayoor (Marayur) is famous for its sandalwood culture. The sandalwood areas are fenced and very protected to avoid the misuse of these by general publics. Marayoor is located at a distance of 41Kms from Munnar on the way to Udmalapetta road and is in the outskirts or borderline of Kerala-TamilNadu states. The two major tribal groups in Marayoor are Muthuvans and Hill Pulayas. The way to Marayoor includes twisted turns and sceneries to be looked onto. We can see many grasslands and tea plantations nearby to the road. It is called the gateway to Chinnar Wildlife Sanctaury wherein we can see many wildlife species. The journey is adventurous as we pass through the middle road having deep forest at both banks.
On the way through Chinnar, we can see a mountain which resembles the ancient ruins and is locally called as Muniyara Dolmens. The mountain looks weird but was a shelter to many ancient poojaaris(saints) who did their prayers and worships from here and so is the carving in the mountain. Climbing onto that mountain is a big deal so didn't really try for the same. We finally reached the checkpost of Kerala-Tamil Nadu border and from there we returned back.
The day 2 thus winded up with fun, joy and some wildlife, it was great.
Day 3, MATTUPETTY DAM, KUNDALA LAKE, ECOPOINT AND TOPSTATION
Mattupetty is basically famous for its dam, locally called Mattupetty Dam. It is just about 13Kms from Munnar town and is located at an altitude elevation of some 1,700m height. The place offers fascinating sights to relish. Apart from the lush green tea plantations, and the grasslands, there are Shola forest reserves in and around the Mattupetty, which are very ideal for trekking and provides habitat to many varieties of animals.
The main attractions over there are the lakes and the best of all is the boating services offered on hire by The District Tourism Promotion Council (DTPC) in Mattupetty Dam. After following these one can visit the Kundala Tea plantations and Kundala Lake wherein you can always spend your quality time, especially for couples or newly married ones, it is a romantic place of calmness.
From there one can drove to the Top station easily which is about 24-25Kms in State Highway 18 from Mattupetty and takes a time of 30-40 mins. Top station gets operational from morning 8:30am and continues to be until the sunset. The road condition is not very comfortable and hence the vehicle needs to be low on its pace. The roads are covered under deep mists and fog which makes the journey a memorable one. There's a trekking platform and provides various viewpoints.
Top station is a part of Tamil Nadu, so my language skills didn't work to be frank. Rather than making a journey in one's own vehicle you can hire a jeep for your comfort at a rate of Indian Rupee 900.
On the way to top station, we passed by a place called Echo point wherein the rare Neelakurinji ( Strobilanthus) bloom. The view s observed are very stunning and makes us feel lost in them, the breeze is amazing and makes us happy within.
Day 3 winded up and so was our trip and we sadly headed to our resort not because of the things we saw instead it was about the wind up of our tour. The next morning after a heavy breakfast we checked out and said a Good Bye to the mists, fog, valleys and the roads and Munnar. It was splendid in simple all terms.
That's all about my Bon Voyage to Munnar. I never thought it could be so memorable. It was a lifetime experience with nature. I still flip through the images taken during our tour and it refreshes my memories about everything I saw. It is like a heaven with mountains as angels.
I would strong recommend each of you to plan out a trip to Munnar at least once in your lifetime and feel free to ask your queries about the place.
Dear Reader: This page may contain affiliate links which may earn a commission if you click through and make a purchase. Our independent journalism is not influenced by any advertiser or commercial initiative unless it is clearly marked as sponsored content. As travel products change, please be sure to reconfirm all details and stay up to date with current events to ensure a safe and successful trip.
---