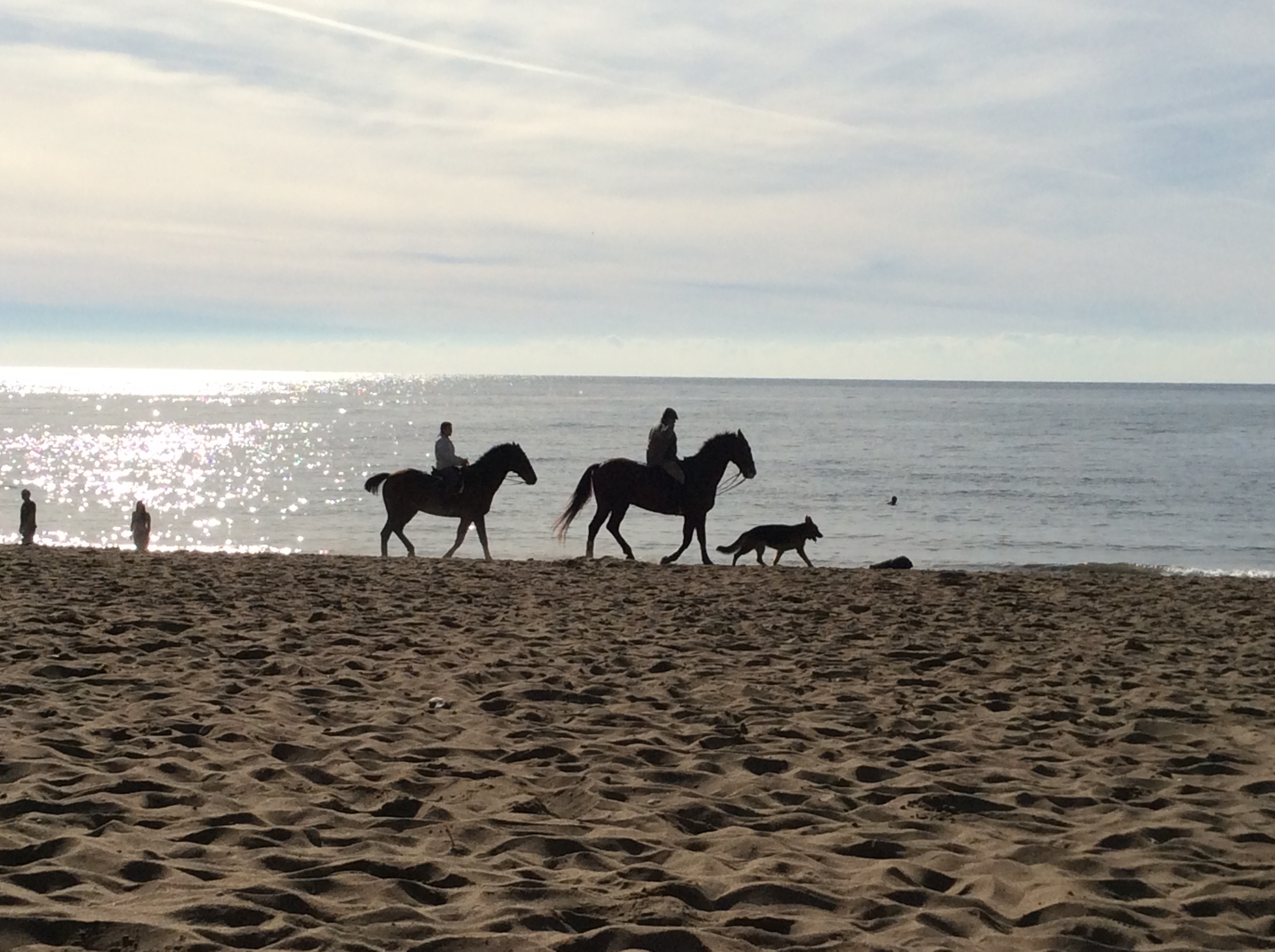 It was meant to be a real vacation. Three weeks in Spain. Just the two of us…. Not!
Once the word was out, the kids started calling – daughters in New York and The Hague, our college-aged son in London. Who would not jump at the chance for an extended, all — or most — expenses paid trip through Andalucia over Christmas and New Year's?
Not that my wife and I begrudge the company of our three adult children, (including Chloe, Eve's significant other). Far from it. But it was not the kind of trip we had envisioned … for just the two of us, in a welcome, joyous, and unforgettable sort of way.
Spain is a Destination Waiting to Be Discovered
I have cycled through Spain on numerous conferences over the years. But aside from an impromptu attendance at the Flamenco dance in a local bar during a short stay in Seville or Barcelona (I don't remember which) Spain was virgin territory.
Three weeks in the country would begin to remedy that.
In the months before our departure I brushed up on Spanish history, particularly its golden age –- the medieval Omayyad rule and the first decades after Ferdinand and Isabella banished the Moors, inaugurated the Inquisition, and sent Columbus on his way to America.
My reading fortified me with some knowledge and vital historical context when we visited the extraordinary Roman aqueduct in Segovia, Albazin next to the al Hambra in Grenada, and Cordoba's Mesquita, foremost among the great monuments to Spain's timeless architectural achievements.
A Resort Provides the Most Relaxing Way to Reconnect
But getting the family band back together was far and away the best part of the trip.
Asked to comment on the best part of our visit my two girls both highlighted our eight, lazy days at a generic seaside resort, the Marriott Playa Andaluza.
According to my daughter Morgan, "The Playa Andaluza, sandwiched between the sea and the mountains, is perfectly situated for any adventure. Whether it's lounging on the beach with Gibraltar straight ahead, or cruising towards Rhonda on cliff-side mountain roads, there is plenty to keep you busy. If you prefer a resort-style vacation, the resort has you covered. With its swimming pools, a restaurant, bar, and activities every evening, there is no need to leave the premises to have some fun. With gorgeous rooms and friendly staff happy to point you in the right direction, towards food, fun, or even just the hard-to-find parking garage, the Marriott resort hits the spot for those in need of a perfect vacation."
Eve, like her younger sister an inveterate and lifelong traveller, explains, "If you're looking for a cozy villa with all the amenities and services of a resort, the Marriot between Malaga and Estapona is a great option. With three bedrooms and bathrooms, two terraces and one balcony, the villas are a comfortable, no-hassle retreat overlooking the Mediterranean, with spectacular views of Gibraltar and the Rif mountain range of Morocco. An on-site (moderately-priced) grocery store offers food and produce and there are several larger grocery stores nearby to cook a meal or barbecue outside with grills provided by the hotel. The steam room and sauna are enticing after a workout in the gym, which overlooks the indoor swimming pool, and there are plenty of beach chairs to hang out on during the day. A good balance of privacy with the convenient services of a hotel, friendly staff and a convenient location on Spain's Costa de Sol, the Playa Andaluza is not to miss on your next family trip to Spain."
Traveling Off-Season Without Crowds is Important
There were other important elements that contributed to making the trip a memorable success.
First and foremost an essential ingredient was the decision to visit during the off-season. This was especially important for me. To take one example, I have visited Istanbul often and relish a walk through the Ottoman monuments on cold winter days. Last May, I suffered through a visit to Istanbul's Hagia Sofia, tripping over gaggles of globetrotting, selfie-obsessed teens, barely able to make my way through the industrial tourism that now defines so much of the international travel landscape.
I hate crowds! Spain in December and early January offered the best chance to enjoy the place without such debilitating distractions.
In Madrid, we strolled the Prado's never ending tributes to Goya et al almost without distraction. The naval museum nearby, a hidden gem of ship models charting the development of the ill-fated Spanish Armada, was all but empty. Cathedrals in Toledo and Grenada — with the exception of the one in Seville where we were put off by the line — were there for the taking. Skip the latter and head to the nearby Alcazar and its impressive gardens. So, too, the Mesquita and the extraordinary Al Hambra, which has instituted a well-oiled schedule to keep the crowds manageable.
Choose a Mild Weather Destination
The weather during our winter visit also worked in our favor. We avoided Spain's crushing summer heat, enabling us to take long aimless walks through Madrid's center city, relaxing in Retiro Park without breaking a sweat… or enduring bone-chilling cold and rain.
The winter weather was thankfully mild throughout our visit. We were even able to enjoy tanning sessions on the empty beach adjoining the Marriott's Playa Andaluza. I made the obligatory plunge into the Med, in waters that reminded me of summer vacations along the Maine coast. Admittedly I was the only swimmer in the sea during our 8 days at the Marriott, so by visiting in December we were unable to swim at will out of doors and the series of outdoor pools was indeed closed for the season. But on the other hand, we all but had the place to ourselves. In my book a fair trade indeed.
Don't Stress the Sightseeing and Enjoy Each Other
We adopted a relaxed flexible approach to our obligations as tourists. On one end of the spectrum is my wife, who aims to see almost everything through the informed eye of Rick Steves.
On the other end is my son, who sees little reason to alter his vacation sleeping schedule for a chance to see the Mona Lisa and someone who somehow missed the David during a road trip to Florence.
I am somewhere in the middle. My best day in Madrid is a long walk around the city, with lots of time out to sit in a sunny café.
Use All the Tools Available to Make Travel Fun
The most stressful and forgettable part of the trip was negotiating Spain's coffin-like parking garages, and losing our way in the narrow alleys of tiny towns. And beware the hidden speed traps salted along Spain's highways. Better planning, and a GPS, would have solved this problem as well.
My son Josh, a car enthusiast, writes, "Since a car is quite necessary in the southern part of the country, I would highly recommend having a GPS, whether it is through a prepaid SIM card or a stand-alone unit. Countless bouts of wrong turns and elevated blood pressure attempting to navigate through Spain's ultra-confusing road network with nothing but a Michelin map and my parents' intuition (or lack there of) could have been at least somewhat avoided with a little help from our satellite-based friend. If you have an unlocked smartphone, purchasing a prepaid SIM with an adequate data plan should cost around 20 euros but should add 3-5 years to your life expectancy."
Travel is More than the Sights You See
We've been tourists throughout the world, and the sights in Spain should be at the top of travel itinerary. But travel is more than the sights that you see. In my case a whole lot more.
Spain worked so well because everything worked – the cool but comfortable weather, the solitude of the beach, the view of the Med and Gibraltar from our veranda. The extraordinary and accessible history. And best of all, the venue it provided for our family to simply enjoy each other's company.
Don't Miss our Favorite Stop in Malaga
The Auto Museum of Malaga is a respectable stable of classic cars, including the famous Mercedes Gull-wing. An added attraction is the interesting presentation of haute couture fashions inspired by the vehicles on display.
A Hotel and Car Collection Worth Seeing in Madrid
A Google search of auto museums in Madrid led us to the Hotel Jardines de Sabatini. The museum is a labor of love of the hotel's current owner, who renovated what was a garage in the hotel basement to showcase an inspiring collection assembled by her family. The collection is open only to guests of the apartment hotel, centrally located with a wonderful rooftop lounge with grand views of the Royal Palace nearby.
Favorites for Madrid Dining and People-Watching
De Maria – Heaters outdoors, lots of little extras like sparkling rose wine, sherbet and chocolates.
Cafe Miranda La Vie en Tutti Frutti – Open to the outside, great drinks tapas close to the museums.
Lateral – Salamanca neighborhood, great tapas menu very busy after 9:30 pm any night of the week.
Il Salotto – Empty when we showed up at 8:30, they were just opening. Mobbed by 10.
Mamma Mia Pizzeria – Italian fare with a Spanish flare.
Cordoba Favorites for a Meal and a Catchup
Taverna Pepe de la Juderia – great food and ambiance.
Caravasar de Curtuba – Moroccan food, excellent, no alcohol.
Dear Reader: This page may contain affiliate links which may earn a commission if you click through and make a purchase. Our independent journalism is not influenced by any advertiser or commercial initiative unless it is clearly marked as sponsored content. As travel products change, please be sure to reconfirm all details and stay up to date with current events to ensure a safe and successful trip.
---