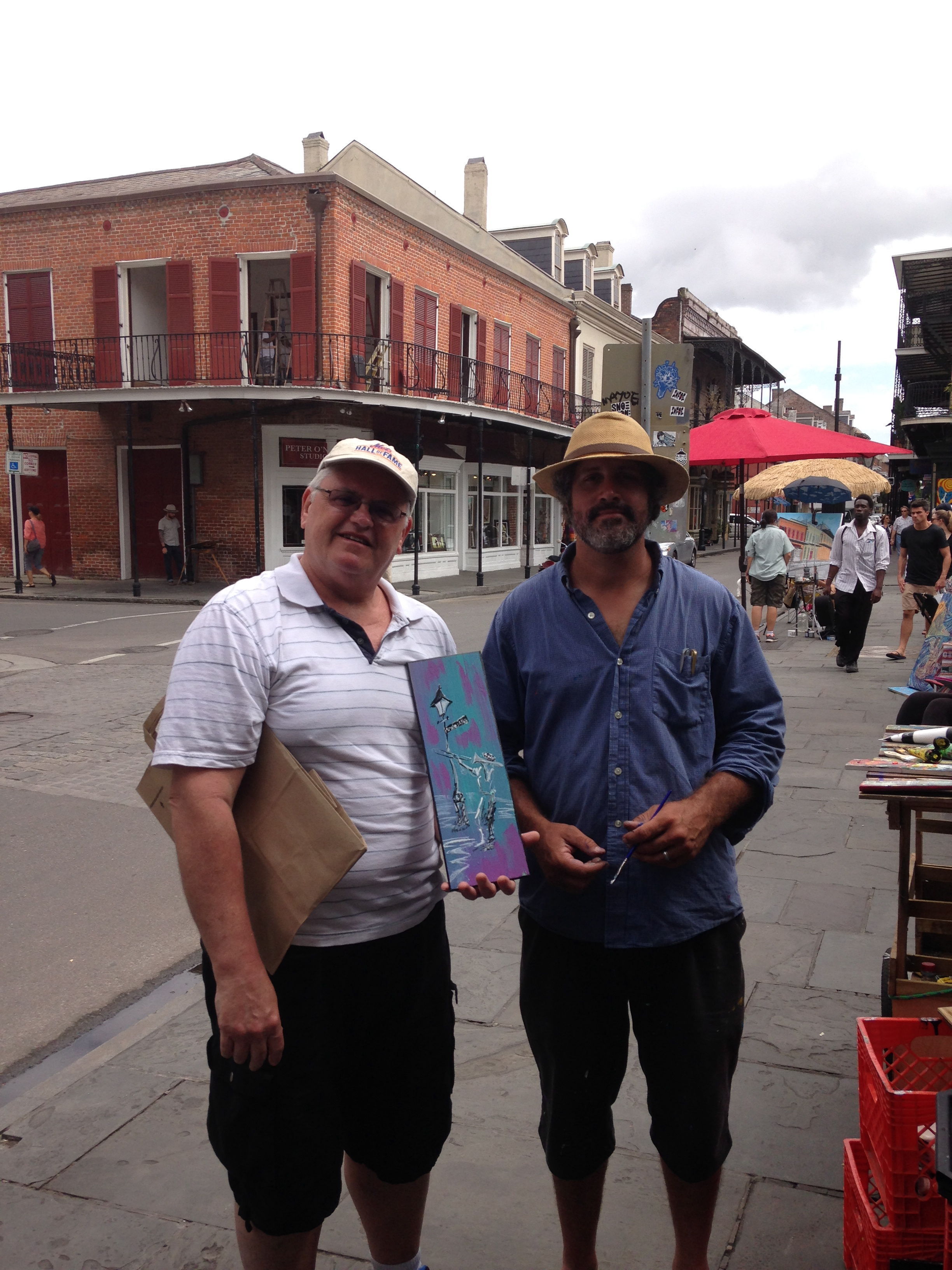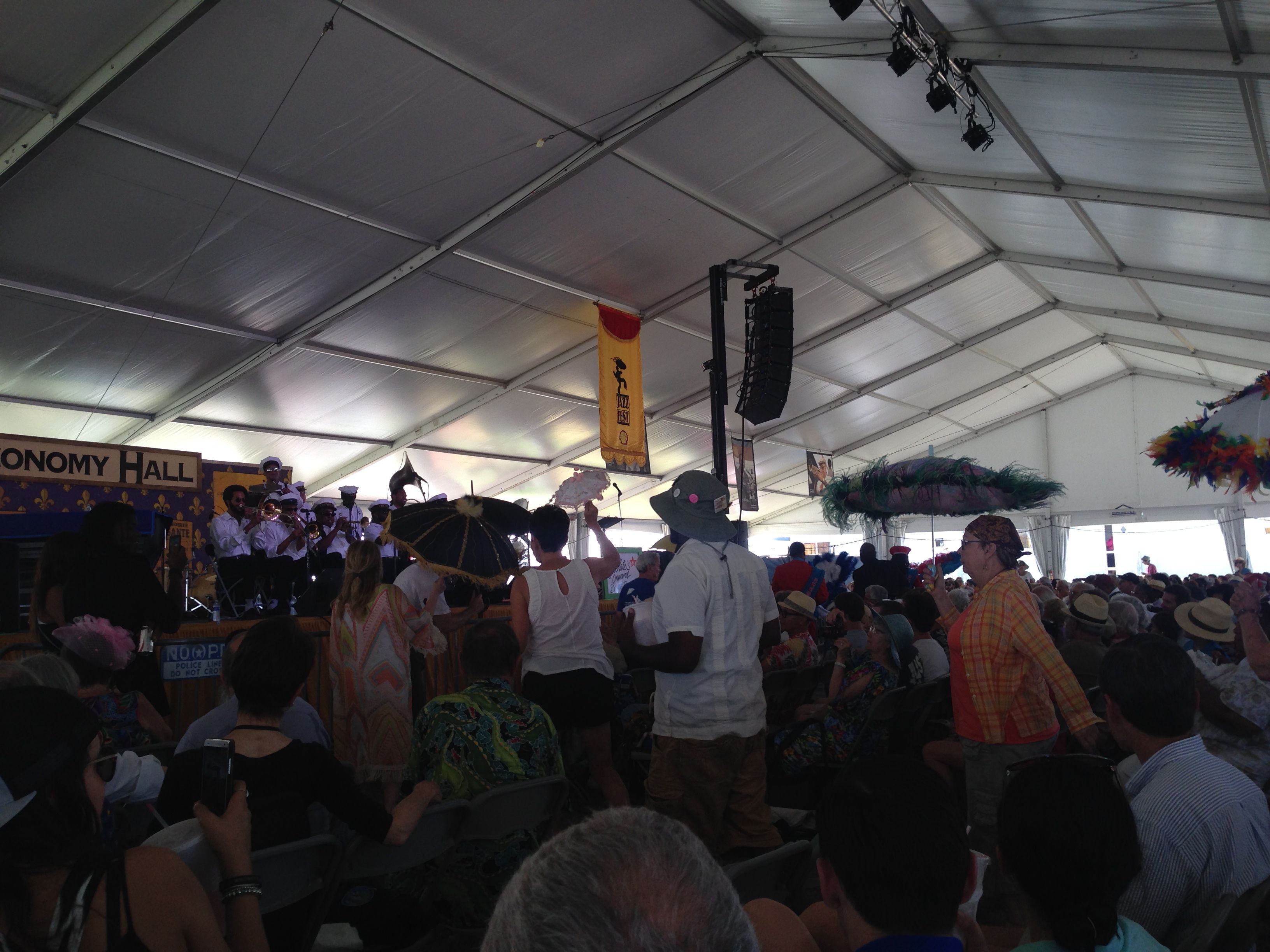 My wife Rosalie and I stumbled into the New Orleans Jazz Fest. We were already going to New Orleans, Louisiana — booking flights and reserving rooms — when our son told us, "Hey, that's during Jazz Fest." So, a little tweak to change hotels, a purchase of tickets for Sunday, May 3, and that quickly we're going to our first Jazz Fest.
Music is a big part of New Orleans. They have music that makes you move or just moves you. It can invoke a memory or make you think. What I love about Jazz is the free flow, taking turns with solos or mini jamming competitions where everyone wins, especially the audience. More than the Jazz Fest, New Orleans is an immersion in music. And food and drink.
Our Very 1st NOLA Jazz Fest
The New Orleans Jazz & Heritage Festival began in 1970. It takes place annually for two long weekends with lots of local music events on the days in between. This year it was April 24 through May 3, 2015.
We took a Cab to the Fairgrounds Race Course at 1751 Gentilly Blvd. We entered the grounds and noticed there were a dozen stages, plenty of musicians, food, crafts and a cultural exhibit. It was a delight.
Starting in the early morning: Guitar Slim Jr. at the Blues Tent; Cynthia Girtley, The Gospel Diva in the Gospel Tent; the Neville's; Lenny Kravitz at the Acura Stage; Steve Windwood at Gentility Stage; The O'Jays at Congo Stage Square; Trombone Shorty & Orleans Avenue; Dr John, Spirit of Satch; and Buddy Guy finishing the night back at the Blues tent. It was an extremely large crowd that we heard had swelled the night before with Elton John playing to almost half a million people.
Food Never Ends at Jazz Fest
On this day it was crowded but fun. We weaved into performances, indulged in great food, a dozen oysters on a half shell with some Louisiana hot sauce, Po Boy sandwiches with the trio of butter, hot sauce and lemon, New Orleans Style… we learned by asking an obliging lady who offered to show us 'how to fix 'em.'
A few beverages for fun and a ton of water to hydrate. You're smiling the whole day. We watched the second line marching through and joined in. We were wanderers. Some plant themselves on a piece of land and become it's territorial owner for the day, but that has limitations. We strolled.
It was hot, so bandana or hat are a must for shade. Our first New Orleans Jazz Fest, but not our last.
Exploring the French Quarter
The theme of music will come back later, but now we head to The French Quarter.
We choose to stay at the Omni Royal Orleans Hotel (504/529-5333) at 621 Saint Louis Street, New Orleans, LA 70130. A lovely hotel just a short stroll to many of the city's restaurants and attractions. It's close, but not too close, to Bourbon Street. The hotel is elegant and full of a nice staff. Greeted by a charming Doorman who is happy to help with directions, suggestions, or just a pleasant "how do you do?" There's a roof-top pool that offers heated swimming and an exquisite view of the French Quarter and Mississippi River. Lounge chairs or comfy seats outside the Bar area are perfect for relaxing anytime of day.
An obligatory stop: Café du Monde (504/525-4544) at 800 Decatur Street, it did not disappoint. A tourist trap, sure, but the line moved and delicious coffee and their famous beignets were the reward. It's so busy you pay when you are served in the sitting area. Spend some time people-watching near the waterfront at Jackson Square.
We took a walking tour from Free Tours by Foot. This gave us an overview of the French Quarter. It was developed around the centrally located Jackson Square along the Mississippi River. In the center of the square is the equestrian statue of Andrew Jackson. The Saint Louis Cathedral, the oldest active cathedral is one of the few Roman Catholic Churches that fronts a major square. City Hall is on the left and the Presbytere is to the right. These matching buildings book-end the Cathedral for a majestic view.
The French Quarter is easy to navigate. We learned the local traditions, touched on the Voodoo folklore and later visited Marie Laveaus Voodoo shop. There is the Iron Lace – elaborate Iron work featured on the balconies and windows evoking the Spanish architectural influence as you wander through this lovely section. We heard about the Pimm cup cocktail at Napoleon House, a must for gin lovers. It's on our list for later in the week. As the tour continues you see all the local characters; painters; caricaturist; tarot readers; peddlers; mimes; and of course many musicians vying for your attention and tip money. The tour is a helpful start to get better acquainted with the French Quarter.
This blend of history, culture, and folklore is part of the city's vibe. Pirate Lore and Legend intertwine with Creole and the Southern heritage on a visit to Pirates Alley Cafe for food or fun. It's known as the Soul of America. Lafitte's Blacksmith shop, at night, lit by candles, is one of the oldest bars in America and gives life to these long-ago life styles. Sometimes a live piano player sets the mood in Lafitte's.
New Orleans Music Scene, In & Around the Quarter
You can grab a trolley ride past the large oak trees ending at the cemetery and City Park. The trolley doesn't turn so the conductor changes the direction of the seats and the back becomes the front, clever. We stopped on Bourbon Street at one of the many bars for a daytime peek and a delightful cold local drink, Abita Amber Beer. The 3-for-1 sign hanging in the bar window is the craziness Bourbon Street can become. Excessive drinking is quite easy if you are doing that. Moderation is the key.
Louie Armstrong Park, on the northern edge of the French Quarter is another spot we discovered. It's arched entrance leads to winding paths and just a gorgeous space. Wooden bridges criss cross the pond and let you enjoy the ducks and birds up close. There's a beautiful Bronze Statue of Scathmo by Elizabeth Cattlett with his famous hankie and the magicial trumpet in his hand. If it's quiet you can hear Mr Armstrong scat. Oh, if only I had the pleasure of seeing him perform live. We stopped for take-out coffee and scones and enjoyed them in this 32 acre park.
Back to the music. Each night is Saturday night. Music hopping is so much fun. Just let your ears lead the way to the next stop, whether on Bourbon Street or Frenchmen's Street or other parts of the French Quarter. Frenchmen's Street is a few blocks diagonally off the main Decatur St and it hosts a dozen Jazz clubs. I like to think of it as Bourbon Street for Adults. Great Music, inexpensive covers and just a fabulous night. We hit Bamboula's/Frenchmen Theatre (504/206-8057) at 514 & 516 Frenchman Street. It was a simple place with the band playing in the front corner. We heard a great set and stayed for the next band as well. Great local musicians.
We had a rather enjoyable time in Snug Harbor (504/949-0696) at 626 Frenchmen Street. We were entertained by the native born Neville's. Headlining was Charmaine Neville accompanied by her famous dad, saxophonist Charles Neville.
It's a place to have dinner, then head into a small area in the back for a show.
The choices for places to enjoy live music on Frenchmen's Street are many, these are just two of the places we enjoyed. I look forward to trying others if we are lucky to return.
In the middle of the French Quarter on 726 Saint Peter Street is the famous Preservation Hall. A great way to begin your evening — they have shows about an hour long with local, authentic Jazz players. We waited on line and then continued into an intimate setting. It's a small stage, maybe 8 rows of folding chairs and behind them standing room. No more than a hundred people, but it feels like a large living room. Great sound helps you envision the old-time Jazz scene. We loved it and loved the musicians.
You can also music hop on Bourbon Street. There's local Rock, R&B, and Souls bands, that drawn you into the many bars and get the crowds going. No minimum or cover, just a donation to the bucket passed around. We would stay for a while and hop to the next place our ears would bring us.
Food Follows the Music
Following the wonderful music, is the food. Cajun, hot and spicy, delicious New Orleans grub. The food changed the way we eat. Here's some of the memorable dishes.
Sometimes you wonder, "Why go to a tourist place?" It's got the lines, is it worth the wait? Is it a tourist trap?
Willie Mae's Scotch House (504/822-9503) is in Treme at 2401 Saint Ann Street. It's on the tourist list of places to go. It's off the beaten path, a 15-minute cab ride from the French Quarter. The line is around the block – we went for lunch and waited close to an hour. Worth It! The time on the line was a long conversation with fellow locals and tourists and we picked up other tidbits for our trip. When we finally sat, we had bar seats. It's always crowded, but it's a fun place. Everyone is working hard but willing to chat and fill in some history, share a smile or just be good natured. We enjoyed the best fried chicken I ever had. Fixin's included. It was made fresh after you order so that adds to the wait. While you wait, sip the delicious fresh lemonade or iced tea. It is not a tourist trap but a delightful restaurant that serves a great meal. After this "lunch," dinner would need to be skipped.
Johnny Po Boy (504/524-8129) is at 511 St. Louis Street, a cafeteria style sandwich joint. I ventured here because it was a short distance from our hotel and I heard about some great sandwiches. I walked over for a boxed lunch to eat by the rooftop pool. Johnny Po Boy is another place with a line forming, mixed with locals and tourists. Excellent sandwiches. Po Boys are the best. They wrapped up a Crawfish Po-Boy and a Soft-shell Crab Po-Boy. I was the hero of the day walking into the pool area with this fabulous to-go lunch.
We got dressed up one night and heading to a special dinner at Emeril's NOLA (504/522-6652.) not far from there at 534 St. Louis Street. It's Emeril's, that superior dining experience. Great appetizers and a supremely enjoyable meal. I love the way all plates placed on the table land at the same time. It's an Emeril's trademark in all his restaurants and it's fun to see, especially at a large table.
Another spot is Royal House (504/528-2601) at 441 Royal Street. They specialize in Oysters – but the dessert is unforgettable. We enjoyed a fabulous lunch on the last day just before heading home. It was a good choice.
I must mention one place outside of the French Quarter, Lagers International Ale House (504/887-9923) at 3501 Veterans Blvd in Metairie, LA 70002, It was a great local spot. We were trying to view the Fight and stumbled into this spot. It was a place for fine craft beer, 75 fine draft beers (mostly craft and local) or 100+ bottled beers. It had excellent pub-grub. The place was a relaxing choice.
The trip to NOLA (as we call it now) will always be remembered for the Music, Food and Drink, in that order. Go check it out.
Dear Reader: This page may contain affiliate links which may earn a commission if you click through and make a purchase. Our independent journalism is not influenced by any advertiser or commercial initiative unless it is clearly marked as sponsored content. As travel products change, please be sure to reconfirm all details and stay up to date with current events to ensure a safe and successful trip.
---