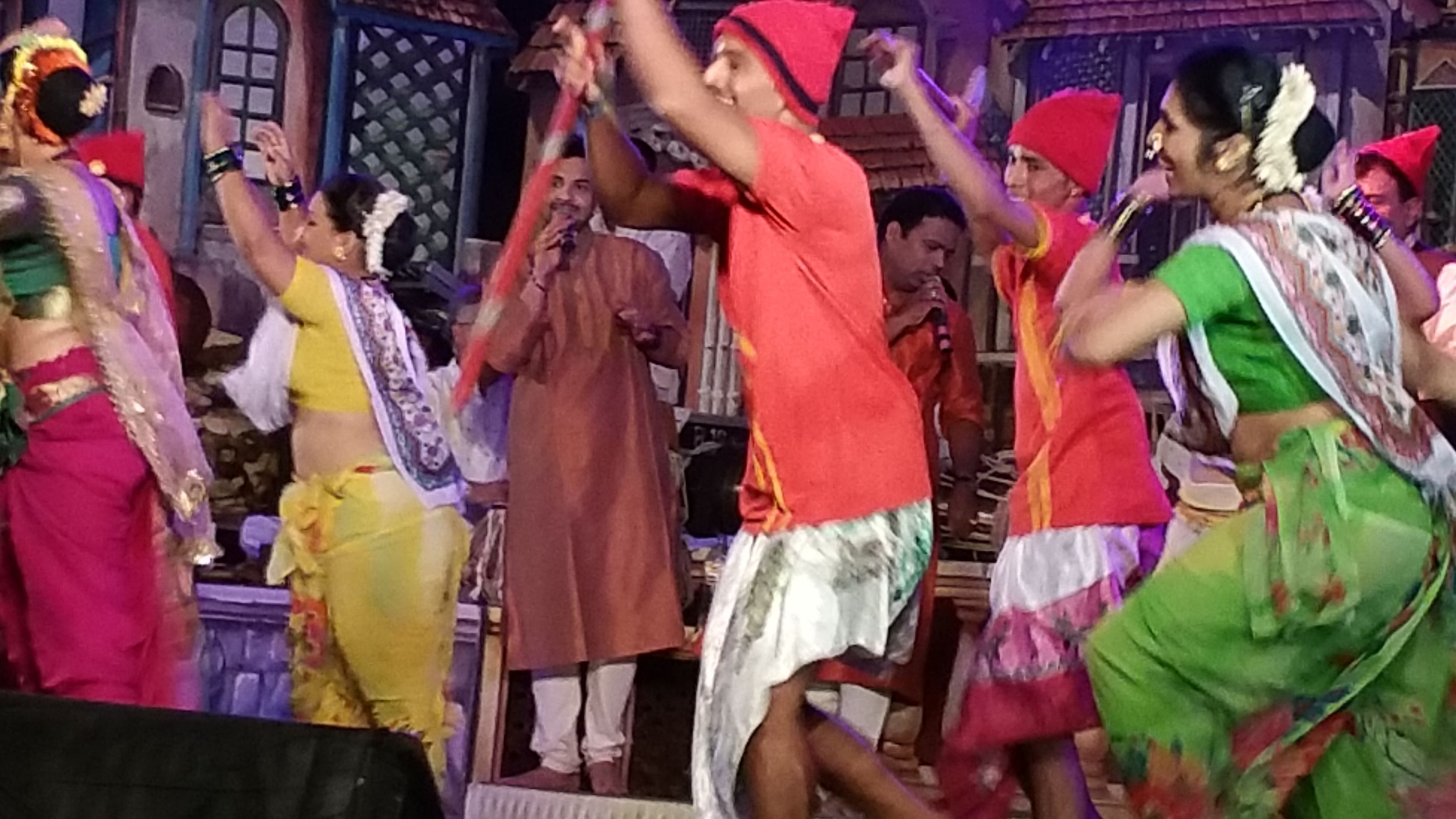 In September 2015, Maharashtra hosted MITM, a travel and tourism expo that not only showed off the best assets of Mumbai and the central India state, but also showcased many other destinations around the country.
From the better known northern states famous for New Delhi and the Taj Mahal, to smaller regions known for their vineyards, wellness resorts, pilgrimage routes or even agri-tourism opportunities, MITM was a feast for the off-the-beaten-path traveler.
Family Travel Recognized by India's Travel Industry
After the 2015 TMS Family Travel Summit found that international family travelers had the same interests and concerns that American families had, I was particularly interested to meet Indian companies which highlighted family-friendly offerings.
Adlabs Entertainment Ltd, for example, had a large colorful display area (with a veritable non-stop circus of costumed characters and dancers). The 300-acre Adlabs Imagica amusement park has followed the Disney playbook with an Indian twist: I for India emulates California Adventures' Soaring aerial ride, and Deep Space uses the dark ride techniques originated for Everest in Animal Kingdom. Their Aquamagica waterpark is designed to look like the Greek island of Mykonos. The company says they offer "experiential edutainment" to attract the region's school groups. Sound familiar?
These multimedia thrills and attractions have been enhanced by the Novotel Imagica Khopoli Hotel. Located about 70kms from Mumbai, halfway to Pune, the 285-room hotel (including 25 suites) has an outdoor pool, restaurants and a snack bar for staycationers or families looking for a weekend getaway, for about US$115 for a family of four.
Representatives from the international Kidzania play zones (one is opening in Delhi in 2016) and several of the luxury hotel groups like the Oberoi and Leela Group, talked about tourism being a multigenerational affair in India, where it's common for three generations to live and travel together. As in many American families, vacations are often driven by a grandparent's interest in history or family heritage.
Among the many travel buyers and specialist agents present, several focussed on families. Specialities ranged from a luxury, custom agency run by Nidhi Kapur of Global Sojourns, who does Viet Nam and India tours for multigenerational families, to No News No Shoes, a U.K. agency planning family beach vacations in the Maldives and India.
India's Travel Trends Mirror the World
In addition to the marketplace, where a reported 250 buyers from 30 countries were meeting with exhibitors to develop new tour offerings, MITM featured several knowledge sessions hosted by different regions and interests.
Interestingly, we heard that the 850 million middle class Indians who vacation domestically often choose their destination from watching Bollywood films. Those glorious, glitzy musicals made by the world's largest film industry are produced in Mumbai.
One session shared data on the tourism benefits of cooperating with Bollywood. Rebranding itself as the "entertainment capital of Asia," Mumbai investors are developing another 150 acres in the neighborhood of Film City as a movieland attraction, and working to reduce the regulations that have made filming a challenge for many foreign companies. I was inspired to make this sketchbook video of the event and the gala evening parties, where Bollywood performers staged incredible dance numbers, and star Amitabh Bachchan was a featured guest.
Travel + Social Good is Big Topic at MITM
The "Tourism – A Powerful Tool for Peace" session shared academic research that affirmed what we've always believed –- travel to other countries increases the chance for world peace. Families who travel know that personal interaction with other cultures is critical to raising globally aware children.
Christine and Philip Aldridge, directors of the U.K. travel agency No News No Shoes were among the many travel buyers I met. Specializing in Maldives and India family vacations, they also place family and individuals in volunteer positions. Christine told me they work with Mumbai's Reality Tours to place volunteer teachers in Dharavi (usually a 12-week minimum stay), and with Kolkata's Missionaries of Charity founded by Mother Teresa, where volunteers can sign up in the afternoon for a few days of work in one of their medical clinics.
"Sustainable Tourism" looked at Maharashtra's rural retreats for wellness, yoga and traditional ayurvedic medicine, and plans to develop agricultural homestays to support farmers. Dr. Ashish Puranik, assistant professor at BMMC College in Mumbai, joked that successful agritourism has only one requirement: "It's very important that no [guest] mobiles have internet connectivity."
Unplugging and reconnecting with the land is a hallmark of Tarpa, a working fruit farm whose 30 acres are shaded by coconut, litchi, avocado, mango and spice trees. At the Tarpa Save Farm, families can join in beekeeping, harvesting trees, fishing and otherwise learning how to use the land sustainably.
Tourism Ministries Organize Tours in their Region
Many state tourism ministries organize their own tours, which can be very cost effective for international visitors.
Maharashtra hosts three- and four-day tours by private car to regional highlights such as the Tri Rashmi Caves and the Gondeshwar and Mahanganpati Temples, as well as a Wildlife Tour to Tadoba to see Bengal tigers in one of several national parks. Contact [email protected] for more information.
Maharashtra also co-hosts the deluxe train, Deccan Odyssey operated by Cox & Kings, whose itineraries include the Ajanta and Ellora rock cut temples, both UNESCO World Heritage Sites.
State of Bihar Highlights Religious Sites
The neighboring state of Bihar attracts international religious travelers to its many sites from the Buddhist, Jain and Hindu religions, but the best known may be Bodhgaya, where Siddhartha Gautama obtained enlightenment and became the Buddha. Mahabodhi Temple, a UNESCO World Heritage Site erected by pilgrims between the 7th and 10th century AD, is one of the region's most popular stops.
Hans Holidays offers an eight-day Buddhist Pilgrimage Tour, land only, with hotel, guide and driver, for US$485 per person based on double occupancy.
Magadh Tours & Travel organizes trips in India and Southeast Asia, but what caught my eye was their caravan tour -– in Bihar, families can book a camper van with a driver and cleaner and head out to explore the state without worrying about a hotel each night.
India: So Much Choice, So Little Time, Where to Go?
I had a chat with Valsa Nair Singh, the Secretary for Tourism and Cultural Affairs in Maharashtra. With such a variety of attractions available in this, only one of 30 states in India, I needed an expert to advise international family travelers.
"Maharashtra is a good mix of the ancient and the modern: there's the Bollywood system, and the colorful mix of festivals and traditions. It's for a family who loves heritage tourism," she noted, "because we have five of India's UNESCO World Heritage sites right in this state."
In addition to attractions for the youngest children, the Honorable Secretary recommended the "shopping, fashion, glamor, nightlife and of course the beautiful beaches of Mumbai," for teens. "We have a specialty here of famous Indian fabrics, in many styles the young girls are wearing, and also lovely costume jewelry."
And which Bollywood film would Mrs. Singh recommend that a family watch to prepare for their visit to Maharashtra?
Without hesitation, she answered, "Three Idiots… it's a fun movie and it brings out lots of things about an Indian family."
Dear Reader: This page may contain affiliate links which may earn a commission if you click through and make a purchase. Our independent journalism is not influenced by any advertiser or commercial initiative unless it is clearly marked as sponsored content. As travel products change, please be sure to reconfirm all details and stay up to date with current events to ensure a safe and successful trip.
---