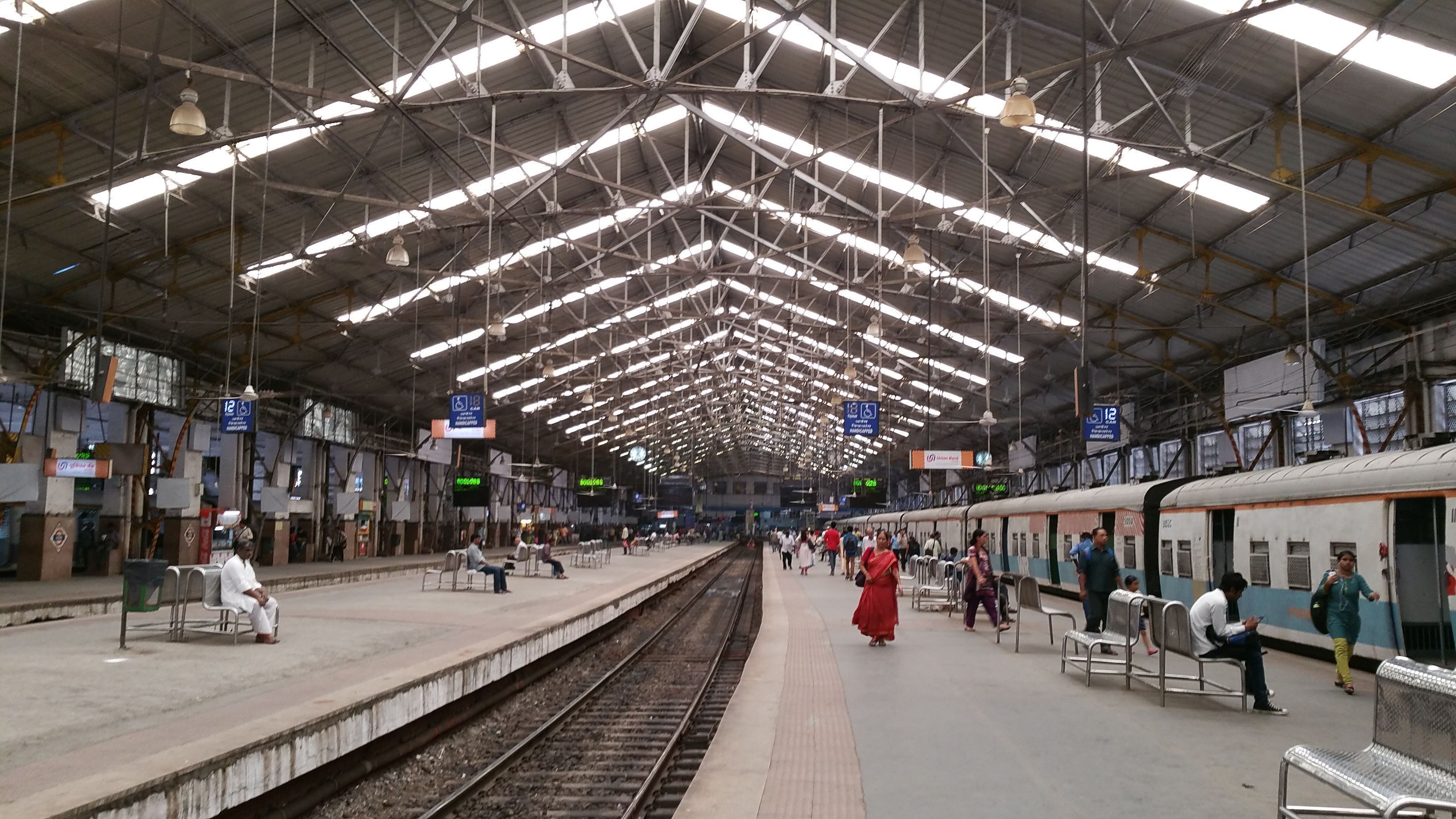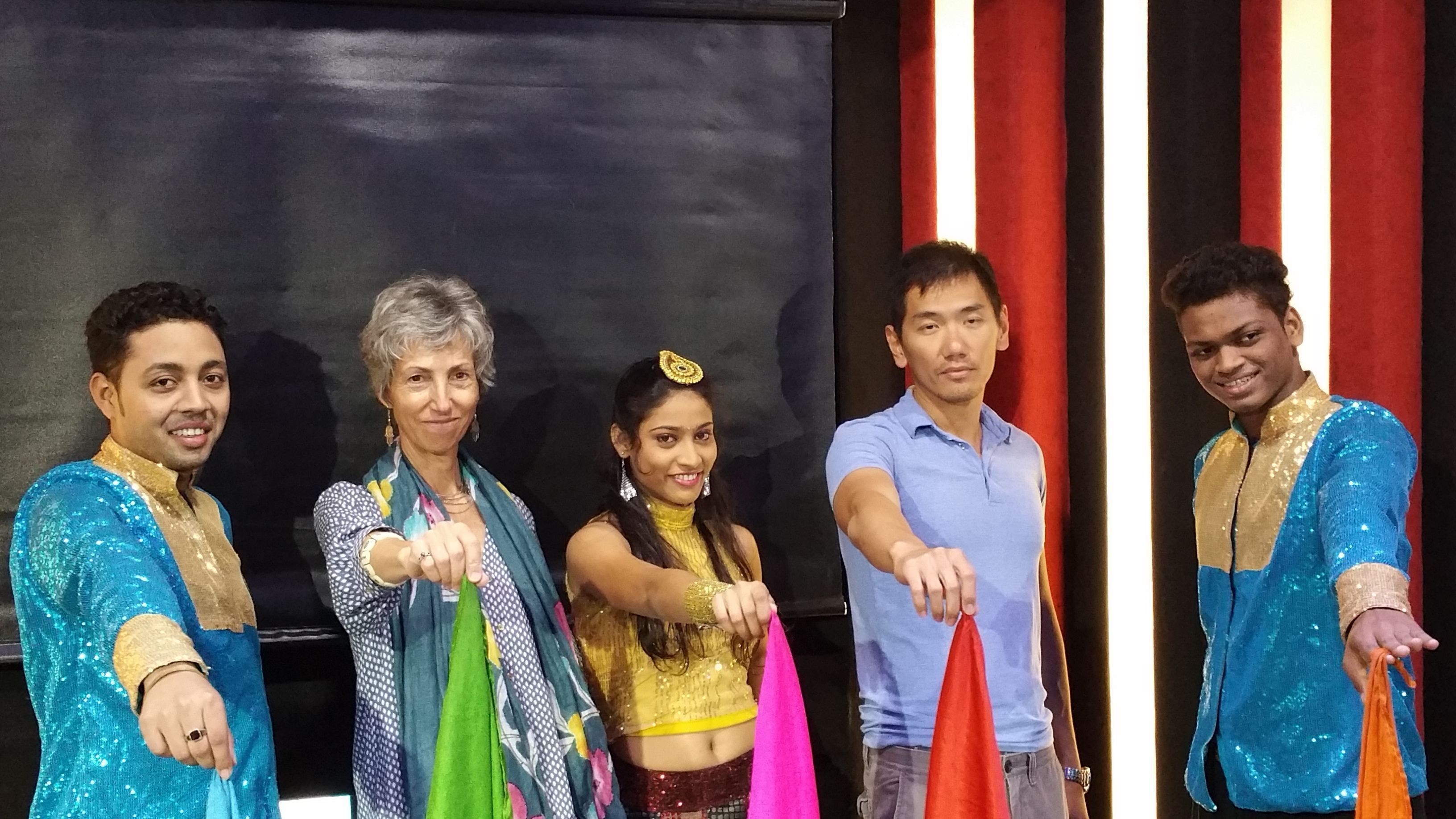 It wasn't until I had traversed the street running past Mumbai's main CST rail station three times, that I realized I was seeing the same people over and over; a woman hanging dohtis out to dry on a parking barricade, a man studiously brewing chai over a tiny coal fire, children rolling on plastic tarps on the sidewalk, laughing and playing.
The Pavement People, as they're known, are not homeless in our sense of the word. Their home is a specific patch of sidewalk, typically clustered around those public pay toilets New Yorkers wish we had when there's no Starbucks around. Their industriousness in doing laundry or selling tea gives them rupees to access the fresh water there.
Inside, under the vast ornate ironwork dome of CST sits a classic Indian Railways train that's been converted into the Deccan Odyssey, a customized luxury vehicle designed to take affluent clients from the West around India in style and comfort.
That the two meet in Mumbai illustrates the yin and yang of India better than anything else.
Mumbai is the Land of Bollywood Dreams
Danny Boyle told India's rags-to-riches story so well in "Slumdog Millionaire" (2008) that his British flavored Bollywood film made more than $141 million in the U.S. alone, while winning eight Oscars. Since then, it has attracted international tourists to the city of Mumbai to see the slums that Jamal (Dev Patel) and Latika (Freida Pinto) escaped from.
Bollywood Tours will take you around Mumbai's Film City neighborhood on an air-conditioned bus (US$49) to see sets, filming locations and stars' homes. That such on-screen glamor and bling emerges from what a Hollywood film crew would consider unacceptably run-down facilities underscores the magic of India's film artisans.
Mumbai is the Land of Slums
Reality Tours & Travel, in contrast, is a pioneer in socially conscious tourism, thriving on a very specific form of dark tourism –- slum tours. Dharavi in central Mumbai is ostensibly the "colorful" slum from which Jamal and Latika emerged, although it was only used for background plates in the final film.
Instead, the 432-acre neighborhood stars as the set for a sustainable social good project that has introduced thousands of foreigners to the real Dharavi. As soon as we cross the railroad tracks carrying 6.1 million passengers daily, my notion of slum is tossed upside down. In my hometown of New York, a slum or ghetto is scorched by crime and drugs, broken families, latchkey children and the squalor of hopelessness.
In Dharavi, Asia's second largest slum after Karachi, most of the 1 million residents have their own homes and live with extended families. Their great-grandparents reclaimed these central Mumbai swamps after the British evicted them from the more desirable, seaside Colaba district, and the fetid canals they built spare the area from monsoon floods.
The Harvard Business School study that recommended developing Dharavi's prime real estate from two-story tin shacks into highrises where current slum-owners would live rent free, say insiders, will likely die in the chaos of India's politics.
Mumbai is the Land of Industry
During my three-hour morning walking tour (US $12), I see an obviously industrious community with its own hospitals, schools, ATMs, markets and video games. Employers run unhealthy, exploitive factories whose dirt-cheap labor produces 30 billion rupees (US$460 million) of goods each year.
Dharavi is a vast recycling hub for plastics that are broken down, washed and dried on the tin rooftops, and sent out to become containers. Aluminum soda cans are processed to become iPhone parts; denim is sewn into Levis; toxic paint cans are cleaned, relabeled and sent back to the factory for refilling. Our guide Arishnaa says the goat and sheep leather we see being dyed will become Gucci handbags.
In the Muslim part of Dharavi, young girls in party dresses avert their eyes as they carry fresh slaughtered goat to their relatives in celebration of Eid. In the Hindu section, families cleaning up after the Ganesh Chathurti festival are happy to show off their shrines to the elephant-headed god of fortune.
Is all Tourism Good Tourism?
Is this poverty porn or a way to expose the have's to the have-not lifestyles we usually ignore? I ask Trey from Louisiana, now an investment banker in Shanghai, why he's here. "I'm really intrigued by slums, they're fascinating," he tells me. "I've been to them all over the world."
Nine-year-old Yuraj, who's come to Dharavi with his parents, says, "It's kind of different from my home." Adds his father, Devang from the U.K., "This is a once in a lifetime exposure to the reality of life [for him]; I hope he will digest it and remember."
We end our tour at the spotless community center where after school and computer programs are run by Reality Gives, the NGO financed by 80% of the profits from visits like mine. This is a model for sustainable tourism that I think Yuraj will remember; we all will.
Mumbai is the Land of Decadence
I return to the CST a few days later to board the Deccan Odyssey for a four-night tour of Maharashtra state, customized for our travel media and industry group. The train journey is a partnership between the state and the U.K. based luxury tour operator, Cox and Kings, transporting us in a lavish bubble to some of India's cultural, religious and historical treasures.
Cabins are petite yet comfortable: flat screen TVs and a Bollywood film library, hot showers, A/C, a pillow menu, one-way glass picture windows -– this is, after all, a converted passenger train. The stellar staff of 45 attends to up to 88 passengers, and they are all about service with a smile. Satyander looks after my train car, Rajwada, and he's available 24/7 to bring tea, tidy up the cabin, reboot the erratic WiFi signal, or otherwise help out. The full seven-night version of our journey costs $8,386 for a twin-bedded room or $12,579 for the two-cabin-sized Presidential Suite, which is ideally set up for a family with two children.
It's the first visit to India for Marina Lich of Ansbach, Germany, traveling with her husband Gennardy, and son, 27-year-old Mark. A sophisticated and adventurous traveler who runs EU-ASIEN.DE, Mark dislikes the confinement of the daily motorcoach tours at each station. He is pleased, however, that his mother says how comfortable she feels being in this cosseted group.
"As a mother, safety is so important," she tells me. "This is the only way I would ever travel to India with children or grandchildren."
"The mentality here is so different from Europe," she adds, "it frightens me."
Yin and Yang of Old Maharashtra
The highlights of our journey include a day at the UNESCO World Heritage Site of Ellora, a series of 34 mountainside temples built by thousands of anonymous pilgrims between the years 200 B.C. and 1000 A.D. They are packed with gorgeous Buddhist, Hindu and Jain sculptures. The excellent guide Sundeep Gaukwad (+ 99 60582994) shares stories of Aurangabad, the fortified city of the emperor whose parents are entombed at the Taj Mahal. He shares tales from each religion and the physics of removing 200 tons of black basalt rock to reveal the gorgeous Kailash Temple.
The next day we descend at the platform nearest to the Ajanta Caves, another remarkable monument to Buddhist devotion preserved by UNESCO.
As at each stop, a small orchestra with dancers and singers greet us. Our foreheads are anointed with the red bindi that reminds us to cultivate our inner or spiritual vision, then we're ushered past locals waiting on the sweltering train platform into an air-conditioned bus. When we return after another splendid day, there are refreshing towels, fresh-pressed drinks like kiwi or watermelon soda, and delicious Indian snacks awaiting us.
I feel blessed having had the opportunity to see Ellora and Ajanta for myself, and in this fashion. This is the life, indeed.
Yin and Yang of New Maharashtra
Not until we reach Nashik, one of India's four Holy Hindu cities, does our thoughtful guide, Chitra Acharya ([email protected]) bring the trip full circle.
Nashik is filled with historic wooden buildings, famous Hindu shrines, and thousands of pilgrims bathing in the murky Godavari River soiled by the ashes of burning votive offerings.
We remove our shoes and join them, brightly pedicured feet shuffling through debris and crushed marigolds as we approach the many altars.
We photograph half-dressed Sadhus who smile knowingly as they wait for a contribution for each "click," as the Indians like to say.
We shop for votive items in the dirty back lanes of the market. Chitra tells us that they're considering tearing down Nashik's slums and putting in a shopping mall. She talks about faith, society, the revolutionaries of Independence, the newfound popularity of Indian wines, where to take yoga classes, the life of these people.
I stop to buy a fresh-brewed chai from a man who reminds me of Mumbai's Pavement People. He is pleased I want to take his picture and I am pleased, and offer to buy three of my fellow elite some tea, too.
The 23¢ I pay per cup leads each of us, quietly, away from the comfort of fine china and Twinings and into India, perhaps the real one.
Perhaps not.
Dear Reader: This page may contain affiliate links which may earn a commission if you click through and make a purchase. Our independent journalism is not influenced by any advertiser or commercial initiative unless it is clearly marked as sponsored content. As travel products change, please be sure to reconfirm all details and stay up to date with current events to ensure a safe and successful trip.
---