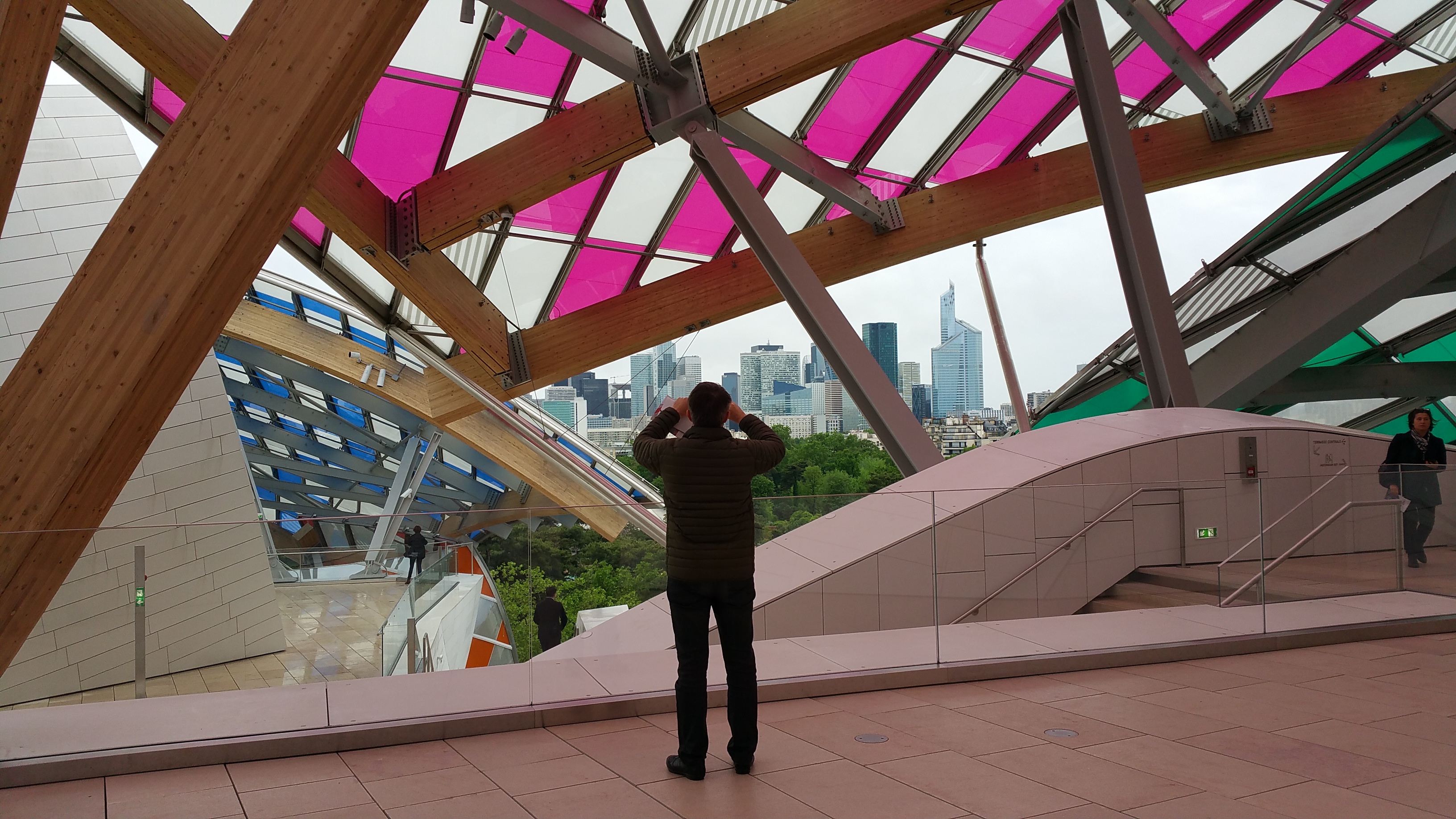 Since summer is the most expensive time to visit Europe, we're sharing the euro-saving tips we learned from our own recent adventure. And, with the strong exchange rate, drop in tourism due to several factors, and bargains we've uncovered in our summer vacation roundup, you can find some good deals, too. Put them together and voila: an affordable summer on the Continent.
Finding Travel Savings on Flights
There's no longer any effective strategy to buy on a certain weekday and stay over a certain weekend night. Air fare yield management is so sophisticated that rates change for the same flight several times a day — for weeks prior to departure.
The experts at Google Travel claim, after running hundreds of thousands of queries, that purchasing flights between 30 and 21 days ahead is probably the best value.
Why? Closer in than 21 days, planes become full enough so that the cheapest seats are gone and other seat prices are volatile. Yet, there is the occasional chance for a last minute bargain flight, but only if you are willing to accept extremely early or late departures and one or more flight changes.
We find Momondo (bought by Priceline.com in July 2017) one of the best flight price comparison options for European fares because it features such a wide range of carriers, with Google Flights another very useful tool because of the ease of sorting results by preferences such as number of stops, flexible dates and more.
Curse of the Cheap Airline
LCCs (Low Cost Carriers) have lots of pluses and minuses, so you'll want to recognize the names of Europe's cheap airlines when you see them on a search results page. Their rates can be startlingly low in comparison with major carriers like KLM and Lufthansa, but there are extra charges for everything.
Carry-ons such as roll-aboards small enough for overhead bins — but weighing more than 8 kgs — must be checked at rates from 15€ to 30€ per bag. Some carriers charge a fee for a handbag or briefcase. Most charge less for bags when bought during the online check-in process, but charge you if you have not printed out a boarding pass and luggage receipt prior to arrival at the airport.
Many low-cost carriers fly into secondary airports that can be a 100€ taxi ride, or a cheap 90-minute bus ride, away from the city center. The message is, choose wisely.
Should I Fly, Take a Train, or a High Speed Bus?
A favorite tool to facilitate transportation decisions is Omio
, the former GoEuro.com. Heightened security at all airports has made waits longer, yet flights to and within Europe
are usually cheaper than European trains (unless booked way in advance or you catch a special fare.)
Save up to 65% off off transport
with Omio's comparison tool that lets you easily understand the time / money equation for each leg of your trip plus a "best results" option so you can check hwich carriers fly to a destination.
We have successfully bought train tickets through their site and saved money doing it.
Find Savings on European Trains
Trains are efficient and comfortable — less wear and tear on your family — and a fun way to get around. However, train travel is rarely cheaper than Europe's many competitive low cost carriers. The only savings you'll find is with promotional fares on national railroads, which may run a round trip fare package to a big music concert, or other weekend getaway. Booking two weeks in advance can also means big savings.
From our recent trip using trains in France, Germany, Netherlands and Hungary; we can give them credit for having: Spotless facilities, working toilets, quiet cars, comfortable second class seats, safe luggage storage, on-time schedules and pricey (but freshly made and not as exorbitant as it could be) food on board. We can't give them any credit for WiFi, although we did occasionally see a WiFi promotion for T-mobile users.
Car Rentals in Europe
Car rentals are expensive in Europe, and fuel is much higher per gallon (currently US$8.50 in Italy) than Americans pay at home. Nevertheless, for families comfortable tackling the changing driving rules and regulations in each of Europe's countries, there's nothing more convenient than having your own car.
Several travel agents and rail ticket brokers can help you book a rental car, and we have had good luck and good rates with Auto Europe. Deals do exist, for example, on international Auto Europe car rentals
. One challenge for US and Canadian residents is that insurance coverage and rates vary by country, your credit card insurance works in some regions and not others, and the terms and laws governing each contract make your head spin. Check out the suggestions from "Auto Europe car insurance tips" and you'll be able to simplify the choices. Another quick note for those driving in Europe: our source at Google Maps says get a local SIM card if you're planning to use your phone's GPS system, because foreign data plans reduce the data flow on cellular signals so much it will make your GPS seem out of sync with the road.
Hotel Savings in Europe and Beyond
European hotels can be expensive for very small rooms, and terrific budget chains like Ibis and Premier Inns may not be within walking distance of the sights you've come to see. However, budget chains may be less than half the rate of a center city two-star pension and, if you're traveling with young children, you won't be walking much anyway. Again, homework pays off -– knowing which location you prefer and what your priorities are will save money. The latest, super smart Frommer's Europe travel guide (written by Arthur Frommer himself!) is a great place to get an overview of your whole itinerary.
Our favorite tool for hotel shopping is Booking.com, a Germany based hotel metasearch engine that compares rates by searching dozens of major booking engines. Easy to use filters allow travelers to sort by group size like "family" and then refine results by self-described star rating, users' reviews, price, distance from major landmarks (each destination has a selection of relevant landmarks), and amenities such as WiFi and breakfast. The easy results page quickly lets you see if a splurge hotel is having a flash sale or the budget hotels are 15 kms outside the city center.
Pluses and Minuses of Using OTAs
There are thousands of OTAs (online travel agencies) around the world and, since we're rarely familiar with most in the region, we are loyal to Booking.com
. They are owned by Priceline, the site is easy to use, they highlight their offer with perks, and you can pay a bit more to lock in a room reservation that can be modified without a penalty.
Booking.com's
customer service is excellent. For the one non-refundable Paris hotel we had to cancel, for example, they allowed us to communicate with the proprietors through their interface, who agreed to apply what we'd prepaid to new travel dates without a penalty. However, hotels pay OTAs 15% to 30% of your rate as a commission, so you can often find a cheaper rate (or the same rate but including a room upgrade, breakfast, spa discount, city tour, etc) by booking on the hotel's website directly.
Timing and luck pay off. Last minute calls to the front desk after 4pm may net you a discount because the house is not full that night.
Going to an independent hotel's own website in Germany, we found a 190€ rate compared with Booking.com's
rate (250€ with breakfast), and even better than speaking with the hotel's manager (210€ with breakfast) –- and he's the one who tipped us off to book online because it would be cheaper than what he could offer.
Homey and Non-Hotel Savings
AirBnB, while very popular in Europe and in major cities, will show many listings but beware of rapidly changing laws that prohibit them. Prices shown are very competitive with hotels, so do your homework, vet the reviews and if you leap for a great value, don't do it too far ahead of arrival. And, don't expect the language fluency and bathroom cleanliness you're likely to find in a hotel.
Another option is TrustedHouseSitters, which allows members (annual fee) to stay in eachother's homes free in exchange for pet or house-sitting. A recently available entry was three weeks in a two-bedroom home near Casoli, Abruzzo Italy, in exchange for watching over a dog and two cats while the owners traveled; offers change daily. For a homey homestay where the kids may make friends, check out Homestay.com. Like Airbnb at its beginning, Homestay.com guarantees that you will stay in someone's home, with them at home, providing that authentic cultural touch. A family of four can find some options on the site that allow them to be guests of another family. Traveling teens can find college students and perhaps other families who will take them in for a well-rounded insider experience.
Getting Around, On the Ground
Transportation passes and museum passes are a must. American travelers continue to be screwed by U.S. banking's primitive credit cards, which do not carry Chip-n-PIN smartcard identification tools. (They are chip-and-signature cards.) Even though your credit card may have a visible chip, unless it is compliant with global standards, any PIN assigned to it will not be machine readable, and a signature will be required for purchase.
This requires human intervention; therefore, travelers are unable to purchase Metro tickets from a machine or use a self-service petrol pump on European highways. Because of this constant hassle, we found it much easier (not cheaper), for example, to purchase a Budapest Info Travel Card which included free local transportation and museum discounts, than to have exact change to use the ticket dispensers in the underground railroad system.
The other, super efficient system we encountered to get around — Uber. It may not be the politically correct choice, and not every driver spoke English, but they could all follow a GPS and the prices were much lower than what we're used to at home.
Bonjour Paris! Safe travels, and let us know about euro-saving hacks you discover, too.
Dear Reader: This page may contain affiliate links which may earn a commission if you click through and make a purchase. Our independent journalism is not influenced by any advertiser or commercial initiative unless it is clearly marked as sponsored content. As travel products change, please be sure to reconfirm all details and stay up to date with current events to ensure a safe and successful trip.
---