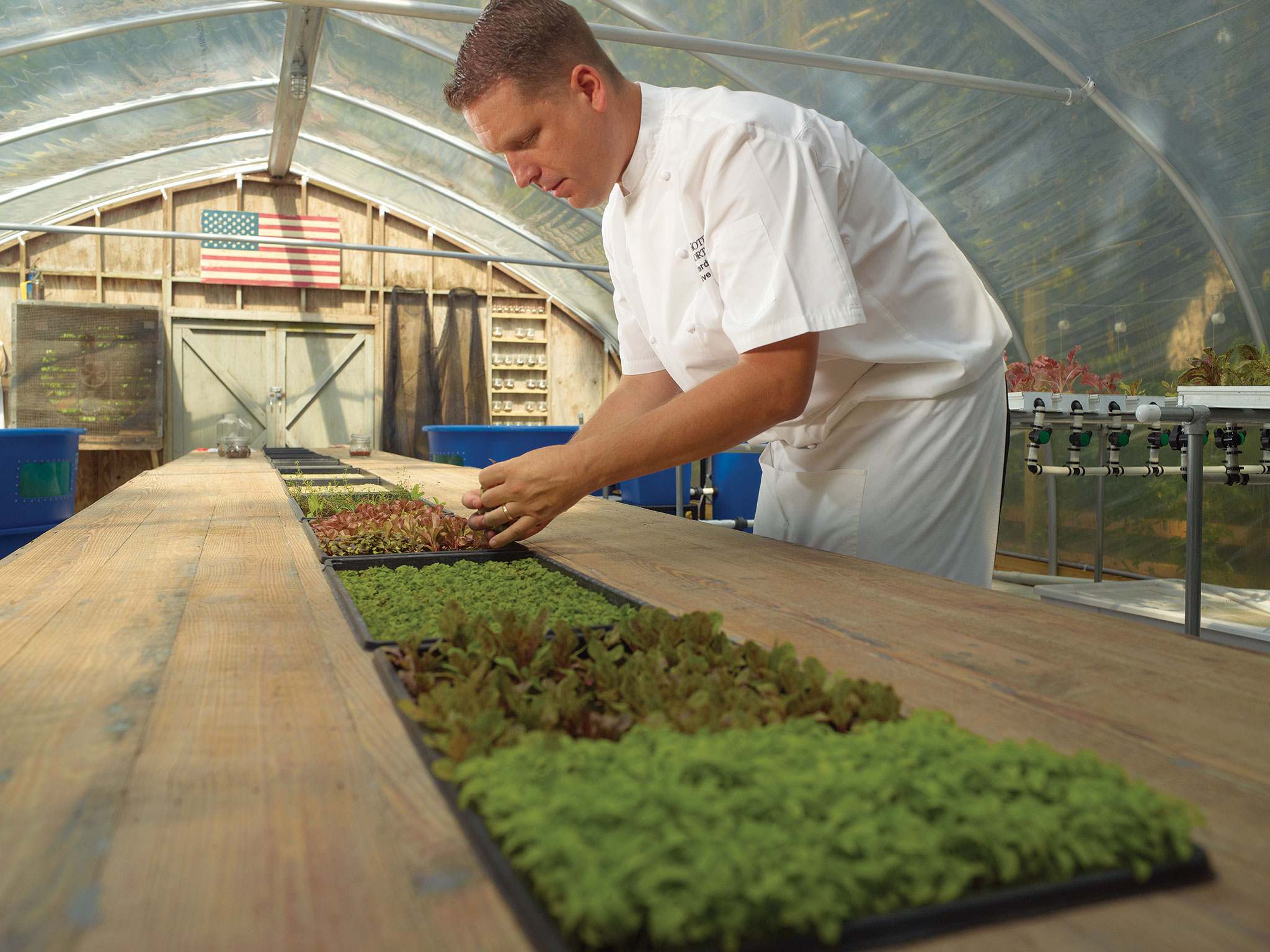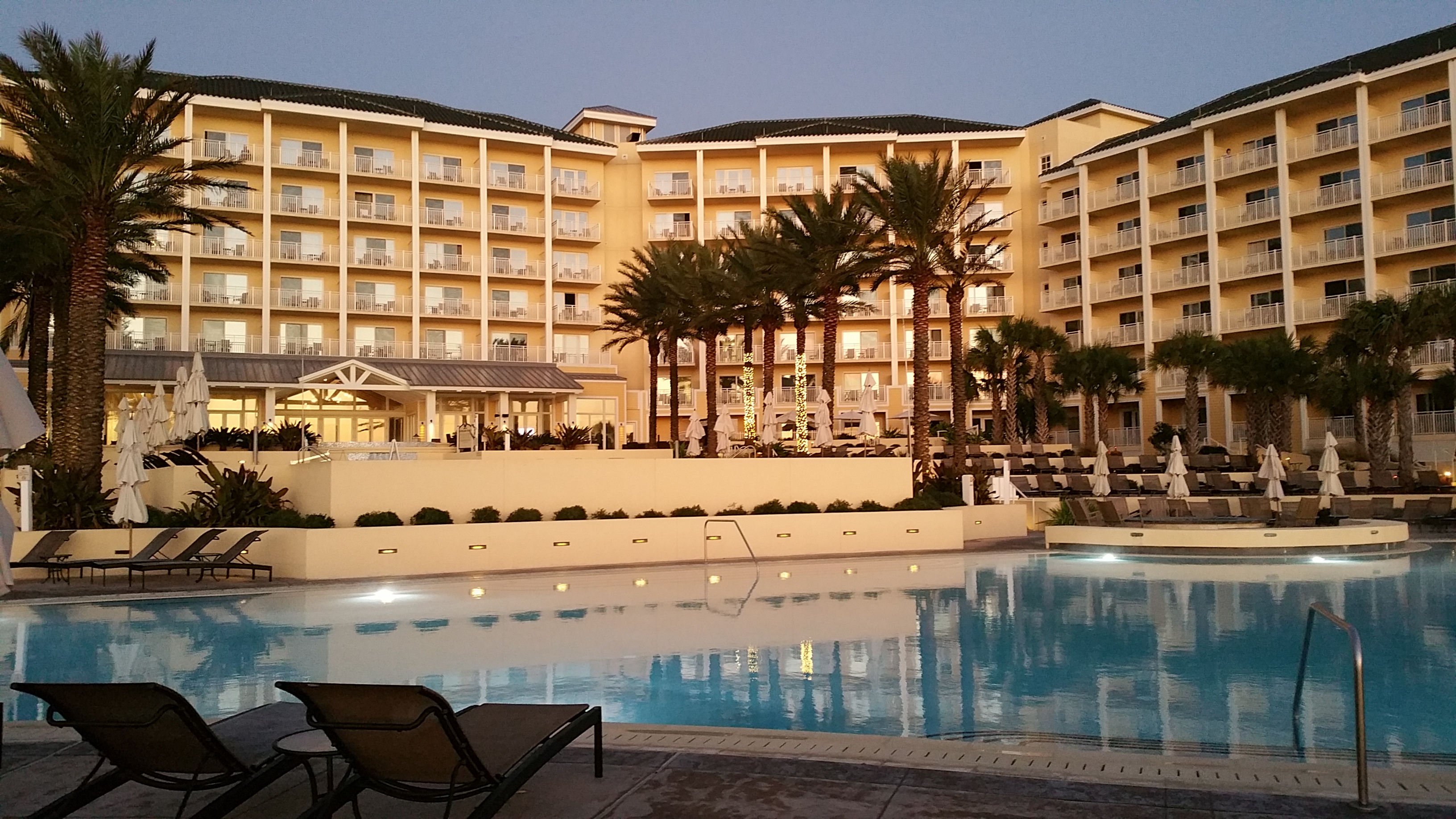 At the TMS Family Travel conference held on Amelia Island, I experienced how one man's passion for the culinary arts can convey an aura of wellness over an entire resort.
That passion belongs to executive chef Daven Wardynski, who has led the culinary team at Omni Amelia Island Plantation Resort since October 2012, and is currently supervising chef for all the Omni Resorts east of Texas.
In Chef Daven's eyes, the dedicated attention to food and children's needs are the resort's real focus, and the source of its therapeutic spirit.
"I do this because I have two little girls," he admits. "They know Daddy works a lot. They help me garden here every weekend, so they really understand where their food comes from. "
He adds, "That engagement means the world to me."
Meet Chef Daven Wardynski
Chef Daven is the creator of The Sprouting Project –- a spare time passion when he's not watching over the Omni Amelia Island Plantation Resort's nine restaurants and food and beverage services.
Although he looks like a young farm boy when he refer to his Midwestern roots, Chef Daven has been cooking professionally for more than 17 years, starting with TRU in Chicago, where he was sous chef to celebrity chef Rick Tramonto. He moved from the Omni Chicago to the Omni Amelia Island after filling in when they needed some extra F&B staff and, with two young daughters, decided to never leave.
He says each region's culture and locally available ingredients inspire his menus. While that approach might garner many awards in Chicago (and it did), in a more isolated environment like Amelia Island, Chef Daven's culinary philosophy has a transformative effect.
Amelia Island's Sprouting Project
The Sprouting Project, built by the chef and his resort team to raise some of their own produce, is tucked into a heavily wooded corner of the 1,350-acre property. In the small greenhouse, two 500-gallon water tanks host blue gill, sunfish and bream — fish that are fed only organic material. Their nutrient-rich waste fertilizes the kale, herbs and lettuces used in salads, and the plants in turn purify the water, which is recycled back to the fish habitat.
This is a homespun DIY aquaponic greenhouse that takes aquaculture in new directions, yielding a crop about twice as fast as a soil bed would.
Barrel vaulted Quonset huts; wood cabins; crunchy, crushed coquina shell flooring and hanging Spanish moss… the charm of the setting evokes bygone Florida. At our evening visit (groups can plan meals there, and guests may join complimentary tours during the day), we sat at a picnic table and watched an owl fly onto a live oak limb above the creek. That owl watched us eating Chef Daven's kale salad until he realized it would be easier to catch other prey.
Honey is the Food of Life
Chef Daven's real baby is the apiary. Twenty-seven colonies house 2.5 million bees, producing about 5,000 lbs of honey used in many dishes, in many ways, and in many pleasing treats.
Every morning, I took advantage of the Omni Select members' perk (membership is free to all Omni hotel guests) to order complimentary room service of fresh-squeezed grapefruit juice. After relishing its full-bodied crisp pulp, I brewed a cup of tea at my minibar, and then dove into the two delicate Honey Hive Cakes on my tray.
Each time I tried them, whether with fresh cheddar and a honey brittle biscuit, or with tea, the tiny gooey treasures were imbued with the fragrance and rich taste of Chef Daven's personal passion.
I could taste it.
Chef Daven Loves to Feed Everyone
Sharing is part of this resort's DNA. Chef Daven told us about "Say Goodnight to Hunger," a charitable initiative that Omni began in June 2016 in partnership with Feeding America. The program has a goal to serve 18 million meals by year's end, just by donating one week's worth of meals to a family of four, for each booking made on the company's website.
Chef Daven also takes the long view on his own work. A traditional smokehouse is under construction to sprout smoked meats and fish.
His culinary curiosity extends to beverages and, at the Sprouting Project, his team is experimenting with a rustic barrel room. Peek in and see where 36 barrels of honey-infused cocktails, fermented wines, specialty vinegars and hot sauces are blended, sampled and stored for use throughout the resort.
Perhaps it's the sweetness that underlies everything that passes your lips at Amelia Island, but I feel better after just two days on property.
Planning a Visit to Omni Amelia Island Plantation
Here's a quick look at the resort and our guest room.
Resort guests can join a free, kid-welcoming tour of The Sprouting Project — guided by one of Chef Daven's team — every Saturday; call the concierge to sign up at 904/432–1467. The Sprouting Project also hosts featured dinners every month in a more adult atmosphere, where you can sample some of that honey bourbon they're aging in the barrelhouse. In addition to the local produce (sourced 10 feet away), you may enjoy an owl or alligator sighting around the bank of the creek. For questions and to book dinner, please call 904/432-1466; cost is $55 per person plus tax and gratuity.
In addition to its culinary reputation in north Florida, this resort is well known for its wide array of recreational options –- a good thing when you have several days and 1,350 acres to play on. According to Donald Stamets, the resort's Area Managing Director, there are 220 staff assigned to the recreation department alone.
Within the property is a weeklong Wellness program associated with the popular show, "The Biggest Loser." There's an outdoor pool, a kiddie splash zone (water is not heated), a full children's activity program with counselors, outdoor Jacuzzis, an indoor heated pool in the larger fitness center, tennis, golf, rental bikes, kayaking and more. There are 18 holes of minigolf, an on-site animal hospital for the island's birds and marinelife, and a turtle watch to protect the nests deposited on their beaches. Several of these facilities require a fee.
Set your GPS for Omni Amelia Island Plantation Resort (904/261-6161) at 39 Beach Lagoon Road, Amelia Island, Florida 32034 and you'll start feeling better already.
Dear Reader: This page may contain affiliate links which may earn a commission if you click through and make a purchase. Our independent journalism is not influenced by any advertiser or commercial initiative unless it is clearly marked as sponsored content. As travel products change, please be sure to reconfirm all details and stay up to date with current events to ensure a safe and successful trip.
---