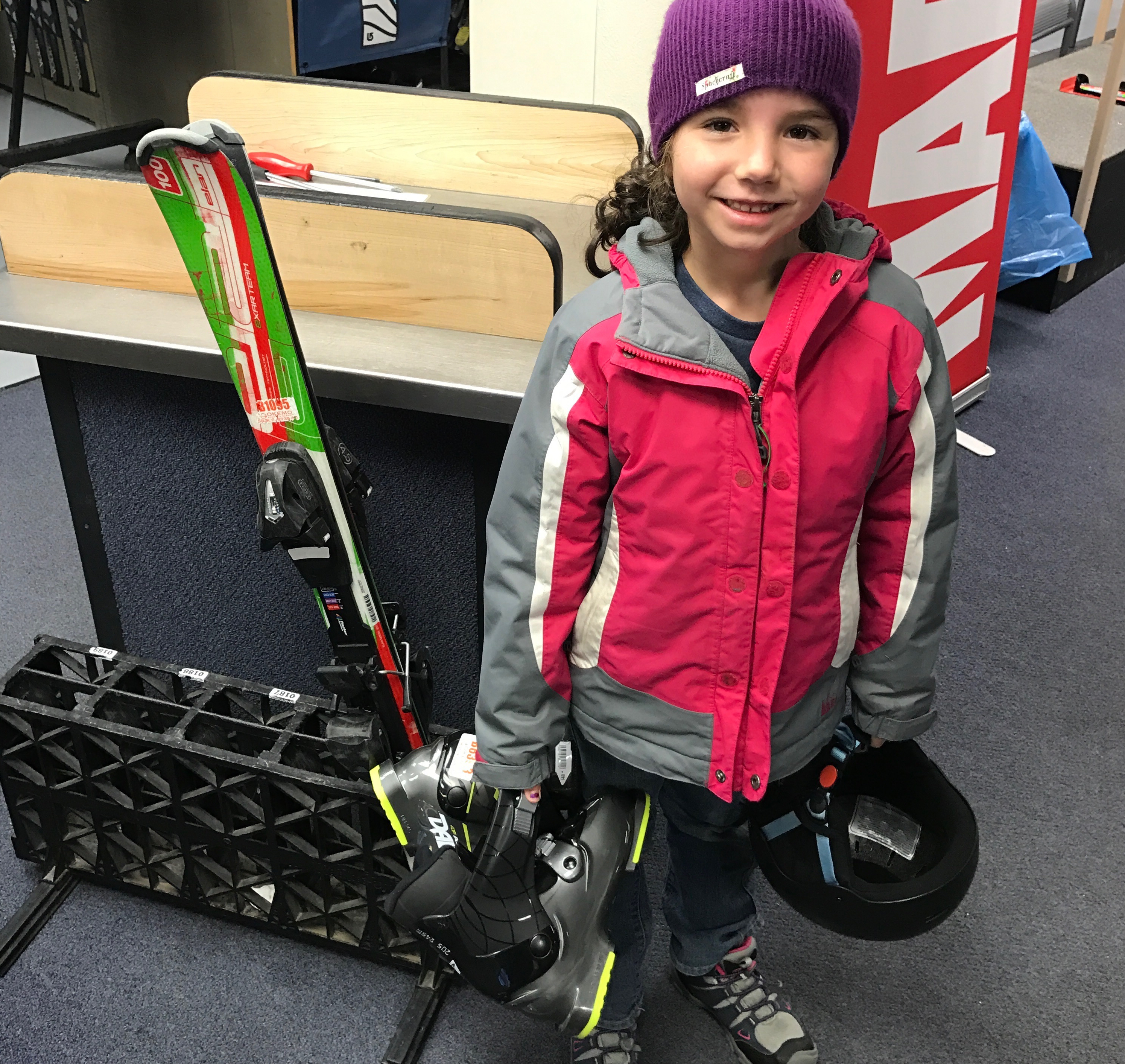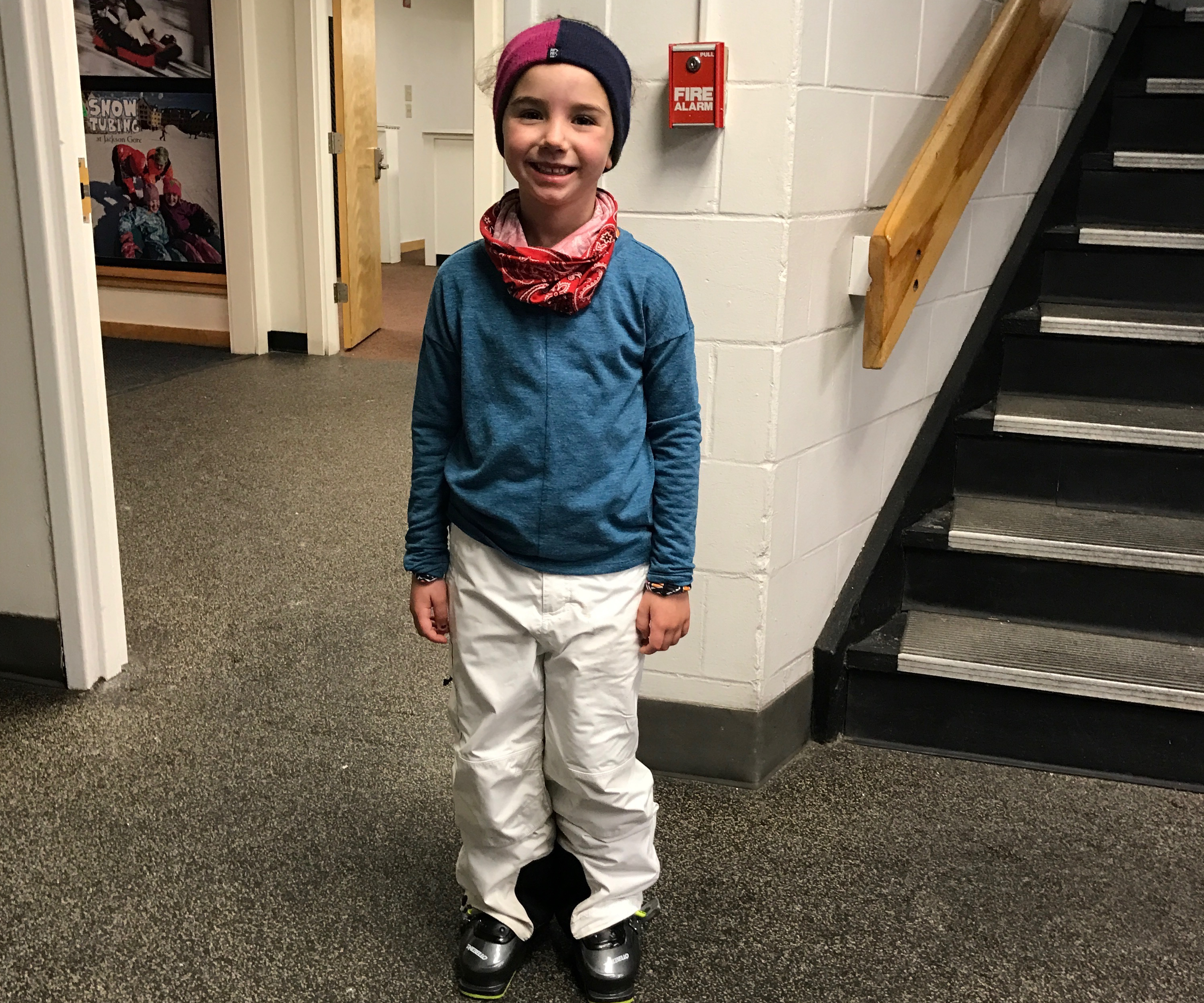 As a novice skier, preparing for a ski trip to Vermont with my daughter was a bit intimidating. She's a great sport but, at only 5-years-old, I knew that the process of renting/fitting gear, layering appropriately, and making this experience fun enough so that she'd want to accompany me regularly, was going to be tough. Yet, from the moment we arrived at Okemo Mountain Resort for the Media Weekend, I knew we were in for a treat.
A quick four-hour drive from Brooklyn, Okemo is nestled in the picturesque town of Ludlow. The rental shop –- the first stop on our trip –- is easy to find and located conveniently at the center of the Clock Tower Base area. As soon as we walked into the shop we were greeted by smiling staff members who were quick to give helpful suggestions for getting fitted properly. Once sized, the checkout process moved quickly -– helped no doubt, by the seamless technology that was being employed. A scan here, a quick note in the computer there, and we were on our way to the ski school to get my daughter enrolled in a half-day lesson with the Okemo Ski + Ride School the next day.
Exceptional Guest Service and Family Fun
Just a few steps from the rental shop, the Ski + Ride School provides lessons for kids as young as 3 and teenagers as old as 14. As we entered the building, I began to pick up on two of the Okemo values that we would experience again and again throughout the weekend: Exceptional Guest Service and Family Fun. The staff who welcomed my daughter put her immediately at ease with big smiles and assurances that she would feel comfortable on her skis before her lesson was over.
With our gear in tow and having enrolled in the ski school, we drove over to the Jackson Gore Base Area to check-in to the Jackson Gore Inn. A majestic semi-circular hotel, the Inn stands out for its access to Jackson Gore mountain and its beautiful architecture that blends seamlessly into the surrounding mountains. Sticking with the Okemo theme of customer care, the check-in process was seamless and filled with smiles and helpful tips. Upon unlocking the door to our room, we were surprised to find a gas powered fireplace, a full kitchen, and room to spread out; accommodations that left us wanting for nothing.
After a wonderful night's sleep, we headed downstairs for breakfast at the Coleman Brook Tavern where we loaded up on eggs, potatoes, toast and juice before grabbing our gear and making our way to the Clock Tower base for a day on the slopes. My daughter was a trooper carrying her gear from the parking lot despite being, understandably, a little nervous to leave her dad for a few hours. But her jitters quickly melted away when she was swept up by the staff at SnowStars.
Beginners Can Be Snow Stars at Any Age
I, myself, was also nervous as I was about to ski for the first time since early 2015 and only the third time in as many years. I started off slow with the Star Light Carpet and the Fairway trail, easily the most practical and calming place for one to steady the legs. I soon felt more stable and took myself through the A Quad lift access by using the seamless Real.Easy Card (RFID).
For the uninitiated, the RFID card fits inside your jacket pocket and will open the access gates quickly with a little beep each time you want to ride the lift — a huge time savings and a way to systematically control the lines. The Open Slope and Lower Mountain Road trails were the perfect next step in my progression and gave me the confidence to take the Sunburst Six lift before lunch to try my hand at making my way down the full mountain.
The Sunburst Six warmly embraces you for the quick ride to the top of the mountain with its wind/sun shell –- a welcome add-on to the usual ski lift as the standing temperature at the top of the mountain on Saturday was a frigid 3°F. Once off the lift, I pointed my skis in the direction of Sweet Solitude. A bit of a step up from The Open Slope, Sweet Solitude gave way to spectacular views of the valley and had enough speed to get my heart pumping. From there it was a slight turn onto Roundhouse Run, followed by Mountain Road, before merging into the Lower Mountain Road and the bottom of the mountain. Being elated that I made it down safe and sound, I went to pick up my daughter to see how her day went.
Immediately, I could tell from the smile on her rosy red cheeks that she had a blast. "Daddy! I can pizza pie!" she practically screamed as I walked in. We received a report card and some helpful tips for keeping her ski education progressing; plus, she handed me an adorable drawing that she made of her and her daddy. After a filling lunch at The Sitting Bull, including a desert of hot chocolate with whipped cream, we decided to use the last hours of daylight to hit The Timber Ripper Mountain Coaster back at Jackson Gore.
Thrilling
The Mountain Coaster is a year-round attraction that will get anyone's heart racing. The helpful (and smiling) staff strapped us into our car, walked me through the method of braking, and then sent us on our way. Following a few-minute ascent, we were propelled down the twists and turns of the track at scream-worthy speeds approaching 30-miles an hour. We enjoyed the trip so much that we rode the coaster another four times despite the quickly plummeting temperatures.
By the time we were done, we were ready for a warm bath, a hot shower, and some down-time in our room before venturing back to the Coleman Brook Tavern for dinner. Focused on quality and a superior dining experience, the Tavern features items hand-selected from the incredible lineup of Farm to Table partnerships. Cheeses, pastas, meats, and seasonal vegetables were abundant on the menu that night, and despite being a picky 5-year-old eater, my daughter found a dinner combo to her liking. My own meal was artfully designed and excellently prepared — a delicious symphony from beginning to end.
Since we knew that our Sunday activities were going to be cut short by the drive home, we decided that staying up past bedtime was the best option after dinner. We grabbed some of my daughter's books and our slippers and headed straight for the plush couches, the roaring fire, and some after-dinner drinks in the lobby of the Inn.
As we were finishing the last book of the night, I asked her if she had fun on our trip, and her glowing response told me that we would be coming back to Okemo again and again – "Daddy," she said, "this was the best weekend ever."
Thanks Okemo.
Dear Reader: This page may contain affiliate links which may earn a commission if you click through and make a purchase. Our independent journalism is not influenced by any advertiser or commercial initiative unless it is clearly marked as sponsored content. As travel products change, please be sure to reconfirm all details and stay up to date with current events to ensure a safe and successful trip.
---