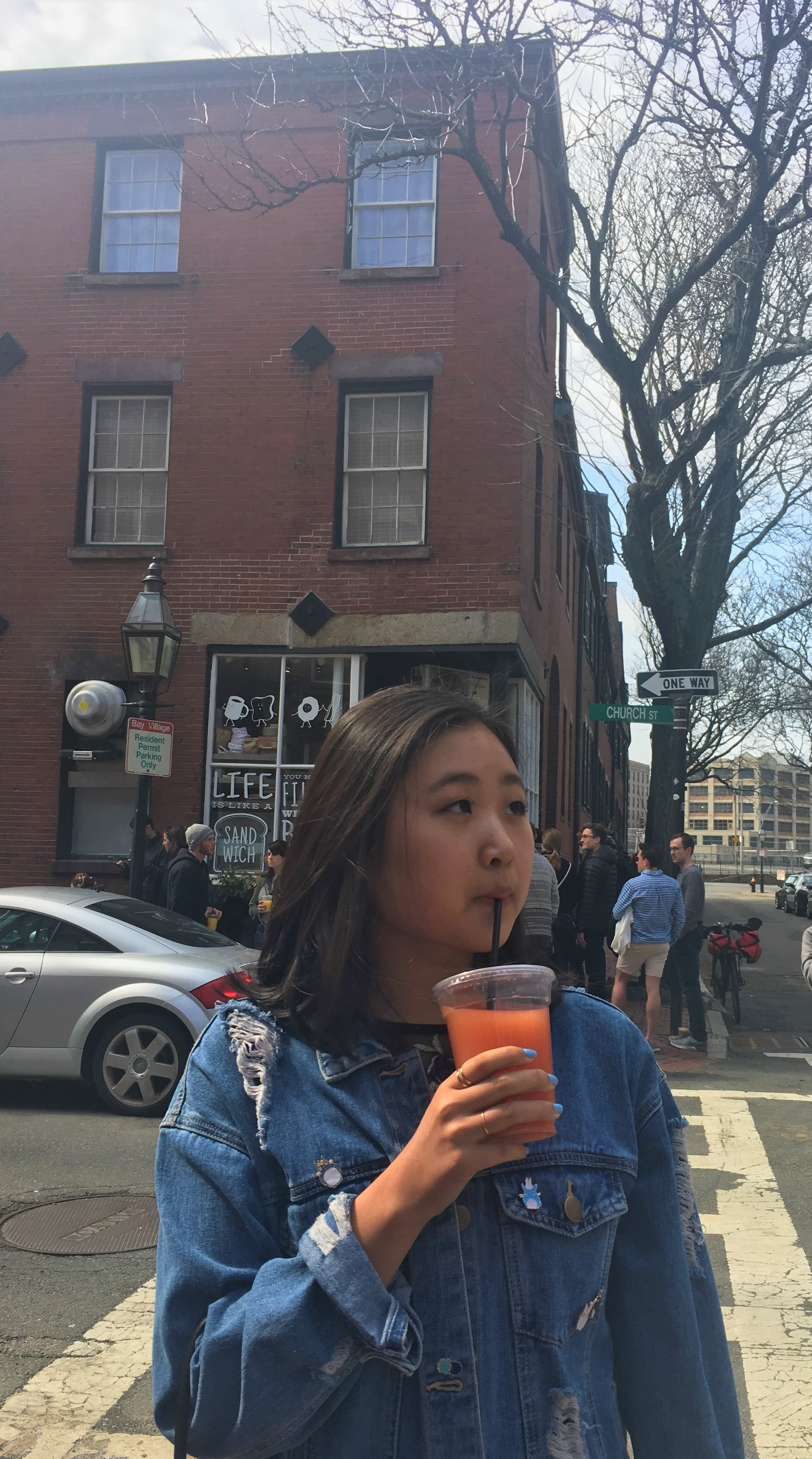 ---
Boston, Massachusetts; home to an abundance of rich historical locations, land of mouth-watering markets, and the site of an epiphany I am lucky to call my own.
Perhaps I am playing up to the stereotype that is 'plucky southern girl falls in love with city', but hear me out. If you were to go for a drive in the suburbs in Georgia, your senses would all but shut down after an estimated fifteen minutes- simply because there is nothing to observe. There are trees. Followed by lines of houses so identical you'll wonder if you've gone cross-eyed. The cherry on top is the local mall that, at best, offers a bubble tea shop (at worst, a lone Starbucks).
With that in mind, my visit to Boston was a breath of fresh air after a stale childhood in Buford. Everything was just so refreshingly different. Even an infernal flight at the witching hour could not shake off the feeling of adventure stashed in every moment: a hot pot buffet, a corner cafe teeming with lavender, grapefruit juice and bacon toast, an electric ELEMENTS dance competition, a single Paul Revere effigy in a wide-open trail. With so much to see and do and eat- side note: if one doesn't demolish a bread bowl of clam chowder during their stay, why even go? -it was pretty ironic that I would uncover my personal "lesson learned" from the trip through the most mundane aspect of cities: colleges.
I was blown away (figuratively and literally, the wind in Massachusetts that March was brutal) by the college students just going about their day. In my inexperienced, high-school eyes, everything from the street-fashion clothes they wore to the laptops and sketchbooks they carried registered as ridiculously appealing. To my small-town self, every little detail from their lifestyle was a testimony to the kind of independence and confidence only well-adapted college students could carry. I became transfixed on the possibility that, given the right steps, this sort of life could also be mine. The anxiety that had been associated with life after graduation faded into background noise. A new notion had taken over my head: myself, college girl version! Successful, responsible, and organized; detailed aspirations all written down in a little planner. Apparently, a small taste of the freedom that college life offered was all it took for my epiphany- that the world as I knew back home in Georgia was just so small. Now that my mind was older and my legs longer, the space I grew up in had become cramped- I'd just been ignoring the pain. I had been ready to move on for a while, but coming to Boston is what finally made me realize this truth.
Before this trip, my feelings toward college would remind you of the impending doom one might feel while waiting out a particularly big storm. You know these storms are natural; you've experienced hundreds in your life and will go through hundreds more. But some part of your subconsciousness has you wondering if this will be the storm that takes you out. The thought is irrational, you know this, but knowing doesn't make it go away.
But as the cliche goes, 'you can't have a rainbow without a little rain'. And while the storm has yet to even hit, my time in Boston has made me eager for all of it- the good and the bad, the storm clouds followed by sunshine. All I needed was a bigger umbrella, and the umbrella right for me had happened to be in Boston, Massachusetts.
Dear Reader: This page may contain affiliate links which may earn a commission if you click through and make a purchase. Our independent journalism is not influenced by any advertiser or commercial initiative unless it is clearly marked as sponsored content. As travel products change, please be sure to reconfirm all details and stay up to date with current events to ensure a safe and successful trip.
---