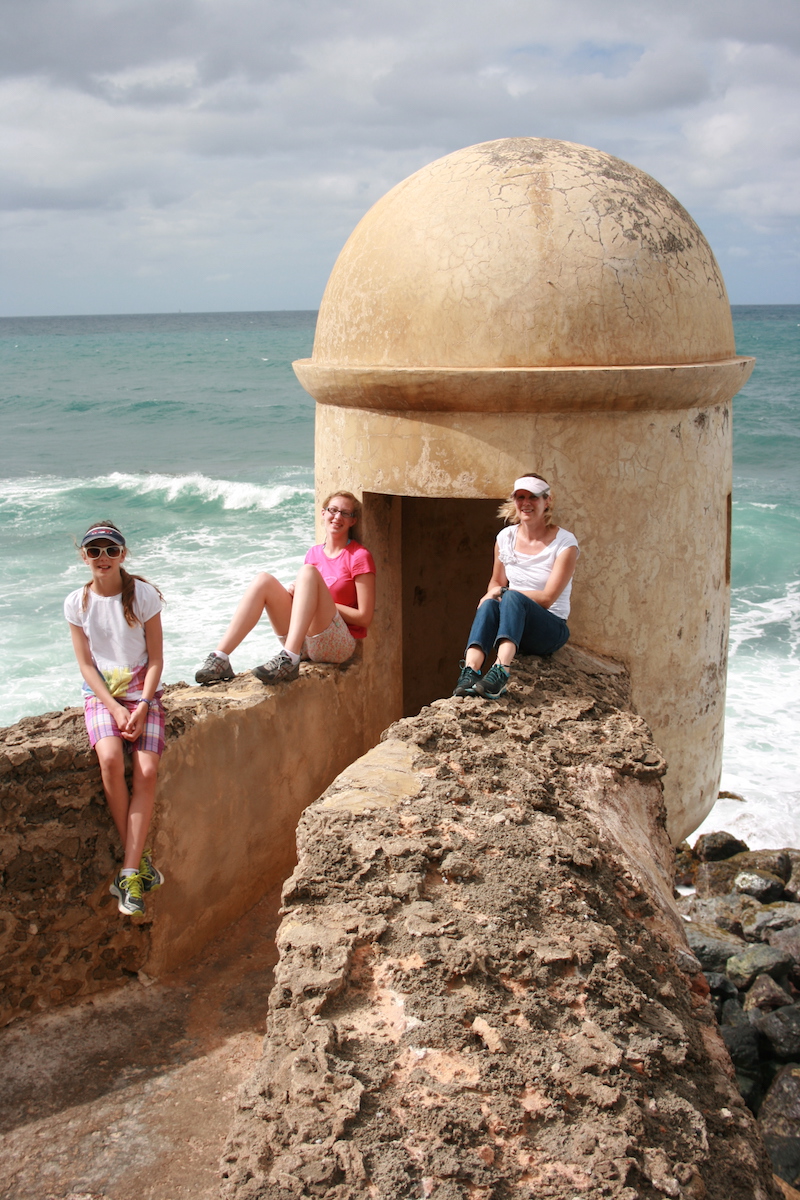 ---
Crash! A slamming door startles me from sleep. After frantically looking around to see the time, I lay down next to my sister, burrowing closer to ward off the frigid air pouring from the AC. The droning hum soothes me back into a drowsy sleep until I am again awakened by my parents opening the door. They are back from their morning waterfall hike and want to see if I am ready for breakfast and Old San Juan. And suddenly, I am awake. Throwing on clothes, I sprint to the kitchen, where my glass of parcha, a passionfruit drink awaits. My mom is making us breakfast as my dad sits on the porch, watching the palm trees sway in the wind. It's his old house we're staying in, the house he grew up in before he moved to LA. Every time we visit Puerto Rico, I can tell that he sees it through different eyes, revisiting a thousand memories, feelings, stories. Today, I share his excitement: we're going to see Old San Juan, a city full of cobblestone streets, ancient forts, and many, many legends.
When we finally park the car and get out to walk, the air is sweltering. The hot humidity drives us first into an air-conditioned dress shop, then to a piraguero, or one of the many carts that serve shaved ice. Clasping my parcha pirauga tightly in my hand, I wander with my family up to Fort San Cristobal. We enter, and immediately my mom's camera is out, snapping photos of us left and right. My sister and I pose in a garita, or sentry box, of which there are many in the fort. Inside the garita, the air is cool and damp. I look down at the sea, and that's where I see it: La Garita del Diablo. All the garitas have the same look. They are all of the same stone, with the same little ball on top. But La Garita del Diablo, or the Devil's Sentry Box is different. It is pale, bald, and sits, proud and lonely, above the sea. Legend has it that soldiers posted down there would disappear, never to be seen again. Being so close to the sea, it is likely they simply washed away in a hurricane. But as a child, enchanted by its otherworldliness, I came up with fantastic stories about it being built by the devil to steal men's souls in revenge for enslaving the Taino.
Part of its allure is that the tunnel is closed off to visitors. Its isolation is tantalizing; we want most what we can't have. But, refusing to take no for an answer, my dad devises a way to get us down to it. We would go through the slum of La Perla and climb our way into it. And so we do. Grabbing a heavy stick to use as a possible weapon of defense, my dad sets off through the slum, and we follow him to the beach. We climb through foliage, rock, and seafoam and finally, we are there. For a moment, I can only gaze at the seventh wonder of my childhood. As we climb inside, I half expect to see bones, blood, or at the very least, graffiti. But the inside is as cool and damp and disappointingly empty as the other garitas. Still, as we take pictures and watch the tourists in the fort above look down at us with what I imagine is sheer envy, it's hard not to feel a sense of accomplishment and pride in seeing a childhood story come to life.
Dear Reader: This page may contain affiliate links which may earn a commission if you click through and make a purchase. Our independent journalism is not influenced by any advertiser or commercial initiative unless it is clearly marked as sponsored content. As travel products change, please be sure to reconfirm all details and stay up to date with current events to ensure a safe and successful trip.
---