---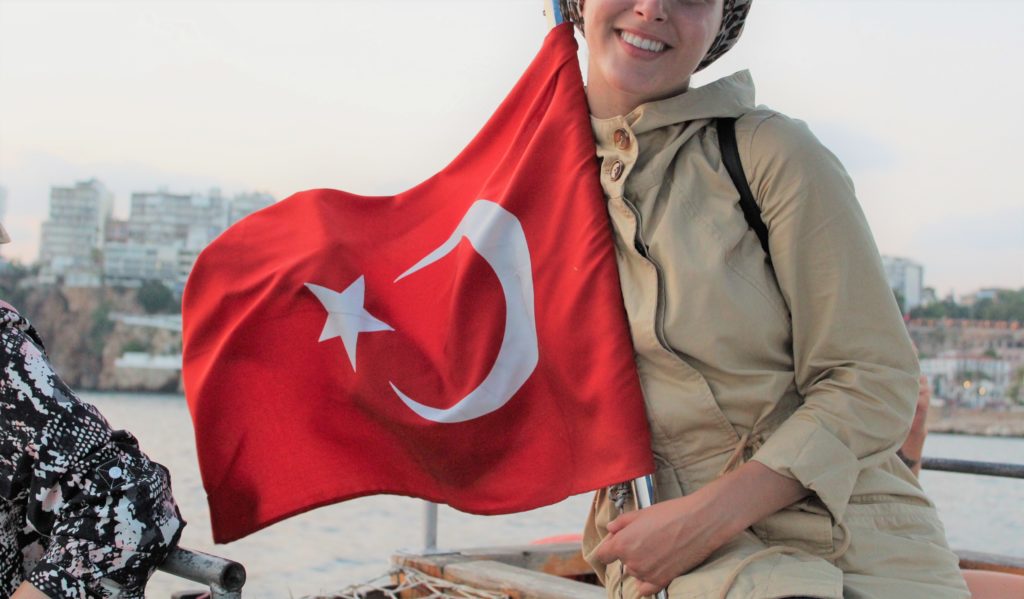 The aroma of grilled kabobs and the ocean filled the entire city of Istanbul. It was a cool night, and all of the citizens of Turkey were getting ready; I was getting ready. We held the fluttering flag high above our heads, and waved around our spirits with the rhythm of the banner. Chants and songs were echoing in the crowded streets, and cars started honking their horns to make as much sound as possible. We were showing the pride of Turkey after an attempted military coup.
My heart jumped in my chest erratically, I've never participated in such a large scale protest with such passionate people before. It was remarkable to me, these people were putting their lives on the line to express the love they had for their country. I had never been able to experience such a thing back in the states. People were hanging long banners on skyscrapers, and were stabbing flags into the ground with such might.
I looked down at the small flag I had in my hand; a moon and a star were threaded into the red cloth. So little intricacy, yet so much meaning for these people. My eyes became hard with determination, and I rose the flag once again, and swung it back and forth. I chanted, and I sang. My heart was in line with the hearts of the people of Turkey. I wasn't fluent in Turkish whatsoever, but that didn't matter to me. I would hum to the tune, I would memorize their chants, and I would hold that flag close to my swelling heart. I would march down the pavement and streets with just as much passion as the natives. I would love Turkey just as much as they did.
The energy I had was limited, of course, so the night suddenly became day, and I was greeted with the beautiful morning that Turkey had to offer. The sun peeked shyly behind the confident mountains, and I found myself at a table in a Turkish cafe. The smell of eggs and sucuk sizzling in the pan made my mouth water with anticipation and my eyes glimmer. The sounds of forks and knifes scraping at full plates sang in my ears, and the touch of the sun brought gold light to the crisp air.
My eyes made their way up, where I spotted the flag proudly dancing in the warm, summer breeze. I felt content in that moment, sitting with my family and eating breakfast with them in the morning. The protests seemed surreal to me, almost magical. I felt like I had finally done something important, something worth talking about. My body only felt comfort in the thought, yet I also detected a tone of sadness.
How could I leave such a beautiful country after what I had just experienced? I didn't want to go back to the states, I just wanted to stay with these people. That's when I realized that this country and it's people stole my heart. I fell in love with something so magnificent, and it seemed devastating that I had to leave by summer's end. I didn't let the thought spoil my spirits, and instead, allowed it to fuel a burning, yet bittersweet fire in my chest. One day I would return to this country, and I would cherish it with more compassion and love than I had in this trip. Everything I've experienced during this trip, can only be experienced again in my memories, and I will forever remember my beautiful country, Turkey.
Dear Reader: This page may contain affiliate links which may earn a commission if you click through and make a purchase. Our independent journalism is not influenced by any advertiser or commercial initiative unless it is clearly marked as sponsored content. As travel products change, please be sure to reconfirm all details and stay up to date with current events to ensure a safe and successful trip.
---