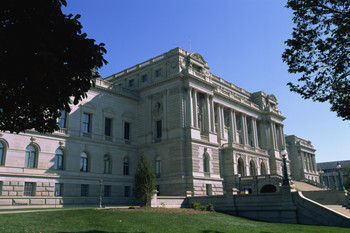 My family car slows as we cruise into Alexandria, Virginia. The sights and sounds of a big city are unfamiliar to me — as is the lack of green. Small town Wisconsinite that I am, my first glimpse of Washington, D.C. makes my heart give a little jolt. It's love at first sight. I've always been a history buff — I grew up on the History Channel and Turner Classic Movies — but this vacation exceeded even my wildest dreams. I can remember asking to go to Washington for our family vacation as far back as second grade. But with three younger brothers, my parents wanted to wait until we were all old enough to appreciate it.
And appreciate it I did. It seemed that every color, every scent, and every sound were heightened by the amazing grandeur of the history surrounding me. As we first drove into Alexandria where our hotel was, I told myself I should contain my joy. You are the oldest. Squealing out loud will not set a good example. However, my exuberance could not be contained for long, especially when we were out sight seeing.
I crammed so much history into my brain in four days, I'm surprised it didn't explode. I absorbed information and experiences like a kid in a candy shop. However, unlike little kids, my awe didn't develop into a stomach ache.
Our first day took us to the Smithsonian. We perused through the Air and Space Museum before venturing on to the American History Museum. And here is where history came alive for the first time. Since the seventh grade I had been an avid Jackie Kennedy admirer. This love for the last queen of Camelot pushed me into an exhibit entirely on first ladies. You cannot imagine the pure ecstasy that came from the many displays.
I could have spent all day in just the first half of the exhibit. However, it is to my advantage that I moved on to the second half. For, you see, one of the things I admired most about Jackie was her chic sense of style and as the exhibit came to an end, the part of my soul that is a 'fashionista' died and went to heaven. Hung on a mannequin only two feet in front of me was Jackie's gown from the presidential inauguration gala.
I attempted to take as many pictures of the dress as the paparazzi do of movie stars. That was my first taste of heaven; two more were to follow. The second happened in that wonderful building they call the Capitol. Having just finished eighth grade, our country's history was still very fresh thanks to the phenomenal teacher I'd had for two years. On my family's tour, courtesy of our local senator's office, we were shown into the original senate. My eyes feasted on rich cherry wood and jewel tones.
As I slowly walked down the steps, our tour guide began his spiel. Shortly into it, he pointed out the place where a politician had been caned nearly to death. This had been one of my more vivid memories of history class and suddenly I could recall, in almost exact detail, that particular lecture. And now I could almost see it. My breathing became excited as I realized that just a mere four feet from where I was standing was where this historic event had happened. The part of my soul that is a history freak joined that part that is the 'fashionista' in heaven.
My third heavenly experience occurred in the place where I would most like to live and die: the Library of Congress. I first must explain that I am a nerd. In fact, I take nerd to new levels: I am seventeen years old and I work in a library. I have been known to re-read my favorite books for the third or fourth time. After this explanation it should not be hard to understand my awe and utter delight of the humongous marble library. The wonderful architecture and pure size of the building would be enough to dazzle anyone, but the absolute abundance of books in this library (and in adjoining buildings) was enough to make me faint. The statistics of the place I absorbed like air.
Finally, the part of me that is a nerd joined the others in heaven. My family's vacation that year took me to many wonderful and exciting exhibits and places. However, none of them captured my heart like the three places I have shown you. I can confidently say that my heart will always cling to the wonderful historical aura of the city we call our nation's capital.
Dear Reader: This page may contain affiliate links which may earn a commission if you click through and make a purchase. Our independent journalism is not influenced by any advertiser or commercial initiative unless it is clearly marked as sponsored content. As travel products change, please be sure to reconfirm all details and stay up to date with current events to ensure a safe and successful trip.
---