---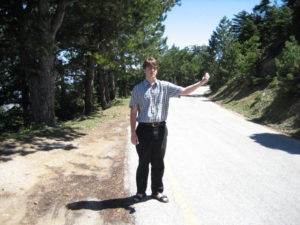 The airports in Germany won't allow you to take rented vehicles into eastern Europe.  This puzzled my parents and I, because in two weeks we were about to take a road trip to Croatia. We had beenliving in Germany for three years now, and had thoroughly taken advantage of what the economically sized continent had to offer us. We'd seen everything from the leaning tower of Pisa, to Venice, to the mustard factories of Dijon, France. We knew Europe would be a brief revelation, but a revelation nonetheless. At this point the deadline for us to go back to South Carolina was creeping up on us, like a B-movie vampire, and we wanted to take one last meaningful vacation before we'd have to say our goodbyes to European living.
That's when we found out that German rental car companies don't insure, or sometimes even allow trips to the once dismal side of the Iron Curtain. My father asked the desk clerk why this was?
"Most cars don't come back." she said.
We ended up having to take our rickety, unreliable Volvo down to Croatia: the country that gave the world cucumber sauce, and men's ties.
Croatia isn't exactly on everyone's top ten list of places they'd like to see before they die. That's because back in the early nineties, traveling to Croatia meant that it would be the last place you'd see before you died. The entire region of former Yugoslavia was engulfed in violence that was at once ethnically, religiously, and nationalistically motivated.  Most of the violence and genocide was in Serbia, and Bosnia, however the bloodshed did spill over into neighboring countries. As time went on though, the madness subsided and like so many other countries past and present, it was faced with the daunting task of rebuilding itself.
Croatia is now a frugal European tourist's dream. It's cheap, warm, sunny, and possesses a slightly ailing, discolored, crumbling, bullet-fragmented infrastructure the locals would rather describe as, rustic.
Our first three days were spent in the sea side town of Umago, were we learned the fundamental basics of staying in Croatia. The country itself isn't very expensive for tourists, that is unless you don't know what to do. If you're not careful in Eastern Europe (or anywhere really) you will be ripped off.
The first rule is to never stay in a hotel.  Ironically, renting out an apartment for a few days from local residents is cheaper. People do it there all the time to make some extra cash, and all one has to do is walk into a tourist bureau and ask. The only downside to this is that rates are so low that they border on the unethical, leaving one feeling guilty for obtaining such a deal. In Umago, we stayed at a place right on the green waters of the Adriatic, Hotel Krystal. It looked like the Four Seasons on the outside, but the rooms resembled a Super 8 motor lodge.
Once we had gotten the swing of things, we settled down in a small residential village where tourists seldom went, and the trip would blossom into a fruitful last glimpse of Europe. My sister went horseback riding, while my father lay listlessly on the beach. My mother would read several books (she hated it there), and I would flirt with a Croatian girl gifted in linguistics and have my first real shave. That's what it all meant: it was time to grow up, time to return to an uncertain future for America, time to shave the hair off my face.
Dear Reader: This page may contain affiliate links which may earn a commission if you click through and make a purchase. Our independent journalism is not influenced by any advertiser or commercial initiative unless it is clearly marked as sponsored content. As travel products change, please be sure to reconfirm all details and stay up to date with current events to ensure a safe and successful trip.
---