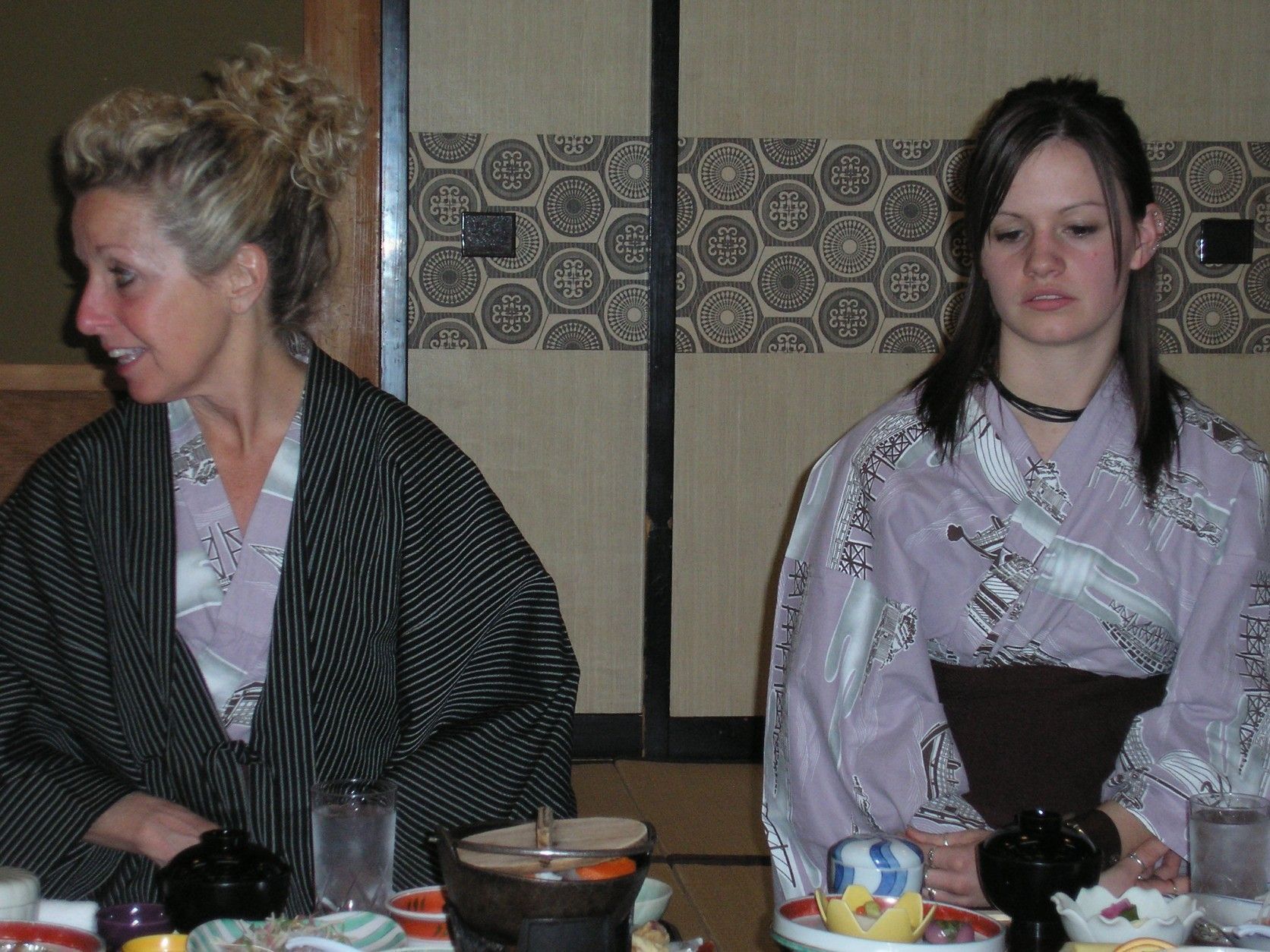 I began to gag as something slid down my throat; it was long (I had assumed, and really hoped, that it was a noodle) and had nodules on it, much like a tentacle of some strange squid or octopus that only the Japanese would eat. I covered my mouth and coughed a couple of times, thinking to myself 'Don't throw up. Drink some tea.'
Dustin patted my back. "Make sure to breathe before inhaling that soup. Are you okay?"
"I'm fine. Something slimy just escaped from my plate into my stomach." He laughed and I gulped down some tea. I put the lid back on my miso soup, determined not to drink anymore. I sighed and glanced down at my tray of food, trying to decide what to attempt next: the sad, little fish who looked up at my with wide eyes that seemed to say: "Tabemasen onegai shimasu! Please don't eat me, squeamish American girl!" or maybe the shriveled, indigo egg-plant that was only the size of my thumb. I ate some of the golden cabbage and moved on to the coral-colored I-don't-know-what, which could have been anemone entrails for all I knew.
The tiny Japanese woman shuffled over to my tray, flipped the fish on its grilling plate (for which I was thankful because he had begun to win our staring contest). She then took my left hand, holding my chopsticks, and lead me to the wasabi. I shook my head, thinking: 'please don't make me put it on anything!' The tip of my chopsticks grazed the deadly horseradish and she put them in my bowl of soy sauce. She mixed it around and then motioned to the sashimi. I clenched my jaw and picked up a piece of raw tuna. The woman watched me dunk it into the wasabi concoction and bring it to my mouth, smiling pleasantly all the while. I took a dainty bite and chewed, tasting how just a little bit of the green goo and the salty sauce brought out the flavor of the fish. I smiled back at her, not really knowing what to say, and she moved on to act as the kaishaku for Dustin's fish.
I finished the piece of tuna and ate a little more of the sashimi before attempting to de-spine the sizzling fish on my tray. I moved him, by his tail, off of the grill and took his protruding spine between my chopsticks and pulled, yanking out all of the fragile bones in his little body. Only small chunks of meat were left, but I ate them, mostly because it was actually cooked and hot as opposed to the cold, stringy muscles of other sea-creatures that I had ingested.
The custard was left untouched, as I can't even eat Jell-O in America, let alone some firm, pudding-like substance that was in a miniature porcelain cup. I poked it and decided that it wasn't worth its weight in my bile should I toss my cookies after eating it.
I looked down and noticed that I had consumed and conquered the challenge that was my "traditional dinner". I felt a bit of pride as I realized that I had tried just about every slimy, not-quite-dead 'delicacy' that Japan had so enticingly presented. I finished my tea and rewarded myself by filling my stomach with some steamed, plain, delicious rice.
Dear Reader: This page may contain affiliate links which may earn a commission if you click through and make a purchase. Our independent journalism is not influenced by any advertiser or commercial initiative unless it is clearly marked as sponsored content. As travel products change, please be sure to reconfirm all details and stay up to date with current events to ensure a safe and successful trip.
---