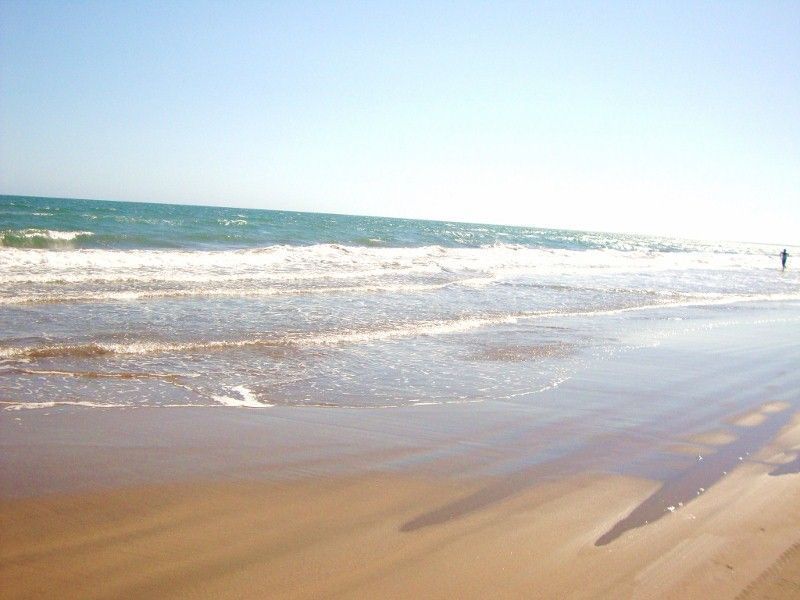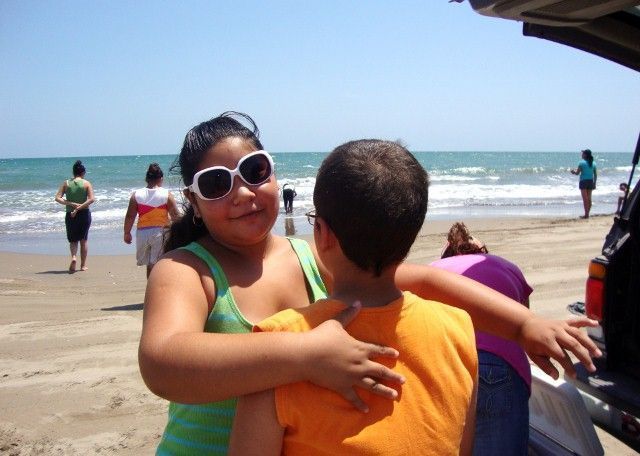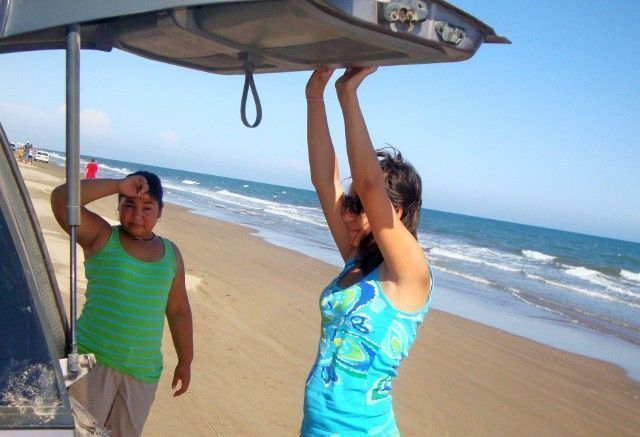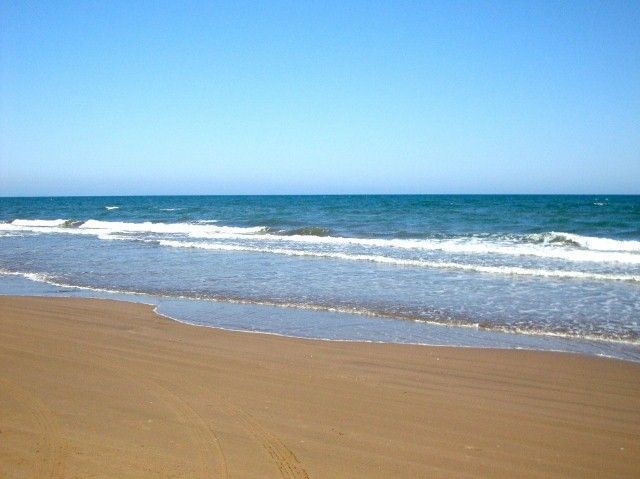 "Chiquitones!"  my little aunt screams at twenty year old boys with tight shirts and nice trucks.
We are at Huatabampito, Sonora, and the only reason people come down here is to have a good time, and they mean it.  On days like this one it seems like the whole city, maybe the whole world, is trying to squish into place on this very beach determined to be happy.  
"Mija, can you pass me a beer?"
"I am bored!"
"Can I open some chips?"
"Someone come in the water with me, please!""
"With the jellyfish? No way Jose."
"Ahh!"
In Huatabampito there is the ocean, the waves lolling back and forth carrying trash and astray marine animals.  There is the makeshift road, where the wet and dry sand meet.  The next nearest dry sand is the parking lot, and the surrounding dunes the playground for the quads. 
"I am hungry," one of my small cousins whines.
"Can you make sandwiches for everybody?"
"Why me?"
Some of my brave little cousins start to follow their idol around the beach: my sister.  Walking around the water they watch her kill the jellyfish, until I ask if she is okay with the ocean being angry at her. She ignores me, continuing with her jellyfish massacre, attempting to make it possible for her and her followers to bathe in the water in peace. However as they move closer to the water,  so close that sometimes it reaches their feet causing my younger cousins to run in fear and diversion, my sister hesitates.  The poor creature is surrounded by all my cousins rooting her to end it.  The only items missing from the picture are pitchforks and torches, artifacts which nowadays end up being superfluous. 
"Who wants cheese?"
"I don't like tomatoes."
"Okay."
"Don't you envy them?" my cousin asks, looking at two couples snuggling outside a Mustang to the left of our trucks.
"Eww. . .no."
"I want ice cream!"
"She didn't eat her lettuce nor tomatoes."
"My sandwich has sand."
"Your face has sand!"
The sand of Huatabampito isn't as white as the sand you see in beautiful catalogs and pamphlets for fancy resorts.  The water isn't clean either.  The beach isn't filled with women in bikinis, and if one was brave enough she would be the center of attention, for good or bad I do not know.  What the beach does have are vendors, and many of them.  Little boys and girls carrying plastic trays meant to carry half-liter bottle of sodas;  but instead now carry plastic cups filled with assorted fruits and vegetables, or in some cases ceviche.
We rarely buy anything, only for the rare antojito.  But then,  Los Taka-Takas came. Now I am not talking about those lollipops that seem to be made out of powder, which when licked, dissolve in your mouth.  No, that's another type of Taka-Takas.  The one I'm talking about is a band.  Four men carrying their instruments and walking down and up the beach waiting to be stopped and paid to do what they love.
"How much?"  my little aunt asks.
"Three songs for 100 pesos."
"Are the men good looking?"
"You are too drunk."
"Play any movida so we can dance."
As soon as they start playing all my cousins run from every corner of the beach, calling each other out from the dry and wet sand.
"
Mija
, I want you to
video
tape everything!" my little aunt half-laughs and half-screams while dancing.
Yes, this is my family and this is my beloved Mexico.
Dear Reader: This page may contain affiliate links which may earn a commission if you click through and make a purchase. Our independent journalism is not influenced by any advertiser or commercial initiative unless it is clearly marked as sponsored content. As travel products change, please be sure to reconfirm all details and stay up to date with current events to ensure a safe and successful trip.
---