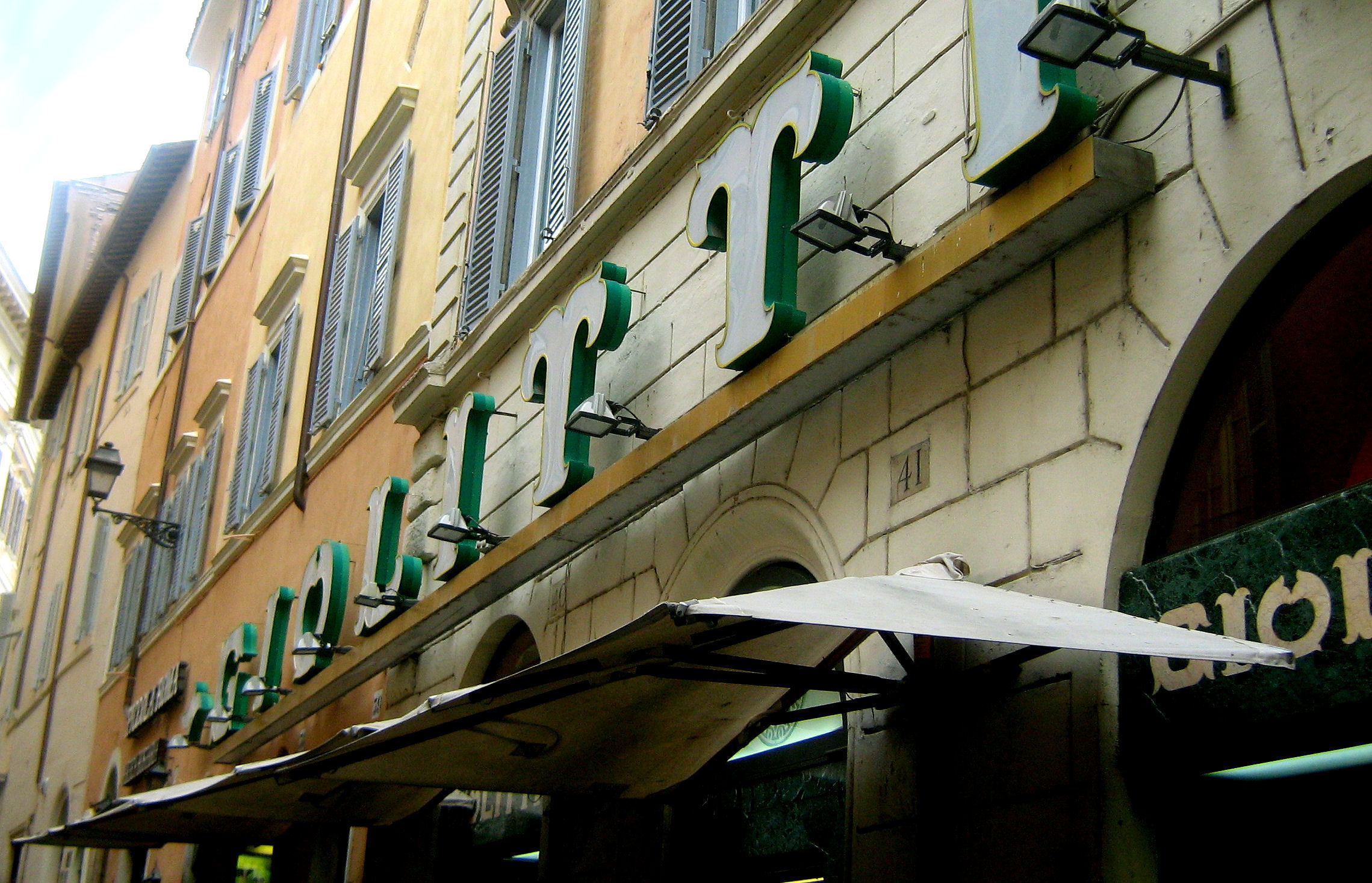 "Ciao, bella" Massimo greats me exuberantly as I slip out from the group and hand him my slip.
"Cioccolatto, coco e lampone. Grazie."
"Si," he hands me my cone. "Next? Ah! Maria! Bella! For you?" Maria orders, receiving a mountain of gelato, colorful and sweet, barely able to balance a top the tiny cone. Boys marvel and girls laugh, all knowing that Maria was Massimo's favorite.
I step into the street, leaving the morning gelato crowd behind to sit on the steps, just in front of the Vecchio Bastardo's jewelry store. Some kids gather around, knowing that we had at least an hour before the old man would open his shop and shoo us away like birds from a park bench. An Italian dignitary walks by, a pack of security trailing behind. At less than a block from the home of the prime minister, Giolitti's was a favorite of military jackets and Italian politicians.
A bald man in front waves, our group gathers around. We wait not for instruction, but rather follow, like sheep, never questioning. It is in this way we travel through the streets of Rome, little lambs understanding that wherever we are led will be something more breath-taking, more grandiose, more wholly astounding than the last.
Around us the narrow Italian streets flow, filled with mothers and children, bakers and store owners, street cleaners and street artists preparing for the day ahead. Swiftly, sweetly, they complete their morning tasks; each filled with an elegance, a subtle love that exudes from every motion, every word. A passion plates every moment in this Mediterranean moment. Scenes from hundreds of lives pass before us as we make our way down the narrow streets, past churches, cafés, shops and apartments.
Gelato drips down my hand, its sweet perfection gathering against the sky. A pidgeon lands at my feet, tottering forward with me before taking flight once more. A flash of grey and white highlights the earthy cityscape, her wings tracing the terraces surrounding the piazza. A young woman on a Vespa whips by, her soft pink dress trailing in the wind, hair trapped in her helmet. The Pantheon crawls into view.
Front half plastered with scaffolding and early morning workers, the ancient temple sits affectionately in the center of the square. Maternally, it watches the ritual madness of the morning, overseeing the Italian hustle. Yellow characterizes the dawn, splashing sunlight down through the buildings and into the fountain laced with pidgeons and Euro. There is a calm in the chaos, a steady rhythm to the words and the movements that create a subtle heartbeat for the dawn. Two men greet each other from opposite balconies. A woman smokes, setting out chairs for the daily rush. An elderly man lazily wonders by, stopping only to count the change in his pocket.
This is Italia, held in a moment. The passionate breath often forgotten out of frequency and need. One hundred lives in perfect synchronization, each knowing the others' steps before they know their own. It is the dance of the morning, the song of the day. Around me was Rome. Inside me, love. And before me, the world.
I finish my cone, the lasting tang of raspberry clinging to my lips. I watch a little boy play in the fountain, his splashes refracting the light in perfect beads, his face shadowed by the towing temple above. I breathe, synchronized with perfection. I breathe, because this is Italia.
Dear Reader: This page may contain affiliate links which may earn a commission if you click through and make a purchase. Our independent journalism is not influenced by any advertiser or commercial initiative unless it is clearly marked as sponsored content. As travel products change, please be sure to reconfirm all details and stay up to date with current events to ensure a safe and successful trip.
---