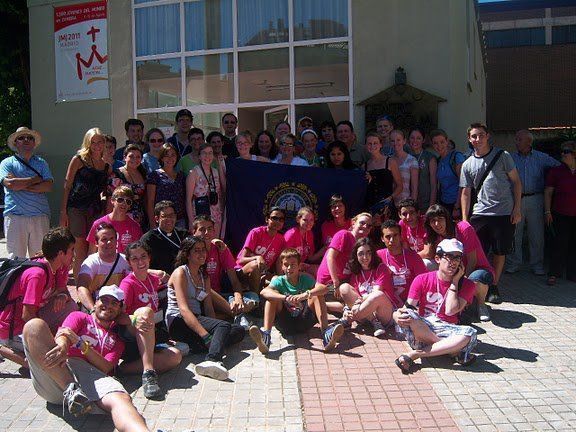 I was at Logan Airport saying goodbye to my parents. I made my way into the terminal, turned in my luggage, breezed through security and began searching for gate 62. I walked through a maze of people before I saw the sea of blue shirts standing at my gate. They were in a corner, the group of people I was about to embark on a journey with. I began walking towards the cluster of people thinking about how I had only met the group at two meetings prior to our arrival. Shyly, I said my hellos to everyone. Our group coordinator had just given us each a number. I quickly realized that while many of these people knew one another, I was just a number to them and they were all just numbers to me. I was now with strangers on a two week pilgrimage to Spain. I never imagined that my trip to Spain would enlighten me about the kind of person I hope to become in life.
I have been an altar server at St. Katharine Drexel parish in Alton, NH since the fourth grade. Church has always been a central theme in my life, but I never thought the church would trust in me as much as they did. During my sophomore year of high school, the parish priest asked if I would be interested in attending a World Youth Day in Spain. I felt honored to represent my parish.
I, number 19, was now flying to Spain in the midst of the twenty-six other numbers. I was in for the long haul with an eight hour flight and three hour bus ride. I slept the flight away and slowly awoke as we arrived in Spain. I walked off the bus at the Cristo Rey parish exhausted and grumpy. We grabbed our luggage and headed to the congregation of people waiting for us. Colorful letters decorated the doors saying "Welcome to Our Parish". The people inside the parish clapped and smiled. I was overwhelmed by the love and happiness from these genuine people.
The room filled quickly and I was truly inspired by the immediate bonding of the two groups. The hugs and smiles that crowded the room allowed the joy to override the language barrier. Over the length of the trip our host families shared their kindness and love with each person. They provided us with extravagant meals full of ham, tortillas, and varieties of fruit. These men and women gave us a roof over our heads in their small homes and tiny Spanish apartments, while tending to all of our needs. This community gave me many laughs throughout the trip and immediately became my family. This people of Cristo Rey demonstrated welcoming, love, and acceptance. Initially I felt simply like a number but over time these families made me feel like so much more.
In Spain I went through a transformation. This foreign culture had opened my eyes to how a single kind, warm, and love filled action can impact another human being. Their kindness turned this scary trip across the sea to one of the most memorable experiences of my life. This Spanish community transformed me into a more welcoming, loving, and accepting towards every person I meet. Although I may never be able to repay these families I know I can bring the qualities they taught me wherever I go. Reflecting back on my experience I realize that my priest originally approached me about this trip because he saw potential in me to learn and share my experience with others. I will be forever grateful that I had this life altering opportunity.
This trip has prepared me for my next voyage to college. I went on this trip leaving the comforts of home and venturing out to the unknown with strangers. I realized on this trip that while many experiences in life are terrifying they often are the most rewarding. If I never took the risk to go to Spain I wouldn't have experienced the love and life lessons this community shared with me. College will be analogous to my trip to Spain of diving into the unknown with strangers I know it will be another rewarding experience in this chapter of my life. As I go from year to year I hope to welcome new students and people I meet with the enthusiasm and kindness the Spaniards so graciously showed me.
Dear Reader: This page may contain affiliate links which may earn a commission if you click through and make a purchase. Our independent journalism is not influenced by any advertiser or commercial initiative unless it is clearly marked as sponsored content. As travel products change, please be sure to reconfirm all details and stay up to date with current events to ensure a safe and successful trip.
---