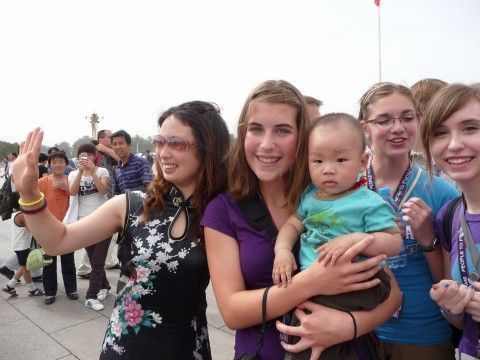 Although nothing special at home, walking in a large group through China's streets, we Americans learned what it was like to be celebrities: people stopped in the middle of their daily activities to call excited greetings, smile, stare. I never thought, however, that I'd be assigned the politician's task of kissing babies in front of adoring crowds.
What did his mother see in me? Perhaps an opportunity for a photograph, a story to tell as her family grows older. Why did she pick me? The girl in the purple shirt, standing in a crowd of People to People Student Ambassadors, gawking at the busy scene of Tiananmen Square.
Now, even four years later, I can't answer those questions.
But as Chairman Mao–loved? revered? feared?– loomed portentously over tiny humans scurrying about the anthill, this Chinese woman walked up to me and thrust her son into my arms. "Picture," she insisted. Obligingly, I turned toward the flash of cameras that suddenly appeared. Together, we smiled– a teenaged American girl, a sophisticated Chinese woman, her startled Chinese baby.
I held him in my arms, balanced on my hip. He didn't make a sound, but just looked at me solemnly. Among the foreign chatter swirling around me on my second day in a place twelve time zones away from home, his weight felt somehow familiar. Somehow, he was less a tiny Chinese citizen and more like my siblings, my neighbors, the kids I babysat.
I was surprised at this realization. In my year of preparing for this trip, I had studied Chinese customs, culture, history. Watch the large step in the doorway when you enter a home. Gunpowder was invented before Americans ate turkey at Plymouth Rock. Don't wear green hats. All this, even four years later, I remember: the disconcerting entrances, the pride at rich history, the unusual dress code. But the single thing that I never learned from a book and the single thing that I will never forget is what a Chinese person is really like. A Chinese person is not cold or negative toward a Westerner. She does not fear the unknown, but steps forward to trust it, to place her future in it. A Chinese person, in fact, embraces the same courageous spirit that I hope to encompass.
Before I left for China, I searched for images of the place where I would spend three weeks during the summer. And I saw the famous image of the one man versus the tank. From Tiananmen Square, Westerners learned of the courage of one man against many tanks. His identity remains unknown. In a similar way, I will never know the name of the child or his mother. But in Tiananmen Square I learned a lot about this Chinese nature. In the end, perhaps what the Chinese woman saw in me was in fact a chance to see her. And realize that we are a lot the same.
Dear Reader: This page may contain affiliate links which may earn a commission if you click through and make a purchase. Our independent journalism is not influenced by any advertiser or commercial initiative unless it is clearly marked as sponsored content. As travel products change, please be sure to reconfirm all details and stay up to date with current events to ensure a safe and successful trip.
---