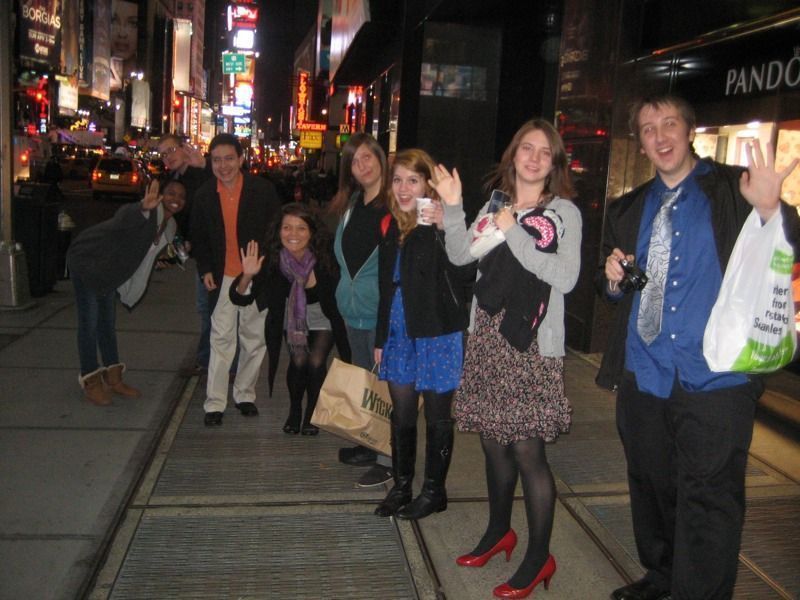 I love to travel; to me traveling is a relaxing and amazing experience. My whole life I have always wanted to go to New York. I don't know if it is the big city lights or if it is all of the different types of people but something about New York has always attracted me to it since I was a small child. My freshman year I was invited to go to New York with the yearbook department at my school. Which was a big thing because they never ask freshman to go with, unfortunately I was unable to attend because of the cost. The opportunity arose again my junior year and needless to say when it came around again I was not going to let it pass me by again.
As soon as I turned in my paperwork the countdown begun, I began to get more excited as each day came. When the night before I left had come I was so overfilled with joy. When I got to the airport and was waiting to take off, that was when the journey started. I had a Starbucks in one hand and my ticket in the other.
When we landed my eyes were attracted to everything that I saw. There were so many things to look at, so many things to see. When we got there we thought that, hey you know we are in a new place how about we take the train to our hotel not the airport shuttle. Which may or may not have been the best thing to do, since it caused us a long delay which in one respect was cool because we got to see a lot of cool things and meet a lot of interesting people. The down fall was that we had to walk a lot uphill with all of our luggage which was no fun.
While we were in New York we did a lot of really cool things. We went to the statue of liberty, which was an amazing experience. I am not sure what it is about being up that high in the sky and being able to see the whole city but being up there all of your problems go away and you feel almost at peace. I love having that feeling. It is like a calming feeling, where everything is just simpler all of the problems in the world seem to disappear.
During the trip I learned to not take life for granted that things can be taken away super quick I learned that just by being at ground zero and looking at the remains of it all. It was such a huge eye opener. A fact about me that some to don't know is that my grandma was at the twin towers that terrible day, thanks to god she was able to make it out and survive that day. The truth is, there were so many others who were not as lucky and while I was standing there I realized how in just a blink of an eye everyone's life can change just like that it really changed my life forever. I would so recommend for people to go visit New York. It was the best choice of my life. We all had such an amazing time in New York, we had so much fun and we made a lot of life lasting friendships and long lasting memories. New York is like a melting pot of people so we were able to see so many different types of culture and so many different types of people.
Dear Reader: This page may contain affiliate links which may earn a commission if you click through and make a purchase. Our independent journalism is not influenced by any advertiser or commercial initiative unless it is clearly marked as sponsored content. As travel products change, please be sure to reconfirm all details and stay up to date with current events to ensure a safe and successful trip.
---