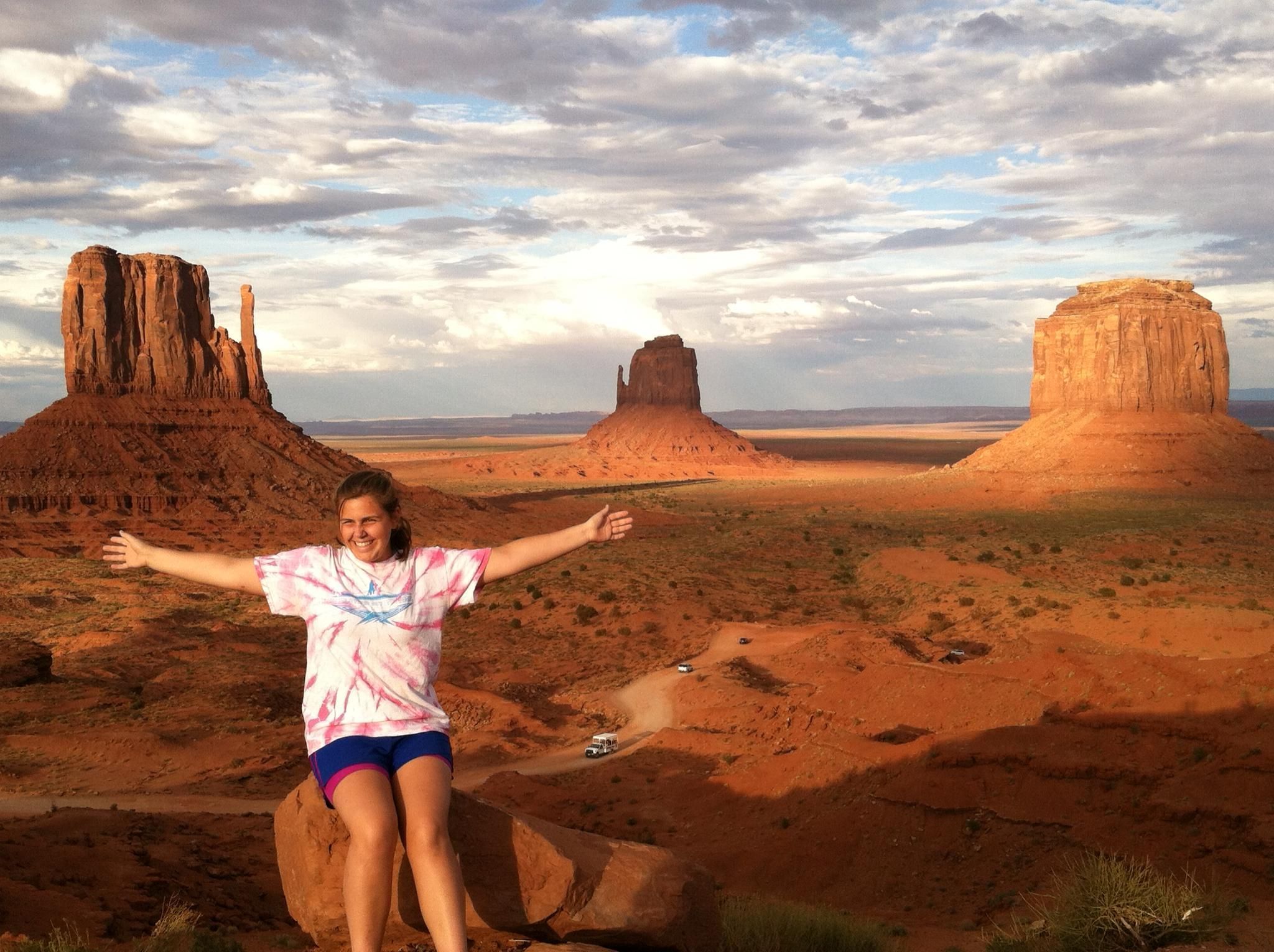 The early August sun beat down on the prolonging stretch of road. A "Welcome to Utah" sign had long since passed, and our rented black Ford Explorer was filled with a mid-vacation silence, stemming from hours of strenuous exploring. Compared to the extraordinary beauty of the Grand Canyon, the flat and bland desert of Utah was turning out to be a complete disappointment.
After what seemed like a never-ending drive through the middle of nowhere, a still giant emerged a few miles ahead of us, tearing apart the brilliant blue monotony of the sky. Captivated to get a closer look at the massive figure in the distance, our car sped for a few miles, passing the sign reading "Welcome to Monument Valley, Navajo Tribal Park". At last, we were headed towards civilization!
Soon, the mysterious giant grew larger, and numerous sandstone structures composed of the fiercest shades of red, gold and brown, just like it, emerged from the ground. In my marvel, I had not realized that our car had come to a stop in front of The View Hotel, a place that would very much live up to its name. Upon entering the hotel (owned and operated by the Navajos), I was immediately hit with various elements of the Navajo culture. Tribal rugs hung all around, along with assorted trinkets, and I even saw my very first wild tarantula (yuck)!
Instead of sitting from our hotel room balcony, my family and I decided that the best way to actually experience Monument Valley would be to drive along the famous scenic route. Now, like I'm sure many of you who have never been to Monument Valley, I assumed that the scenic route would be a smooth, paved road created for easy travels. No! I was dead wrong! Instead, the "route" was a long, hilly, dirt encrusted, seventeen mile path characterized by potholes at almost every turn.
My father is the best driver that I know, but even he could not conquer the pothole on the hill (du, du, dun)! When you enter the scenic route, there is a hill that goes downwards. On that hill, lies a massive (and terrifying) pothole! The very pothole that our car got stuck it. While our car was facing downwards, my brother, sister, mother and I scurried out and walked to the nearest observation post while my father attempted to save the day. After ten minutes of trying, and about five helpers, the Ford Explorer was able to leave the pothole once and for all!
Aside from the minor setback, the scenic drive through Monument Valley was one of the most beautiful and surreal experiences that I've ever had. There were many monuments to stop and look at, and I even stood on the same lookout point that many famous western movies have incorporated into their films, such as John Ford's 1939 Stagecoach.
After an adventurous, yet wearisome day, my family and I made our way up to our hotel room. Luckily, our room had a balcony overlooking the entire valley. Late at night I sat out on that balcony and gazed up at the millions of stars scattered across the sky like glowing freckles. It was there, overlooking Monument Valley that I saw my first shooting star.
Despite hitting a few bumps (or potholes) in the road and encountering a terrifying spider, Monument Valley, Utah, was one of the most spectacular places that I have ever been to. Traveling isn't always easy, but the crazier it is, the better the stories.
Dear Reader: This page may contain affiliate links which may earn a commission if you click through and make a purchase. Our independent journalism is not influenced by any advertiser or commercial initiative unless it is clearly marked as sponsored content. As travel products change, please be sure to reconfirm all details and stay up to date with current events to ensure a safe and successful trip.
---