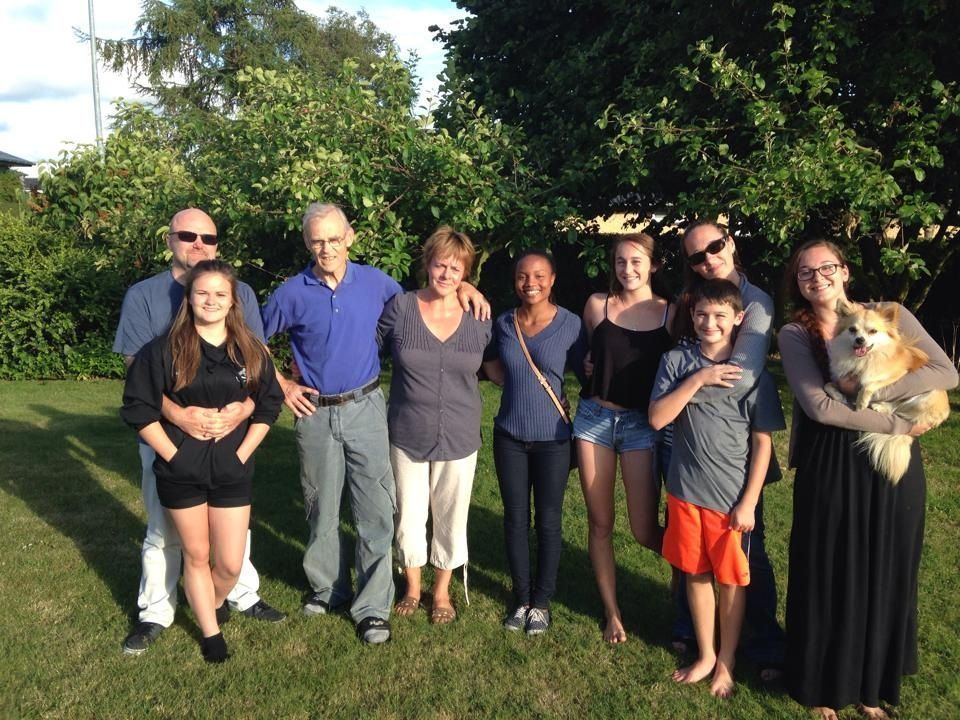 On one random drive to the library in November, my friend Maya asked me if I would be interested in going to Denmark this summer with her. My first thought was "OF COURSE!" Now the ultimate hurdle was getting my parents to agree. In fact, when I told them about it they laughed, raising a myriad of concerns, one being sending their 16-year-old daughter across the ocean. However, I am known to be relentless when it comes to something I feel passionate about. After months of pleading my case, they agreed to let me go. On Tuesday night, June 24, 2014, my friend Maya and I boarded the plane to Copenhagen. My heart was racing!
After a 9 hour plane ride, we arrived in Copenhagen at noon, exhausted but nonetheless full of excitement. We were greeted by Maya's family with such warmth that I immediately felt at home. That night, we had a scrumptious lasagna dinner. My taste buds were officially awakened and looking forward to all the new flavors to come.
Day 2: Maya and I woke up at 2:00P.M. We took a bus, a train, and the metro to get to Copenhagen from Veksø, where we were staying. Our mission was to go on a canal tour! Perhaps we should have considered taking a map… Needless to say we didn't find it, but we sure had fun touring the City. It was saturated with bikers, who rode on wide bike lanes and adhered to their own traffic signals! Crazy, right? There were also rivers running through the City. It was just so beautiful and different; I wasn't in Florida anymore.
Day 3: Maya and I woke up energized. We were surprised to discover that everyone else was still sleeping although the sun was up. We looked at the clock and it was 4:00A.M.! Oh my God! In Denmark, the sun rises around 4:00A.M. and sets around 10:00P.M. Nevertheless, we set out for the City once more, this time bringing the map. We found the canal tour and saw all of Copenhagen's famous attractions, including The Little Mermaid statue. For lunch, I had the best tomatoes you could possibly imagine. It was official, Danish tomatoes ruined me for all other tomatoes out there. Afterwards, we walked to Rosenborg Castle, where we ended the day falling asleep on the castle grounds!
On the days to follow, I visited many of Denmark's famous castles including Frederiksborg Castle in Hillerød. The castle and its garden were gorgeous and unlike anything I had ever seen before. I also toured Kronborg Castle which was originally built in the 1420s. It was surreal being in such a historical structure. I remember so vividly walking through the underground casemates, home of the statue Holger Dansk, who, according to legend, awakens to defend the kingdom in times of war. The Castle also is famous for being the basis of the set for Shakespeare's Hamlet. I visited Roskilde Cathedral, where 39 kings and queens are extravagantly buried, and the Viking Museum. Later in the week, I went to Tivoli, a famous Danish theme park and visited the National Museum. On my last day in Denmark, I biked several miles through an enchanting forest, surrounded by lush towering trees. It was magical.
I was extremely sad to leave but I know that I will definitely be going back. My first European trip will always occupy a special place in my heart because of the wonderful people that I met and the rich culture that I had a chance to experience, all thanks to my best friend.
Places That I Visited:
Canal Tour: http://www.stromma.dk/kobenhavn/sightseeing/sightseeing-med-bad/the-grand-tour/
Rosenborg Castle: http://dkks.dk/english
Frederiksborg Castle: http://www.dnm.dk/UK/Forside.htm
Roskilde Cathedral: http://www.roskildedomkirke.dk/
Viking Museum: http://www.vikingeskibsmuseet.dk/en/
Kronborg Castle: http://www.kronborg.dk/
Tivoli: http://www.tivoli.dk/en/
National Museum of Denmark: http://natmus.dk/en/
Dear Reader: This page may contain affiliate links which may earn a commission if you click through and make a purchase. Our independent journalism is not influenced by any advertiser or commercial initiative unless it is clearly marked as sponsored content. As travel products change, please be sure to reconfirm all details and stay up to date with current events to ensure a safe and successful trip.
---