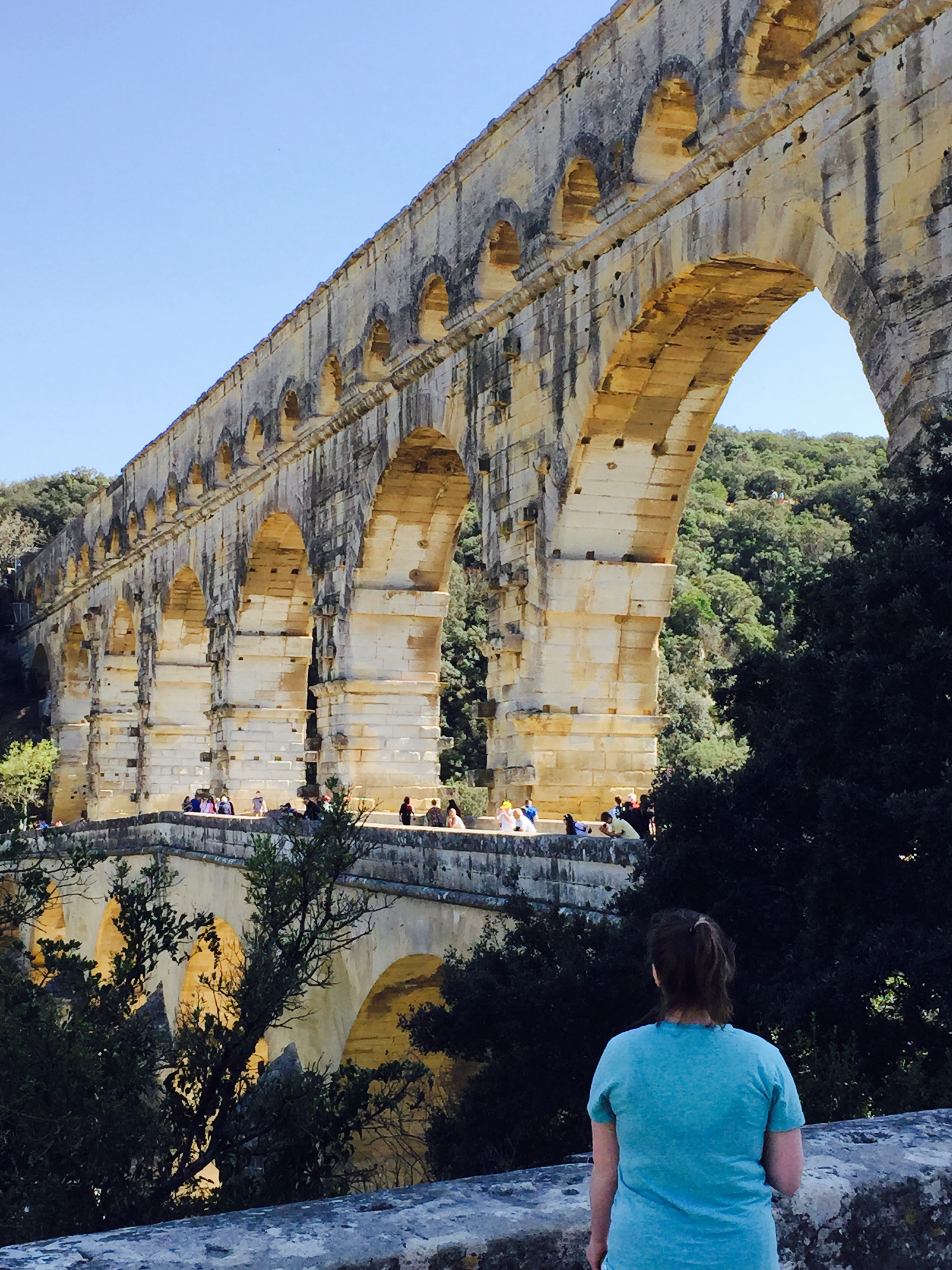 In the Spring of 2015 I had the amazing opportunity to travel to France for a week. After my first international travel experience, I came to the realization that I have a strong passion to explore and learn about cultures worldwide. I think it is incredible to imagine that many of the buildings and cities were established for hundreds of years. France has been united for over 1000 years and Romans had the country occupied long before that. During my week long stay in France, I had quite the amount of memorable experiences, but I have four core things I take away from this trip that have influenced my decisions regarding my future, and how I perceive the world.
One memorable thing I experienced was seeing the Ancient Roman Aqueduct at Pont du Gard. Standing on this three-story high bridge it was not hard to be mesmerized by the actuality that this Ancient Roman bridge has been held together without any mortar since the first century. It's crazy to imagine our nation has been established not nearly as long as France or even most countries. I personally find this idea incredibly intriguing. There is a colossal amount of history and culture in our world, a great amount of that historical and cultural knowledge I don't know, but wish to know.
A second thought I had while reflecting on my travel experience is that we as human beings are not as different as we think we are. Although Paris may seem dream-like and iconic city life to myself or another American, it is still a home to a Parisians. If one lives near Chicago, they see Chicago as just another big city, something close by. To travelers, exploring Chicago is an incredible experience. At Pont du Gard, I often saw people jogging over the bridge and kayaking around the river. While I was absolutely stunned by the aqueduct, there were many who walked and jogged by the aqueduct as it was an ordinary and casual thing.
Thirdly, during my experience I not only broadened my knowledge of French culture by experiencing it first hand, but this trip also made me realize I want to become more fluent in French. I used to never have a motivation to expand my French speaking, it was only just another elective class to me, but after experiencing a beautiful culture and language in action, it gave me a bigger interest in the French language. Therefore whatever I decide to major in, I know I want to minor in French and broaden my knowledge not just about French culture.
Finally, I want to learn about multiple historical and world cultures. I have a compelling interest in comparative international studies and studying abroad so that I may continue to broaden my awareness and knowledge of other cultures. I am eager to learning and understanding differing people and cultures, and I hope to accomplish this during my college experience. As George Bernard Shaw says, "Those who cannot change their minds cannot change anything." I strive to follow that ideal in life, so I can grow and broaden myself as a person, much like how my experience in France did for me.
Dear Reader: This page may contain affiliate links which may earn a commission if you click through and make a purchase. Our independent journalism is not influenced by any advertiser or commercial initiative unless it is clearly marked as sponsored content. As travel products change, please be sure to reconfirm all details and stay up to date with current events to ensure a safe and successful trip.
---