Perhaps you've considered taking your dogs on holiday with you, rather than putting them in the kennel or hiring a pet sitter.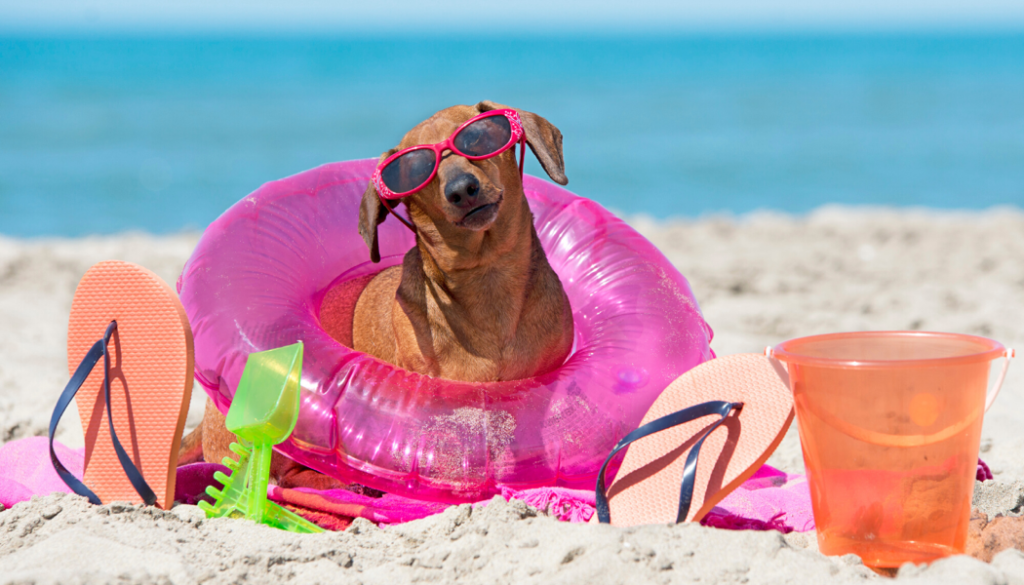 You might be tempted to try a holiday with your four-legged friend(s) in tow in your own country, on a road trip, in the cargo hold of a plane or you could even consider flying with your dog on a private charter jet. We thought we'd put together 10 reasons why you should take your dog(s) on vacation with you.
1. Keep The Whole Family Together
Taking your pooch with you attenuates one significant factor – you're definitely not going to miss them while you're away because they'll be with you! Many of us feel that time away is not complete without a dog around for unconditional love and companionship, so why should the family be broken up for just a holiday?
2. To Help Settle The Kids or Your Anxiety
If you're traveling with smaller children, they may feel a little scared or unsettled flying off to strange new lands and if you're used to having pets around when you're stressed out or anxious, then why not just take them along on holiday with you?
3. Save Money On Kennels
Let's face it, taking your dog to the kennels is almost as stressful as thinking about them all alone while you're on some paradise beach. It's not my idea of a great vacation. To add insult to injury, you have to pay a considerable amount of money for them to stay there. A less stressful thing would be to take your dog away with you on holiday and enjoy being happy together instead of forking out money on pricey kennels.
4. It's An Enjoyable Adventure To Travel With Your Dog
If you have the kind of dog that enjoys getting out and exploring and just doing their own thing, then think of the joy they will have experiencing and sniffing out a whole new place — the fact that you get to cherish it with them is the cherry on the cake.
5. Go On Incredible Walks And Make New Discoveries
Imagine twice a day you get the opportunity to walk your dog in a new location or take a new route to discover things you haven't seen. Taking a dog to the same old park when you're at home is all well and good but believe us, walking your dog down an empty beach with waves hitting the shoreline and the sun setting on the horizon has to be one of the most fabulous things to do with your dog while on holiday.
6. Take A Weight Off Your Mind: Less Worrying When Your Dog Is With You
As much as you want to enjoy a beautiful holiday that you've been looking forward to for ages, if your dog isn't with you, we guarantee that they'll be all you think about for the entire holiday. Rather than worrying, take your pooch along with you on your vacation and enjoy the break away together.
7. Reduce Everyone's Stress: Take Your Pooch With You
If you have friends or family that have offered to care for your furry loved one while you're away you may be helping them by taking the dog on holiday with you. As lovely as the offer is, I'm sure it's actually quite a daunting task. If anything happened to your pet while you were away, how would they ever be able to forgive themselves, and how would you deal with it? It's best not to take advantage of other people's kindness. Enjoy a long and happy relationship without them having the stress of looking after your dog while you are away sunbathing!
8. Avoid The Sulk When You Get Home
Dogs have good memories, and they could be quite annoyed at you for leaving them, especially if it's for an extended period of time. If you want to keep them in a proper, balanced routine with the people they love the most around them, you should prepare to take your dog with you. The last thing you want is to return to a sulk when you get back.
9. Get Better Accommodation On Your Holiday
Even the best hotels these days struggle to maintain a good reputation. Pet-friendly stays, however, are custom-designed for pet owners. There are a lot of pet-friendly properties in countries like the UK and France. Italy is also a dog-loving country so if that's where you're heading then don't be surprised to see pampered pooches being carted around the supermarkets inside the shopping trolleys. Really. Pet-friendly stays are mostly in home-away-from-home style villas and houses where your dog will feel more comfortable and at home, too.
10. Make Better Memories
Having your dog with you will make for more fun, laugh-a-minute holiday experiences that you and your whole family will treasure. It won't just be a typical family holiday or your usual kind of getaway.
It will be much more enjoyable and memorable with your best friend there to enjoy it with you.
Jo-Ann Coetzee works with The Media Image in London and loves dogs. She wrote this sponsored blog post on behalf of Air Charter Service and the opinions expressed are hers alone.
Dear Reader: This page may contain affiliate links which may earn a commission if you click through and make a purchase. Our independent journalism is not influenced by any advertiser or commercial initiative unless it is clearly marked as sponsored content. As travel products change, please be sure to reconfirm all details and stay up to date with current events to ensure a safe and successful trip.
---