When I told Texas friends that Round Top is known as "The Aspen of Texas," they started laughing. Round Top? That's mighty high praise for a tiny, rural Texas town.
Round Top earned the Aspen label by retaining its vintage farm village charm while attracting some of the state's wealthiest families to build country homes. Real estate valuations for sleepy farmland have soared. Today, electric cattle fences and ornate gates separate second homeowners and Austin retirees from their authentic agricultural neighbors.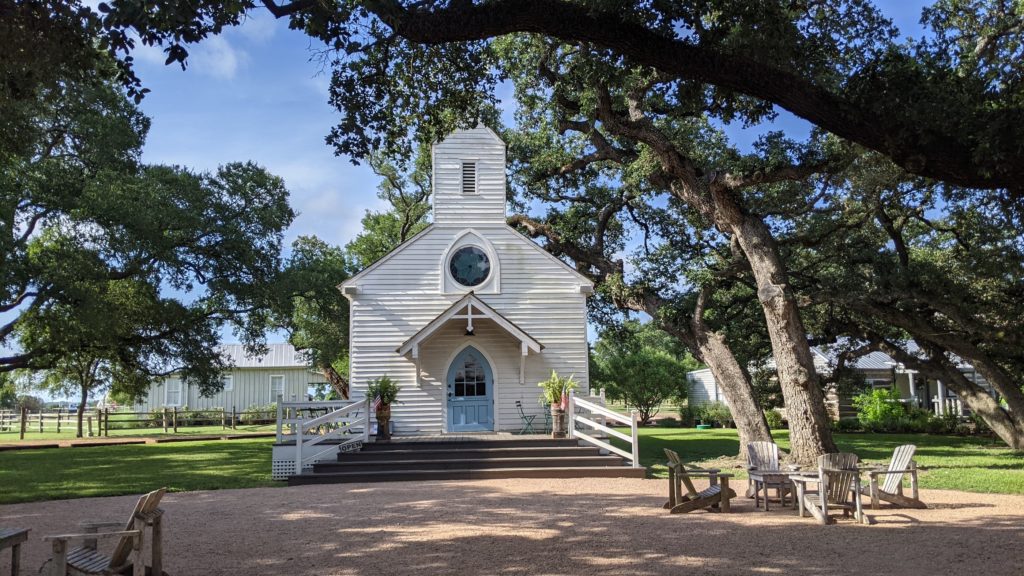 The Round Top comparison to Aspen starts with real estate but doesn't end there. With a population of 90 at the 2010 census, this tiny town generates a program of performing arts — poetry, music, and dance — that is far beyond its size. And year-round, a robust array of antique furniture outlets brings in a healthy population of buyers and sellers. Other Aspen-like qualities include myriad art and antique galleries, artisanal coffee spots and wine bars.
Arts Flourish at Round Top Festival Institute
One of the outstanding institutions in town is the eclectic Round Top Festival Institute. In addition to festival weekends that draw thousands to the world-class summer institute, the Round Top Festival Institute has been teaching musicians since 1971. Visit any time to enjoy the bargain-priced, year-round performances and special forums.
Take a tour of the sophisticated teaching facilities and backstage area. The towering all-wood concert hall built in 2007 was designed by founder Jimmy Dick, a noted classical pianist who spearheaded the original fund-raising effort. It was custom built for the Institute, maximizing style without sacrificing acoustics. Admire the ornately carved wood walls, copper fixtures and ceiling sporting a huge Lone Star (symbol of Texas). Mr. Dick believed that textured surfaces produced the best acoustics and its sophisticated appearance rivals the world's best halls.
See A World Class Performance in Round Top
Enjoy the superb student musical performances — so surprising to find so deep in the woods.
In 2021, the Summer Institute celebrated 50 years of coaching the world's top young classical musicians. Aspiring college and graduate musicians from around the world compete for scholarships to the six-week summer program. Weekday afternoons are devoted to master classes, which are open to an audience that wants to learn more about the training behind the artistry of great musicians. Witness the hard work and endless practice that drives a classical music career. If none of the family are so musically-minded, visit on Saturdays when a day pass gets you into three concerts. Faculty and students of the highest caliber performed Beethoven, Gershwin and Samuel Barber at our visit and do so every week during the summer.
On the Festival Hill website, you'll find other once-monthly weekend programs with eclectic offerings ranging from a poetry forum (April) to an herbal forum (March) to a performance of "The Nutcracker" ballet (December).
Go Vintage in Round Top for Antiques and Texas Memorabilia
Another industry that seems too big for this tiny town is interior design. A number of roadside warehouses have been taken over by antique dealers and interior decorators stocking top-of-the-line cowhide furniture, mesquite wood coffee tables and a rich array of antiques. You can't miss the farm that boasts Texaco pumps and vintage gas station signs and pumps all over its lawn.
Window shopping at Henkel Square Market is a must. Located in the at the heart of town, this Instagrammable collection of old Texas houses, law offices, a church and farm buildings were preserved and brought here by Houston doyenne Mrs. Faith Bybee in the 1960s. The rustic wood, brick and tin buildings have been converted into stylish shops, including collectible dealers, a rowdy bar and pie and snack shops. Many have historic markers out front; it's fun to see their restored interiors.
Another striking designer outlet is the enormous Market Hill, a series of recently built metal hangers housing oversized furniture, architectural artifacts, sculpture befitting a huge garden and accessories like mirrors and vases you might find in a hotel lobby. I considered getting a seven-foot-tall, $99 willow wood pitchfork as a coat rack but could not think of a way to ship it home.
Round Top is known worldwide for its three Antique Weeks that take place in winter, spring and fall. The dates are Jan. 21-22, Mar. 28-Apr 2 and Oct. 24-29 in 2022. During these weeks, every shop shows off their best antiques or features collectibles — even the bakeries. Meet hundreds of vendors from around the world who come in to trade. If you've ever been to the Brimfield Antiques Market in Massachusetts, you'll appreciate that the Aspen of Texas is also known as the Brimfield of the West.
Summer Weekends in Round Top, Texas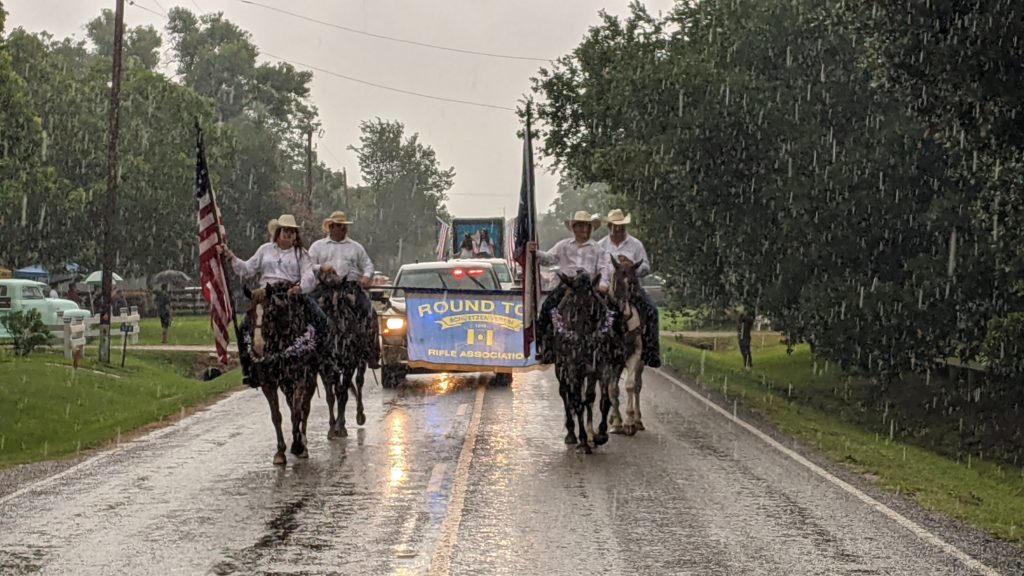 Summer may be hot (it is) and the off season for antique hunters, but it's a popular time for Austin and Houston families to rent an Airbnb or visit relatives at their family ranches.
It's also the time for the annual July 4th Parade, said to be the longest running Independence Day celebration west of the Mississippi. Place your lawn chairs to the side of the road — rain or shine — and watch classic cars, floats from local vendors, fire trucks and horses march along the 2-mile route. Bring bags to collect candy and beads tossed out by costumed characters on floats.
Traveling artists and teens will enjoy the guided walking tours run by Get a Round Top each Saturday in summer. Visit local artists in their studios and watch woodworkers, jewelry makers and other artisans at work to better understand the unique Round Top scene.
At Exit 66 off I- 10 W is the Hatari Safari Park, a drive-through safari that's best done early in the day before the animals seek shelter from the sun. There are a few local wineries here; we think the tasting and touring is better done around Kerrville, in the heart of the Texas Hill Country.
Dining Well on Blue Plate Specials and Tex-Mex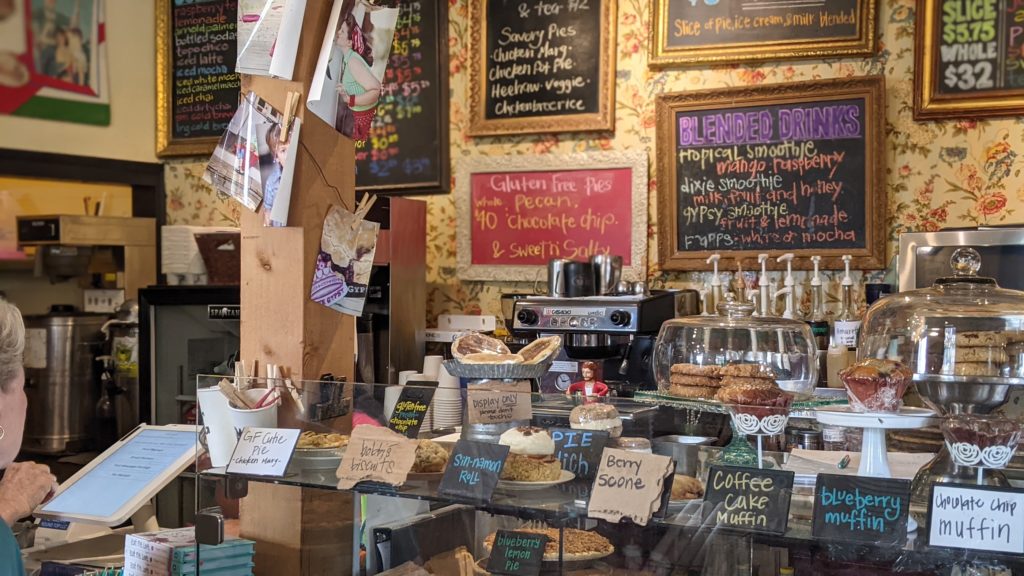 Like Aspen, where sophisticated well-traveled visitors support a variety of excellent restaurants, Round Top does not disappoint. In Round Top, there's Blue Willow Café, Royers Pie Haven for sweet and savory quiches and pies, the Local Roots deli and market and LolliTop for fresh-baked pastries, candy and ice cream.
We had an excellent gourmet meal at Duo Moderne, a stylish restaurant surrounded by the antique dealers of Market Hill.
The Painted Churches of Texas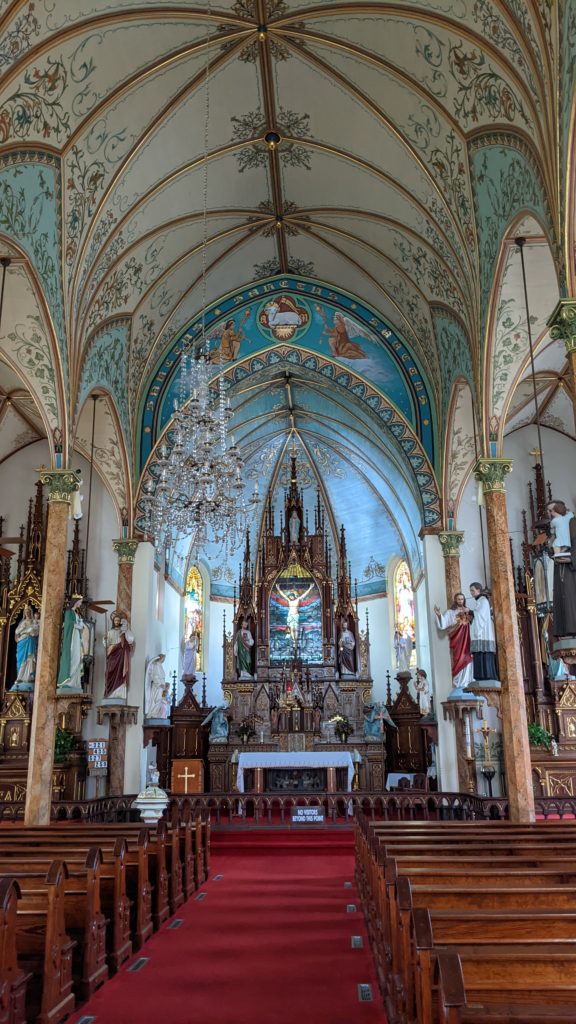 Round Top is a good base for exploring central Texas. Take a Painted Churches road trip and admire the small-town churches whose interiors were lavishly painted by Czech immigrants. They date to the late 19th century, when each community would use their skills to build simple Catholic churches, cover them in adobe, then fresco or stencil the interiors in floral patterns and religious motifs.
There are wonderful examples in the small towns of Ammansville and Schulenberg.
The town of Flatonia has a historic downtown comprised of one-story buildings, some of which have become collectible shops and cafes. Flatonia, the heart of the Czech and Eastern European immigrant settlements, is home to the towering Church of St. Mary of Praha, one of the most impressive Painted Churches in central Texas, a work dating to 1895.
Sleeping Around Round Top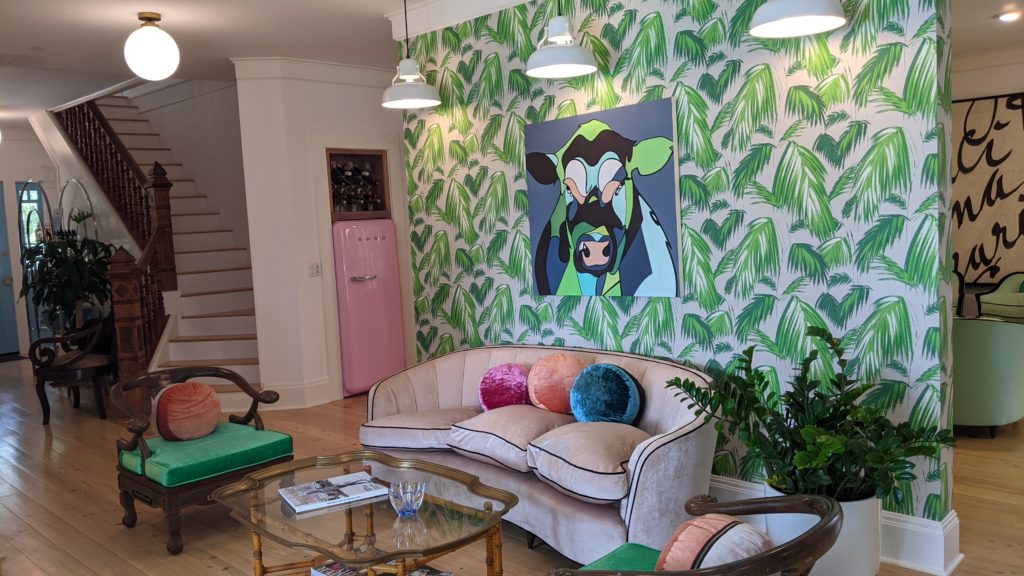 Round Top is a very good base for exploration. There are many options for lodging at a variety of prices, yet like Aspen, everything costs more than you'd expect in a small town. That's partly because so many Airbnb's and inns are owned and decorated to the hilt by interior designers.
We stayed at The Frenchie, a super stylish inn with a nice pool located 5 minutes from the central square. The Frenchie doesn't have much service — there's no desk staff or restaurant — but you're welcome to use their kitchen to store your groceries and dine on their wraparound porch or indoors.
Flophouz is another Round Top option, a hotel uniquely comprised of shipping containers re-purposed as rooms. They are stylishly furnished with Western memorabilia and cowboy art, situated beyond the edge of town.
Central Texas Road Trips
Cruise the numbered FM roads (Farm to Market country roads) and you'll discover small Texas towns with a few historic buildings, a big square and maybe an ice cream parlor or café. These are some of our favorite stops near Round Top.
Giddings is known for its opulent courthouse and City Meat Market, a ca. 1960 barbecue joint on U.S. 260. Although the pit smoke and grease don't appear to have been cleaned since then, the famous pork and beef blend sausages and plump ribs are delicious. Use the large kitchen sink to wash up after dining.
Then visit the La Grange main square. It's the Fayette County seat whose even larger courthouse, dating to 1891, has a bust of the Marquis de Lafayette. Lafayette, better known as a hero of the Revolutionary War, is the namesake of many Southern towns.
Luling is notable for City Market BBQ, which has been grilling and smoking up the joint since the mid-1940s. Unlike some of its competitors, City Market looks like a spotless cafeteria. The counter servers, standing behind COVID-proof plastic barriers, wear gloves and bandanas to serve sides and banana pudding. To get barbecued brisket, sausage or pork ribs, push open saloon doors in the back – like entering a speakeasy. The tiny, blackened room is packed with grills, scales, a coal-burning iron stove and two hefty guys with huge knives who portion out the food onto butcher paper plates.
When in Luling, don't miss the Luling Museum, home of the annual Watermelon Thump, where you can learn about the contest and see past Watermelon queens and memorabilia. The museum cashier, learning we were visiting from New York, complained bitterly that
waves of young Austin families, looking for cheaper real estate and hoping to comfortably work from home, were invading Luling.
Even Luling is starting to sound like Aspen.
Dear Reader: This page may contain affiliate links which may earn a commission if you click through and make a purchase. Our independent journalism is not influenced by any advertiser or commercial initiative unless it is clearly marked as sponsored content. As travel products change, please be sure to reconfirm all details and stay up to date with current events to ensure a safe and successful trip.
---