As more of us adopt an active lifestyle, brands that once catered only to backpackers and extreme athletes are rolling out high-performance products for everyday use. That they're designed with portability, weight, style and functionality makes them ideal for travel, too.  Here's a look at seven items to surprise and delight the travelers in your life.
Safety First Means Helmet: 174Hudson Stack
Chances are you've used micro-mobility services while traveling: perhaps a destination's shared bikes, E-bike system, electric vehicles or scooters to get around. The problem is that it's risky because there's never a helmet available. Priority Bicycles of New York, makers of the low maintenance Embark E-bike, has developed a packable, collapsible helmet called the Stack to solve that problem. If you, like me, have a child who has tried everything from Bird to Citibike to Lyme in his travels, you'll realize why this is the ideal gift for mobile loved ones (or yourself). All ages love Stack because its collapsible dome sinks down to reduce the helmet's height by 40 percent so it fits into a backpack or briefcase. The 174Hudson Stack comes in four colors (love the teal blue and coral) and retails for $79.99. These are not designed for small children but come in two sizes: Medium (most common size) and Large; order them from Priority Bicycles.
Every Traveler's Wish: Comfortable Shoes like Lowa's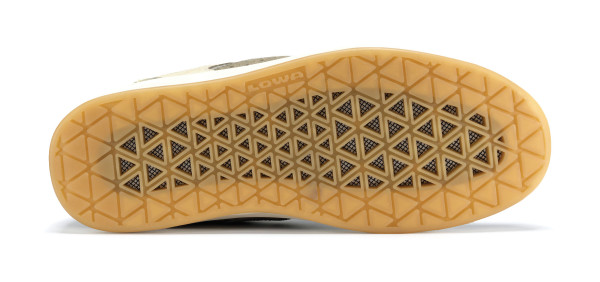 If you're searching for comfortable shoes that are style forward, extremely practical, useful and lightweight for travel — the Lowa San Francisco GTX Surround fits the bill. A hipster sneaker with a Keds profile and the soul of Tevas, these Lowa shoes are special because they're both breathable and waterproof. The discreetly perforated full-grain leather or Nubuck upper is paired with an innovative honeycomb sole that allows air to circulate, cool and refresh your feet. Gore-Tex Surround technology makes sure no outside water gets in. I know they work — I was caught in a blizzard hiking in Red Rock State Park in Gallup, New Mexico and, while I could feel frigid air enveloping my feet, my socks never got wet. A very cool investment for active travel — and hip enough for nightlife — they come in black or white in Men's and Women's sizes and sell for $225 at stores carrying Lowa footwear.
Play for Real: Outside Inside Travel Games
Road trippers and backyard campers will love Outside Inside, the adventure company that takes playtime seriously. Their series of travel games includes classics like Tangrams, table tennis and magnetic Chess, plus a fresh spin on old and new ones. Choose between the travel-friendly Backpack Series of games which are lightweight yet full featured. The Freestyle Series is somewhat larger because the focus is on ease of set-up and take downs. If you're into staycations or are road tripping, you may prefer the heavy-duty Basecamp Series — well designed and full-size. Because they've been created by real adventurers, all series are quality crafted, have tough-to-lose magnetic pieces and a carry bag, and are portable enough to use outdoors or in.  We tried the Basecamp All-Terrain Bocce (model 99963; $41.95) on an Astroturf backyard and were impressed with the shiny, durable balls, measuring stick and easy to follow instructions. The Backpack Cornhole (model 99975; $30.95) is surprisingly tiny; we pulled it out of a backpack and set it up in the park, amazed that it contained two game boards and eight small bean bags that were fun to toss. If you're unsure which games your fellow travelers will enjoy, we suggest packing Freestyle Table Tennis (model 99959; $31.95) because it weighs only 1.5 lbs, the carry bag is only 12.25" x 6" x 4" and you'll have two paddles, three balls and a 6-foot net to latch onto your car hood.  You'll have fun searching Outside Inside for the perfect gift.
Bad Hair Day? Moroccan Gold Argan Oil
Weighing in at just 100ml, Argan Oil hair care from Moroccan Gold is a light, non-greasy way to smooth fly-away frizz, funky whisps, dry split ends and other bad hair day madness. We are long-time fans of argan oil, derived from a plant that grows in the Moroccan desert near Sous and is harvested by goats. (Visiting a women's cooperative to watch the hand-pressing of argan nuts is a fascinating experience.)  The Moroccan Gold products (including shampoo and hair treatments that don't come in travel sizes) blend 100 percent pure argan oil with keratin, vitamins and antioxidants that add shine and moisture for smoother looking hair – whether you're braiding the kids' hair or doing your own. The small size Argan Oil retails for US$49 from Moroccan Gold.
Portable Foodie Fix: The Hydroflask Unbound Cooler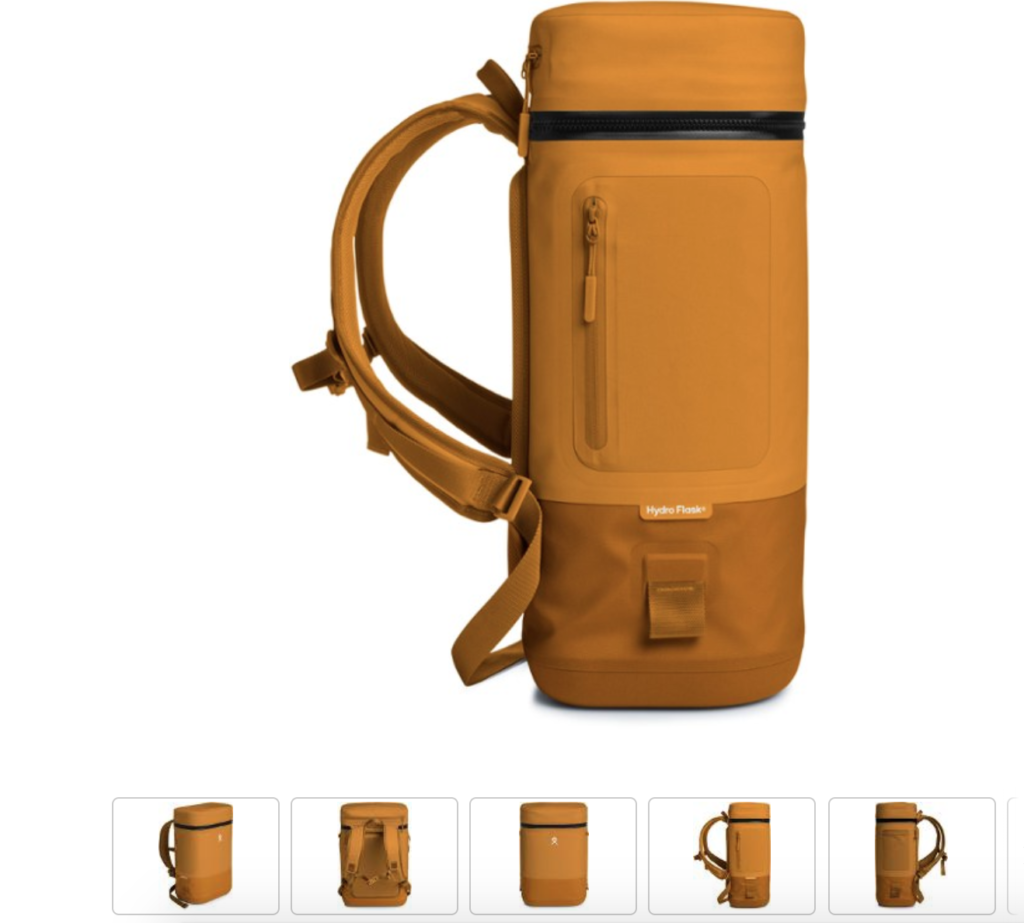 If you've heard Frederic the Great's observation that an army marches on its stomach, you know why we love Hydroflask's high-performing insulated bottles which keep beverages cold for 24 hours or hot for 12 hours. When we heard they had just launched their new line of Unbound Coolers, we were excited to learn more. Think way beyond that Styrofoam chest to a soft-sided, leakproof, well insulated container that comes as a 22-liter size backpack or a 24-liter size tote bag. Both work well because their Ultralon buoyancy foam insulation is on the bottom, which loses cold the fastest. Hyrdoflask claims their cooler will keep things cold for 48 hours, giving you plenty of time to practice making that perfect campsite or backseat meal. Unbound Coolers in the backpack or tote version retail for US$274.95 at REI and other outdoor retailers.
Looking for a Winter Wonderland? Give the Gift of Boots (that Delight Kids)
If you've got kids who complain about the cold, rain, or anything resembling heavy, bulky boots that they can't quite put on themselves; you'll know that finding the right outdoor wear is a challenge. Bogs rises to the challenge with a variety of super cute, stylish boots that stand-up against the weather and a good beating.
Bogs footwear includes boots for rain or snow, as well as outdoor shoes and sandals. I chose Classic Pansies Bogs boots in purple for my 1st-grade daughter and Classic Plane Bogs boots in gray for my preschool son. I was a little worried the boots would prove too cumbersome for them to deal with during recess and tromping through the last of the Fall leaves here in Atlanta. My worries quickly disappeared when we opened up the boots and found them wonderfully insulated and warm, as well as lightweight and ready to slide on to wear.
The kids promptly lost their minds, pulling on their colorful new boots and immediately launching into what will forever be known as "The Boot Show" while my parents watched on FaceTime. We've had a few bitterly cold days in Atlanta since the boots arrived, but the kids have wanted to wear them every day for a week straight regardless of the weather. They report the boots are, "Super warm!" and show them off for all to see. From my own inspection, the Bogs boots are durable, warm, and feel comfortable inside. Bonus points that the boots come in a variety of designs and colors from Superhero to space themed, as well as "big kid" designs in beautiful patterns that even a discerning first grader would love to war. Both pairs retail for $80 — a good investment that's worth passing down to others.
Thanks to Susan Finch, Kyle McCarthy, Ron Bozman and Keith John for their reviews.
Dear Reader: This page may contain affiliate links which may earn a commission if you click through and make a purchase. Our independent journalism is not influenced by any advertiser or commercial initiative unless it is clearly marked as sponsored content. As travel products change, please be sure to reconfirm all details and stay up to date with current events to ensure a safe and successful trip.
---