When driving the Texas Hill Country, plan a stop at the Blue Bell factory tour. Citizens of the Lone Star State claim they make the best ice cream in the country. This creamery, however, is not like most factory tours which take you behind the scenes.
Instead, Blue Bell's tour is more hands-off. No dipping fingers into the production flavors as you stroll by.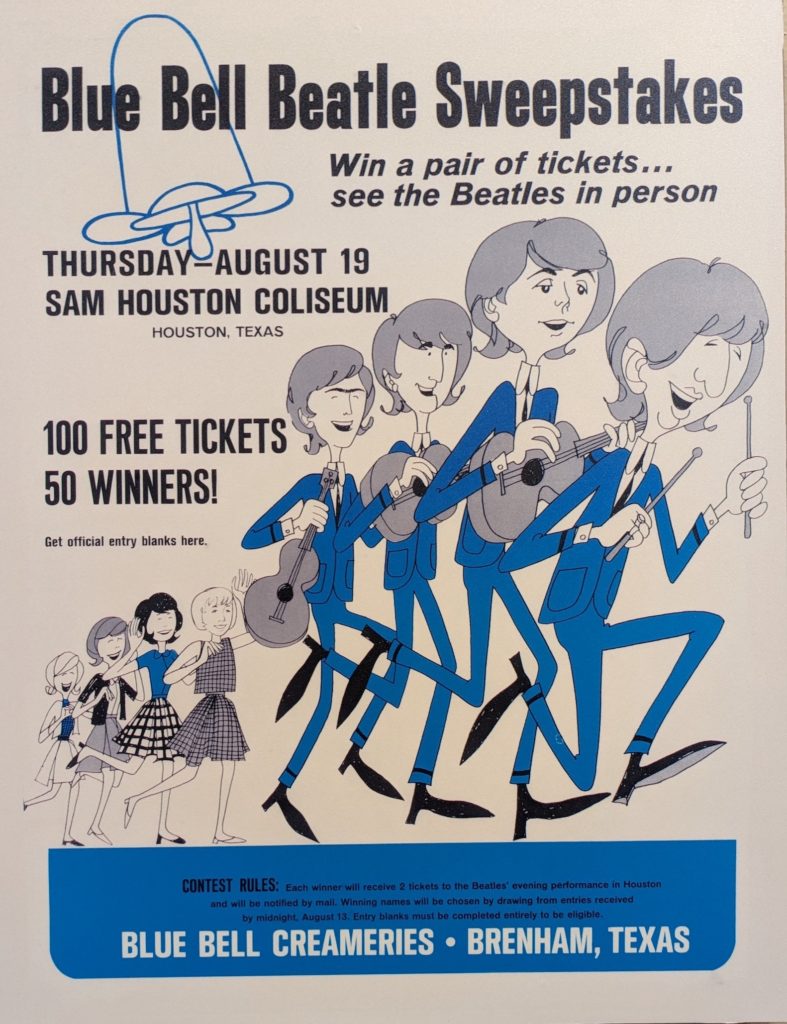 The New Blue Bell Creameries
Much of that standoffish attitude comes from the devastating listeria outbreak linked to certain Blue Bell ice cream products back in 2015. The company's three ice cream manufacturing plants: Brenham, Texas; Broken Arrow, Oklahoma; and Sylacauga, Alabama closed down and were sanitized.
Blue Bell recalled all their products. Dairy freezers were empty for months.
Texans around the world wept.
Since 2021, all Blue Bell production facilities are BRCGS certified with an A (or above) rating in the Global Food Safety Initiative (GFSI). Totally modernized plants have strict sanitation rules. They admit visitors only if they're behind glass windows, looking down at the action.
So, is the Blue Bell Creamery factory tour worth the stop? Read on.
The Original Blue Bell Creamery Tour In Brenham, Texas
Long, long ago in 1907, the Brenham Creamery butter company opened in a small Texas town. By popular demand, they grew into hand crafting ice cream in 1911. Legend has it that in 1930, executives named the ice cream company "Blue Bell" after a Texas wildflower, but that makes no sense since the flower's name is written as one word. Nonetheless, adman Lyle Metzdorf made Blue Bell a household name with roadside billboards that proclaimed, "We're cranky about flavor!" and "We eat all we can and sell the rest!"
Today, any genuine Texan stops for the facts at the mother ship — the original Blue Bell Creamery in Brenham, Texas.
The cute small town of Brenham, which had its own Relais & Chateau Inn at Dos Brisas for years, is about 70 miles northwest of Houston. Houston and Austin metro area families crowd town parking lots on weekends. In the summer, this ice cream factory tour makes a great stop on a Texas road trip.
The bad news is that, in Brenham, the factory tour is only open weekdays from 8am to 2pm.
Remember, if you're going all the way to Brenham, you really want to see the plant's Observation Deck. It's the closest look the public gets on a so-called Blue Bell factory tour.
What Makes The Visitor Center Fun (Besides Ice Cream)
There is a small but interesting Blue Bell Factory Tour Visitor Center (open 8am to 5pm and also closed weekends.) Take your selfies, look at the small museum of memorabilia and see an introductory video to ice cream making. Ask the kids to take notes. They'll want to understand what's happening through the Observation Deck's windows later on.
Our favorite image from the museum is of a smiling Blue Bell worker in lab coat. She is crushing bags of Oreo cookies to make the mixings for the new flavor, Cookies 'n Cream. Another cool display is a poster of the Beatles, who did some cross-promotional marketing with Blue Bell.
Blue Bell Factory Sells Ice Cream, Too, And It's Only $1!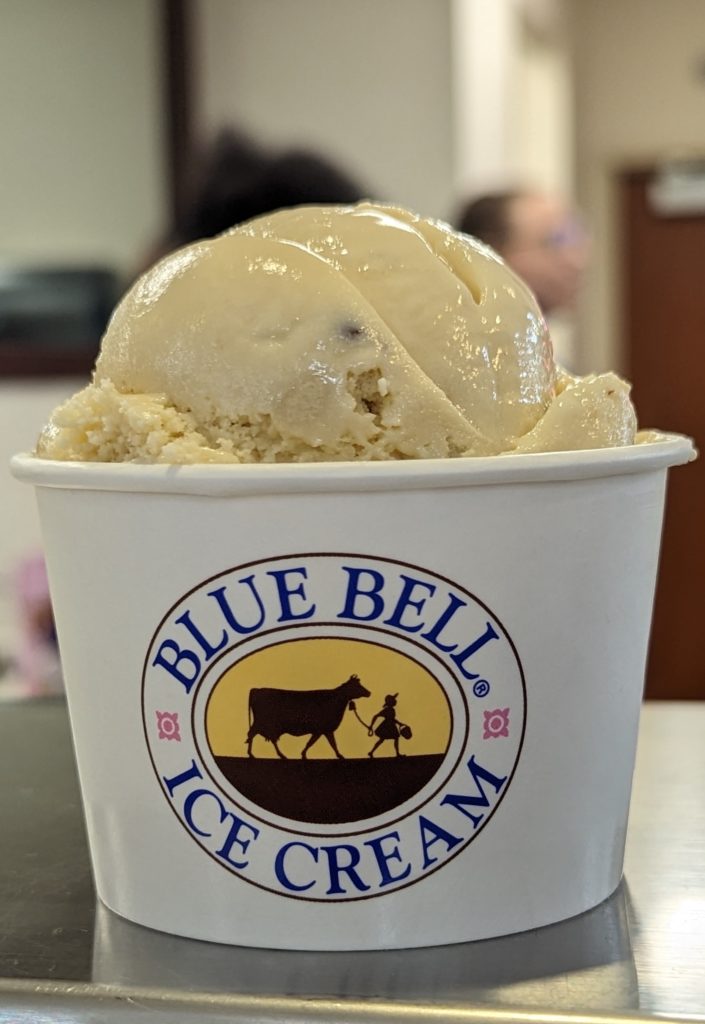 Afterwards, head to the Ice Cream Parlor building. It has a few more displays of memorabilia, a country store and, upstairs, a "self-guided tour." That's just a fancy way of saying 'buy a scoop of ice cream and go look through the Observation Deck window.'
There are three good things to note about this building. First, the Blue Bell Factory Tour Ice Cream Parlor (open weekdays 9am to 4:30pm, open weekends during certain seasons) sells some flavors that are very tough to find in supermarkets. Second, the large cups packed with a single scoop of ice cream cost only $1. Third and not least, Blue Bell factory tours are free of charge.
What You'll See On The Blue Bell Factory Tour
It is interesting to look through the Observation Deck windows (around the smudgy finger marks.) Below you, Blue Bell's engrossing mechanical system for production and delivery appears almost old-fashioned.
Try to decipher the Rube Goldberg-like tangle of colorful tubes and slides that hang from the ceiling. We learned that the ice cream is kept warm (soft) so it can be forced through these tubes into a container. However, a lot of hygienic protection material obscures this view.
Full containers are then sealed and go to the freezing room. They will be quick frozen at -40°F (-40°C) until ready for shipping. (Blue Bell staff handle their own products and shepherd ice cream from refrigerator trucks to outlets in 23 of the southern US states.)
Bring binoculars if you want to watch the workers in lab coats and hairnets adding mix-ins, swirls and sealing the packs. At our visit, they packed Chocolate Chip Cookie Dough in half gallon tubs — 30,000 each day — four into one box. Some workers were wearing yellow noise canceling headsets. Others sorted through big blue plastic bags for the mix-ins or hosed the floors.
Conveyor belts swirl around the factory at several heights. The young staff on duty at the Observation Deck said there are three other plants in Brenham closed to the public. They explained that unseen sections of this plant were working with Dixie cup or quart size containers of the same flavor ice cream.
Be On The Lookout In The Frozen Aisle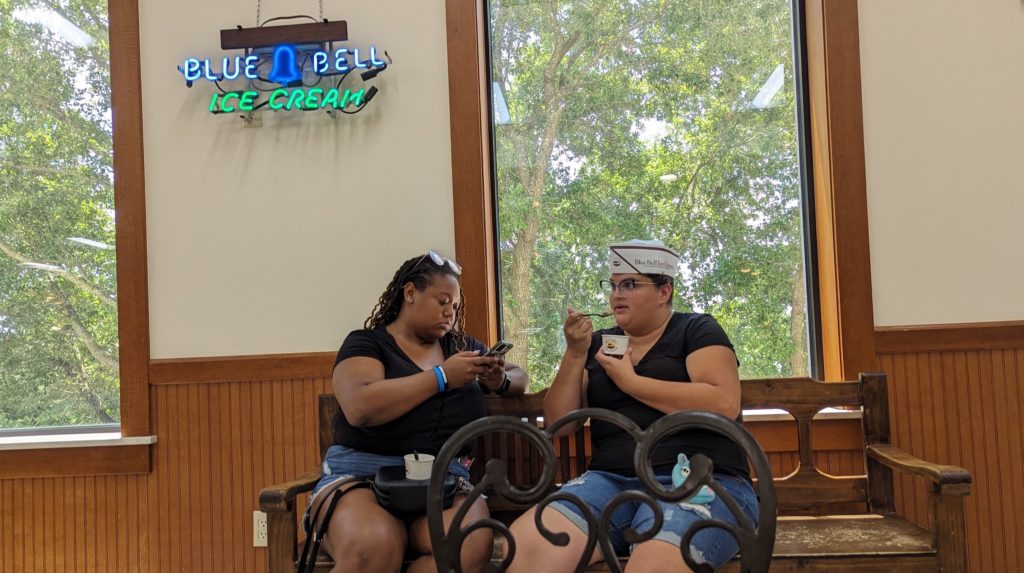 There's always something new at Blue Bell. The most recent hit is Dr Pepper Float introduced in May 2023. Texan friends raved about it but many still prefer traditional flavors such as Pecans, Pralines 'n Cream.
Blue Bell Creameries now makes 40 flavors. Look on your store shelves for Blue Bell's No Sugar Added Vanilla, varieties of sherbet and frozen snacks.
And if you can't make it to Brenham, Texas, stop by the Blue Bell Factory Tour in Sylacauga, Alabama. The new factory draped in plantation style décor welcomes guests Monday to Friday, 9am to 4:30pm to a few historical displays about the creation of ice cream. The most fun is visiting the retro style ice cream parlor for scoops of beloved and new flavors, each $1.
Will you be driving through Broken Arrow, Oklahoma? Sorry, while this Blue Bell Creamery plant is busy producing frozen treats, the facilities are not open to the public.
Dear Reader: This page may contain affiliate links which may earn a commission if you click through and make a purchase. Our independent journalism is not influenced by any advertiser or commercial initiative unless it is clearly marked as sponsored content. As travel products change, please be sure to reconfirm all details and stay up to date with current events to ensure a safe and successful trip.
---