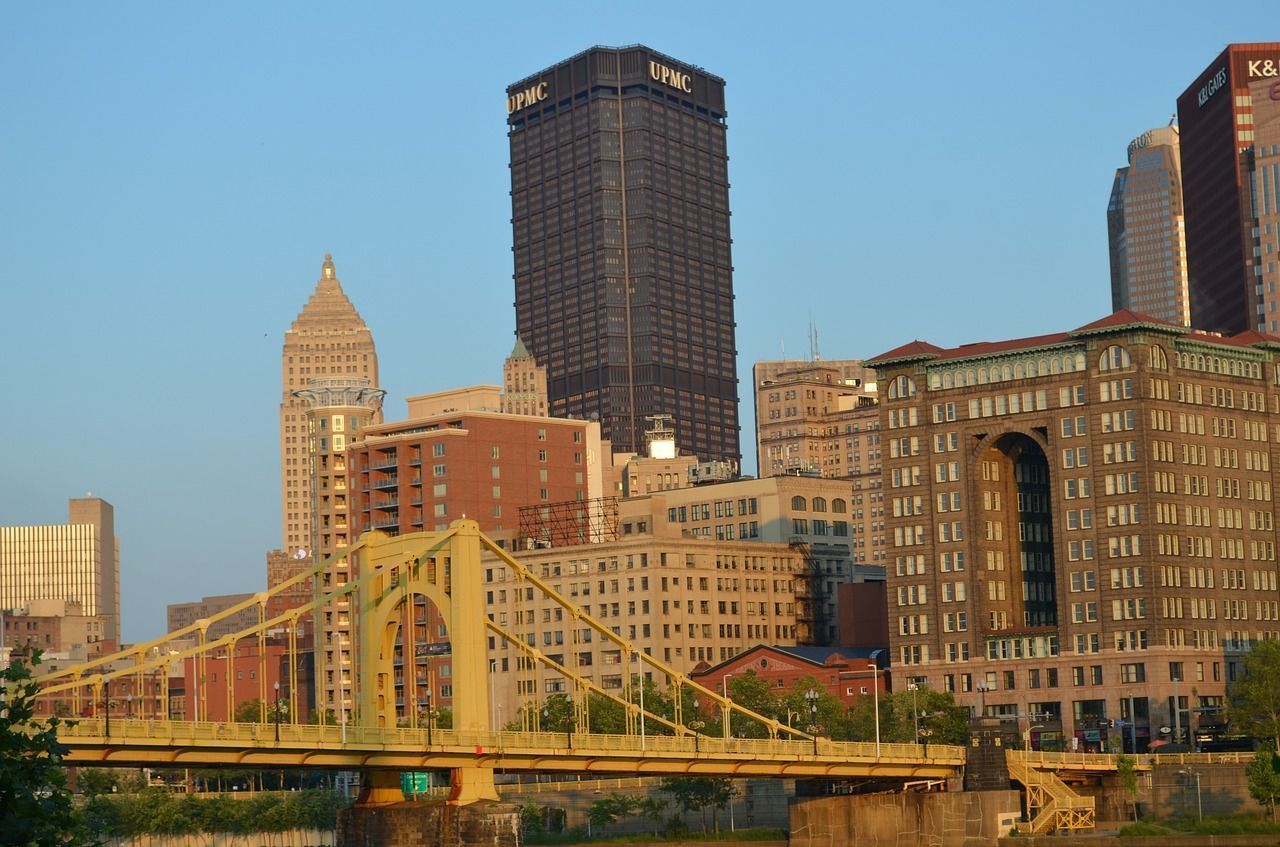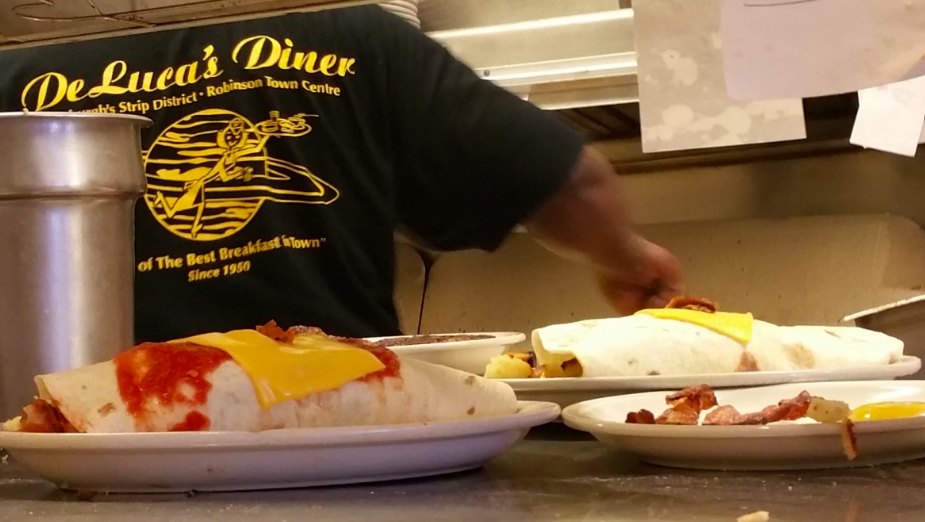 Formed at the head of three rivers snaking through the Pennsylvania hillsides, Pittsburgh, the city of steel, rivals Philadelphia in cultural diversity, museum attractions, shopping and, not least — cuisine galore. Featuring more than 90 neighborhoods with their own boldly proclaimed national identity, we have broken down the city into several major areas of interest to visiting families and foodies of any age.
The Strip: East Side Eats & Attractions
The East side is a culinary wonderland for the hungry tourist, particularly the Strip District area, where shop after shop produces sumptuous and inviting smells of local and not-so-local eats. We love to start out the day at Pamela's Diner, where the meals are rich and hearty, and the hotcakes as light as air. While it's true that the gals from Pamela's have whipped up their hotcakes for President Obama's family in the White House, some locals would argue that the breakfasts are actually better at nearby DeLuca's Diner. All we can say is their breakfasts are bigger — all portions are huge — and their menu is more varied, but we were just too stuffed to pit the hotcakes against their pancakes for a taste test contest. Neither takes reservations, but join the line early and you'll enjoy meeting the locals and commiserating on the wait times.
Once spanned by industrial and warehouse spaces, the Strip District today features trendy nightclubs and food markets, giving the area the feel of a bustling open-air market by day and a teen pleasing place to stroll at night. We enjoyed our unusual Caribbean-inspired dinner at Kaya, where the outdoor cafe was packed with couples, some of whom had arrived on bicycles.
If you walk past the (legendary) Altar Bar, stop and admire the historic St. Elizabeth Church, which has been converted into a serious music club showcasing the likes of Snoop Dogg and Sum 41. Venturing off one of the side streets, our noses led us to the original location of the famous Primanti Brothers, where sandwiches the size of your face are packed with French fries, coleslaw, and almost every meat topping imaginable. This is a must-see place and it's open 24 hours, so no excuses. (They also ship sandwich assembly kits with fillings, toppings, and instructions.)
Entering the heart of the East Side toward the University of Pittsburgh and Carnegie Mellon University, there are several student-friendly cafes and coffeshops. The Carnegie Museum of Natural History provides a whole day of exploration for the whole family. Our favorite things to do here include touching an ancient dinosaur bone, exploring room after room of dazzling rocks and gemstones, and climbing into a massive, vibrating replica of a whale heart.
Lawrenceville: Eats & Attractions
If you're traveling with teens, head farther east and north of the Strip District to Lawrenceville for a Burgh Bits & Bites culinary walking tour. We took their tour in Lola, or the so-called "Williamsburgh" of Pittsburgh, an area being revived by young families. Our terrific guide walked us through a former steelworkers' neighborhood whose two-story homes have become stylish starter restaurants for up-and-coming chefs, clothes and crafts boutiques, art galleries and ethnic markets.
There's a bit of history on the tour (as on all their culinary tours), too. The saying, "Don't throw the baby out with the bath water" purportedly originated at the Lawrenceville Bath House. Here, the area residents would form a line to wash up: men first, women and children next, and then babies. By the time the babies would reach the bathhouse to be washed, the recycled water would be so dirty that it was almost useless to bathe the young ones… and difficult to even see them.
While there are numerous places to nip in for a quick afternoon snack, the Coca Cafe is a great place to relax with a copy of the local newspaper, the Pittsburgh Post Gazette, and blend in with the locals. At the core of this stylish neighborhood is the 16:62 Design Zone, a 56-block area full of shops with unique home furnishings, antiques and objets d'art.
Though styled as a dive bar featuring live performances most weekends, lower Lawrenceville's Brillobox has a great atmosphere perfect for a relaxed lunch. Grab a plushy seat at one of the large family-sized booths and enjoy a burger or one of the menu's many vegetarian options. Or, come Sunday night for the "Starving Artists Supper" which is only $7 per person for a great vegetarian meal. We enjoyed one of five locally brewed craft beers at Church Brew Works, a historic neighborhood church converted into a very popular lunch and dinner spot lit by soaring stained glass windows. Families will enjoy the large beer brewing urns in the center of the room, and the menu is varied and quite good.
Pittsburgh Downtown Dining & Nightlife
Across the Allegheny River in the triangular sharped downtown, Pittsburgh's Cultural District has five theatres for live performances of ballet, theater, opera, Broadway, symphony and contemporary dance. Plan on starting your evening or matinee afternoon there with a meal at Meat & Potatoes, a small gastropub with down home cooking done in a fresh way. Great steaks is a specialty but chef Richard DeShantz, a local favorite and James Beard award-winner, is attentive to freshness and flavor in everything.
If their menu is not to your liking, head to sister restaurants Tako for creative Mexican with some tapas and Korean thrown in, like grilled octapus and harissa tacos or, with teens, to Butcher and the Rye for sophisticated small and large plates.
Pittsburgh North Side Eats & Arts
Some Pittsburghers still remember when the north side of the Allegheny was called, well, North Side. But today, after all the redevelopment that went into making it the city showpiece, and all the expensive real estate that was built along the waterfront on the new North Shore Drive, some younger folk are calling it North Shore. No matter. The sports fans in us love to gawk at the impressive Heinz Field and PNC Park — home to the Steelers and the Pirates respectively — both with a large variety of craft beers and impressive snack food. In fact, there are many highly regarded sports bars and grills in the area, but we never left the arenas to try them.
Except to look at the art. The more artsy types can indulge themselves in gawking at retro paintings and unusual portraits at the Andy Warhol and Mattress Factory museums and dine in their hip cafes.
Pittsburgh South Side's German Flair
While the former steel industry smokestacks were an iconic image we could all identify, the South end of Pittsburgh still possesses the famous Duquesne Incline, commanding a spectacular view of the city from Mt. Washington. While it may have only been five cents a day for workers back in the day to take the rickety journey to the top of the hill, the $2.50 fare today is definitely worth the view. Pause for a real Pittsburgher lunch at Bigham Tavern on top of Mt. Washington. Don't miss their Loaded Fries or Loaded Tots.
Farther southeast from the incline along the Monongahela River, the area along East Carson Street known as the South Side Works is home to a movie theatre, countless bars and restaurants, specialty stores, outdoor yoga classes and many public events. An early dinner is recommended at Hofbrauhaus Pittsburgh, before the students get up and start dancing on the long communal tables. This place, the largest hofbrau outside of Munich, is known for its German beerhall menu and selection of craft beers. Order their huge pretzels served with a variety of melted cheeses and mustards, some schnitzel or fish, and watch the platters of food come out to the terrace, a quieter place to dine overlooking the Mon and the Carnegie Mellon campus.
There's a part of South Side that is a bit more suburban, or maybe that's just the feeling you get because you're dining in a former gas station. We like the Double Wide Grill for its huge menu with a burger or salad for every taste. If the service isn't quick enough, keep the kids occupied with the memorabilia on the walls and ceiling.
If shopping is definitely your thing, Station Square has all you need for Steelers apparel, jewelry and more. Next to a promenade featuring rainbow-colored flowing fountains and sitting areas with riverside views of the city, the Hard Rock Cafe is a fun place to grab some grub and gawk at rock n'roll memorabilia.
For those seeking a thrill or two, the summer months bring to life the area's amusement parks, Kennywood and Sandcastle Waterpark, both located farther down on the South Side along the Monongahela River. If you still have an appetite, don't miss the Potato Patch Fries originated at Kennywood, which have become a PGH signature item!
Note: Kyle McCarthy contributed to the update of this story be eating her way through town in September 2015. Please share your own Pittsburgh favorites in the Comments section below.
Dear Reader: This page may contain affiliate links which may earn a commission if you click through and make a purchase. Our independent journalism is not influenced by any advertiser or commercial initiative unless it is clearly marked as sponsored content. As travel products change, please be sure to reconfirm all details and stay up to date with current events to ensure a safe and successful trip.
---