"Our demonstration of black powder may not have much of a bang due to the rainy weather," says our guide at Hagley, the du Pont estate in Wilmington Delaware. She presses a fuse into a pile of gunpowder, lights it and steps back. Bang!
Riches from gun powder, the original product of the DuPont Company, have made Wilmington Delaware one of the most livable cities on the East Coast. At its peak, DuPont employed nearly 10% of Delaware's population. Six generations later, the du Pont family still funds many civic projects throughout America's second smallest state.
It's a May weekend in Wilmington and, rather than returning to his beloved home state of Delaware, President Joe Biden and his family are at Camp David. My family, instead, is in Wilmington. We are still hoping to catch a glimpse of the 46th president at one of his favorite eateries while getting to know his riverfront town.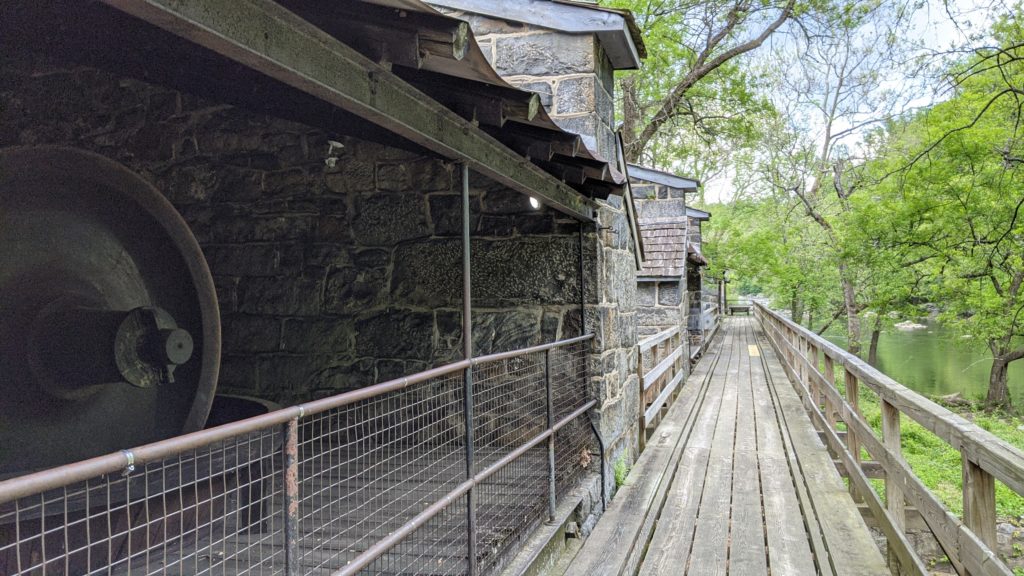 Hagley and the Story of Black Powder
Meanwhile, we are enthralled by Hagley Museum and Library, originally the millworks founded by French immigrant E.I. du Pont in 1802. The success of du Pont's high quality black powder, used in weapons and fireworks, is the stuff of legends.
Take the tour of the Powder Yards to learn how energy from the adjacent Brandywine River's flow was harnessed to drive turbines and gears. The noise and grit coming from the stone Power House and Machine Shop bring the guides' stories to life. Twice monthly, Science Saturdays zoom in on one topic with build-your-own maker workshops for all ages — free with admission — in a program E.I. would have loved.
Our Chance to Spot President Biden
This weekend, lunch at Buckley's Tavern is our best shot at seeing the President and First Lady because it's one of the best eateries near their home in Greenville.
Everyone in Delaware knows this; they know everything there is to know about Joe Biden. He was, after all, their neighbor and senator for 68 years. In fact, Joe came home so often during his years in Washington DC that he was nicknamed "Amtrak Joe." The Wilmington train station is actually named after him.
Everyone may have a Biden sighting story but this weekend, we do not even see a caravan of black SUVs.
Glorious Longwood Gardens
Less than a half-hour from Wilmington by car, Longwood Gardens in Kennett Square, Pennsylvania is the former Pierre S. du Pont estate. Mr. du Pont bought this property in 1906, later building a Conservatory and several styles of gardens, including an Italian Water Garden, in 1925. Wilmington was becoming, and still remains, a center of horticulture in the United States.
Within a decade, he had nearly 1,000 acres of farmland and gardens which he bequeathed to the public after his death in 1954. Today, marvel at the massive topiary, rolling lawns, majestic trees and the many fountains that are programmed to dance and light up in time to music.
Compassion and the Tubman Legacy in Wilmington Delaware
Delaware was at the crossroads of North and South during the Civil War, supporting both abolitionists and slave traders who captured free blacks for the Southern market. Citizens fought on both sides of the battle. DuPont sold black powder only to the Union side, yet despite his steadfast efforts, some of it made its way south through theft.
Tubman Garrett Riverfront Park is dedicated to the memories of Thomas Garrett, a Quaker abolitionist, and the escaped slave and Underground Railroad "conductor," Harriet Tubman. The larger than life bronze sculpture at its entry is titled "Unwavering Courage in the Pursuit of Freedom." It's just one of 30 fascinating stops on the Harriet Tubman Underground Railroad Byway between Delaware and Maryland.
Joe Biden has passed this statue many, many times. Take a moment to contemplate the courage of a white man and Black woman assisting slaves across the Christina River, on their way to freedom.
Art Around Town and the Riverfront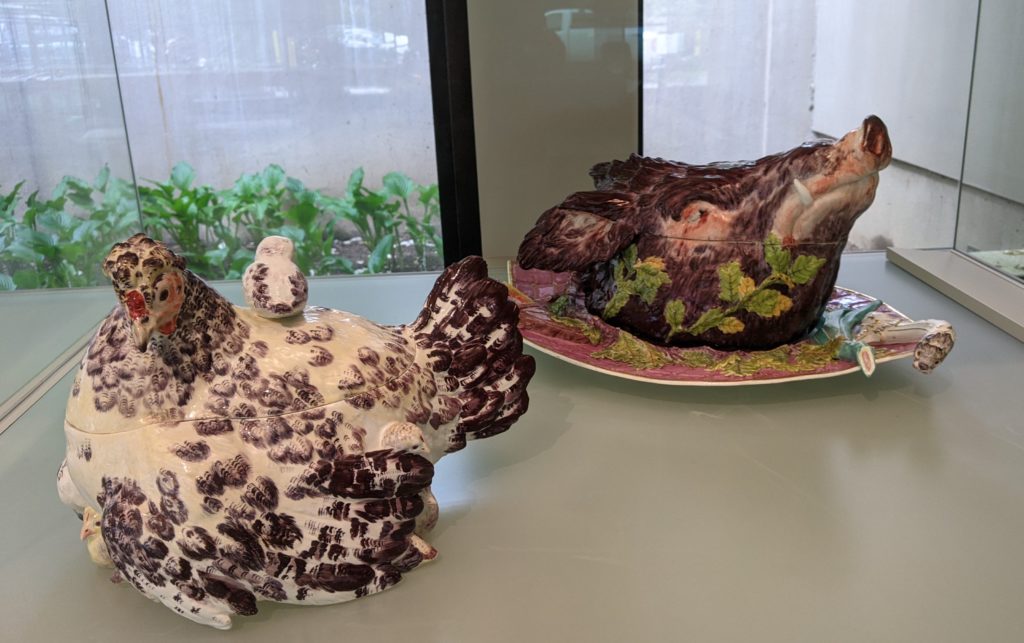 Wilmington has cultivated its many riverfronts — the scenic Brandywine to the north and the Christina and Delaware Rivers downtown. Tree-lined streets of livable one and two-story brick housing surround quaint older neighborhoods with cobblestone lanes. Small public parks appear throughout.
The Wilmington Riverfront is prized for its walking and bike paths along the Christina. Plan a meal at one of the restaurants (Thai, Peruvian, Mexican and others) within the restored Riverfront Market or at local seafood places like Bank's with its water view patio.
The Delaware Children's Museum, with its many science and art exhibits, and the Delaware Contemporary are also part of the riverfront development. The First Friday of every month, Delaware Contemporary stays open late and waives admission, drawing a very mixed crowd of locals. With a food truck at the door, wine service inside and exciting temporary shows (we saw ceramics, sculpture, paintings and video installations by students graduating from local art schools), it's a fun event that speaks to the strong community ties of Wilmington.
A Biden Style Culinary Splurge at Bardea
We heard the Bidens celebrated their anniversary at Bardea, a stylish yet casual, affordable venue on Market Street. When Scott Stein and partner Chef Antimo DiMeo's eatery was honored with a James Beard award nomination as one of the country's best new restaurants in 2019, it changed the entire Wilmington dining scene.
We wanted to try their innovative American and imaginative Italian cuisine. Scott walked us through a paradise of flavors that included gyoza dumplings filled with shredded carrot and green pea ice cream. Delicate chunks of fluke from a Jersey purveyor were served raw, bathed in a cream sauce of walnuts and pomegranate. Lanky Australian prawn, tender heritage pork, celery root… all drifted by in tasting portions. Bardea's dishes incorporate herbs and spices from around the world yet taste down-home and simply delicious – the kind of food the President is said to favor.
Knowing his penchant for Italian cuisine, we're betting that Bardea's popular homemade pizzas and house made pastas would be the Bidens' choice (and probably your kids). Service is friendly and attentive but never fussy; that's the Delaware style.
Winterthur's Splendor
The 1,000-acre du Pont property of Winterthur is another community gift of museum and landscaped grounds from Henry Francis du Pont. Since 1951, it has grown into one of the country's pre-eminent collections of American arts and design. After touring the 175-room mansion, visit the interpretive exhibits in the museum gallery.
If you're with children, grab a map and head straight to Winterthur's gardens. A free tram and shuttle bus run from the Visitors Center around the beautiful property which is less formally manicured than Longwood Gardens.
Don't miss Winterthur's Enchanted Woods, the densely planted collection of architectural follies, swings and miniature furniture that du Pont, an avid farmer and gardener, designed for families.
Wilmington Delaware Outdoors
City redevelopment has preserved much more greenery than what's behind du Pont estate gates. Bike lovers will enjoy exploring the Jack Markell Trail which winds along the Christina River.
For a surprisingly engaging natural encounter, head down river to the Russell W. Peterson Wildlife Refuge. Walk pathways through an abandoned marshland crisscrossed by railroad bridges to see tortoises, migrating birds and other wildlife. At the environmental education center, a Rat Snake slowly swallowed a mouse. Below us, families borrowed canoes to explore the waterways and wetlands.
There's more wildlife in Brandywine Park at the small Brandywine Zoo. Old-fashioned wire cages now house smaller and more conservation minded animals – think lemurs instead of lions – than when the historic zoo opened in 1905. Engage with animal interactions and clever signage at Bobcat, Sandhill Cranes, Red Pandas and other exotic wildlife habitats.
Another must is the Can-Do Playground, a boundless playground designed to be accessible to every child regardless of their mental or physical abilities. It attracts families year-round to its storybook garden path, lending library, climbing equipment, padded wheelchair-friendly play stations and variety of swings. No matter the visitor, there is a lot to learn from playing with others who use the equipment differently.
Wilmington's Civic Legacy
The influence of du Pont generations on Wilmington and the Brandywine Valley and, in turn, President Joe Biden, cannot be underestimated. It was great grandson Alfred I. du Pont, who gave $56 million to charity and believed, "It is the duty of everyone to do what is within his power to alleviate human suffering."
Biden's working-class background, devotion to family and empathy for others are traits that are due, in part, to his upbringing in Delaware. As he noted in his emotional farewell speech to the state after he assumed the Presidency, "In our family, the values we share, the character we strive for, the way we view the world, it all comes from home."
Making Wilmington Delaware Your Weekend Home
During this era, a small friendly town with big city culture and festivals like Wilmington makes an ideal family getaway. Visit Wilmington can help you plan your trip.
While some families prefer the Homewood Suites along the Riverfront, the Hotel DuPont holds a special place in the hearts and minds of locals. Still beautiful and continuously restored, the DuPont's coffered ceilings, gilded ballrooms and fine dining evoke the grandeur of another era. Large guest rooms have swags of drapery, velvet upholstered sofabeds, marble bathrooms with separate tubs and shower stalls.
Unexpected luxuries include a water bottle filling station on each floor, Lavazza coffeemakers, monogrammed glass shelves in the minifridge and a phone next to the toilet seat. Service is thorough and low-key, whether you're a kid or an attorney practicing in this corporation friendly town.
Wilmington's grande dame is extra special because the original ca. 1913 DuPont office building was designed to incorporate fine dining, lounges, a hotel and even a full-size Broadway theatre to make work easier for the du Pont family executives.
Today, the DuPont's public spaces include a Food Court and other small businesses that make this a very convenient location. Le Cavalier, the recently restored main dining room in the hotel, has a casual, moderately priced, eclectic menu. We chose to sample a salad of grilled mushrooms, branzino glazed with pomegranate and pecans and a crispy duck breast served with French fries.
We now know that Joe would have ordered the pasta special.
Dear Reader: This page may contain affiliate links which may earn a commission if you click through and make a purchase. Our independent journalism is not influenced by any advertiser or commercial initiative unless it is clearly marked as sponsored content. As travel products change, please be sure to reconfirm all details and stay up to date with current events to ensure a safe and successful trip.
---