No worries about budget — or logistics – with our guide to 51 best virtual family vacation ideas for beating this pandemic while staying home safely.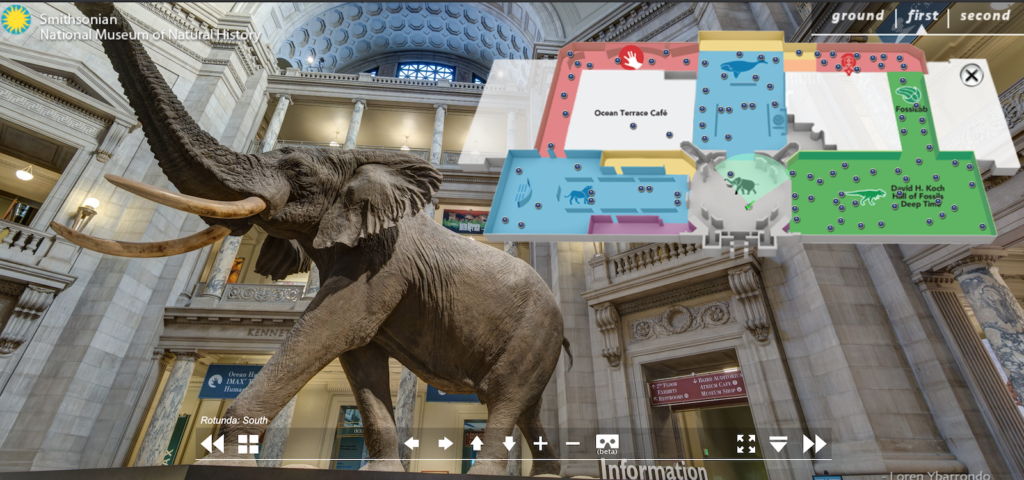 We can go anyplace we want anytime. We can travel virtually, more so than ever before as everyone from countries, cities, museums, zoos, aquariums, theme parks, cruise lines and more are offering all varieties of virtual tours and activities families can do together at home. No social distancing required.
Maybe we will get a glimpse of a place we can never afford to go… maybe a place we hope to go together. At the very least, we will all have some fun virtually traveling and find ways to entertain the kids — and learn something too!
You Can Play a Part in the Recovery
We are mindful of those in the travel, hospitality and culinary industry who are out of work — those who make our family travels especially memorable. If you can, use opportunities from companies like Walks, a small group tour operator whose 700 guides cover 15 destinations worldwide, to help them.
The idea: Your family shares an activity at home — make pizza or pasta, for example, or virtually tour the Metropolitan Museum while interacting online with your guide as you would in real life. These virtual tours cost just $10, and 100% of what you choose to tip goes to guides who obviously are now out of work. You also get a $25 credit for a future live Walks tour (valid for two years).
Follow your favorite destinations to see what they are offering. Here are the 51 Best Virtual Family Travel ideas compiled in collaboration with our partners at TakingtheKids.com.
Adventuring with Austin Adventures Virtual Vacation Ideas
The award-winning family tour operator, Austin Adventures, is known for leading all-age guided trips to the great outdoors around the world. Now restricted to their Montana headquarters, the company's CEO, Kasey Austin, has begun a series of hour-long virtual adventures to their top destinations. Designed for ages 6-12 with everyone welcome, you can tour Alaska, Yellowstone and even the local zoo, today or at your convenience, since all are recorded.
Aegean Discovery Cruises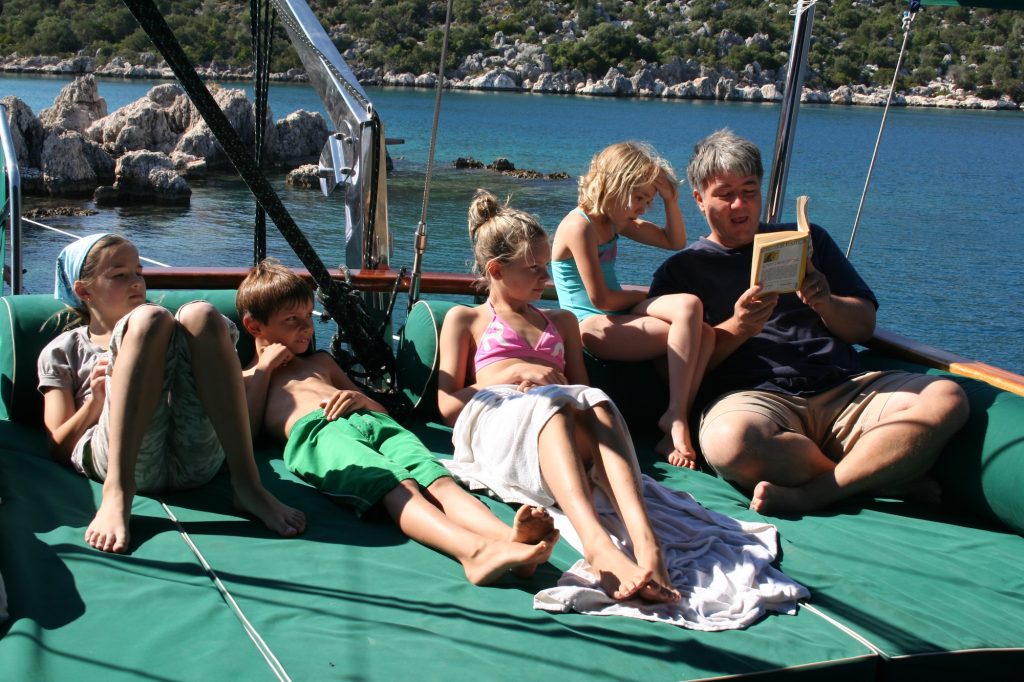 After having been limited in movement for so long, it's time to think about a small ship cruise in Aegean Sea where you'll discover wide open skies, fresh sea breezes and some of the world's top antiquities – just take a look at this "Ancient Greece for Kids" video and you'll see what we mean. If travel restrictions don't clear up this summer, the award-winning Peter Sommer Travels will run its popular family small ship adventures in summer 2021: Cruising the Carian Coast of Turkey – Family Tour and Cruising the Aegean: A Family Adventure. These small group yacht cruises – 14 guests maximum ages 6 and up — are led by two expert guides and your own captain, cook and two seamen. The caring and enthusiastic team engages all ages with mysteries of ancient Gods, tales of giants and monsters and amazing stories at archaeological sites. Sommer's yachts also carry gear to snorkel, fish and canoe, keeping passengers busy or relaxed, as you please. Inquire now about availability as these small, exclusive trips sell out quickly. Read more about Peter Sommer Travels in our Family Cruise Guide.
Alaska Bucket List Trip
This is the time of year people are putting the finishing touches on plans to visit Alaska. This year, visit or see what research is ongoing at Denali National Park. Watch videos of Alaska wildlife and popular destinations whether you want to be on the Alaska Railroad, whale watching in Seward, touring Anchorage or more and choose your own virtual Alaska experience. At TakingtheKids.com, Eileen Ogintz is still relishing memories of her Alaska trip last summer.
Animal Antics in Woodstock, Vermont
There's nothing more fun than to get up close to animals and zoos around the country are obliging with Live Cams, virtual behind the scenes tours and activities that teachers typically use.
Families can virtually meet fuzzy baby chicks, newborn calves, and tiny lambs in sweaters ; Life on a Vermont dairy farm can be experienced through the Billings Farm At Home landing page which brings farm animals to families with photos, interactive content including farm recipes to try at home, downloadable animal coloring pages featuring sketches by artist Kristina Rodanas and instructions on how to make natural egg dye at home to decorate Easter eggs.
Arizona Outdoors Virtually
Fantasy trips to the Grand Canyon or rafting on the Colorado River might have been cancelled but you can take a virtual Arizona road trip or hike amid the wildflowers in Arizona. Dig deep with Google Earth, which recently rolled out virtual tours of the Grand Canyon. Virtually visit the 125-year-old Lowell Observatory in Flagstaff through their live streams and interactive stargazing at their YouTube channel. Scottsdale has launched Support Scottsdale which includes a "play" section with virtual tours and activities.
Bay Area for Surf and Aquariums
Suit up for a trip to Pacifica, south of San Francisco, where it's easy to watch surfers practice their craft. You won't be able to score a lesson right now, but the Pacific Surfline webcam is really rad! About two hours south, the fascinating Monterey Bay Aquarium is one of the few aquariums in the world with live kelp. This famous research facility lets you keep a close eye on its treasury of sea creatures with several live web cams covering jellyfish (it's an especially good, anxiety-reducing view of these beautiful creatures), coral, penguins, sharks and sea otters. Here's a report from Reggie Yemma, a first grade teacher in SF, on the Monterey Bay Aquarium. While you're in Monterey, keep in mind that it's the 75th anniversary of John Steinbeck's book "Cannery Row" and the famous docks are still there for you to visit.
Beach Vibes in SoCAL
For more of that California Dreamin' sensation, check out the live stream from the Malibu Beach Inn in Malibu that includes great views of the Pacific. Heading south, the live Beach Cam from the Hotel Del Coronado highlights the coast off San Diego. This fun city's top attraction, the San Diego Zoo, has live webcams (check out the Polar Bear AND Koala Cam!) and a special San Diego Zoo Kids website with fun animal facts (Did you know flamingos' pink color comes from the food they eat, like shrimp) animal videos, activities, and more.
Blast Off at Cape Canaveral, Florida
Tour the Space Shuttle Atlantis and see what Astronaut Training is all about, along with downloadable at-home activities, thanks to the Kennedy Space Center. If you've got straws, paper towel tubes and rubber bands, you can build and launch your own rocket! Or, challenge the kids to name some of the household objects that were invented for the space program. Got a microwave or cellphone anyone? If you want to shoot for the moon and beyond, take advantage of NASA STEM@Home programming for grades K-4 which is designed to encourage our future scientists and entrepreneurs with fun activities.
Breathe Deep, Yoga Together
Have a family yoga session courtesy of the fun indoor waterpark hotels of the Great Wolf Lodges chain. Their choice of poses and a video with characters demonstrating each pose is especially effective with preschoolers.
For ages 6 and up, tune into the online yoga classes for families and kids streaming every Monday, Thursday and Saturday from the Iyengar Yoga Institute of Greater New York, one of the country's leading teaching centers of the classical style of yoga pioneered by B.K.S. Iyengar in the 1930s. More than 50 all-level classes weekly — appropriate for teens and older — are led by a master teacher and assistant who watch participants and offers coaching in real time.
Bring a Beach Towel to Florida
Visit Florida, the state tourism office, runs Florida Beach Finder which allows armchair travelers to virtually explore Florida's much-loved beaches. You'll need sunglasses to review their list of 825 beaches so you can decide whether you want an adventurous, family friendly or romantic beach, among others. But Florida is much more than beaches – it's theme parks and eco-exploration in the Everglades. There's nothing more Florida than a live alligator, which you can meet on the "School of Crocs" daily Facebook Live show and a YouTube segment called "Later Gator" from Orlando's Gatorland.
Build the World with the LEGO Challenge
LEGOLAND California Resort has created an online site that is filled with instructional videos and activities that promote learning, creating and play. Wednesdays, through the resort's LEGOLAND Building Challenge website, the park will announce a new theme and release a new instructional "how to build" video hosted by a Master Model Builder. On Fridays, LEGOLAND will highlight builds posted by followers on social media sites and ask families for ideas on what the Resort's Master Model Builders should construct next. How about a portrait of your next vacation destination?
Caribbean All-Inclusive Vacations
The Caribbean masters of the all-inclusive resort market, Sandals and Beaches, want you to relax at home as if their staff was doing all the pampering they're known for. The resorts have gotten together to teach virtual guests everything from how to make a special bubble bath (very popular with honeymooners) to preparing a gourmet recipe (these all-inclusives are known for their great cuisine) to saving a special play list of reggae, ska and more beach music – the most fun for kids who need to burn off steam! Check out their ideas on social media at #BeachesStateOfMind
Alternatively, learn a magic trick, enjoy a massage lesson or concoct your favorite cocktail courtesy of Velas Resorts which will be offering new activities and workshops daily for the next 40 days — online and on social media — using the tag #BetterTogether.
Color Your World with Crayons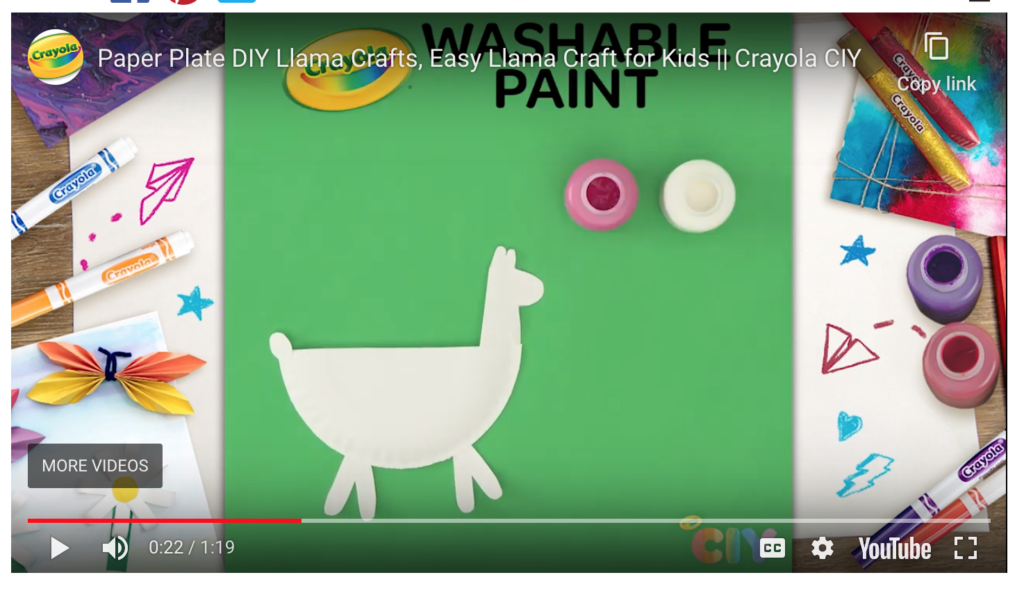 Crayola Experience and Crayola are providing fun, at-home activities through their websites and Facebook channels. Parents can download free step-by-step crafting instructions, coloring pages, games, apps, and colorful science experiments that only need household items to come alive. Families can also watch Create-It-Yourself videos and learn tips and tricks to get creative with things around the house. Activities, live events, and video premiers will be posted on the companies' Facebook channels and new activities will be added to the websites regularly. Follow #AtHomeWithCE and #CrayolaCrafts
Colorado from the Plains to the Highlands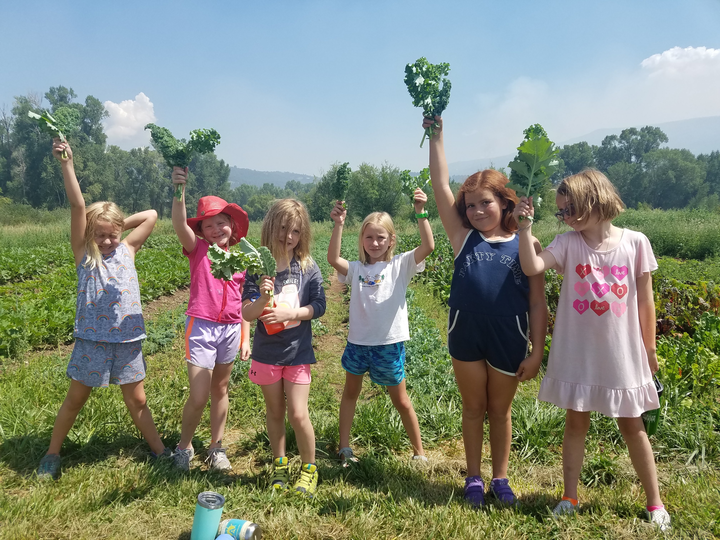 If Colorado's wide open basins, bluebird skies and the beautiful Rocky Mountains were your hoped-for destination, look instead to Vista Verde Ranch as they invite families to join them on Facebook and Instagram for a daily virtual getaway to the plains and mountains. This wonderful dude ranch – a favorite of Eileen Ogintz' family — is calling all kids to write a letter to a horse; horses without riders get lonely, too.
We know that Aspen is on your bucket list, so why not check out these amazing 360-degree tours? Aspen Chamber has virtual tours of downtown Aspen and beyond on ACRA's website – the kids will love hiking Maroon Bells without having to lace up their boots. The Aspen Music Festival & School summer season hopes to resume teaching July 16 but you can enjoy their playlist of classical tunes now. And the Aspen Center for Environmental Studies has launched quick and fun activities that families can do together outside. Challenges will be released every Monday, Wednesday, and Friday and are open to all ages; tune into their social accounts tag @acesaspen and #ACESNatureChallenge to share what you find, There will also be virtual Morning Birding on Tuesday mornings.
Cook with the Pro's on Cruise Ships
Since cruise ships aren't able to sail, several companies have decided to do backstage tours revealing ships' decor, ports of call and which live shows are entertaining passengers. HAL@HOME from Holland America is featuring cooking demonstrations (watch Seattle's Ethan Howell make pasta) because this line has an all-star celebrity Culinary Council advising on which dishes to serve where.
Holland America is also featuring destination highlights and performances from Lincoln Center Stage which offers chamber music, from classical to contemporary, including Quiele Guo's masterful cello recital of his interpretation of Edward Elgar's composition above, plus this special video from pianist Mohamed Shams. Read about the kids programs on this 2019 HAL cruise to Mexico.
Crystal@Home showcases a weekly virtual voyage featuring the many different aspects of the Crystal Cruises experience including destinations, cooking, storyteller Mondays, home workouts from Crystal's fitness instructors, Thirsty Thursdays cocktail recipes and more. Or, learn to cook your favorite Greek dishes with celebrated chef Diane Kochilas of "My Greek Table," with live Greek cooking demos on Facebook Live. Kochilas has partnered with Celestyal Cruises for "My Greek Table at Sea with Celestyal" to further enhance the cruise line's menus. If all is well, she is scheduled to lead a special themed cruise in October.
Cowboy Costuming from Oklahoma City for Virtual Vacation Ideas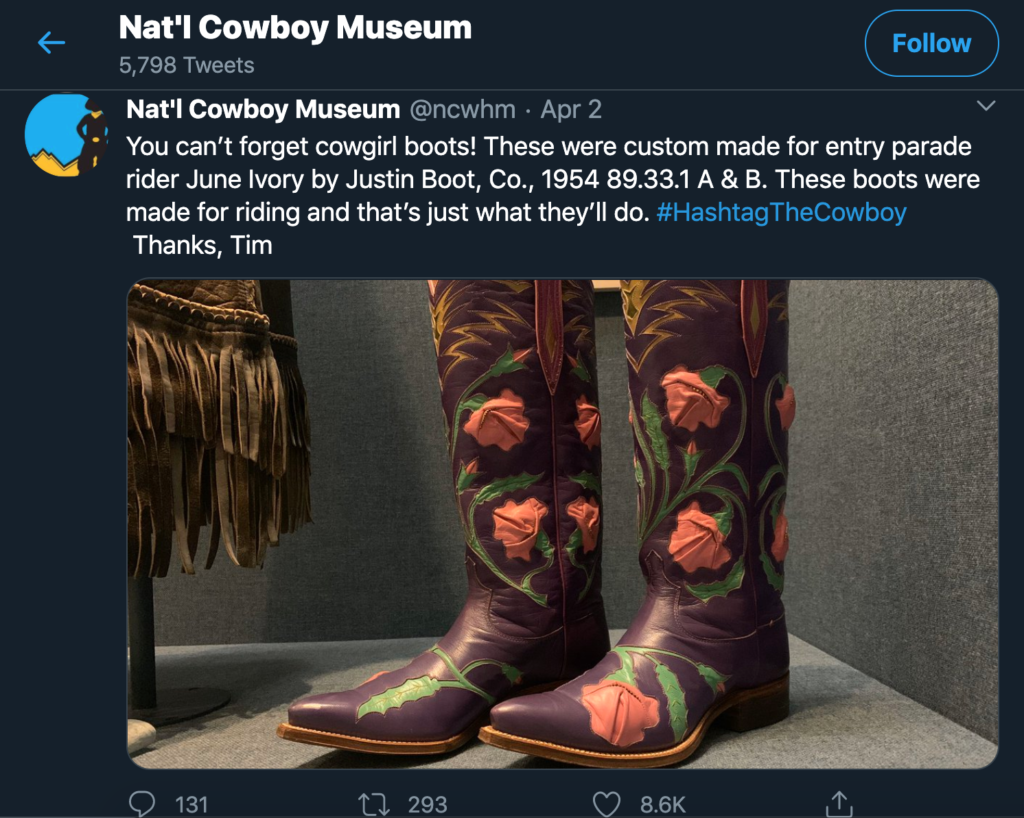 If you've got little cowboys and cowgirls at home who need costume inspiration, The National Cowboy Museum in Oklahoma has created a unique and hilarious commentary about items in its collection on its Twitter channel. Daily content is provided by the museum's head of security and takes a full, unfiltered look at the museum's exhibits. Talk about the Wild West spirit; we think you'll find it easy to riff on the items that are being featured.
Denver 360 through VR and More
Although Denver residents are under a mandatory "stay at home" order to help curb the spread of the coronavirus, locals and travelers can still explore The Mile High City from the Virtually Denver portal including virtual museum tours, Denver street art, virtual performances, virtual cooking classes with local chefs, and an array of kid-friendly options.
Join The Art of the Brick Building Contest at the Denver Museum of Nature & Science. The winning creations will be displayed in an upcoming exhibition! Explore the Denver Zoo with its Zoo to You: Virtual Safari complete with popular videos, articles, and daily activity ideas for parents from the zoo's Learning Experiences team. A new Facebook Live series, #BringingtheZootoYou, goes behind the scenes around the zoo to interview animal keepers and curators, answering user questions in real time. Then, walk the Family-Friendly Public Art Virtual Tour by Denver Arts & Venues and the Denver Botanic Gardens' Dig Into Nature at Home.
Down Under at New South Wales
New South Wales in Australia is sharing virtual livestream experiences for those at home who are dreaming of travel. In addition to the stunning Sydney Harbour live stream taking place daily, the Australian Reptile Park Facebook page is featuring twice daily live streams and animal talks and educational videos. Topics range from the daily Animal Tales about tawny frogmouths, rainbow lorikeets and echidnas with host Tim Faulkner to the Australian Reptile Park's YouTube channel where you can watch giant tortoise feeding, koala play and dingoes. If you've got teens to entertain, take the time to steer them to UNSW's virtual campus tour where they will love the tour guides' accents and the in-depth view of Aussie student life.
Europe's Leading Waterways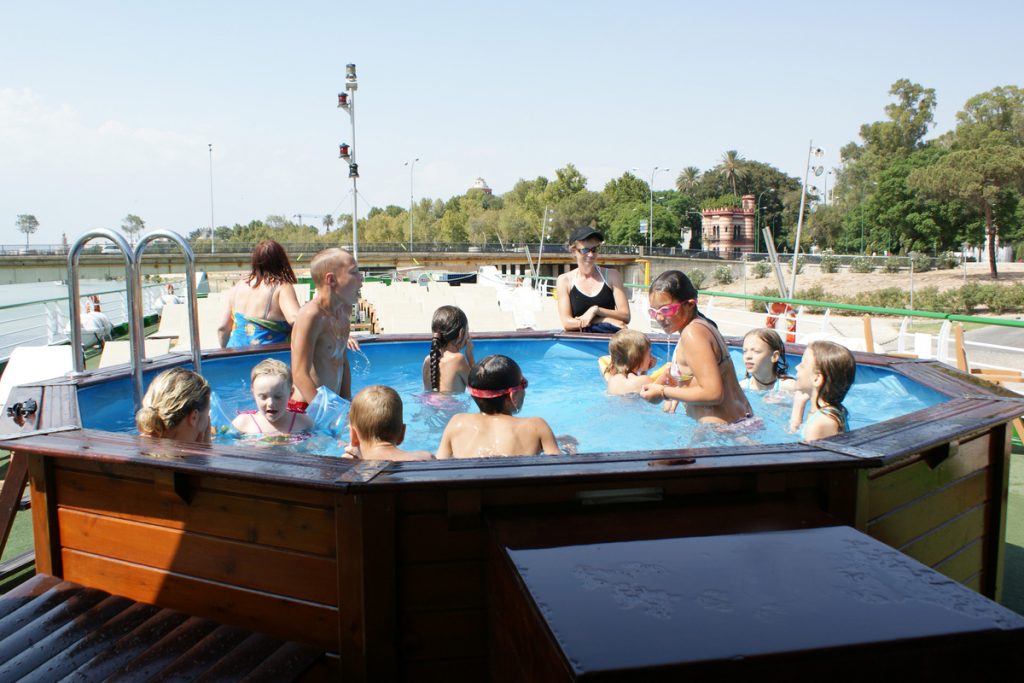 Tour some of Europe's leading waterways virtually with Croisieurope, the France-based company that features guided river cruises and barge touring along beautiful canals for families. The company has made several videos of the most popular river trips in Europe and around the world on their YouTube channel. In response to the uncertainty of this international pandemic, families can book a future vacation with their Risk-Free Guarantee that allows guests to change or cancel their cruise date, with no penalties, up until 15 days before their planned departure. No deposit is required for all new cruise reservations made before July 31, 2020 for departure between July 15 and November 30, 2020, so you can consider late summer, a fall getaway or even a Thanksgiving adventure when the major Christmas Markets have opened along the Rhine and Danube. Check Croisieurope River Cruises for details, and dream about the Rhine Cruise we took with them a few years ago.
Explore Like Never Before
Lindblad Expeditions, known for their partnerships with National Geographic, invites you to join their Virtual Expeditions with a daily discovery program that families might have on one of their ships—from wake up to Recap, observing wildlife, special performances, photo tips from famed NatGeo photographers and more. Submit your own wildlife photos!
Frida Kahlo and Mexico Arts & Culture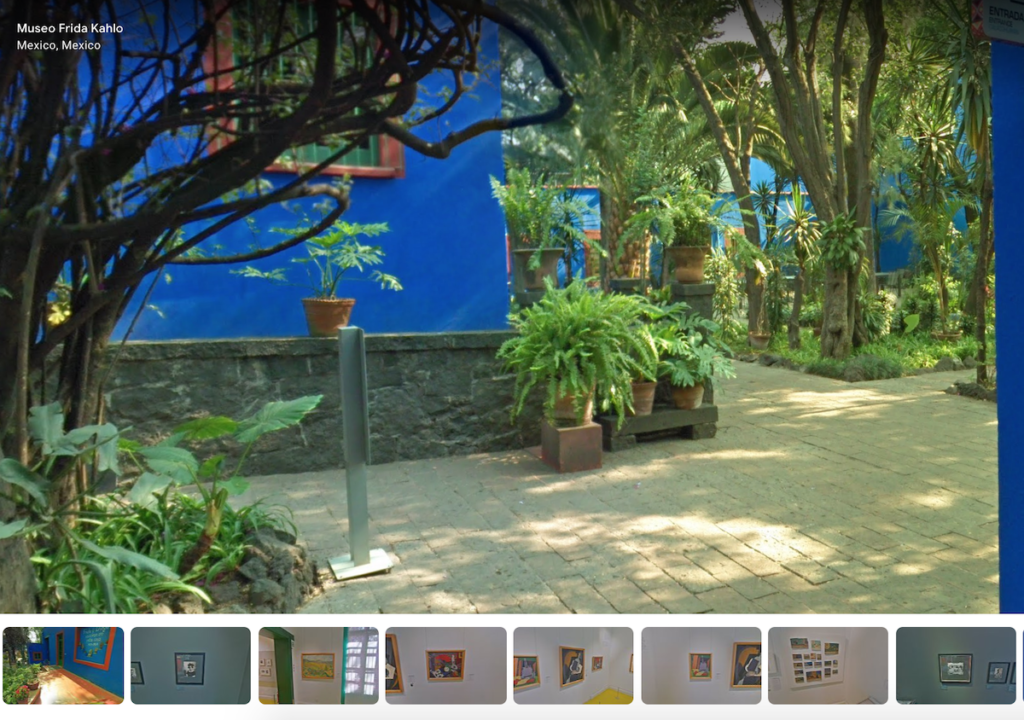 Learn more about artist and feminist Frida Kahlo through Google Arts & Culture, a compilation of the world's achievements on a highly interactive platform. Her home, Casa Azul (Blue House) in Mexico City is a now museum and a popular tourist attraction. Amplify your virtual visit with two self-paced Spanish courses on EDX, a consortium of top universities offering free online learning. "Mexico City Tour in 360 Degrees" is a good intro to the vibrant city where Kahlo and her husband, Diego Rivera, lived and worked from the 1920s to 1950s.
Georgia on My Mind
If you're TV fans, it's probably no surprise that as recently as March, there were 37 major TV shows being filmed in and around Atlanta. So maybe you think you know Georgia, but it's time to find out (even virtually – here's a list) about the real thing. One of our favorite examples is The National Center for Civil and Human Rights, which has launched the Power to Inspire: Virtual Series of workshops, panels, storytelling and more that cover the work of civil and human rights defenders across the globe. At The Georgia Aquarium, the family lesson planner will find free, at-home learning tools plus daily live streams with the animals and art projects. Zoo Atlanta's resources will even help you plan a scavenger hunt in your own backyard, that is, if you can tear yourselves away from its panda cam!
Hawaii Virtual Vacation Ideas
Have you been dreaming about a family trip to the Islands of Hawaii? World Class surfers tackle Hawaii's epic waves off the north coast of O'ahu during World Surf League and other major competitions, which are often more fun to watch on video than in real life. And in comparison with snorkeling, it's much easier to spot marine life on the Maui Ocean Center Live Cams and or in an Ocean Education Classroom with plenty of activities to make at home. Want to create an Octopus?
Indiana Fossil Hunt at The Children's Museum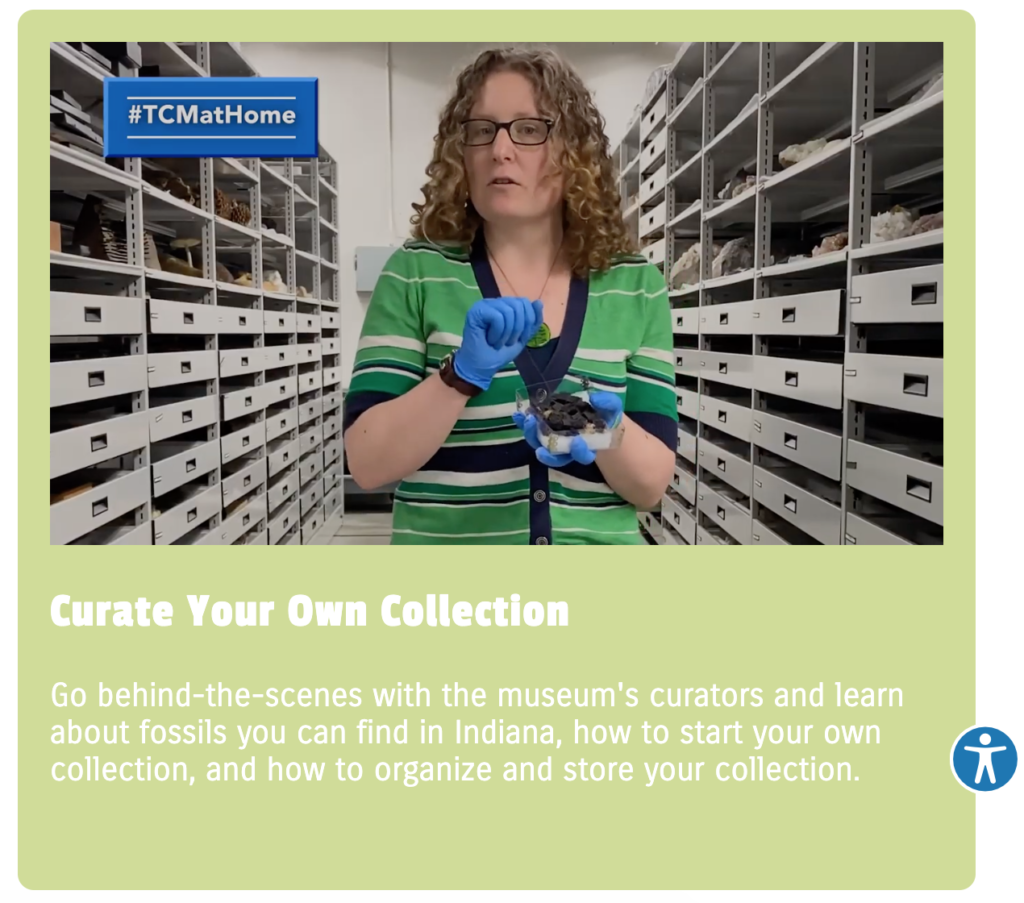 Are you ready to learn more about dinosaurs, enjoy story time with museum educators and find out the latest techniques to make skipping more aerobic? The Children's Museum of Indianapolis, a remarkably varied and sophisticated treasury of knowledge that's the largest children's museum in the country, is now offering a variety of Museum at Home DIY experiments and activities. Activities on their online and social media channels change frequently so visit often to stay up to date on what's cooking, maybe Paleo Cookie Dissections on Facebook Live. Follow their lead to start fossil hunting in Indianapolis, one of the Midwest's top cities for family vacations, and join us for more fun activities in Indiana when you get there.
Japan Style
The Tokyo Olympics have been postponed until 2021, but Japan remains one of the top bucket-list destinations for families. During the pandemic, Tokyo suffered and shuttered many businesses, yet the Shibuya webcam reveals the famously neon commercial district is still surprisingly lively.
If you've been cooped up at home for too long, hop the shinkansen bullet train to start hiking up Mt. Fuji on a Streetview look at one of the world's most famous climbs. Need help with schoolwork? In Yamaguchi, the Hofu Tenmangu Shrine is the oldest of the three Tenjin shrines in Japan and, because it's dedicated to the god of learning, it's where students often pray for academic success. Once that's done, relax at the Kintaikyo Bridge with 360 VR experience overlooking the Nishiki River and nearby mountains. For a look at more of what this fascinating country has to offer, check out the Japan National Tourism Organization'ss 360 degree VR movie with our without VR goggles.
Magic at Disney Parks
While Disney theme parks worldwide are temporarily closed, many families who want to plan a Disney vacation are using this time to build a more efficient itinerary. With virtual tools such as interactive park maps, timed entry guides and expert tips from the Disney Parks Moms Panel, families and fans of all ages have new tools to figure out which rides to tackle on which days and at the best time when the parks reopen.
Meanwhile, the Walt Disney Company has launched DisneyMagicMoments.com, where you will find free, engaging Disney content, stories and resources from the magicians at Marvel, Pixar and Star Wars, plus Walt Disney Animation Studios, National Geographic, Disney Parks and beyond. You can learn how to draw Olaf from "Frozen," take a VR ride through "it's a small world" or share a virtual look at "Magic Happens" and the cool, all-new costumes made for this parade. This video of "Magic Happens" reminds us that magic does still happen and will keep spirits high until healthier times return.
Myrtle Beach and Beyond in South Carolina
You've probably already been to Myrtle Beach, one of America's most popular resort areas with a famous Grand Strand that extends along the Atlantic, from Little River to Winyah Bay, for more than 60 miles. And you'll probably go back. In the meanwhile, see more of the state, starting with Riverbanks Zoo and Garden in Columbia, which is using Facebook Live every weekday at 10 am EST (videos also posted to the zoo's website) to introduce visitors to their cast of characters. Budding vets can learn more about tortoises and sea lions and ask the staff about their jobs.
South Carolina's EdVenture Children's Museum has branches in Myrtle Beach, Columbia and Hartsville to visit. For now, enjoy their daily kids' activities taught via videos that will walk parents and children through educational content and related crafts, like creating a dinosaur skeleton puzzle, designing a car, and more.
National Parks Without the Crowds
It is very difficult to practice social distancing on popular hiking trails and visits to famous monuments but you don't have to be in a national park to experience one. NPS parks and programs are sharing virtual content on their websites and social media. Check out wildlife webcams, virtual tours, Junior Ranger programs, citizen science videos, even coloring pages. They want you to #FindYourPark from home.
The Grand Canyon, Glacier National Park, Arches and Canyonlands National Parks in Utah as well as Yellowstone, Grand Teton, Rocky Mountain National Park and Great Smoky Mountains National Parks are now among the parks that have closed as park employees and local communities urge visitors to stay away, calling for all parks to be closed. Please check with individual parks for specific details about their operations, including campgrounds – you can RV camp at Arches and Canyonlands for example. Updates about NPS operations will be posted on www.nps.gov/coronavirus.
New York City Arts and Monuments
Travel together to New York on a budget as the city that never sleeps settles into slumber and gives away many pricey attractions. Singer in the house? The Metropolitan Opera is streaming all of its Live in HD series, one opera at a time, with each performance available for 23 hours, from 7:30 p.m. EDT until 6:30 p.m. the following day. In honor of its 150th birthday, the Metropolitan Museum produced six Met 360 Project virtual reality tours that go through several galleries for an up close look at the gorgeous artwork, plus the animated museum tour for MetKids. The Statue of Liberty was one of the first national parks to be closed but you can live stream a visit complete with view of the harbor plus view from the crown — without the climb!
Tune in to "Spring Sunday" on Rockefeller Center's social media channels for free music, live performances, puppet shows, book readings, art workshops, wellness lessons, and more on at 11am (EST) on Rockefeller Center's Facebook, Instagram, and YouTube pages. Rockefeller Center's 2020 free family and kids programming series, typically held at Rockefeller Plaza, will virtually take place until April 26th.
Niagara Falls Virtual Vacation Ideas
Get the kids into bathing suits and into the bath for a quick visit to Niagara Falls USA, the American side of the Falls in New York State. Of course, you'll have to set up a screen carefully in the bathroom to avoid the splashes! Niagara Falls USA tourism office has produced a well done, immersive 360-degree video that's best seen with VR goggles. If you don't have them, just move the viewpoint around with your cursor while the kids fly over the waterfalls in a helicopter, ride the Maid of the Mist sightseeing ferry under the Falls, jetboat down the Niagara River and enjoy a soaking at Cave of the Winds. Download Niagara Falls USA 2020 Trip Planning Brochure so you can read it together and begin planning your summer travels!
North Dakota Road Trip
Thanks to a North Dakota VR tour, you can drive past seven of the state's manmade and natural wonders from the comfort of your living room. If you have VR goggles, great! If not, just follow along as they let you drive the Enchanted Highway and North Dakota's Badlands, taste the fare at typical cowboy cookouts, explore reconstructed Native American earth lodges, see Lewis & Clark's Missouri River as they confronted it, tour an abandoned nuclear base and more.
Although National Park Service Visitors Centers are closed, there's year round camping available IRL (in real life) at Theodore Roosevelt National Park, where President Roosevelt established a beloved cattle ranch in the North Dakota Badlands. Until your visit, mouse over to the Plains Art Museum in Fargo, where local ceramic artist Hayden the Art Dude is running art and music workshops on the museum's Facebook page. Reruns of "Fargo," here we come.
Orlando Wish List
Visit Orlando has put together a list of 20-plus virtual thrills including 360-degree online experiences, new Facebook Live broadcasts, streaming of films and You Tube videos. Without the crowds – imagine that! — watch the fireworks over Cinderella's Castle, zipline over alligators and learn to draw Mickey Mouse from Disney experts—all designed for at-home fun. We know this overview of what Orlando offers will provide fodder for future travel planning. Plus, it doesn't cost anything to virtually check out the animal rescue work still in progress at Sea World Orlando and Busch Gardens Tampa Bay where parents can also access activities usually offered to school groups.
Philadelphia Long Ago and Today
Join the Museum of the American Revolution for Independence Day activities online June 27-July 4 that include free virtual sessions about the unfulfilled promises of the Declaration of Independence. Count on family at-home activities, YA book readings, a session on Hamilton and his role in the Revolution and much more. Cook some hot dogs and have a picnic lunch in front of your screen. The Museum's social media is updated frequently with more daily content.
Tune into Homeschool with Mural Arts every Monday and Wednesday at 1pm for arts-focused tutorials from local Philadelphia experts and then share your creations at #Homeschool With Mural Arts. Mural Arts has created nearly 4,000 artworks that have transformed public spaces. Get a virtual eye view of some in the collection of murals every Tuesday and Thursday
Famous local Ben Franklin has a fun science museum named after him, where you can explore the night Skies @Home every Thursday at 7:45pm (EST) with Derrick Pitts, the Franklin Institute's Chief Astronomer. (Refresh the museum's Facebook channel to see the video at the designated time.) Check out the Institute's #SparksofScience series for science experiments—including some you can do at home. Eileen Ogintz's latest Kids Guide – to Philadelphia has just been published and will get you started on travel planning.
Portugal Pleasures
If you haven't been to Europe's hottest new destination – Portugal – it's time to start planning. This beautiful video of top Portugal attractions is a good place to start for an overview. Of course, you'll want to spend time in Lisbon, the country's international gateway. Take a virtual tram tour around this waterfront city whose charms are reminiscent of San Francisco. Notice the ornate azulejos? These colorful tiles are explored in depth on Google Arts & Culture's virtual tour of Museu Nacional do Azulejo (National Museum of Tiles).
Practice Your Tunes and Thrills in Branson, Missouri
Sing along with @ExploreBranson on Facebook, Twitter and Instagram to see some of Branson, Missouri's best entertainment from singing, dancing and illusions to tours of area attractions. This part of Missouri is full of family activities, culture, boating and hiking. And then there's Silver Dollar City, an 1880s-style amusement park that features more than 40 thrilling rides and attractions, live shows, concerts, 100 resident craftsmen demonstrating America's heritage crafts, 18 award-winning restaurants and 60 unique shops – all sitting atop one of Missouri's deepest caves. The park is closed now but, in honor of their 60th Diamond Jubilee season, Silver Dollar City is giving all children born in 2015 or 2016 a free season pass to visit Silver Dollar City and the White Water waterpark for the rest of 2020.
River Rafting and Family Adventures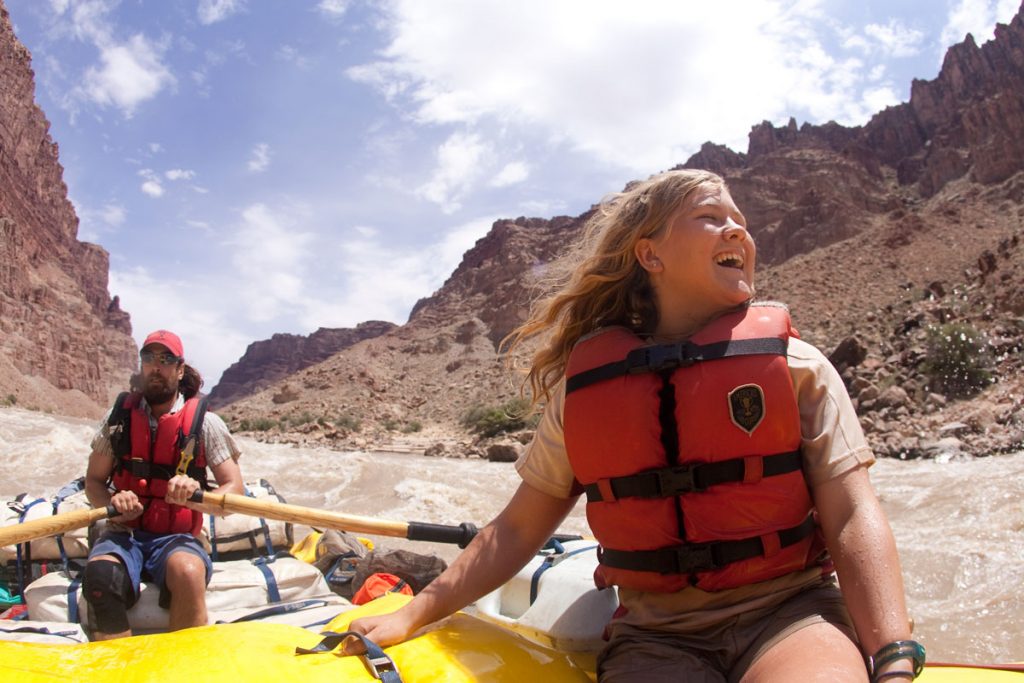 Many families hope they can safely plan an outdoor adventure this summer and there's no place more cleansing than a river trip. The team at expert outfitter OARS, now in their 51st year of operations, is on call to facilitate popular rafting adventures on major California, Idaho and Utah rivers and other waterways around the world. OARS offers one- to six-day professionally guided trips for ages 4 years and up that include fully sanitized camping equipment and all meals – here's a firsthand account of river rafting on the Yampa with O.A.R.S. Request your free copy of the 2020-2021 O.A.R.S. Family Adventures Catalog today; look for their late summer offerings and new cancellation policies that make it easier to book. in advance with trip credits or refunds issued.
Royalty in Ireland
You may know the 13th century Ashford Castle became a luxury hotel back in 1939, but you may not have experienced their regal treatment for guests of all ages. Now it's time to virtually visit with an Ashford Castle 360° walk-through of this fantastically restored and elegant resort. In addition to golf and equestrian facilities, the family can have a blast fishing, learning the ancient arts of falconry and archery, clay shooting or lake cruising to the island of St. Patrick – just read this account of a family visit. Until your arrival, make do with looking out over the serene Lough Corrib on the castle's webcam.
Dromoland Castle, a 16th-century castle in County Clare, is inviting its virtual school-age guests to join watercolor artist Una Heaton on her virtual arts and crafts projects. Coming soon: a step-by-step tutorial on how to craft a castle from materials available around the house. Kids will learn how to construct big castle doors, stone towers and tiny Irish flags.
San Francisco Streaming
Teens can get to know the lives of influential composers from around the world when the San Francisco Symphony streams nine episodes of "Keeping Score" with Michael Tilson Thomas, each followed by a one-hour concert on the Symphony's YouTube channel. Younger sibs will have fun with The Exploratorium's learning toolbox that features Science Snacks — bite-sized science activities to do with simple materials that you share online with the tag #ScienceSnacks.
For a visual break, SFMOMA, the Asian Art Museum, the de Young and Legion of Honor museums, Walt Disney Family Museum and the Chinese Historical Society of America are participating in the Instagram #Museumfromhome phenomenon, which delivers artwork right to followers' smartphones and other digital devices. And for more thrills, head north to San Jose's Great America theme park and enjoy a virtual ride on the amazing RailBlaster coaster.
Scotland and the Moors
Take a tour of misty Scotland from the dry comfort of home by starting in Edinburgh, one of our favorite cities for families. With Google Arts & Culture you can take a virtual tour of Edinburgh Castle then enjoy the black and white antics of Edinburgh Zoo Panda Cam. The National Museum of Scotland's collection can be toured on Streetview. Head about one hour north on the A92 to reach Dundee, where you can tour the V&A Museum Dundee with Kirsty Wark on her fun podcasts about the museum and its famous design galleries. Enjoy your moment outdoors with Scottish Natural Heritage, who are presenting a gorgeous #WildlifeMoment from around the country every day at 1pm (GMT) on their Twitter feed.
Seattle's Foodie and Flight Treats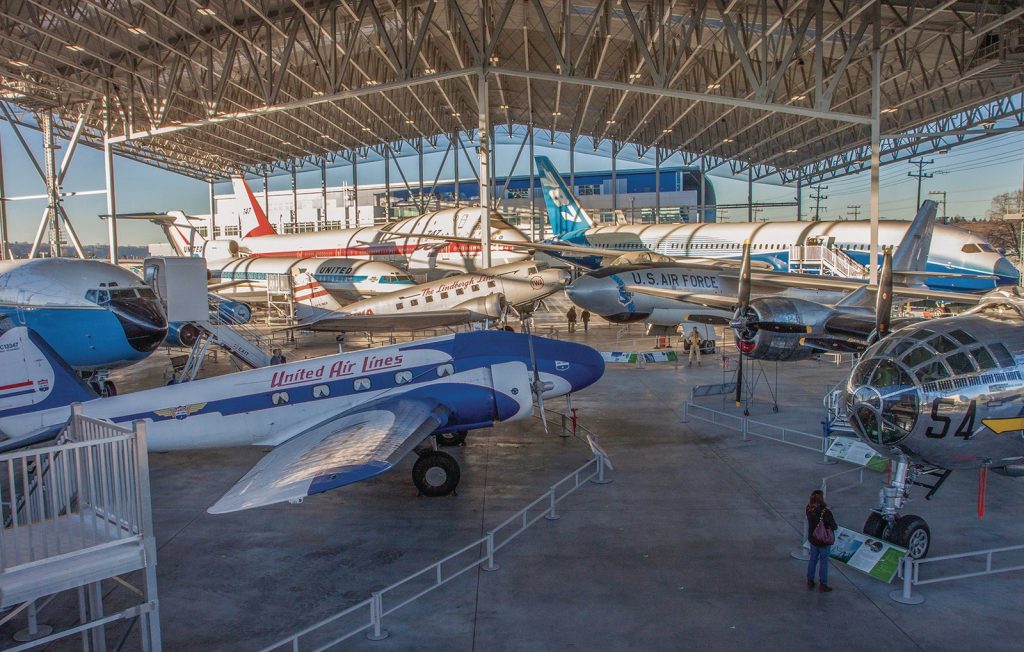 Seattle, tucked between sea and mountains, is one of America's most visually striking cities, packed with lots of family fun. While the famous Pike's Place Market and the replica world's first Starbucks at Pike and First are closed, here's an online sample of the city's many treats. Let's start at Woodland Park Zoo where the Zoomazium program for early learners is creating new interactive activities for your family every week.
Over at VisitSeattle.tv, catch a number of short films that celebrate the city's vibrant art scene, many music venues and celebrity chefs. Pause at shots of home cooking from around the world in several of the city's ethnic restaurants to prepare some of your own, with these easy Seattle recipes from a local – especially the salmon grilled with plum basil sauce. Wander around The Museum of Flight from your living room armchair using their online virtual tour. These 3D self-guided virtual tours were created by scanning the interior of the Museum's aircraft using the Matterport 3D Camera to make cockpits and interiors of aircraft more accessible.
Smell the Flowers from Afar
At the famed New York Botanical Garden in the Bronx, there are 250 acres unfolding with new blooms and attractions every day while footpaths remain quiet. That's given the garden staff, who are tending the plants at socially acceptable distances, time to make videos of what's blooming where. Experience "The Orchid Show: Jeff Leatham's "Kaleidscope," on an in-depth virtual tour featuring Marc Hachadourian, Director of Glasshouse Collections and Senior Orchid Curator. Explore your fragrance collection at home, which might range from perfumes to soccer gear deodorizers, and you'll be surprised at how much is inspired by plants you can study online. Visit the NYBG "What's On at the Gardens" page to tour these plants as the seasons change.
Check in at your local Botanical Garden to see what virtual programs they have. Stroll virtually through the U.S. Botanic Gardens in Washington, DC, currently celebrating its 200th anniversary. The garden is also hosting virtual yoga on Saturdays and a video tour of the 2020 orchid show. Better Homes & Gardens has culled some of the best virtual botanical gardens tours. The #ourgardensyourhome hashtag on Twitter and Instagram will enable you to see what's blooming, virtually.
Snorkel Virtually from the Couch
Put on your swimsuits. The Shedd Aquarium, home to 32,600 species of sea life, is giving visitors a live glimpse into the aquarium to enjoy from home. With the Shedd Aquarium's Underwater Beauty live cam, enter a world of shimmer, color, pattern and rhythm, where jellies pulse, eels ribbon and a rainbow comes alive with reef fishes in the aquarium's most diverse special exhibit ever.  Check out StayHome.HitPlay, an initiative touring all of the city's arts institutions virtually, to meet penguins and feed sharks at The Shedd.
See the world from below the surface as you virtually explore the Baltimore-based National Aquarium which also includes at-home activities. Ready to color the ocean from A to Z? The St. Louis Aquarium hosts breakfast sessions with some of its animals. Fans are encouraged to dine virtually with sloths, river otters, and more during live weekly sessions on the aquarium's Facebook page. Later in the day, the conversation continues as the Aquarium posts an activity for fans to continue the fun and learning from home.
The OdySea Aquarium has created an "oceanic adventure from home" for its fans. Along with a virtual classroom, the aquarium's live webcams give guests the chance to see what the animals are up to at any given time.
Stonehenge Revealed on a Tour of Central Britain
Mysterious Stonehenge is comprised of circular earthworks and megalithic stones that have captivated man for more than 5,000 years. It is definitely Europe's best-known prehistoric site. While it's an easy daytrip from London, we suggest you spend the night in nearby Salisbury to fully appreciate the site at dawn and dusk. Before your visit, ask the kids to collect some stones and see if they can recreate this mystical place, thought to be used for funerals or perhaps royal ceremonies. Let the remarkable Stonehenge webcamera that broadcasts live views of the site 24/7 spark their imaginations.
Summer School Staycation
Had too much time off this semester to miss more learning? Thanks to the COVID-19 pandemic, there are more interesting online educational resources than ever before. Science lovers, for example, can turn to the American Museum of Natural History for sharing a range of online content that engages and educates audiences of all ages. This includes the OLogy science website, where kids and families can find fun activities and games to learn about the natural world around them; online curriculum collections on topics ranging from dinosaurs to river ecology and opportunities to visit virtually through the Museum's YouTube channel.
The new Ripley's Aquariums at Home has a full schedule of live Facebook events, Story Time Live!, arts and crafts, downloadable educational material, and more that should tempt you to see their three amazing aquariums and marine life centers when they reopen. Teens will love Escapology. The live escape game attraction has created #DailyDistinction Brainiac Challenge puzzles on its Facebook page for fans to try to solve. The quick games are similar to challenges guests face when in one of the attraction's mystery room.
Sweet Hershey Pennsylvania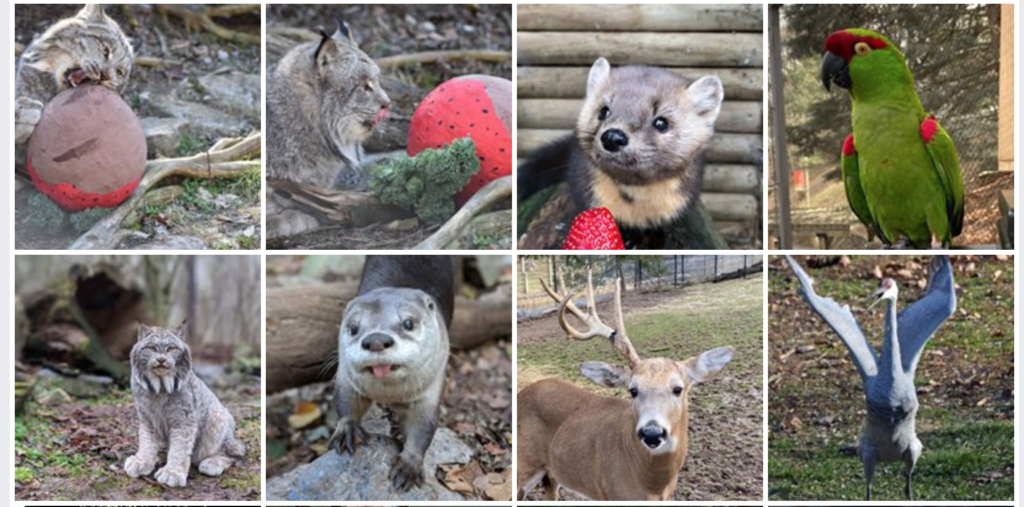 Have you been planning a getaway to Hershey, home of the chocolate kiss? On your next visit to the supermarket, pick up a package and settle down with crayons and downloadable coloring pages of Hershey Park's rides and characters. Kids at home will soon have point-of-view videos from the theme park rides and attractions. Through Zoo America's daily Facebook Live sessions, parents and children engage with experiences that include a behind-the-scenes look and educational sessions with many of the park's animals, including reptiles, the Canada lynx and even a skunk that leads children in finger-painting exercises.
Talk to a Dino in Chicago
Put Chicago's Field Museum on that must-see list for dinosaur fans and STEAM buffs. For now, from home, you can message Máximo, the museum's titanosaur or species Patagotitan mayorum, through online chat or text message. You can ask the Field Museum's friendly titanosaur what life was like during the Cretaceous Period, how he came to be at the museum, and even his favorite color or what he likes to eat. Send Máximo a message using the button on this page or text him at 70221.
Time Travel Back in American History
Match your kids' personalities with a 17th-century artifact from Jamestown , play a quiz that pairs you with your Revolutionary counterpart at the American Revolution Museum at Yorktown or take an interactive gallery tour, even join a history lesson or make an 18th-century dish (how about Chelsea Buns or Carrot Puffs through the History is Fun at Home and Colonial Williamsburg websites).
The Chicago History Museum is the place to learn about the Great Chicago Fire, Abraham Lincoln and more. One of their coolest digital experience is the Chicago ?? Project, which offers free virtual reality experiences of defining Chicago moments like the 1933 World's Fair. Explore online exhibits.
Tour TO Toronto!
Toronto is a family-friendly urban escape with so much to see and do in the best of times. Since we can't visit there at the moment, we're relying on the many virtual tours and live entertainment by Toronto stars, all hosted by the Toronto Tourism office, to prove our point. When you need thrills more than a city break, less than a half-hour north in Vaughan is Canada's Wonderland. Since there's nothing quite like the feeling of riding a thrilling roller coaster, Canada's Wonderland has created 34 point-of-view videos to help families feel like they are really there. Viewers are encouraged to make their own video, pretending they are riding the coasters. Here's a chance for budding filmmakers: submitted videos may be shared by the park on its social channels.
Turtles of Palm Beach
Do you have any tortoise shell sunglasses or other decorative objects in the house? The Palm Beaches sea turtles arrive between March and October to create nesting spots along the 47 miles of golden, palm tree-lined Atlantic Ocean coast. These turtles, once hunted for their decorative shells whose distinctive pattern is replicated in plastic today, are protected by area residents and conservation groups. To keep families company during a time of isolation, the Loggerhead Marinelife Center is broadcasting a Virtual Coastal Classroom live, daily from the Outdoor Sea Turtle Hospital so you can learn more about sea turtle and ocean conservation. If your child prefers sci-fi over seascape, tune into South Florida Science Center and Aquarium's virtual classroom for daily short science demos and DIY lessons, weekly virtual exhibit tours, and, of course, scientist story-time.
Victory Gardens are Backyard Fun
You don't have to travel far to start a Victory Garden, a backyard movement that flourished during both world wars so that everyday families could have their own produce. Your budding gardeners will need some education, so here's a quick video to get them started on a lifelong love of healthy growing and eating.
Washington D.C. Parks and Museums as Virtual Vacation Ideas
Thanks to the Trust for the National Mall and the National Cherry Blossom Festival, a new #BloomCam allows people to virtually monitor DC's famous budding cherry trees along the Tidal Basin in real time. In addition, you can ask the kids to look closely at the Tidal Basin which is seeking solutions to help overcome the complex preservation issues affecting the treasured parkland. By September, you'll be able to weigh in on the ideas presented.
While all Smithsonian museums and the National Zoo are shuttered, the Smithsonian's virtual doors are open, committed to making educational content available to educators, parents, and learners of all ages. You can begin by going to learninglab.si.edu/distance learning where there are also useful learn-at-home resources for teaching pre-K to high school seniors more English/Language Arts, Social Studies/History and Science. We know most families will never see enough of the Smithsonian museums.
For now, #stayhome #staysafe to prevent the spread of COVID-19 and please share your ideas in our Comments section on how you practice social distancing and healthy hygiene as Americans begin to travel once again.
Dear Reader: This page may contain affiliate links which may earn a commission if you click through and make a purchase. Our independent journalism is not influenced by any advertiser or commercial initiative unless it is clearly marked as sponsored content. As travel products change, please be sure to reconfirm all details and stay up to date with current events to ensure a safe and successful trip.
---