Don't worry about safety, budget or logistics with our guide to the best virtual vacation ideas and digital family experiences for the winter and spring of 2021. Virtual travel experiences are all the more important to keep our sanity with work from home (WFH) and remote learning continuing for many this semester.
Encourage and share in the kids' interest in music and theater, animals and art, rollercoasters and cooking as cities and countries, museums, zoos, aquariums, theme parks, hotels, cruise lines and other travel businesses continue to offer virtual tours and travel-themed activities.
Follow your favorite destinations to see what they are offering or come along on our 51 Best Virtual Vacation ideas for winter and spring 2021, compiled in collaboration with our partners at TakingtheKids.com:
1. Adventuring Eco-Tours
Science really does matter to our environment and the pioneering eco-tour operators, the nonprofit EarthWatch. Check out their latest videosand podcasts or tune in to the series of Science Matters Webinars. Discover how COVID-19 has impacted the field work of Earthwatch scientists and head into the field for virtual backyard science, whether studying marine mammals, elephant foraging or forest owls.
Although Pres. Biden rejoined the Paris Climate Accord, climate change remains a critical issue. Teens can become more savvy about wildfires and play a role in their prevention with the National Fire Protection Association's series of Wildfire video tutorials and lesson plans.
The Northeast Florida Sierra Club chapter introduces visitors to their trails and local ecology, and provides tips to safely enjoy the environment, with virtual tours and programs.
2. Aegean Discovery
After having been limited in movement for so long, picture a small ship cruise in the Aegean Sea where you'll discover the open skies and fresh sea breezes of Greece. Cook Like a Greek with Akis Petrezkis, the winner of the first MasterChef Greece, brings moussaka, spinach pie and other Aegean treats into your home.
Greece is, of course, better known for its role in antiquity – a hot topic in middle school – as this "Ancient Greece for Kids" video illustrates. When travel restrictions ease, the award-winning Peter Sommer Travels will again run their popular family small ship adventures as will other cruise lines.
Until then, Olive Odysseys is offering a 9-day virtual family-friendly tour of Greece. Greece Gives Up Its Secrets -Part One; Greece Gives Up Its Secrets -Part Two; Greece Gives Up Its Secrets-Part Three. Or, take a virtual tour of the Acropolis.
3. Alaska Bucket List Trip
This is the time of year families start thinking about multigenerational trips a year or more in the planning—trips to Alaska, for example. See what research is ongoing at Denali National Park, site of America's tallest peak, also known as Mt. McKinley.
Watch videos of Alaska wildlife and popular destinations whether you want to be on the Alaska Railroad, whale watching in Seward, touring Anchorage or aboard a large ship cruise. Choose your own virtual Alaska experience and let the inspiration begin. We are still relishing memories of our 2019 Alaska trip.
4. Animal Antics At Zoos and Parks
Most zoos and many aquariums now offer Live Cams, interactive activities (check the website section for educators) and interactive tours. Check out your favorite animals!
Watch the Giant Panda Cam at the National Zoo in Washington, DC of Mei Xiang, who now has a new cub named Xiao Qi Ji. Build your own zoo with the Zoo Guardians game!
Get up close and personal with the sea lions and lemurs at the Bronx Zoo Live From Home and tune in to their from-home programs including Scientists in Training, Outdoor Adventures, Scavenger Hunts and more—even virtual birthday parties!
Check out SeaWorld's virtual tours, like those at SeaWorld Orlando. See the hippos, baboons polar bears, penguins and more play on the animal live cams at the San Diego Zoo, which is now open with limited hours, face coverings and social distancing in place. Check out the San Diego Zoo Kids website for games, activities, videos, stories and more.
Explore the Denver Zoo with its Zoo to You: Virtual Safari complete with popular videos, articles and daily activity ideas for parents from the zoo's Learning Experiences team. A new Facebook Live series, #BringingtheZootoYou, goes behind the scenes to interview animal keepers and curators, answering user questions in real time.
For a fee, Brookfield Zoo is offering virtual learning series for children ages 3-8 years old—Zoo Studio, Polar Bears, Lions: Zoo Learning Weeks, and Art Adventure. Class registration fees include one set of materials, which are mailed to participating households. For detailed information on the classes, visit CZS.org/PlayPrograms. Or, book a virtual zoo keeper chat, animal party and more (starting at $25) from the North Georgia Zoo, home to over 80 species.
5. Apes, Alligators, Crocodiles and Wolves Oh My!
Get up close with alligators with Cajun Encounters' virtual tours of the Honey Island Swamp, where you'll get an up-close-and-personal look at the alligators and other swamp creatures that make their home in south Louisiana. Also cruising the Honey Island Swamp is Pearl River Eco Tours, a company that specializes in getting visitors deep into the heart of the bayous. Take a virtual tour with them via videos.
You can take a tidepooling adventure with The Monterey Bay Aquarium without leaving home, and you'll find plenty of learning activities, crafts and free online courses that will enable your family to connect with ocean animals.
In Orlando, families are welcomed back to Gatorland IRL but can also experience a remote thrill. Gatorland's very popular "School of Croc" show is continuing on Saturdays at 10 am and will now be available on Gatorland's YouTube channel.
A collection of webcams at Westchester County's Wolf Conservation Center (South Salem, NY) invites virtual visitors to witness the private lives of "Ambassador" wolves Atka, Alawa, Zephyr and Nikai, and seven elusive packs of critically endangered red and Mexican gray wolves.
Get up close and personal with primates in their natural habitat with The Fascinating World of Primates offered on Airbnb. There are different experiences for children, teens, adults and teams. Available to book as a private group starting at $68.
6. Arizona in the Spring
Arizona is great in Spring and a great bargain in summer but if you can't get there, take a virtual tour or two and plan your next trip—mountain biking in Sedona, exploring the Grand Canyon, taking a behind the scenes tour with zookeepers at the Phoenix Zoo or interactive stargazing with Lowell Observatory astronomers.
In Scottsdale, take a virtual 3D Frank Lloyd Right Laboratory Tour at Taliesin West; Explore music from around the world at The Musical Instrument Museum and explore the desert with the McDowell Sonoran Conservancy.
7. Art for All Ages
Get creative with Willmington, NC Cameron Art Museum's Art Explorers Thursdays. The online program allows young children and their families to connect with museum education staff for stories and art activities that make use of items families already have at home. Running every Thursday morning on Facebook Live, the free, 30-minute sessions provide fun, original activities for kids to enjoy while at home.
Explore the public art on this Greenville, So Carolina virtual tour. View murals, sculptures and statues, as well as learn more about some of the history of the state and its people while you're at it. Baseball fans, be sure to check out the statue of "Shoeless" Joe Jackson, whose career began in Greenville before going on to play for the Chicago White Sox.
The Boca Raton Museum of Art in Florida has free online programs, including exhibit tours, digital Gallery Guides including one for families, videos of performances and artists at work. Follow #Keep KidsSmartWithArt for more at-home art adventures.
In celebration of the Monterey Museum of Art's virtual exhibition Miniatures, the museum launched new programming as part of its ongoing Virtual Free Family Fun Day series. The Mini Masterpieces art projects feature step-by-step instruction videos and are a great way to encourage creativity this winter and spring. Activities include mini vision boards, flower power monoprints, story books and more.
The Taubman Museum of Art (Roanoke, VA) has a collection of virtual classes and tours with a little something for everyone. Whether you need a boredom-buster activity for the kids or a relaxing behind-the-scenes exhibition tour, the Taubman Museum of Art has it…for free! Creative tutorials, conversations with artists, and tours of private art collections are just a few of the virtual gems you'll find on the Taubman's website
Mass MoCA in the Berkshires, the largest contemporary art institution embracing a variety of arts, is just now opening their digital doors.
8. Bay Area and Sonoma County Virtual Vacation Ideas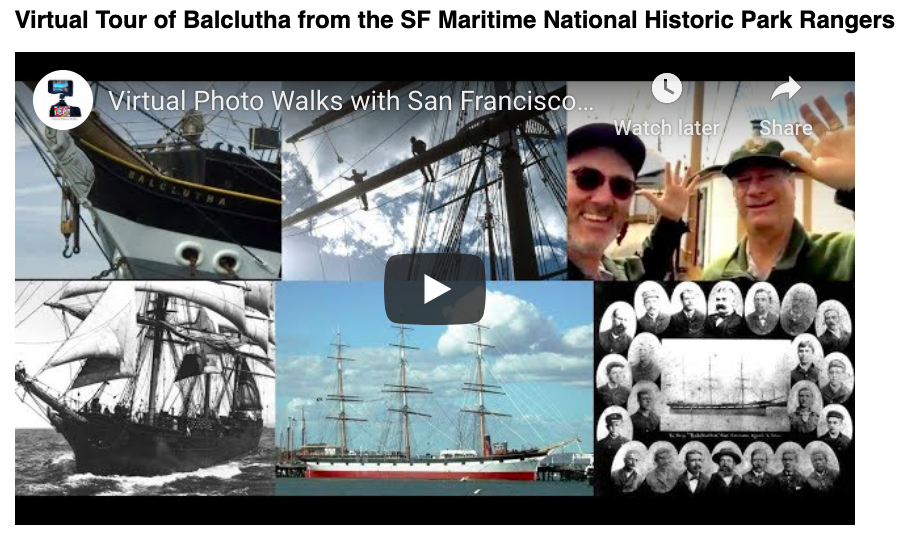 San Francisco's popular California Academy of Sciences in Golden Gate Park may still be closed but you can explore deep sea, deep space and everything in between with [email protected]. There's an array of science-centric games, videos and DIY projects. Among lots of online activities, the San Francisco Maritime National Park Association produced instructional videos on knot tying, a list of sailor vocabulary (not the salty kind) and "Do-it-at-Home-Activities" that can be printed and completed at home. These activities teach students how to build their own boat, draw their own oceanscape, 'reave' block and tackle, search for nautical words and more.
The interactive Exploratorium, always an in-person hit for families, has a vast collection of online activities and resources that feed your curiosity and help you explore science, art and human perception, including the Learning Toolbox to help learners of all ages explore how viruses impact us.
At the Walt Disney Family Museum, sign up for Happily Ever After talks where the whole family can learn more about Walt Disney's life, the art of animation and more cinematic magic. Get introduced to cartooning at the Charles M. Schulz Schulz Museum at Home page or join Safari West for a Zoomfari!
9. Beyond Home For Those With Special Challenges
Beeyonder is a virtual travel platform that was conceived pre-pandemic as a way for folks with disabilities and mobility issues to travel and see the world for a very low cost. Wander through ancient Rome's ruins, see famous views of Ireland's Cliffs Of Moher or explore one of the world's southernmost national parks in Argentina.
AccesstheUSA.com s interactive, audio narrated presentations for all 50 U.S. States. specifically designed to be more accessible to viewers with disabilities.
10. Birding, Coasters and LaLaLand in Southern California
Meet the bald eagles Jackie (female) and Sadow (male), who've become local celebrities over the past few years in Big Bear Lake (where they nest in a 120-foot-tall Jeffrey Pine tree) and to viewers all over the world who watch them lay and hatch eggs every winter.
Tune in to family-owned Esotouric webinars Saturdays at noon for a deep dive into LA history, true crime, architecture or literature. Tickets cost $10.
Check out the creatures who live amid the kelp at the Birch Aquarium at Scripps Institution of Oceanography and then try a game like Kelp Forest Bingo. Make an ocean craft like sustainable Sea-life mobile, fridge magnet and more. The aquarium hosts winter virtual camps and an after school series.
Use household supplies for "stuck at home" science projects that have been indexed on the site of the California Science Center. Ride your favorite rides at Disneyland virtually including Splash Mountain, Radiator Springs Racers, the Incredicoaster and Guardians of the Galaxy: Mission Breakout.
11. Black Lives Matter
February is Black History Month and many special programs at museums and historic sites will be virtual this year. The Association for the Study of African American Life and History hosts its first virtual festival, dedicated this year to "The Black Family: Representation, Identity and Diversity."
The Central Intercollegiate Athletic Association (CIAA), the nation's oldest historically Black athletic conference, in partnership with Visit Baltimore, is holding its first-ever virtual tournament Feb. 23-27, a weeklong celebration of basketball and culture. More information can be accessed here.
Virtually visit the Brown v. Board of Education National Historic Site in Topeka, KS which ended legal discrimination in public schools when the U.S. Supreme Court ruled in 1954 that racial segregation in public schools was unconstitutional.
The robust Digital Resources Guide at the National Museum of African American History & Culture website enables you to explore the museum while it is closed and engage with learning labs created by the museum's education specialists. Explore how African Americans are portrayed in popular media through the Black Panther and Black Superheroes learning lab. Hear the stories of many unsung heroes online, thanks to the Civil Rights History Project, a joint initiative by the Museum and the Library of Congress.
Greensboro, NC is where four Black students took a stand against discrimination in 1960 by refusing to move from the J.W. Woolworth's lunch counter, sparking the nationwide sit-in movement. The original Woolworth's building –and the lunch counter—has become the International Civil Rights Center & Museum, now offering online and on-site tours.
12. Boogie Down at Rock Hall and Let Music Transform You
Boogie at home with Rock Hall EDU from Cleveland's terrific Rock & Roll Hall of Fame, complete with professionally developed lesson plans, activities, videos, playlists and more. Take virtual exhibit tours, telling the stories of rock's earliest artists to those just emerging. "It's Been Said All Along: Voices of Rage, Hope & Empowerment" is an epic, six hours of programming online that accompanies the museum's physical exhibit, a powerful way to start discussions about social justice issues, one of the year's hottest current events topics.
13. Botanical Beauty Near and Afar
Check in at your local Botanical Garden to see what digital programs and from-home activities they offer. Stroll virtually through the U.S. Botanic Gardens in Washington, DC, currently celebrating its 201st anniversary and showcasing colorful spring flowers. The famed New York Botanical Garden in the Bronx has 250 acres changing with the seasons as the gardens welcome back visitors in face masks. While the garden staff tends plants at socially acceptable distances, they're also making videos of what's blooming where.Visit the NYBG "Read and Watch" page to tour the grounds.
Denver Botanic Gardens' Dig Into Nature at Home offers lots of fun activities. Experience the Dallas Arboretum on a virtual tour, engaging the kids with Garden STEM at Home. Explore gardens from Asia to California to the Deserts of the Americas with virtual tours from the University of California Botanical Garden at Berkeley.
The Berkshire Botanical Gardens – one of the original botanical gardens in America — is a nonprofit, so there is often a fee for the online events. However, they offer terrific cooking, gardening and nature-oriented events for adults and families. Better Homes & Gardens has culled some of the best virtual botanical gardens tours for the pandemic era.
14. Breathe Deep, Exhale and Do Yoga Together
Tune into online yoga clas for families and kids streaming from the Iyengar Yoga Institute of Greater New York, one of the country's leading teaching centers of the classical style of yoga pioneered by B.K.S. Iyengar in the 1930s. More than 50 all-level 75-minute classes weekly ($15 per member screen) are led by a master teacher who gives coaching in real time. Three weekly family sessions are designed for ages 6+; three community classes are free of charge.
At Mexico's Velas Resorts, which are open to receive guests, the popular online yoga series continues. Families can enjoy yoga at home together to bond and relax with children, their new babies or learn to make mandalas, the Sanskrit geometrical symbol that holds great spiritual significance and can promote concentration.
Singita Kwitonda Lodge set out to capture the sounds of the African Plains with a range of meditations and sound backdrops available on SoundCloud, including guided meditations and bird sounds in tranquil playlists to set a calming soundscape for the day.
Omflow Yoga offers live classes online 24/7 starting at $5 per class. Anse Chastanet, a cliffside Caribbean resort, offers virtual yoga as well as virtual mountain biking, organic farm tours and more.
15. Colorado Mountain High
Denver's History Colorado has a variety of online exhibits that help make the state's unique history come alive, from Japanese Internment in Colorado, to the Fur Trade, Mexican, African American history and the Ute Tribal paths. Complete a series of online activities to earn digital badges!
Organized by Weston Backcountry, the Stay At Home Speaker Series gives outdoor recreation enthusiasts the opportunity to bone up on backcountry education from the comfort of their own home. The virtual speaker series includes a variety of topics including backcountry basics, gear recommendations, avalanche education and more. Also, Colorado Mountain School offers Avalanche Awareness Online, a one-hour course covering how avalanches happen, what they look like, and how to avoid them.
And if Aspen is on your bucket list, the Aspen Center for Environmental Studies offers educational programs for all ages, in person and virtually. We visit ACES every time we visit Aspen! Not able to join ACES in-person this winter or spring? Visit their Summer of Raptors Resource Page at aspennature.org/summer-raptors-resources for facts, videos, and more or tune into their social accounts tag @acesaspen and #ACESNatureChallenge to do their nature challenges and share what you find.
16. Cruise Ships Inside Out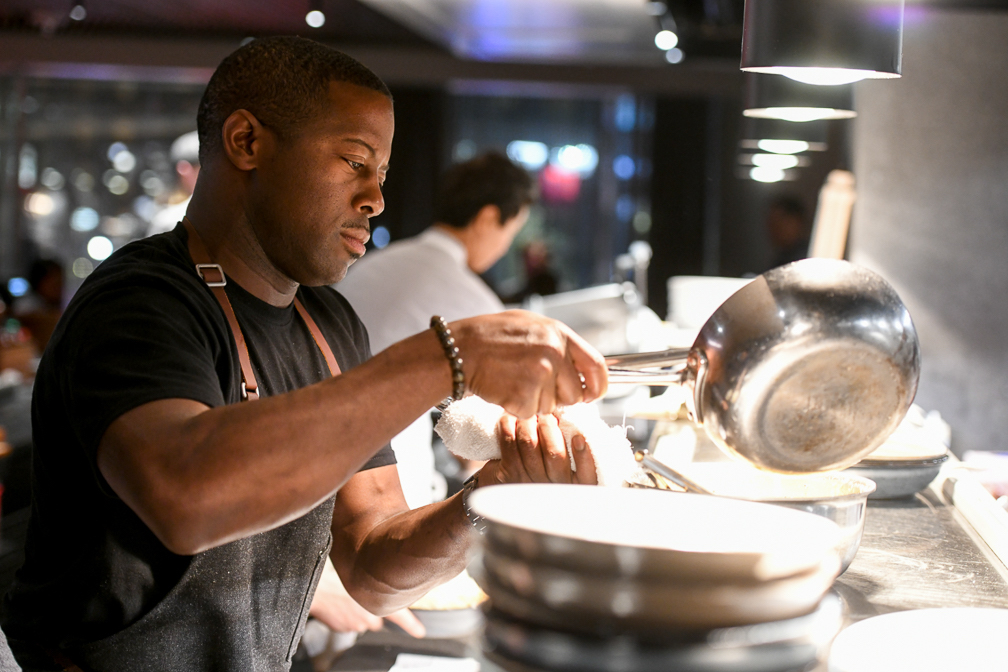 Since cruise ships aren't able to sail, several companies have decided to do backstage tours revealing ships' decor, ports of call and which live shows are entertaining passengers. [email protected] from Holland America is featuring cooking demonstrations (watch Seattle's Ethan Howell make pasta) because this line has an all-star celebrity Culinary Council advising on which dishes to serve where. Holland America is also featuring destination highlights and performances from Lincoln Center Stage which offers chamber music, from classical to contemporary, including this this special video from pianist Mohamed Shams. We enjoyed a great class on cooking Huevos Divorcidtos (divorced eggs) on HAL's Oosterdam last December.
Let it Go with a Virtual Viewing of Disney Cruise Line's 'Frozen, A Musical Spectacular' or Tangled; The Musical. Explore Carnival Cruise Line's newest ship, Mardi Gras. Take more virtual cruise ship tours here.
17. Denver 360 in the Arts and Sciences
Though Denver museums have begun to reopen, there are still many opportunities to visit the city virtually including Museum Fun 101: At-home activities by the Children's Museum of Denver at Marsico Campus.
The Denver Museum of Nature & Science has an array of digital offerings including making a Stegosaurus sculpture, dissecting a lemon, making an origami butterfly or creating colors, among them. Join the #DMNSScience Party to beat boredom with the Museum's At Home Science Flyers. Enhance the kids' STEAM curriculum with the Virtual Science Academy hosted by a Denver Museum of Nature & Science educator. This winter you will be able to meet Sue, the world's most famous T-Rex virtually and in person at the museum.
The Denver Art Museum, known for its interactive kids' activities, now has the Denver Art Museum from Home, enabling a virtual exhibit tour, art projects at home and a deeper dive into stories behind the collections. Also check out the online resources that help the kids get excited about art at home—including a Museum Web Quest and art projects inspired by some of the museum's works, including information about the artist, fun videos, lists of materials and more.
18. Derby Discovery
The Kentucky Derby is the oldest continuously held sporting event in the US and the history of horseracing reflects a diversity of owners, trainers and jockeys few know about. To help alleviate the stress of distance learning on teachers and students, the Kentucky Derby Museum is giving 40 teachers and their classrooms a free virtual field trip that will include a tour of Churchill Downs, the Kentucky Derby Museum, and a Q & A session. To enter, teachers need to fill out this form online. Kentucky Derby Museum will choose at random, 20 teachers from the Kentucky and southern Indiana area, and 20 teachers across the country.
Until the big race returns May 1, families can download activities including coloring a foal, learning words common to horse racing and a Kentucky Derby Seek & Find.
19. Dickens and Favorite Authors at Home
After reading their work, encourage your young writers with virtual tours of homes of much loved and famous authors including Jack London, Jane Austin, Edgar Allan Poe, Mark Twain and Charles Dickens. (Thanks to AWellReadWanderer.com for the list.)
Escape, as a family, to John Steinbeck's "Cannery Row" in Monterey during a free virtual tour of the National Steinbeck Center, which honors Steinbeck with a variety of exhibits and educational programs throughout the year. The museum's Steinbeck Conversation webcasts are part of a virtual conversation series being held quarterly with academics, authors and interested parties on relevant issues of the day centered around Steinbeck's wish "to get history right" with his writing.
The Mount, Edith Wharton's Berkshire home and gardens, offers virtual events including a free book club discussing some of the Pulitzer Prize Winning author's works Celebrate 2021 as the 100 year anniversary of Wharton being the first woman to win a Pulitzer Prize for "Age of Innocence."
20. Down Under in Australia
New South Wales in Australia is sharing virtual livestream experiences for those at home who are dreaming of travel. Start your journey with the stunning Sydney Harbour live stream taking place daily 24/7. Don't miss the YouTube channel where you can watch "Koala Belly Tickles" and other blockbusters like a giant tortoise feeding and dingoes playing. If you've got teens to entertain, take the time to steer them to UNSW's virtual campus tour.
The South Australian Tourism Commission, SATV is the portal to transport you to South Australia known for its wildlife, Outback and wine experiences. Shuck Oysters in Coffin Bay, Swim with the Sea Lions, Meet Fuzzy Butt Koalas on Kangaroo Island or take in pink Lake Bumbunga.
21. Europe's Leading Waterways Come Alive
Tour some of Europe's leading waterways virtually with Croisieurope, the France-based company that features guided river cruises and barge touring along beautiful canals for families. The company has made several videos of the most popular river trips in Europe and around the world on their YouTube channel. Check Croisieurope River Cruises for virtual vacation ideas and details, and dream about the Rhine Cruise we took with them a few years ago. Our cruise on the Douro River in Portugal seems like a dream now!
22. Fabulous European Museums and Famous Sites
No walking shoes needed! Tour great European sites with Viking.TV, a free platform which features livestreams, audience Q&A and on-demand programming. New content packed with virtual vacation ideas is added every week with guides you wouldn't otherwise meet.
Take a tour of Lobkowicz Palace in Prague with Czech nobleman, William Lobkowicz; touring Highclere Castle's private museum with the Earl of Carnarvon; museum tours around Europe with curators and professors; panel discussion with former astronauts.
EF Go Ahead Tours, a premier immersive group travel operator, has a series "Online Escapes." New is a trip to Iceland to learn about the Northern Lights priced at $19 per device.
Explore the Guggenheim Museum Bilbao or the Vatican Museums. Explore Notre Dame (pre fire) or take a hike in Switzerland.
23. Farmville for Real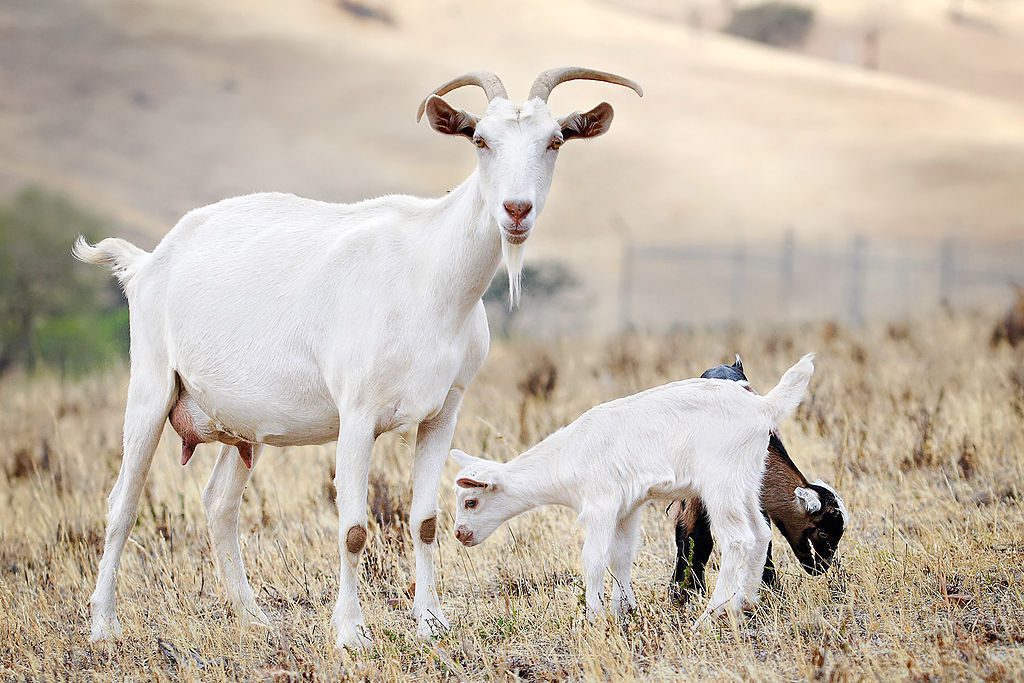 Life on a Vermont dairy farm can be experienced through the Billings Farm At Home landing page which brings farm animals to families with photos, interactive content including farm recipes to try at home.
Some members of Farm Stay USA now offer a YouTube channel. Leaping Lamb Farm has gone a step further, offering Virtual Field Trips and birthday parties so you can virtually explore the farm, see the animals and learn about farming.
24. Food, Fun and Mardi Gras Flair in New Orleans
While the fair city of New Orleans won't be celebrating Mardi Gras on Feb. 16 in real life, residents love the foods and pageantry of the Carnival period all year long. Line up some plastic beads and powder sugar donuts to virtually tour Mardi Gras World, the city's repository of costumes, parade floats, customs and cultures of the holiday. Celebrate the end of Lent in your own way!
That's only one of more than 30 virtual tours the city is offering visitors until we're able to return in person – and yes, it includes Bourbon Street.
The National WWII Museum is actually the #1 attraction in New Orleans, according to the 2020 TripAdvisor Travelers' Choice Awards. Augment the family's World History lessons with free online resources including lesson plans, daily webinars and electronic field trips that transport students and general visitors to historic sites around the world to experience WWII history virtually. One fun activity even instructs kids on how to make bird feeders and hand sanitizers at home. More than 1,000 oral histories can be accessed through the museum's Digital Collection and the captivating podcast, Service on Celluloid (available on iTunes, Soundcloud and more.)
25. Guides Keep the Wanderlust Alive in 2021
While the travel industry suffers devastating economic losses during this crisis, you can support small companies like Tours by Locals. Their local guides run 159 different live tours in 30 countries, whether you want to explore the Tower of London, Machu Picchu, Lisbon's famous seven hills, or follow Picasso's footsteps in Barcelona with an art expert. Meet a local, learn to cook a meal, explore a city's culture or wildlife, like in Ketchikan, Alaska. The best part: 100 per cent of the cost can be redeemed against the cost of a future in-person tour with the same guide.
Teens and older travelers will luxuriate in the details and texture of Context Conversations, sophisticated virtual tours and seminars that illuminate the history and culture of the most popular destinations – learning you might not have time for at the actual destination.
Sherpa Tours, which has created the first GPS walking tours led by an AR (Augmented Reality) avatar guide has launched a new subscription ($24.99) for travelers who are sheltering at home during the COVID-19 crisis. Tour the World from Home provides users access to more than 100 remote tours in more than 50 cities around the world. When the pandemic is under control, travelers are able to experience Sherpa Tours' GPS tours in the actual cities. Sherpa Tours is on the App Store and the Google Play store.
26. Hawaii On My Mind
Does poke bring Hawaii to mind? If so, Cooking Hawaii Style is a local cooking show that features hundreds of recipes shared by Hawaiian chefs, all available via online video archives.
If it's surfing, watch world class surfers tackle Hawaii's epic waves off the north coast of O'ahu during World Surf League. (Major competitions are often more fun to watch on video than in real life.) And in comparison with snorkeling, it's much easier to spot marine life on the Maui Ocean Center Live Cams and or in an Ocean Education Classroom with plenty of activities to try at home.
Virtually explore Hawaii's top beaches, Diamond Head, local hot spots and favorite food trucks on their YouTube channel; click on the bell and you'll be alerted to new adventures!
The Honolulu Museum of Art is participating in #museumfromhome with photos and videos of virtual exhibits, teaching resources, art projects, and artist spotlights while the Bishop Museum online learning center is the place to introduce kids to Hawaiian history and culture.
Henry Kapono, known for his weekly concerts off the beach at Duke's Waikiki, often holds virtual performances, as well. See the islands from the sky with Blue Hawaiian Helicopters or watch the sunrise on Maui.
27. Indiana Fossil Hunt at The Children's Museum
Are you ready to learn more about dinosaurs, enjoy story time with museum educators and find out the latest techniques to make skipping more aerobic? The Children's Museum of Indianapolis, a remarkably varied and sophisticated treasury of knowledge that's the largest children's museum in the country, is now offering a variety of Museum at Home DIY experiments and activities. How about a Superhero Costume Challenge? Every week there will be interactive activities about topics ranging from art to dinos to nature. There are more fun family activities in Indiana when you get there.
28. Israel Exploration
While you can't take that Bar Mitzvah trip right now, you can still explore Israel in anticipation of when you might be able to visit. The Israel Ministry of Tourism has a dedicated place on its website with information, videos, and resources for child friendly destinations in Israel.
Take a virtual trip, make the popular breakfast dish Shakshuka or practice Yoga on a Tel Aviv beach. Israel's museums are hosting virtual tours, offering talks and activities for kids. The Israel Museum's site features virtual tours of the Jewish costume exhibit as well as arts and crafts workshops for kids and adults, some in English as well as Hebrew.
Travel + Leisure has put together a list of Israeli places you can visit virtually.
29. Magic at Disney Parks
If you're looking for the happiest place online, it may just be @DisneyParks – the very popular new channel featuring the magic of Disney Parks, Experiences and Products.
Whether it's a one-of-a-kind look at The Cadaver Dans coming out to socialize, a special giraffe at Disney's Animal Kingdom or a behind-the-scenes glimpse of the seasonal transformation at Magic Kingdom Park, @DisneyParks videos will bring a dose of happiness to your day – wherever you may be.
The Walt Disney Company also has launched DisneyMagicMoments.com, where you will find free, engaging Disney content, stories and resources from the magicians at Marvel, Pixar and Star Wars, plus Walt Disney Animation Studios, National Geographic, Disney Parks and beyond. You can learn how to draw Olaf from "Frozen," virtually ride the Incredicoaster at Disney California Adventure Park, or share a virtual look at "Magic Happens" and the cool, all-new costumes made for this parade.
When you're ready to take the kids to a galaxy far, far away, start planning your next Disney adventure with virtual tools such as interactive park maps, timed entry guides and expert tips from Plan Disney to help you figure out which rides to tackle on which days and at the best time, as well as all things Disney.
30. Myrtle Beach and More Virtual Vacation Ideas in South Carolina
You've probably already been to Myrtle Beach, one of America's most popular resort areas with a famous Grand Strand. This beachfront promenade extends along the Atlantic, from Little River to Winyah Bay, for more than 60 miles. And you'll Whether it's your first or a return trip, , be sure to study these Myrtle Beach virtual resources that highlight the webcams along the beach, the city's many hotel options and much more.
In the meanwhile, see more of the state, starting with Riverbanks Zoo and Garden in Columbia, whose Virtual Resources include specific seminars about animal behavior and tours of the animals' dinner preparation.
31. National Parks Without the Crowds
It is very difficult to practice social distancing on popular hiking trails and famous monuments but you don't have to be in a national park to experience one. NPS parks and programs are sharing virtual content on their websites and social media. Check out wildlife webcams, virtual tours, Junior Ranger programs, citizen science videos, even coloring pages. They want you to #FindYourPark from home.
Explore and learn more about iconic National Park Service locations with EarthCam across the country, including the Washington Monument, Cherry Blossoms along the Tidal Basin and the Martin Luther King Jr. Monument in Washington D.C., as well as, Paterson Falls, Fort McHenry, Jefferson Memorial and more. Updates about NPS operations will be posted on www.nps.gov/coronavirus.
Take a virtual tour of Yosemite National Park or see virtually what Mariposa County has to offer in the park and beyond. Across the country in Maine, enjoy a virtual tour of Acadia on Google Earth.
Western River Expeditions has 360º Photos and Video of their Grand Canyon trips; read about our experience last year and Visiting the North Rim of the Grand Canyon).
32. New England Natural in Maine and Massachusetts
Maine State Archives has introduced a number of virtual experiences, many in nature. The kids will love exploring the Fort Knox Historic Site for a close look at the fort and its surroundings. The Children's Museum & Theatre of Maine is serving thousands of virtual visitors with online programming. The Maine Wildlife Park now has an audio tour of the park. Maine Maritime Museum has a number of virtual experiences, including boat building and the online exhibit Maine and the Sea for an incredible, close-up look at the collection.
Explore Provincetown dunes, Cape Cod National Seashore, the Stellwagen Bank Marine Sanctuary famous for its whales and local museums with Cape Cod virtual tours.
33. New York City Virtual Arts, Monuments & Virtual Vacation Ideas
We know not everyone is ready to travel together to New York, although the city that never sleeps is slowly coming back. Instead, visit digitally. Singer in the house? The Metropolitan Opera is streaming all of its Live in HD series, one opera at a time, with each weekly performance available for 23 hours, from 7:30 p.m. EDT until 6:30 p.m. the following day. In honor of its 150th birthday, the Metropolitan Museum produced six Met 360 Project virtual reality tours that go through several galleries for an up close look at the gorgeous artwork, plus the animated museum tour for MetKids.
WWII buffs will enjoy virtually visiting the carrier Intrepid moored off New York City, whose Experience Intrepid Anywhere site provides free programs, tours, talks and interactive demonstrations designed for all ages. There are more than 300 archival videos on the Intrepid Museum YouTube Channel so invite the grandparents to come over for movie night.
The Statue of Liberty is open again at limited capacity but you can live stream a virtual visit complete with view of the harbor plus view from the rown — without the climb! The city's tourism office has a robust collection of virtual NYC experiences, ranging from puzzles to lectures, concerts to design-a-skyscraper challenges.
34. Niagara Falls Without a Poncho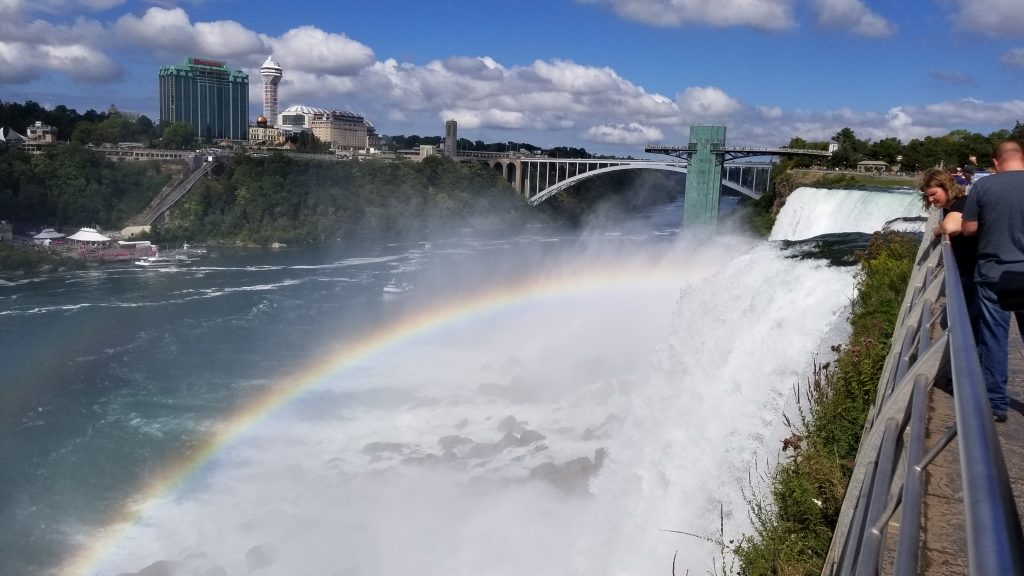 No poncho required for this quick visit to Niagara Falls USA—and actually, no passport either as this is the American side of the Falls in New York! Kids can experience the iconic waterfalls and more with Niagara Falls USA's immersive 360-degree video that's best seen with VR goggles. If you don't have them, just move the viewpoint around with your cursor while the kids fly over the waterfalls in a helicopter, cruise into the heart of the Horseshoe Falls on the iconic Maid of the Mist, and jet through Class V rapids in the Niagara Gorge.
After a virtual visit, download these coloring sheets and color your way through some of Niagara Falls USA's greatest attractions. History buffs will want to explore nearby Fort Ticonderoga, in the Lake Champlain Region. This spectacular fort was built in the 18th century by the French at a narrow stretch near the south end of Lake Champlain and played an important role again during the Revolutionary War. In the Fort's Center for Digital History there are virtual classrooms, exhibits and at home activities. In addition, they offer Facebook live events. Events are free for members and generally $10 for the general public on their FB page. A calendar of events can be found here.
35. North Dakota Road Trip
North Dakota is a combination of wide-open spaces, dramatic scenery, unique entertainment and attractions spread out over 70,000 square miles of the Northern Plains. Thanks to a North Dakota VR tour, you can drive past seven of the state's manmade and natural wonders from the comfort of your living room. If you have VR goggles, great! If not, just follow along as they let you drive the Enchanted Highway and North Dakota's Badlands, taste the fare at typical cowboy cookouts, explore reconstructed Native American earth lodges, see Lewis & Clark's Missouri River as they confronted it, tour an abandoned nuclear base and more.
The North Dakota State Geological Survey (NDGS) is providing educational content about places where dinosaurs roamed and literally left their footprints. Led by North Dakota paleontologists, this family program found on YouTube (@NDGS Paleo) features different topics and activities—even making stratigraphic pudding with supplies you already have that is a way to understand rock layers.
36. Orlando Wish List
As families plan real life visits to Florida, Visit Orlando has a page of virtual thrills and VR tours for kids who want to preview their trip. Some of the top attractions also have their own fun and educational remote programming that serves as virutal vacation ideas.
Wonderworks Orlando has made Professor Wonder's Virtual Learning Lab available to teachers and students with special topics such as severe weather, the solar system, the earth's atmosphere and more.
We are also seeing a lot of work-from-resort remote working and schooling options at many Orlando resorts. Check out the Wyndham Orlando Resort, the Grande Lakes Marriott and Ritz-Carltons and the Four Seasons Resort Orlando at Walt Disney World Resort for current programs and savings on long-stay room deals.
37. Potter Fans Unite!
Harry Potter fans will want to join Andrew "Professor" Baxter on his special Harry Potter virtual vacation ideas tour around Scotland. He welcomes families to his study at Hogwarts School of Witchcraft and Wizardry where he is the Head of Potions and Muggle Tours..Then explore the places in Edinburgh that inspired J K Rowling when she created Harry Potter before hopping on the Hogwarts Express to visit some of the locations across the Scottish Highlands that appear in the movie – including the iconic Harry Potter railway bridge and the site of Hagrid's Hut. Don't forget your wand! Cost is just under $14 each (10 pounds).
And if you've booked tickets at the amazing Warner Bros. The Making of Harry Potter Studio Tour outside London, we're sorry to say it has had to close again. Meanwhile, peruse their comprehensive website and bring to life the props, sets and costumes your kids are waiting to see.
38. Philadelphia Long Ago and Today
As Philadelphia slowly reopens, many attractions are safely welcoming families with limited schedules. From home, tour the Museum of the American Revolution virtually and check out the site's family DIY activities and YA book readings.
Tune into Homeschool with Mural Arts for new and recorded arts-focused tutorials from local Philadelphia experts and then share your creations at #Homeschool With Mural Arts. Get a video bird's eye view of some murals in their collection.
The Penn Museum's At-Home Anthro LIVE offers live, interactive programs with hands-on arts & crafts projects that kids can do at home. At-Home Anthropology offers similar projects in an "anytime" online format. World Wonders: After School is designed for children ages 5-12 to engage in interactive workshops that teach young learners about diverse cultures and traditions around the globe. Additional programs and activities can be found on the Kids & Family section of the Penn Museum website.
Famous local Ben Franklin has a fun science museum named after him, where you can explore the night Skies @Home each month with Derrick Pitts, the Franklin Institute's Chief Astronomer. Check out the Institute's #SparksofScience series for science experiments—including some you can do at home. Want to make DIY crystals? Eileen's latest Kids Guide to Philadelphia has just been published!
39. Practice Your Tunes and Thrills in Branson, Missouri
Sing along with @ExploreBranson on Facebook, Twitter and Instagram to see some of Branson's best entertainment. Catch singing, dancing and illusionists, plus tours of area attractions such as the pop culture gallery Beyond the Lens! seen virtually here and the Titanic Museum, seen here.
And then in real life, there's boating, hiking and Silver Dollar City, an 1880s-style amusement park that features over 40 thrilling ride and live shows. In honor of a 60th Anniversary Diamond Jubilee, Silver Dollar City recently opened a $23-million water ride themed after the massive Marvel Cave where the ride's namesake, Mystic River, is found. Check out the best of the park virtually with Wild Gravity Travel's video tour.
40. Presidential Fun and Games
The 2021 inauguration and Presidents' Day offer great teaching moments, though presidential homes and libraries remain shut. The good news is there is plenty of virtual content to engage the kids—and you.
Virtually visit the National Portrait Gallery where there is a new exhibit "Every Eye Is Upon Me: First Ladies of the United States," It's the first major exhibition to explore the role of First Lady through portraiture and include iconic dresses. (This is part of the Smithsonian American Women's History Initiative, "Because of Her Story" on view through May 23, 2021.)
At the Smithsonian National Museum of American History, access the popular The American Presidency A Glorious Burden virtually and more interactives at the History Channel. There is also an online version of The First Ladies exhibit at the Smithsonian, for decades one of the most popular attractions because it includes the famous inaugural gowns.
The terrific Smithsonian Kids' Website offers all kinds of activities for at-home fun and learning including digital jigsaw puzzles. We love American History activities such as creating your own Lincoln hat like the one in which the President kept important notes, or meeting Grace Bedell who was 11 when she sent Abraham Lincoln a letter while he was campaigning. Encourage the kids to write their own letters to President Biden.
The John F. Kennedy Library in Boston also remains closed but will hold a virtual version of its annual Presidents' Day Family Festival on Feb. 15 and a host of other family activities throughout the year. You will also find a students' section with picture book biographies of John F. Kennedy and Jacqueline B. Kennedy, a quest to become a Kennedy Era Space Expert and more.
Every Tuesday, Wednesday and Thursday there are weekly Monticello livestreams with regular appearances by Thomas Jefferson (Monticello was his home), special family virtual tours (hear the stories of the nation's founding from the perspective of the free and enslaved who lived on this working plantation) or try to design your dream house, as Thomas Jefferson did.
The Mount Vernon website is also a great place for students to learn about George Washington's presidency and the era in which he lived, including online games, interactives and the chance to meet people from the past.
41. Rafting Rivers and Family Adventures
Many families hope they can safely plan an outdoor adventure this spring, summer or for next year and there's no place more exciting than a river trip. The team at expert outfitter OARS offers safe one- to six-day professionally guided trips for ages 4+ that include fully sanitized camping equipment and all meals. Check out their cool half-hour River Rafting Safety Orientation Video which will help the kids understand the magnitude of the adventure ahead!
Western River Expeditions features a soaking 360° Tour of Desolation Canyon. Austin Adventures, known for their family trips particularly in national parks has created virtual adventures specifically for kids.
42. Relax Together with Brilliant Arts from All Arts
You may be doing it all at home, but work and school days have to come to an end. That's when All Arts, a website devoted to the best performances, documentaries, dance recitals, concerts and more comes in handy.
Use afterschool or after supper time to cue up concerts from Lincoln Center, poetry readings from House of Abundance, the "Young Stars of Ballet" from Indianapolis, "Porgy and Bess" from the Metropolitan Opera, theater like the "Oedipus Project UK," book readings from Powell Books and hundreds of thoughtful and entertaining films and documentaries, all curated by the staff at WNET public television. We subscribe to their e-bulletin which highlights the week's top showings. Nothing rinses out the stress better than these world-class artists doing their arts.
43. Roam the World From Home One Country at a Time
We love the new "country in a suitcase" concept from Up & Away Adventures, a monthly subscription box that will delight the whole family. The surprise featured country is tucked into a cute mailer suitcase along with tokens of the five senses of that country – a fragrance, taste, sight, sound and touchable objects. (These are often arts n' crafts projects you make yourself.) The Up & Away country kits have supplies, info cards, flags, recipes and may contain essential food products to convey a new cuisine. Here's more information on how you can bring a new culture into your house in an imaginative and engaging way. Priced at $49.95 per box, shipped bi-monthly.
Untours has been offering virtual events and virtual weekends in various European destinations that include music, cooking, history and culture.Try Drawing with Van Gogh or a Tuscany and Spain weekend (starting at $29.95 for the one-day experience.)
44. Saint Patrick's Day and Beyond Virtual Vacations in Ireland
You may not be able to visit this St. Patrick's Day (March 17, 2021) but you certainly can feel the Irish spirt with videos and playlists that #fillyourheartwithireland with dance, music, recipes and spectacular sites including the Cliffs of Moher and the Book of Kells.
Roll up your sleeves and make traditional Irish Soda Bread and Irish coffee with top Irish chefs. Stream Ireland's literary voice through RadioMoLI, the digital radio station from Dublin's Museum of Literature.
Connect online with Belfast through their traditional music thanks to musicians from the Belfast Traditional Music Trail. The Titanic, incidentally was built in Belfast and The Titanic Belfast is a great museum. While closed, check out the free downloadable resources and activities. (Here's what Taking the Kids wrote about a visit.)
Brush up on Gaelic games like hurling. Ireland is famous for castles. You can virtually visit some of them here.
45. School Rooms Outside the Classroom
Why not use this break from regular schooling to introduce the kids to other educational programs? Science lovers can turn to the American Museum of Natural History for sharing a range of online content that engages and educates audiences of all ages. This includes the OLogy science website, where kids and families can find fun activities and games to learn about the natural world around them; online curriculum collections on topics ranging from dinosaurs to river ecology and opportunities to visit virtually through the Museum's YouTube channel.
WonderWorks in Pigeon Forge, Tennessee; Myrtle Beach and Orlando are offering a series of online labs that cover topics such as the principles of pressure, states of matter, severe weather, the water cycle, adaptation, and more. More information about their Virtual Learning Labs is online.
46. Scotland and the Moors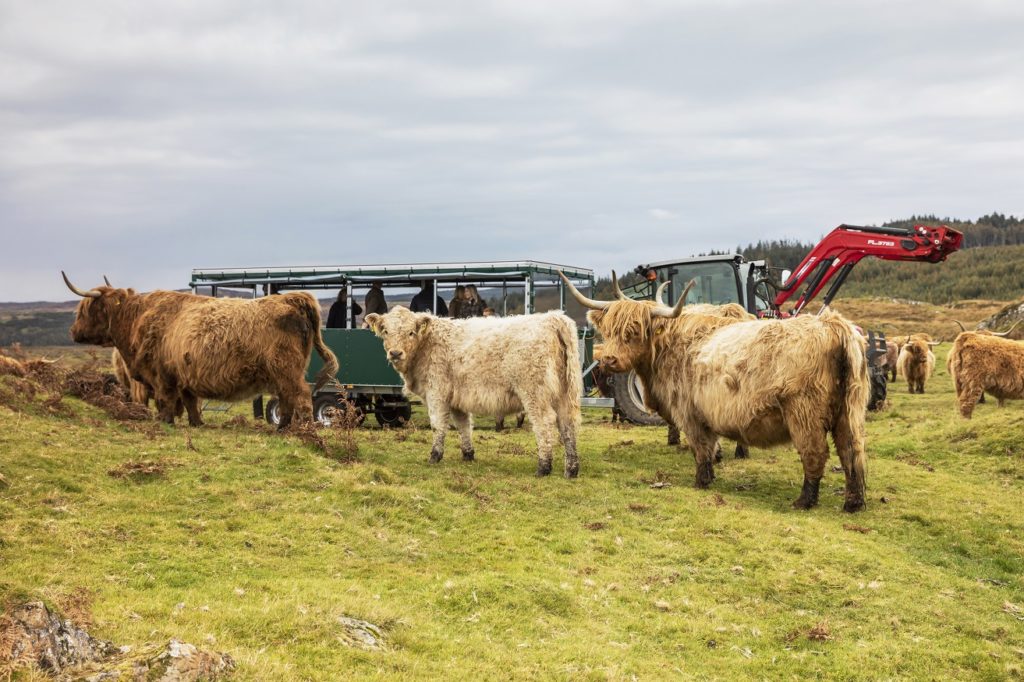 VisitScotland launched a "coo cam" to connect with those from afar, in hopes of bringing a smile to the faces of those missing Scotland… because who better to fill the void than a beloved Highland cow mooing, noshing, tree scratching…. Raw footage can be found here, and VisitScotland just posted its first iteration of coo footage, which will continue to roll out on its social channels throughout the year.
Visit Scotland has an entire section dedicated to bringing Scotland to your home. You can draw famous landmarks in Scotland, check out a few different Scottish wildlife webcams and check out a full list of museums and zoos to tour virtually.
Take a misty tour from the dry comfort of home by starting in Edinburgh, one of our favorite cities for families. Google Arts & Culture can take you on a virtual tour of Edinburgh Castle followed by the adorable antics seen on the Edinburgh Zoo Koala Cam. Littles ones will enjoy the Little Adventures video based on "Hannah and Jack's Little Adventures" – a must-read for your next trip to Scotland.
Scotland's Dark Sky parks have created a series of how-to videos about Stargazing in Scotland as well as a downloadable toolkit aimed at kids. Prefer to close your eyes and dream? One of the top podcasts is Tour Guides Tales packed with fun anecdotes about all the places you've read about. And have you ever read about the Miracle of Camp 60 in the Orkney Islands?
47. Seattle's Foodie and Flight Treats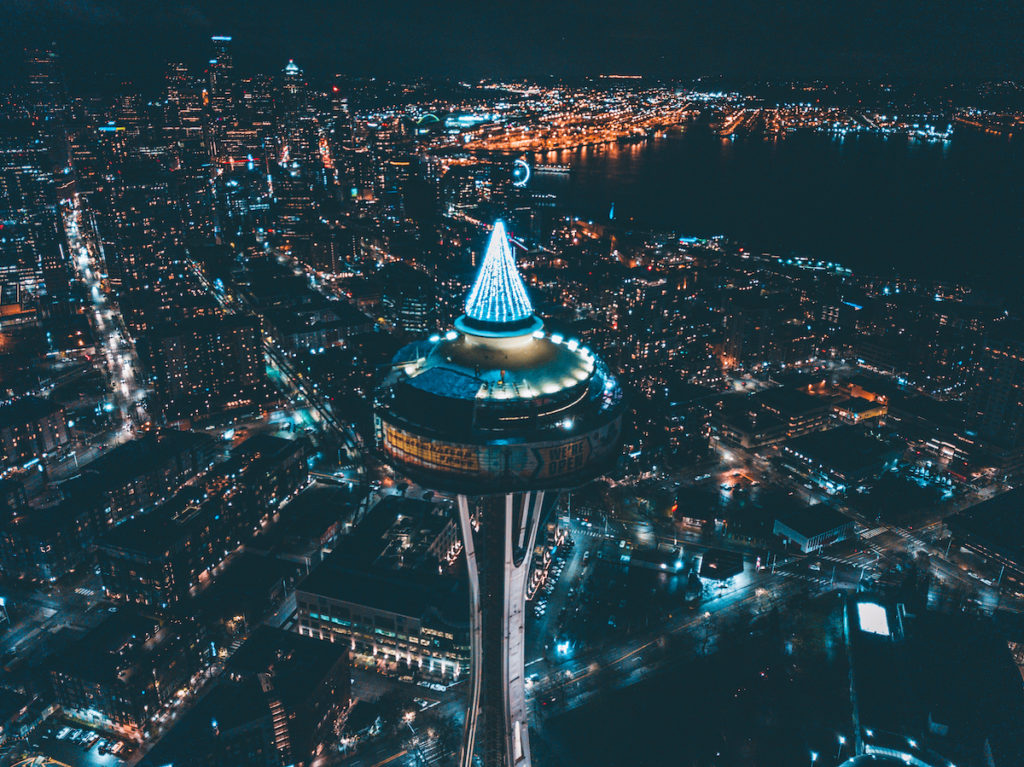 Seattle, tucked between sea and mountains, is one of America's most visually striking cities, packed with lots of family fun. We welcome back the famous Pike Place Market and the replica world's first Starbucks at Pike and First – both open and busy under strict public health guidelines. Here's an online sample of the city's many other treats for those postponing travel. Let's start at Woodland Park Zoo where the Zoomazium program for early learners is creating new interactive activities for your family every week.
Over at VisitSeattle.tv, catch a number of short films that celebrate the city's vibrant art scene, many music venues and celebrity chefs. Wander around The Museum of Flight from your living room armchair using their online virtual tour. These 3D self-guided virtual tours were created by scanning the interior of the Museum's aircraft using the Matterport 3D Camera to make cockpits and interiors of aircraft more accessible.
48. Snorkel, Whale Watch, Study Turtles From Your Couch
Put on your swimsuits for these virtual vacation ideas. The Shedd Aquarium, home to 32,600 species of sea life, is giving visitors a live glimpse into the aquarium to enjoy from home. With the Shedd Aquarium's Underwater Beauty live cam, enter a world of shimmer, color, pattern and rhythm, where jellies pulse, eels ribbon and a rainbow comes alive with reef fishes in the aquarium's most diverse special exhibit ever.
The Ripley's Aquariums at Home has a full schedule of virtual opportunities from live Q&As with Aquarium teams, arts and crafts, spotlights on sea creatures and more. The OdySea Aquarium has created an "oceanic adventure from home" for its fans. Along with a virtual classroom, the aquarium's live webcams give guests the chance to see what marinelife is up to at any given time.
Whale watch from home thanks to the Pacific Whale Foundation, which offers a variety of free 30-minute virtual experiences focusing on humpback whales, marine mammal communication, plankton and underwater observations. There are also a few additional, free 5-10 minute videos that highlight a marine life-related activity that can be recreated at home such as a plastic pollution solution, animal obstacle course, new spin on Jenga and camouflage in the ocean. All of the videos can be found here.
The Palm Beaches sea turtles arrive between March and October to create nesting spots along the 47 miles of golden, palm tree-lined Atlantic Ocean coast. These turtles, once hunted for their decorative shells, are protected by area residents and conservation groups. The Loggerhead Marinelife Center broadcasts a Virtual Coastal Classroom from its Outdoor Sea Turtle Hospital and their recorded videos will teach you more about sea turtle and ocean conservation.
49. Stonehenge, English Castles and Wonders of the UK
Mysterious Stonehenge is comprised of circular earthworks and megalithic stones that have captivated man for more than 5,000 years. While it's an easy daytrip from London, we suggest you spend the night in nearby Salisbury to fully appreciate the site at dawn and dusk. Before your visit, ask the kids to collect some stones and see if they can recreate this mystical place, thought to be used for funerals or perhaps royal ceremonies. Let the remarkable Stonehenge webcamera that broadcasts live views of the site 24/7 spark their imaginations.
Immerse Yourself in Welsh Adventures with virtual reality 360° videos all filmed on location. Join a Treasure Hunt in Birmingham, tour Sissinghurst Castle, celebrating its 125th anniversary and Buckingham Palace – The first tour will take you to the Grand Staircase. Click on the small images below to access further tours of the White Drawing Room, the Throne Room and the Blue Drawing Room.
50. Talk to a Dino and Locals about Virtual Vacation Ideas in Chicago
Put Chicago's Field Museum on that must-see list for dinosaur fans and STEAM buffs. Explore the natural world with engaging activities that support learning at home including games, printables and more. Online activities include a 3D model of SUE the T. rex and a game that sends you on a Mission to the Mesozoic. You can also talk to the world's largest dinosaur by messaging Máximo the Titanosaur, the species known as Patagotitan mayorum. Text him at 70221 or chat online to ask Máximo what life was like millions of years ago, what he likes to eat and even his favorite color. Also, try to catch Mayor Lori Lightfoot's StayHome.HitPlay, an initiative touring all of the city's arts institutions virtually.
Chicago Detours shares stories of people, places and ideas narrated live including "A Deep Slice of Chicago Food History" and "Cruise From Your Couch Virtual Boat Tour" ($35 for up to four viewers.) The company also offers free 20-minute live virtual neighborhood tours and history talks twice a week, on Wednesdays and Saturdays at 10:30am CT, via FB Live. You can find past videos here.
51. Toodle Down the California Coast
For more virtual vacation ideas, play the legendary Pebble Beach Golf Links via an online simulation. Or, just soak up the scenery at the 18th hole—the most famous finishing hole in golf—thanks to a live cam that captures the crashing surf and spectacular mountain backdrop.
Dana Point in South Orange County, is home to the Ocean Institute, a non-profit organization that educates 100,000 children, teachers, parents, and visitors annually through over 60 marine science and maritime history programs. For those who cannot visit Ocean Institute in person, check out programs in ocean science, ocean conservation and maritime history on the Ocean Institute's website From learning "the scoop on poop," knot tying, cannon communication and much more, families will feel as though they are in Dana Point, at no cost.
San Diego's iconic art museum, The San Diego Museum of Art, is offering a number of virtual experiences for art-lovers of all ages via its Virtual SDMA online offerings. For families and young artists, SDMA At Play features weekly at-home art activities, drawing exercises, print-outs, how-tos and more from the SDMA Education team. Additional virtual offerings include a 360-degree virtual gallery experience featuring works of arts from each gallery in the institution, docent-led tours, guest lectures and Virtual SDMA+ performances in collaboration with partners like the San Diego Youth Symphony and San Diego Ballet. Virtual experiences are free to access.
Love Catalina, the tourism authority for Catalina Island, has created a landing page with activities for visitors to experience the magic of Catalina from afar. Families can explore wildlife on the island with live webcam footage of the harbor, A Bald Eagle Cam from a perch in Two Harbors, underwater views of kelp beds and local fish from the USC Wrigley Catalina Marine Reserve and printable coloring pages, science activities and educational resources from the Catalina Island Conservancy. Downloadable backgrounds are also available to bring good island vibes to your next Zoom call, all at no cost.
There's More to Come
Ready to get away, even if only virtually? Dive into one of the destinations or topics noted above, chow down on our roundup of Foodie Favorite Virtual Experiences or hit the books with our roundup of Top Virtual Tours for U.S. History Buffs.
And if by chance, you're really ready to go anywhere, please check out our roundup of this year's 21 top Spring Break Vacation Ideas.
We hope our guide makes your life easier during this difficult period. And please share your own discoveries in our comments section below.
In this special FamilyTravelConsulting.com travel section, some of the advertising and custom content has been brought to you by our sponsors. All other content and opinions are based upon the authors' actual travel experience and knowledge.
Dear Reader: This page may contain affiliate links which may earn a commission if you click through and make a purchase. Our independent journalism is not influenced by any advertiser or commercial initiative unless it is clearly marked as sponsored content. As travel products change, please be sure to reconfirm all details and stay up to date with current events to ensure a safe and successful trip.
---