A Mekong River trip is a fascinating, deep dive into Indochina, the heart of Southeast Asia. The peninsula labeled Indochine by French colonists comprises today's very distinct countries of Laos, Vietnam and Cambodia. Although the Mekong flows 4,300 miles from the Tibetan Plateau in China to the South China Sea, river cruises focus on the Mekong Delta and its 22 million inhabitants.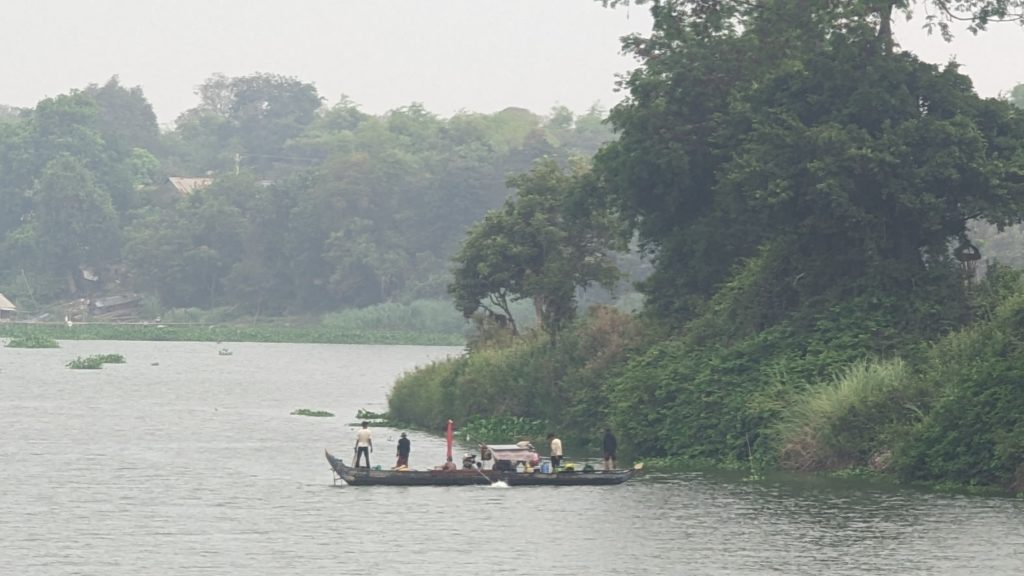 The Lower Mekong River Basin, which gives life to agriculture and fish products, has nourished local cultures and customs that exist to this day. That's what makes a cruise on the Mekong to the outstanding Angkor temples such an enriching journey.
We sailed with the French river boat company, CroisiEurope, in April 2023. Mekong River trip itineraries run 11 to 17 days between Ho Chi Minh City (the former Saigon) and Tonle Sap (the Cambodian port nearest to the temples at Angkor).
Cruise and land tours run in both directions between the months of August and April. Temperatures range from about 73°F to 93°F (23°C to 32°C) year-round in this tropical monsoonal climate. November to January are the most temperate months with the least expected amount of rain.
Why A Mekong River Trip Makes Sense, Even For Adventurous Travelers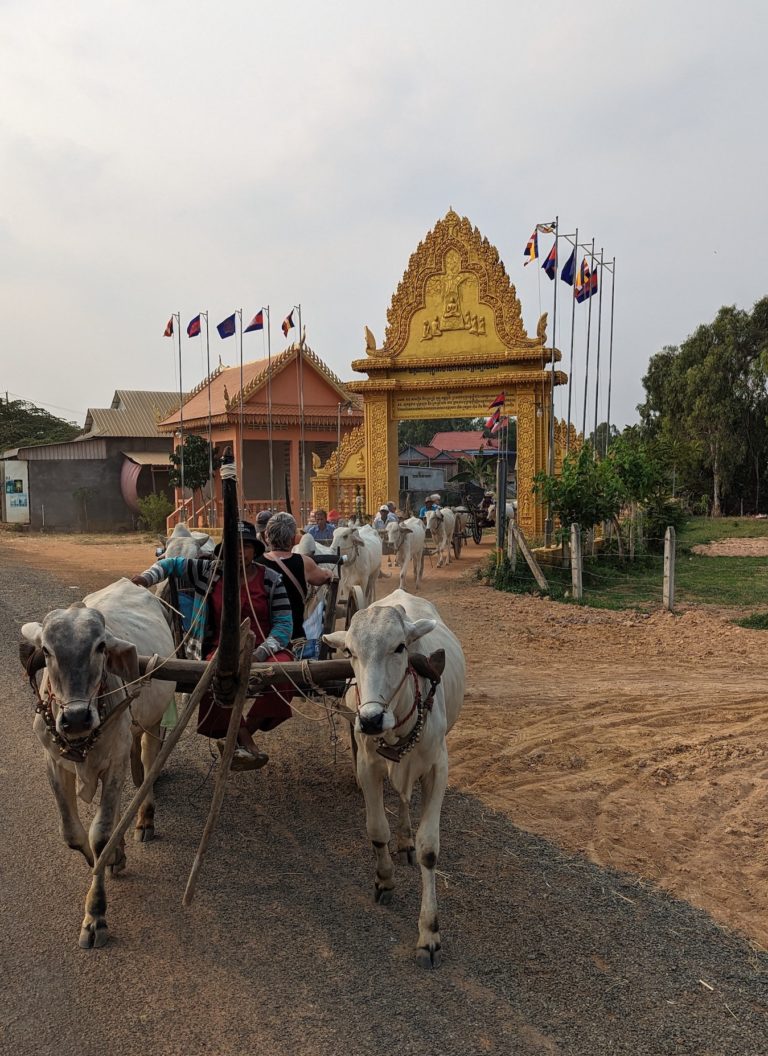 A river cruise is an economical option for exploring the heart of Indochina. Due to the language barrier, most visitors find Vietnam and Cambodia difficult countries to navigate on their own. A river cruise covers the territory while eliminating transportation concerns.
Although group tours are less flexible than independent travel, the expert guides who join the cruise bring the sites to life. CroisiEurope river trip rates include all guided shore excursions, onboard programs, meals, beer and non-alcoholic beverages so budgeting a Mekong River trip is simple.
Of course, river cruises are an easy form of travel by design. That's true no matter your age. Full-service crews, escorted excursions, comfortable cabins and fine dining make exploration stress free. Pack and unpack only once. Leave your cabin in disarray, send out the laundry. Ignore world events. Dine and drink amidst constant visual and intellectual stimulation.
What's not to like?
What To Expect On A Mekong River Trip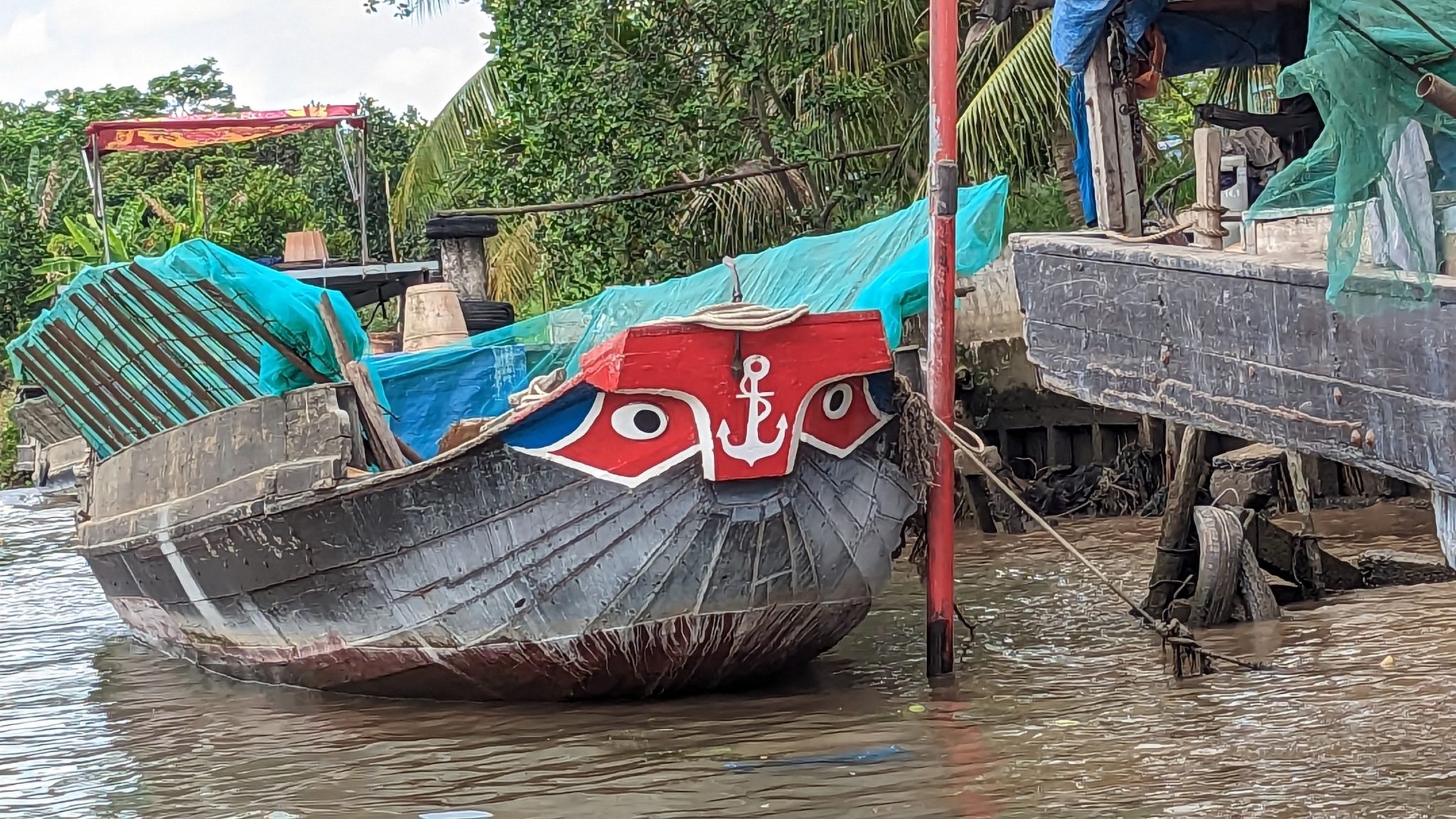 CroisiEurope's From the Mekong Delta to Siem Reap river cruise is both relaxing and exotic. The intimate view of daily life along the riverbanks of Vietnam and Cambodia is mesmerizing. Being one with the river brings you closer to the warm and welcoming — and exotic — people of Indochina. That's why this trip designed for adults will interest older children traveling with them.
Friends heard us say "Mekong River trip" and recalled Apocalypse Now, the Francis Ford Coppola anti-war film set on a tributary of the Mekong. Rather than forbidding jungle, the Mekong Delta we experienced was busy with fishing boats, freight barges laden with rice, and waving villagers.
Twice daily guided shore excursions provide plenty of interest. Most spotlight local architecture, produce markets and handcrafts unique to each town.
Which Ship Is Right For Your Mekong River Cruise Fantasy?
You'll see several colonial style river ships on the Mekong. However, the four custom CroisiEurope ships are smaller and have a shallower draft than others, making them more maneuverable. We sailed on the more upscale Indochine II where each of the 31 staterooms has a balcony. (Cruise rates for this 5-anchor ship vary from 10% to 15% more than their 4-anchor ships, depending on departure dates.)
Enjoying the passing scenery is absolutely one of the great pleasures of this journey. You can sit outdoors at breakfast and admire the view. Head up to the shaded roof deck and nap during the heat of the day. In late afternoon, swim in the ship's small pool or use the exercise bikes to work off some of the terrific meals. Linger with afternoon tea and biscuits at dusk.
And sunsets — with or without the day's wine special — are truly epic.
Who's Aboard A CroisiEurope Mekong Cruise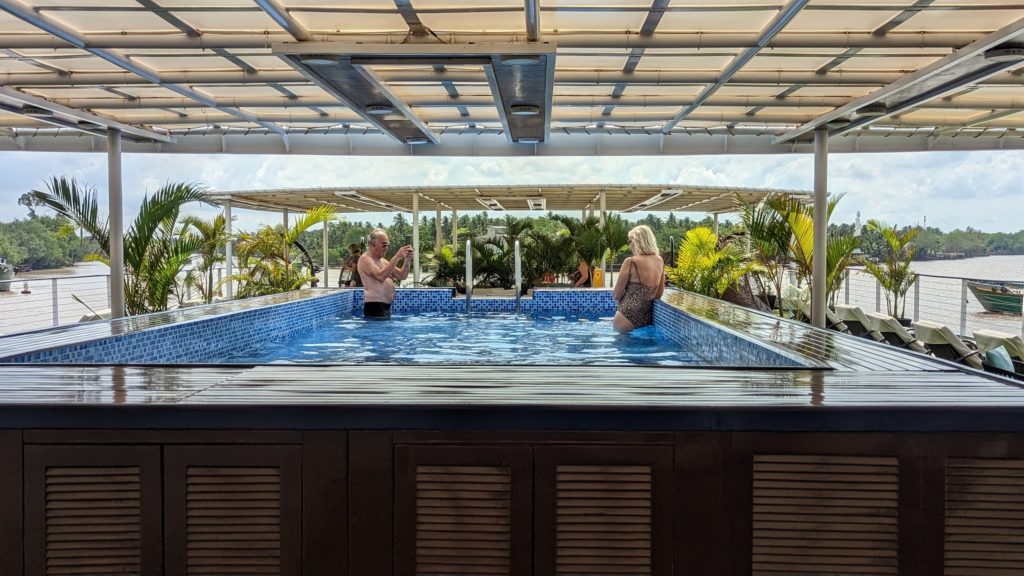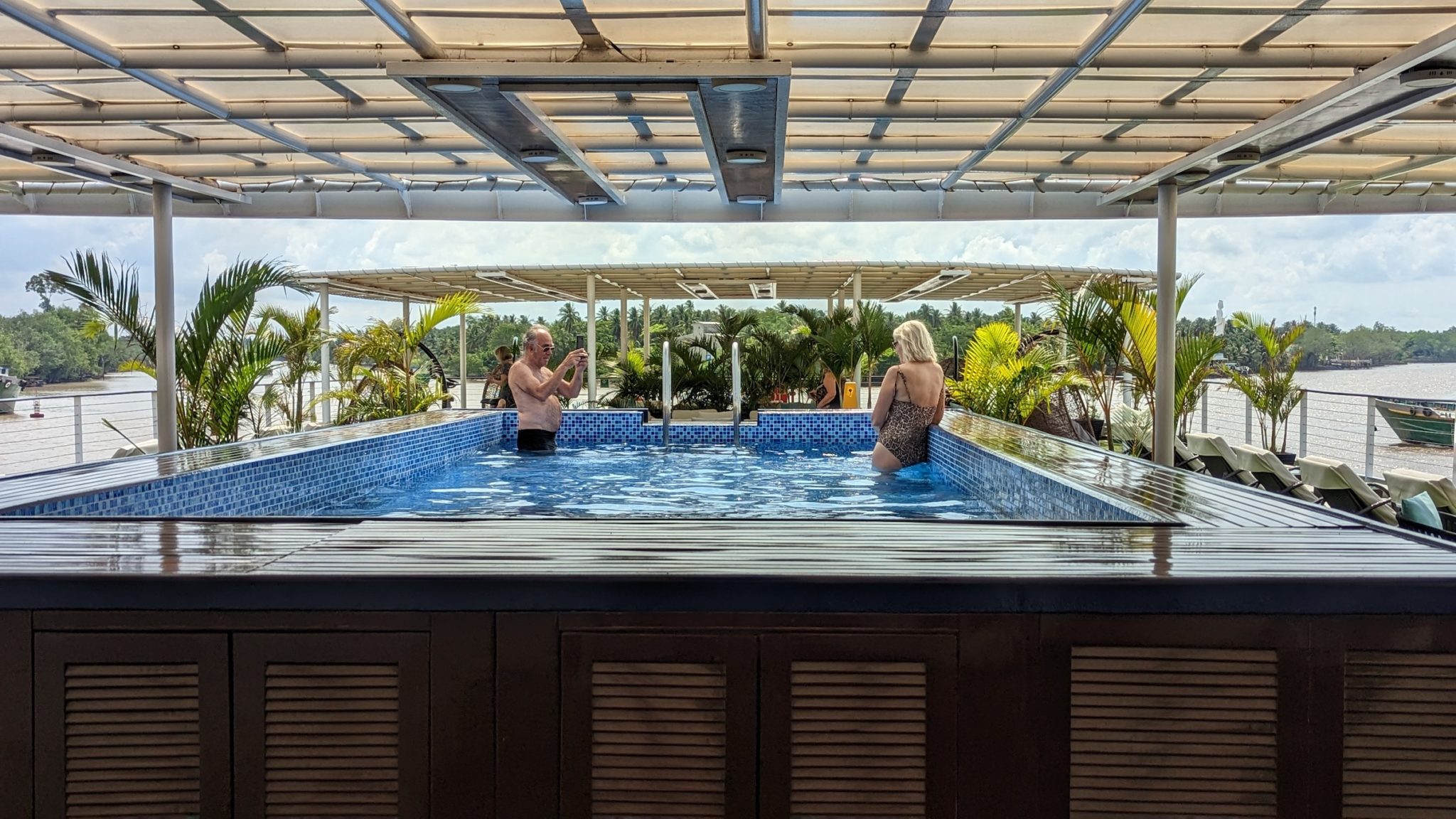 The French-owned CroisiEurope, founded in 1976, is a well-known brand in mainland Europe. French and French-Canadian travelers are especially attracted by the excellent cuisine and cultural programming.
A Mekong River trip exploring what had been France's most prized colonial possession draws a more international crowd including Belgians and Germans. Many parents with adult children were on our spring trip, which coincided with both the TET and Songkran New Year celebrations. During school holidays, we learned some families bring teens.
Reserved tables at meals make for quick friendships and tall travel tales. Three solo travelers ranging in age from 40 to 80 joined our "English Speakers Table." As frequent cruisers from the US, Australia and Spain, each had put the Mekong River on their Bucket List.
A few passengers handled physical challenges with leg braces, canes and even a wheelchair. While there are accessible cabins and an elevator onboard the ship, some of the excursions are difficult for those with disabilities.
Joie De Vivre On A CroisiEurope Trip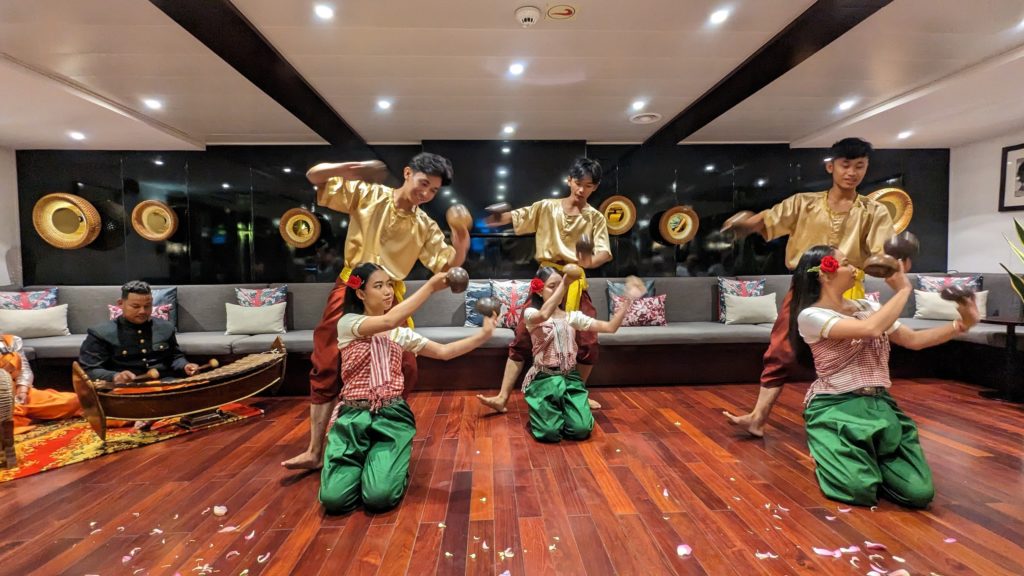 You won't go hungry on a Mekong River trip and you're not likely to gain weight either. The French like to dine well and CroisiEurope knows its audience. Meals are relaxed.
The CroisiEurope culinary team presents Continental and Asian entrees that take diet, allergies and preferences into account. Expect seafood and vegetarian options sourced from each port of call. Nightly wines, many from Australia, and cocktail specials are well priced. Desserts ranging from Black Rice steamed in banana leaves to crème caramel accompany platters of fresh fruit.
Meals are the time to interact with new friends and the charming wait staff in their traditional Cambodian costumes. (By the way, basic gratuities are included in rates but the cruise director and purser help you leave any extra amount you want.)
Land And Sea Programs Make This Mekong River Trip Special
CroisiEurope ships dock overnight at both Ho Chi Minh and Phnom Penh, cities rich with museums, markets, stunning temples and UNESCO World Heritage sites.
Multilingual guides accommodate guest languages. That meant our small English Speakers group had their own minivan and didn't wear headsets to hear the guide's commentary. Our Spanish friend, a photographer, had his own Spanish language guide and transport, so he could take pictures freely during the excursions.
Ports include My Tho, Cai Be, Vinh Long, Sa Dec and Chau Doc, Vietnamese villages you'll remember for their silverwork, multi-colored temples, pottery or gardens. In Phnom Penh, tuk-tuk motorbike taxis take cruisers to the Royal Palace and the famed Emerald Buddha in a Silver Pagoda. After Cambodia's rapidly growing capital, stops include the village of Koh Chen, an oxcart tour of Kampong Tralach and Kampong Chhnang.
Some excursions are painful reminders of the Vietnam War (1955-1975), called the American War throughout Indochina. There are many references to Pol Pot's Khmer Rouge regime (1975-1979.) Crawling through the Cu Chi Tunnels that hid thousands of Viet Cong is suffocating. Visiting Phnom Penh's S-21, now the Tuol Seng Genocide Museum, is an engrossing yet very disturbing experience.
Context is provided in the printed daily schedule and at evening talks led by the cruise director. After dinner, topical movies such as Roland Joffe's The Killing Fields and Catherine Deneuve in Indochine are broadcast in the Lounge and guest TVs. Some nights, we enjoyed a Singapore Sling as local musicians and dancers performed onboard. (And yes, there is WiFi, but the signal is weak and unpredictable.)
Due to the environmental effects of damming the Mekong, the water was too low at Tonle Sap to cross safely. Instead, CroisiEurope hired tour buses to visit attractions on the final day's land journey in Cambodia.
Angkor Wat — The Ultimate Bucket List Destination
For our family, the trip's highlight was Cambodia's magnificent UNESCO World Heritage site known as Angkor Wat outside Siem Reap. The two-night/three-day, post-cruise land tour is a must add-on to this itinerary.
The Angkor Archaeological Park is a vast 154-square-mile complex. More than 300 temples (or wats) built by Khmer Emperors between the 9th and 15th centuries rise from the jungle. Given the time, local guides could only spotlight Angkor Wat, Angkor Thom, Bayon and a few other incredible archeological sites.
We spent another two nights at Angkor Village on our own – a total delight. Instead of a taxi, we booked a tuk tuk to visit some other Hindu and Buddhist temples. Of course, local drivers have been there, done that. Our driver Thom insisted we see three extra temples — his favorites, each eclectic and stunning — before stopping for a roast pig barbecue by the side of the road.
A Grand Finale In Siem Reap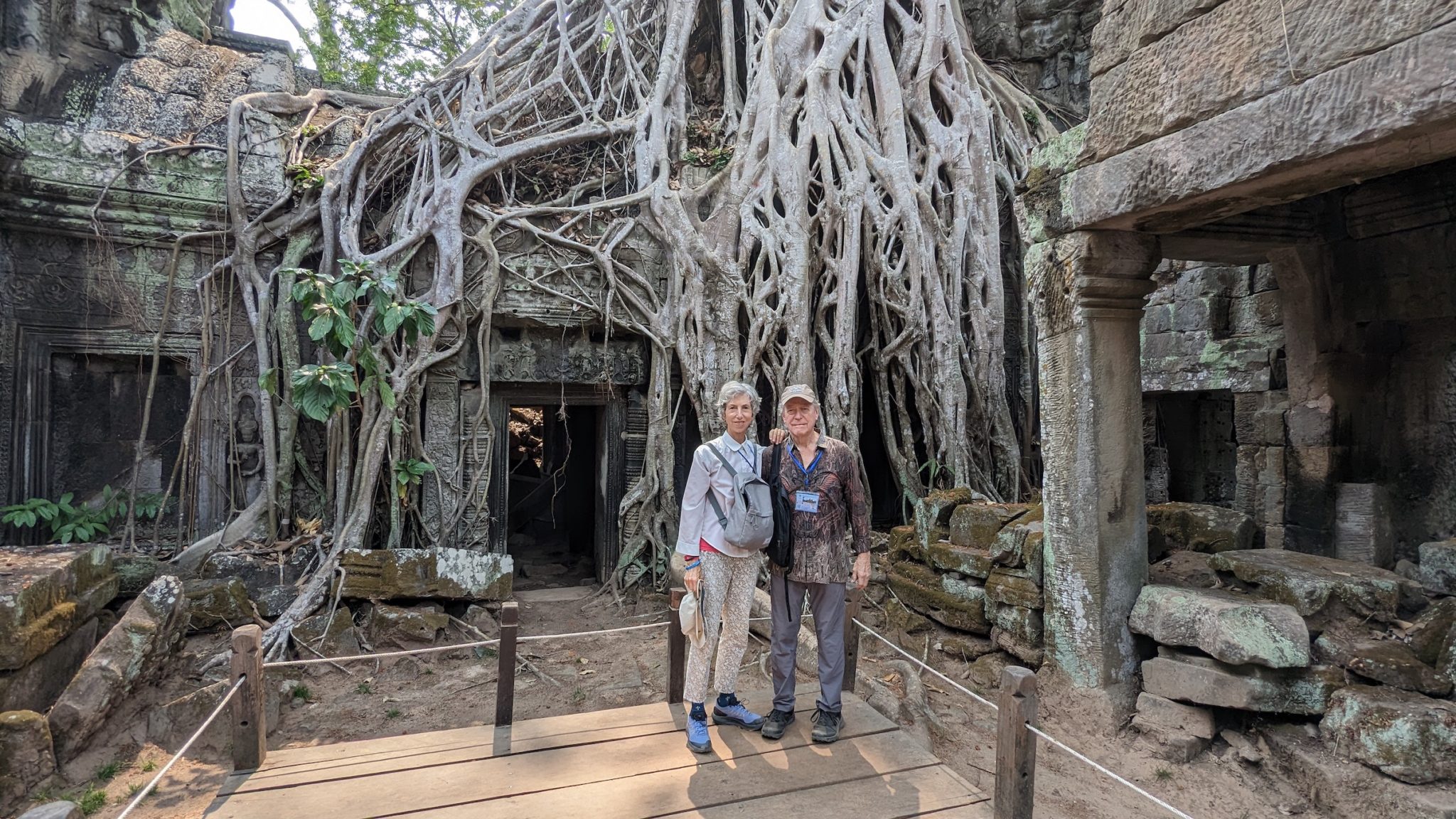 Siem Reap is a surprisingly sophisticated town. Expatriates from around the world support museums, fine art galleries, boutiques, excellent restaurants and cultural troupes. They do not disappoint.
CroisiEurope based its tour participants at the opulent Sofitel Angkor Phokeethra Golf & Spa Resort. Each day, we were sorry to leave the resort's private bird sanctuary, lush gardens and freeform swimming pool. Dining out and going to the theatre with our new best friends, however, made up for it. We even had drinks at the legendary Raffles Grand Hotel d'Angkor under a portrait of Jacqueline Kennedy doing the same thing.
It was the perfect finale to a Mekong River trip that exceeded all expectations.
For 2023-2024, CroisiEurope's "From the Mekong Delta to Siem Reap" river cruise rates begin at $2,999 per person, double occupancy.
Dear Reader: This page may contain affiliate links which may earn a commission if you click through and make a purchase. Our independent journalism is not influenced by any advertiser or commercial initiative unless it is clearly marked as sponsored content. As travel products change, please be sure to reconfirm all details and stay up to date with current events to ensure a safe and successful trip.
---