With a supersized reputation as a paradise for honeymooners, doing Bali with kids may not be on your Bucket List. However, families who do go to Bali discover that its stunning natural attractions and deeply spiritual culture captivate all ages.
Best Time of Year to Go to Bali With Kids
Summer is the busiest time of year for families on the island. Andre Iluk, an Asian cultural tour operator who consults to the Alam Indah Hotels, told us that the June to August European summer holiday is the best time with children. The Bali summer months also bring seasonal specials and reduced rates at many hotels.
December to March is popular with Australians and North Americans. "Bali has become a year-round destination," Andre adds. "I think it draws the world now that people are seeking a peaceful place."
Weather on Bali
Bali's tropical climate is always warm and humid. inland villages are often cooler and drier than the coast. That's why visitors often move north to the hills when it gets too hot or rainy. In general, the island's low season is January to March, also known as the Wet Season.
Orientation To The island of Bali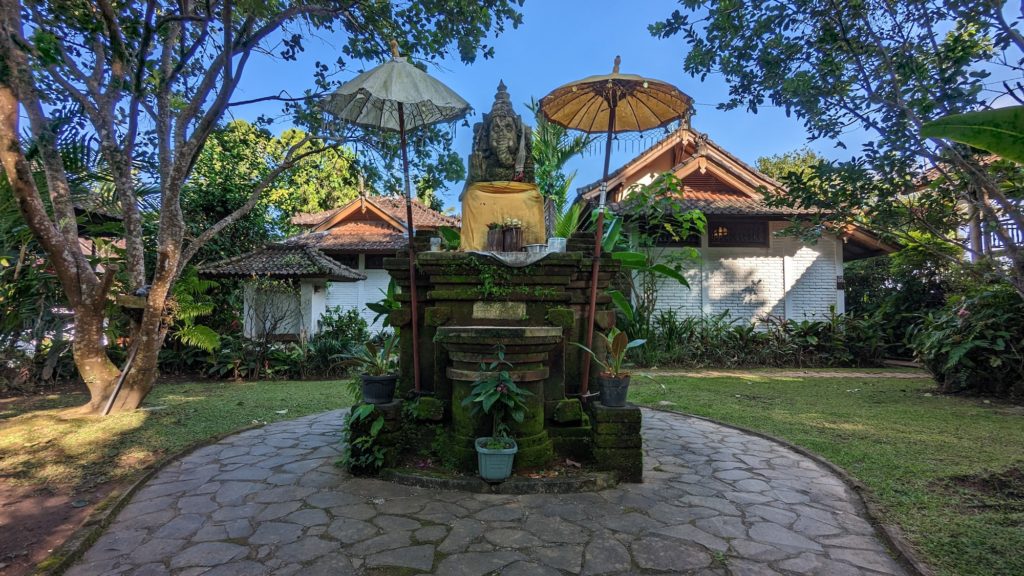 It's important to know that driving is slow if you're touring Bali with kids. This island is crisscrossed by mountains, terraced hillsides, and two-lane roads crowded with motorbikes.
The only Bali highway extends from the bustling capital city, Denpasar, to the airport. Only a few main roads lead from Denpasar to the major coastal resorts.
There's also a morning and evening rush hour. Weekends, large family weddings block roads through the villages.
Kuta, Tuban And Southern Bali
Southeast Bali and Kuta have been favored by young Australians, party-goers and surfers since the 1970s. Now, they attract Russians and Ukrainians. The long stretch of fine gold sand bordering shallow, warm water has the largest variety of cheap hostels and resorts.
The nearby newer developments at Tuban and Jimbaran Bay are classier. The purpose-built resort area of Nusa Dua is popular with conferences and group tours. Downsides: Tacky shops, noisy nightlife and crowded backpacker hostels can be overwhelming.
Sanur On The Southwest Coast
One of the earliest areas to be developed, Sanur is a more upscale beach resort on the southwest coast. Families who prioritize a beach holiday come here. This beautiful, gold sand beach has some of the best and most sophisticated resorts.
Classic resorts include the pioneering Tandjung Sari, dating back to 1962. It welcomed Ringo Starr, Mick Jagger and other jetsetters as Asia's first boutique hotel and has remained authentic and beautiful. Puri Santrian is a more contemporary spin on Bali style, where you can take Balinese cooking classes and borrow bikes to use on Sanur's 4km beachfront bike path.
The Byrd House Café outside the Segara Village Resort is a fun stop for a sundown drink with the family. Downsides: Sanur is mobbed over school holidays. Tourist traffic makes daytrips to some major sights too tiring for younger kids.
Ubud And The Central Hills
Ubud is the haven for Balinese craftspeople and foreign artists. Thanks to Julia Roberts' charm in "Eat, Pray, Love," Ubud has become a world-renowned yoga center. Kids love Ubud because of its many live cultural shows and great restaurants. Downsides: Too many yogis, cheap galleries and souvenir shops, traffic, mobbed sidewalks. Families will prefer staying out of town.
Munduk And Northern Hills
Central Bali is one of the most beautiful regions for hikers and considerably cooler than other parts. Munduk is a tranquil base village surrounded by trails and waterfalls. Downsides: Due to the isolated location and the lack of roads, families may spend a lot of time driving to experience Bali's many cultural attractions.
Permuteran, A North Coast Beach
Permuteran Beach is a beachfront base for exploring northeastern Bali. Scuba divers and snorkelers favor this coast. It is the best base for families on an Indonesian journey who take the ferry from Java. Downsides: Due to its location and the lack of roads, families may spend a lot of time driving around to see Bali's cultural attractions.
My Perfect 10 Day itinerary Around Bali With Kids
To avoid wasting time in traffic, plan to base yourselves in two or more regions. Our family stayed in four of these regions over 14 days. Each was different, memorable in its own way and contributed to our quest to get to know the "real" Bali.
Days 1-3: Arrive Denpasar, head to south Bali for two nights jetlag recovery at the beach.
On Days 3-5: Drive to Bali's northern hills to acclimate, hike and ease into a new culture.
Move On Days 6-8: Relax in Permuteran Beach and learn about island ecology.
Linger Days 8-10 or longer: Settle into the central village of Ubud to discover more of Bali's culture.
The roads are busy and not well-marked. Tip: Unless you are a repeat Bali visitor (and there are many), we recommend you hire a car and driver or take guided tours to get around.
Explore Bali With Kids, Starting South In Kuta
South Bali, thanks to its proximity to the airport, is one of the most overbuilt parts of the island. It's a great place to recover from jet lag with beachfront lodging in all styles and all price points.
Almost indistinguishable in their suburban sprawl, each coastal community features shops and restaurants within an easy walk. Those traveling around Bali with kids get quick access to pools, beach and food. Learn more about Ulu Watu, a favorite South Bali temple complex.
Top Family Resorts In Kuta and South Kuta
The laidback Bali Garden Beach Resort, very Balinese in style, is a standout in busy Kuta Beach. The quiet, lush gardens boast several pools and a traditional temple. Most guests are repeat visitors because the easy-going style, friendly staff and terrific breakfast (included in rates) appeal to multigenerational families who return each year.
Couples with babies who prefer to be right in the heart of Kuta's nightlife should consider the Ayana, a spare, concrete boutique hotel on a quiet lane. It's perhaps best known for Sayun, the very chic lobby café and its live band. Mamaka by Ovolo is another stylish choice. Their zero-entry pool overlooks the gold sand Kuta beach and guest laundry is free of charge.
Top Family Resort In Tuban Is Unexpected Find!
The contemporary Holiday Inn Resort Baruna Bali is another bargain family choice. A sprawling lagoon pool, expansive green lawn, playground, outdoor cafes, good service and a supervised Rascals Kids Club attract younger families. An enormous statue of Prince Baruna offshore protects hotels and beachgoers from evil water spirits.
Touring Northern and Eastern Bali And Munduk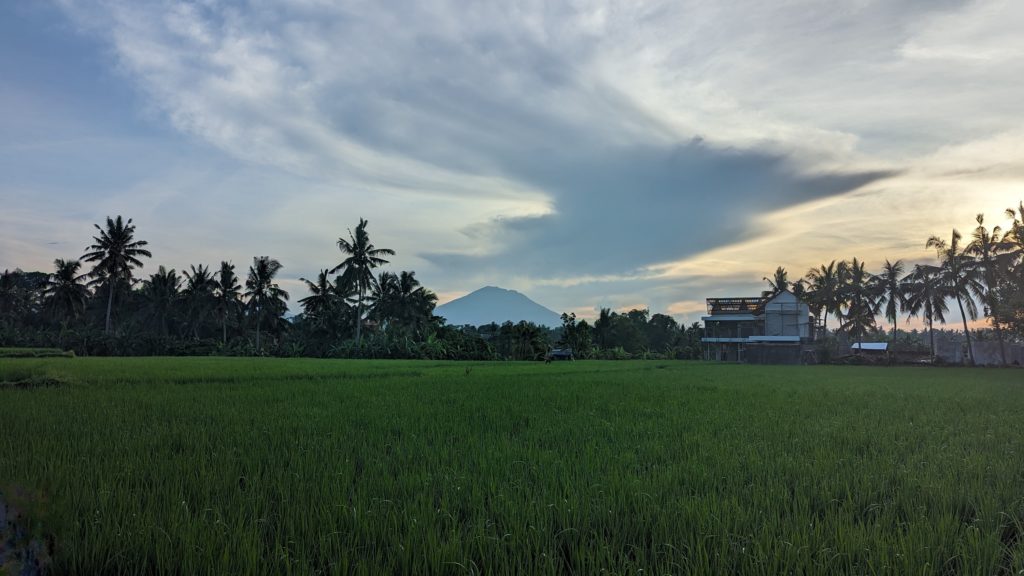 The mountainous north of eastern Bali is home to Mt. Agung, the sacred abode of the Balinese gods. The Balinese orient their lives towards the mountain, considered true north no matter where you are. Read more about the special Balinese temples to visit when you base the family in northern Bali.
Small farms dot the lush green valleys and hills of the region. The hill station of Munduk is a popular weekend destination for southern Bali families because of its fresh air and cooler temperatures. It's also a wonderful base to get introduced to the island's agricultural side. Discover cattle, clove forests and rice paddies. Hotel guides lead treks on time-worn paths shared by mopeds toting supplies to remote farms.
Staying In Munduk And Exploring North Bali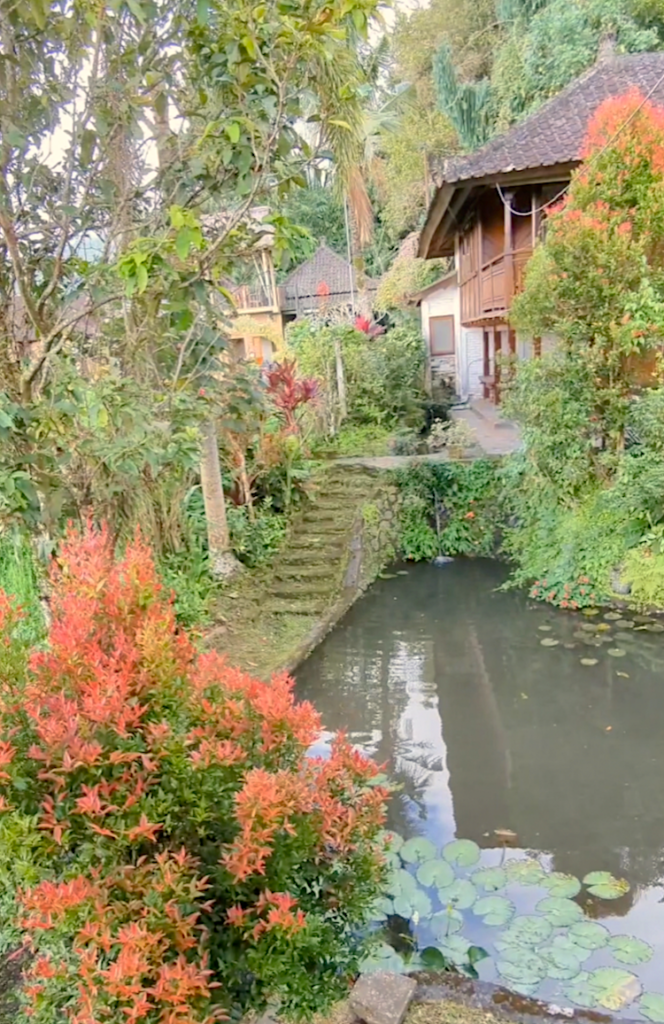 Puri Lumbung Cottages is self-described as an 'environmental trekking center.' We found it a great base for hikes to the picturesque Munduk Waterfall and local temples. The hotel, a rustic collection of restored rice storage barns, is furnished with hand-carved teak beds, local fabric and romantic mosquito netting. The friendliest students from the Denpasar Tourism College staff the family-welcoming restaurant, whose surprisingly varied menu caters to young and old tastes.
Puri Lumbung's cultural programs include language, basket weaving and cooking. Intersperse classes with hikes, a vigorous Balinese massage, and gourmet cuisine to entertain the kids for days.
Take Older Kids To Permuteran, A North Bali Black Sand Bea
Permuteran Beach is known for its coral reefs. Rent masks and fins in one of the Permuteran dive shps so all ages can snorkel among the myriad of colorful fish. Hotels will arrange a guide and boat for daytrips to deserted Menjangan Island. Located in nearby Bali Barat National Park, it's famous for its rich underwater landscape.
The northwest coast feels more authentic than other Bali beaches for several reasons. First, the nearby car ferry to Java attracts many Indonesians from the main island. Casual warung along the two-lane main road serve typical Indonesian dishes – very cheap! — rather than Balinese fare. Another authentic tradition is that local mosques announce the Muslim call to prayer over loudspeakers.
The most visible difference is that Permuteran's picturesque black sand beach is not maintained like southern Bali beaches. On windy days, litter and plastics wash ashore.
Permuteran Beach, however, has attracted environmental and conservation projects. Green sea turtles are protected for nesting. The international Bio Rock Project experiments with coral reef restoration. Families can snorkel in the calm water to see underwater sculptures seeded with coral plants. This is a place to learn about sustainability initiatives and environmental innovation in action.
Where To Stay Beachfront In Permuteran Beach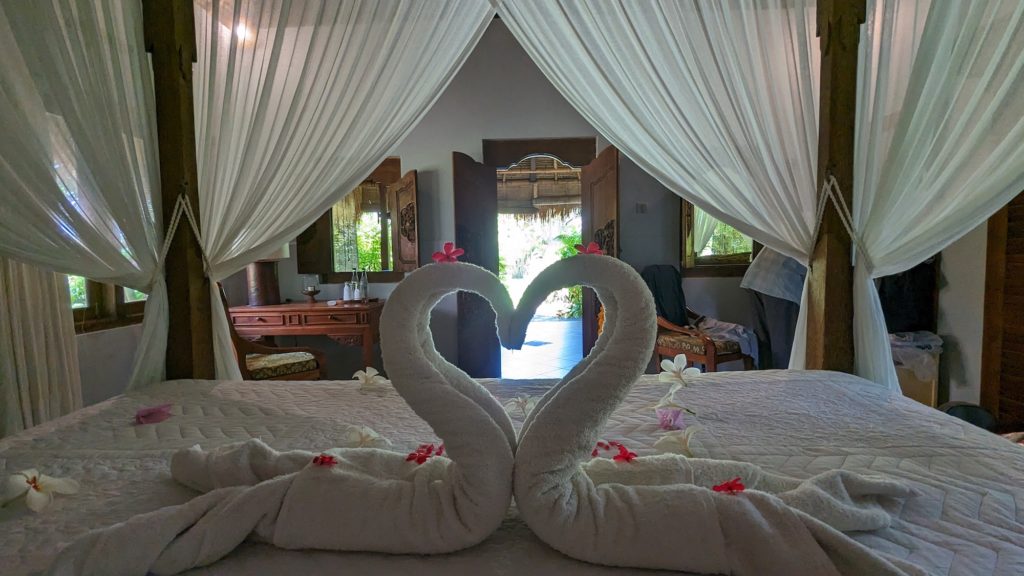 Families enjoy the long swimming pool at Taman Selini Wahana. The freestanding guest bungalows with shaded patios provide plenty of play space. Typical Balinese décor is enhanced by an extensive art collection. Walled-in, open-air bathrooms have outdoor showers. Once owned by a Greek family, the hotel's terrific pavilion restaurant serves housemade pita and spinach pies alongside Balinese and Continental cuisine.
The large villas at Puri Ganesha are another option for multigenerational families. The luxury rental complex is next to the Taman Sari Resort. Puri Ganesha's British owner, Diana, is a noted spiritual guide and vegan chef. Call ahead to arrange an impressive vegetarian Balinese feast (seafood optional) at the hotel's Umbi Kitchen. School age and older kids will enjoy the multi-coast feast served beachfront at an outdoor pavilion.
Ubud And Central Bali With Kids

Trend-setting Ubud is a can't-miss stop on your family's tour of Bali. The local arts scene began attracting European artists to the central hills in the 1920s. The arrival of jet-setting hippies in the '70s, Andre Iluk says, accelerated the village's growth. Then came the yogis. After an influx of expats during Covid and a wave of Russians, the Ubud sprawl is dense with homestays and villa colonies.
Beyond downtown, greater Ubud has large furnished villas that all ages will enjoy. If budget is no object, consider adjacent communities like the super upscale, international Sayan (home to one of the Four Seasons).
We found Nyuh Kuning (site of the Monkey Forest) a more authentic and interesting option. Closer to the action, Tjampuhan (the King of Ubud's residence) is a lush, older neighborhood with peaceful lodging alternatives.
Best Family Villas At Alam Indah In Ubud
Nyuh Kuning is home to four Alam Indah luxury boutique hotels. Owner Ibu Mangku Wayan and her family designed their settings and stone pools to show off Bali's alam indah (beautiful nature). Affordable rates include important family perks like a delicious Balinese, Western or Australian breakfast and afternoon tea with Balinese cakes. There's free car service into Ubud (10 minutes away) for shopping and dining. They arrange airport shuttles for a modest fee. All ages have fun shooing away the frisky monkeys that visit the pools and grounds looking for mischief.
Our Alam Indah guestroom (rates from US$61) was one floor in a three-story villa overlooking the jungle and valley. The king bed and large daybed are suited to a couple with a small child; kids 11 and under stay and eat free. Multigenerational groups and those with kids ages 15 and older love the two-story villas. That's if they don't mind stairs, says Ayu, the front desk manager.
Alam Shanti (peaceful nature) has eight large villas on one level among beautiful gardens surrounded by rice paddies. Guests have breakfast on their own patios or overlooking two large swimming pools. Ayu adds that in summer, between 35% and 40% of guests are families with children. At Alam Jiwa, the hand-crafted, three-story Cendra Wasih Family Villa sleeps six (about US$230).
Classic Ubud Resort, Hotel Tjampuhan
Artists such as Walter Spies, Arie Smith, the writer Miguel Covarrubias — even Hollywood stars — have called the Hotel Tjampuhan & Spa home. It opened in 1928 as the Maharaja of Bali's guesthouse. It is still the quietest and most scenic location in the heart of Ubud.
Families like Individual cottages which line the steep ravine above the sacred Ayung River. Everywhere, lotus and hibiscus decorate pools, ponds and the spa's grotto-like hot tubs. Even if you don't stay, it's well worth the two-mile hike along the Campuhan Ridge Walk to admire the river valley's chirping birds and butterflies.
Delicious Dining Around Ubud
There are dozens of very good restaurants featuring every international cuisine in Ubud and the surrounding communities. There's even a pricey night of dessert tasting at Room 4 Dessert for those who follow Will Goldfarb. Named "The World's Best Pastry Chef," a cookbook author and star of Netflix' Chef's Table Season 4 (Pastry), Chef Goldfarb and his team turn out more than a dozen startling confections nightly. Book ahead for a wild tasting experience moving room to room in a Balinese house designed to wow international visitors.
In our Bali cultural roundup, we recommend booking a "Balinese Feast." This evening typically consists of a multi-course formal meal served during a show of music and dance performances. It's an enriching yet affordable way to get picky children to try local Indonesian and Balinese foods.
If you have only one meal in Ubud, make it at Murni's Warung. The tiny café that opened in 1974 has expanded into a three-level restaurant overlooking the Ayung River. Staff say the clever Murni is still in charge, creating a synthesis of Balinese and Western dishes to please all tastes. Her Bali bebek duck, stewed in aromatic slices and served with casava greens and rice, is spicy yet mild, delicious. Murni's gado-gado is Bali's take on a salade niçoise, with green beans, tofu, potatoes and more in a rich peanut sauce.
More Ubud Activities With Kids: Crafts, Shopping, Massage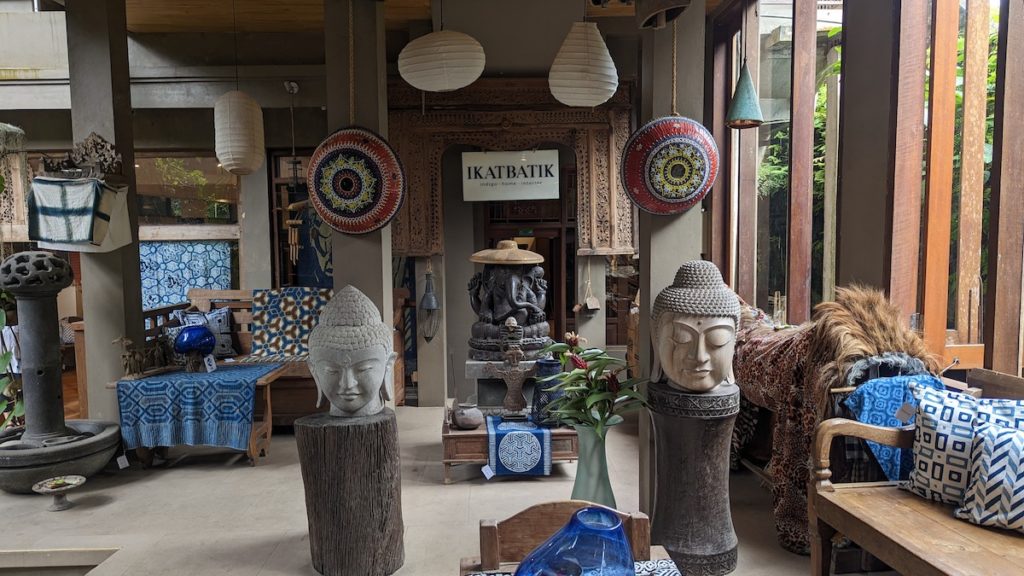 Anywhere you pause in Bali, there is a cultural show, religious ritual, spiritual holiday or arts festival that your family must partake in. The arts and culture are what set Bali apart – not only from other beaches – but from anywhere else on earth. Please read more about navigating and celebrating Bali culture with your children.
Ask your hotel about locally available crafts programs and guided tours. In Ubud, for example, we chose from cooking classes, batik-making workshops, guided temple visits, rice paddy hikes, yoga, fishing and local biking excursions.
Our Alam Indah Hotel offered free classes in how to make the floral offerings laid at the feet of each shrine on their property.
Bali is also known for its shopping. Colorful, bargain-priced fabrics and pottery are found all over. Ubud, however, is known for its style shopping, from international boutiques such as Christian Dior to John Hardy, whose jewelry is made on the island. Peruse natural cosmetics stores, batik clothiers, and linen designers. Look closely for the fine art galleries packed with paintings which often showcase exquisite Asian antiques and woodwork.
Prices are surprisingly cheap and fakes abound. Naturally, the town's cracked sidewalks are packed with window shoppers from around the world.
And One Last Don't Miss Bali Activity – Massage
Don't pass up the chance to have a Balinese massage. It's smoother, deeper and more skillful than most of the massage therapies you may have tried. We enjoyed several massages (priced $10 to $20) as we sampled the above hotels, and never had a bad massage.
If you only have time for one, go to Nur Salon, Ubud's original and still wonderful Balinese massage spa. Nur began her massage place in the 1970s and now has 12 rooms that are busy all the time. In addition to a steady, firm hand, her masseuses do vigorous skin scrubs followed by a soak in a flower-filled bath. Older kids will love this experience.
Like everything about Bali, the young and the young at heart love it. too.
Dear Reader: This page may contain affiliate links which may earn a commission if you click through and make a purchase. Our independent journalism is not influenced by any advertiser or commercial initiative unless it is clearly marked as sponsored content. As travel products change, please be sure to reconfirm all details and stay up to date with current events to ensure a safe and successful trip.
---