The island of Bali is a legendary paradise whose distinct Balinese culture and traditions are not to be missed. One of more than 6,000 islands in the Indonesian Archipelago, Bali's heritage includes elements of Hinduism, Buddhism and ancestor worship rooted in a deep spirituality. Unlike Indonesia's Muslim majority regions, Bali has always welcomed foreigners and their different ways. This open-minded attitude ensures a steady stream of beach-going tourists to this island paradise.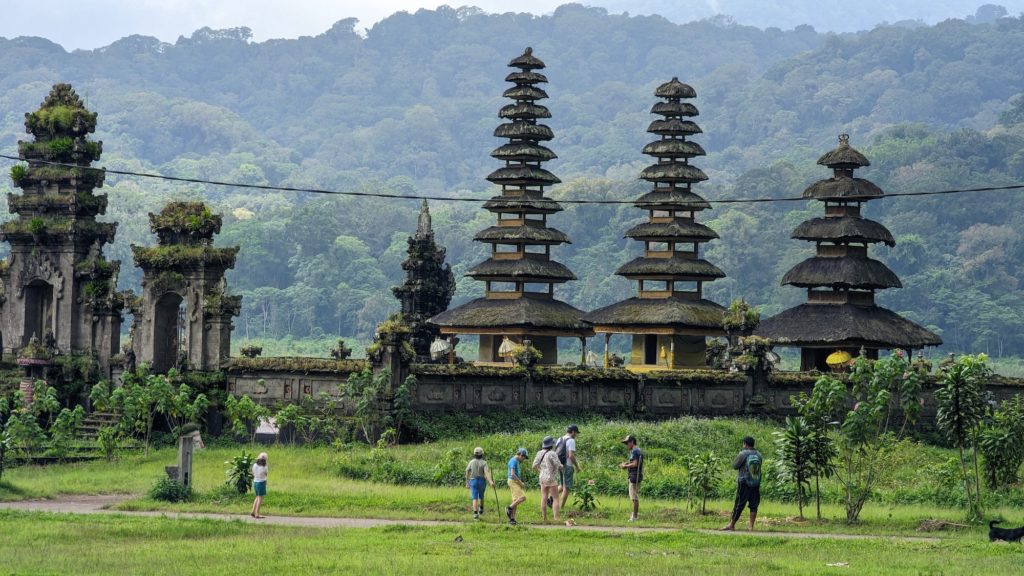 Families who want to raise global citizens will prize a trip to Bali for its many eye-opening cultural opportunities. Religious attractions and blessing ceremonies abound. Live performing arts are among the best in the world. Cuisine is varied, locally sourced and healthy.
We've already curated a comprehensive Bali guide with our pick of the top family resorts. Read on to learn how to incorporate seven traditional Balinese cultural rituals in your family vacation.
1. Attend Family-Friendly Festivals and Balinese Culture Events
In planning travel, consider the amazing variety of festivals celebrated throughout the island. Full of color, music, dance and tradition, experience a Bali festival for a memorable event.
The major holiday families should watch out for include Nyepi, the Balinese New Year celebrated for three days in March or April. (Dates vary with the complex Balinese calendar.)
Throughout Indonesia, Eid ul-Fitr, the breaking of the fast after Ramadan, is called Lebaran. Holiday dates vary but it is usually in April or May. New-Agey Ubud has its own Bali Spirit Festival that attracts global yogis around May.
Galungan, the largest Hindu festival, is hard to catch because celebration dates change annually. Founded in 1979, the summertime Bali Arts Festival brings a month of gallery shows, lectures and performances to Denpasar.
2. Enjoy Balinese Cultural Performances With Kids
The Balinese, seemingly all masters of some art form, love to entertain visitors.
Wayang Kulit Shadow Puppet Theatre
When night falls, many small villages present an entrancing wayang kulit or shadow puppet play. All ages can follow the shadows of puppets dancing across a white screen. A gamelan orchestra provides the beat for flickering candles and the rhythmic telling of a favorite folk tale.
Many of these performances, especially over the holidays, will continue throughout the night. Given the language barrier, it's amazing how effective these story-tellers are. Hoot, hollers and whlstles are common. That's why you'll see the very engaged spectators coming and going throughout the performance.
Dance As Traditional Balinese Culture
Legong is the traditional form of Balinese dance done for royalty. Young men and women in elaborate makeup and costumes move slowly and sinuously across a stage, enacting popular legends of heroes and villains in slow motion. The chorus is often comprised of young dance students, while the main heroes or demons — often in masks — are usually more seasoned performers.
Dinner theatres such as the beautiful Laka Leke, set in an Ubud garden, present a variety of typical dance styles while guests enjoy a delicious and varied Balinese feast.
Kecak Dance And Spiritual Trances
Don't miss the powerful traditional Kecak performed by dozens of men dressed in black and white checked sarongs. This chorus, sitting cross-legged around a bonfire, claps and chants "ke-chak ke-chak ke-chak," while Balinese dancers act out episodes from the Ramayana. Even the youngest children can sing along and enjoy the spectacle.
The exciting show culminates when a man, supposedly in a devotional trance, dances over hot coals. Was it real? Our audience showered rupiah on the trance-dancer when he 'awoke' from his transported state as a sign of respect for his spirituality.
3. Celebrate Food As Culture On Bali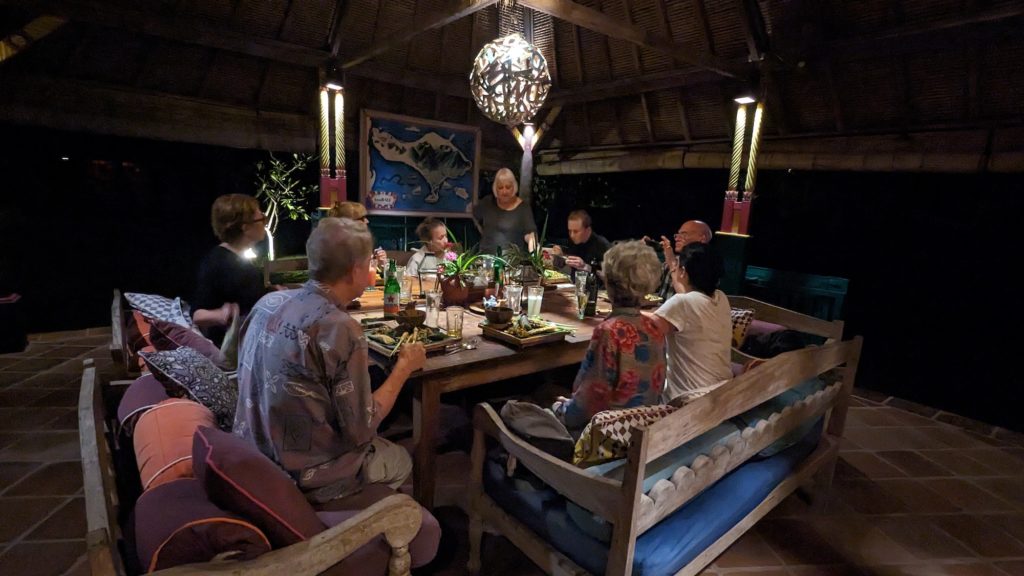 Many resort hotels, especially in the vicinity of the central hill town of Ubud, offer a Balinese Feast evening each week. Picture many guests chowing down while watching a dance troupe, just like a Hawaiian Luau. On Bali, this culinary delight is often accompanied by a cultural show.
In Balinese culture, the elaborate, multi-course meals are served with a formality that inspires children's best grown-up table manners. Not only can they practice etiquette, a Balinese feast is also an affordable way to get your picky eaters to try local favorite foods.
Once they've sample Balinese cooking, you'll be able to drop into any of the island's hundreds of warung. These casual eateries are typically open-air places. Look into their kitchens with the kids and see how Indonesian dishes are made. Among them, kid favorites include nasi goreng (fried rice dish), mi goreng (fried noodles) and satay (chicken, meat or fish cubes grilled on a skewer and served with peanut sauce.)
Lilit is a specialty on Bali, a more delicate satay made with ground chicken or fish that's reminiscent of a burger. Similarly, the spiced coconut milk Bali sambal sauce is a milder version of the fiery hot sambal at most Indonesian restaurants.
4. Receive A Traditional Balinese Religious Blessing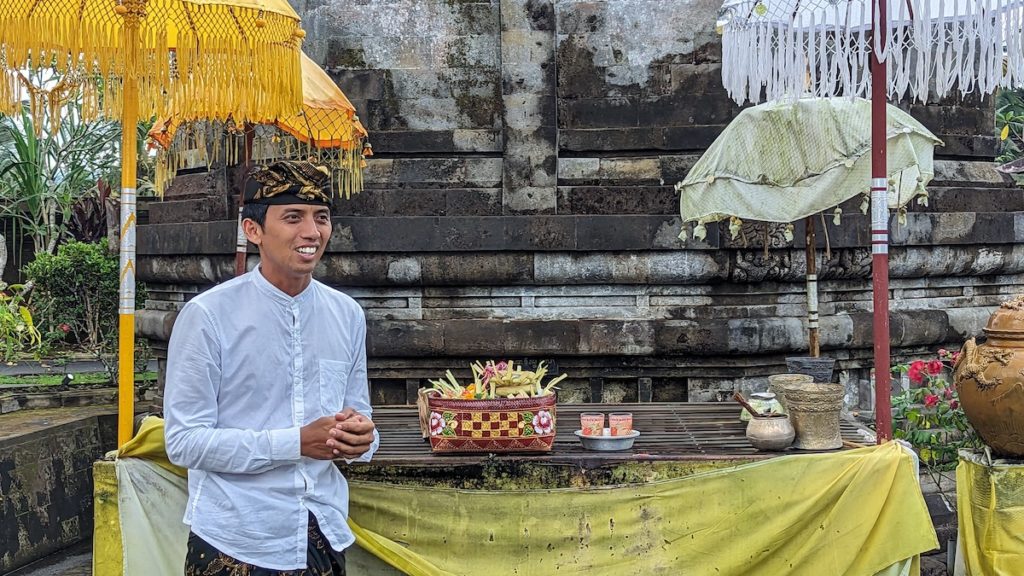 No matter when you travel or where you go on Bali, there's always a traditional religious ritual taking place nearby. Most often, these take place at local temples.
How To Receive A Balinese Blessing
Inquire at your hotel about the proper etiquette to receive a blessing from the priest in residence. The Balinese cultural blessing ceremony usually entails having water splashed on you, receiving some rice and being gifted a string bracelet. Come prepared with a small cash donation for the temple.
Dress Respectfully For The Occasion
Visitors quickly learn, however, that only Balinese are allowed to enter most temple complexes. To accommodate this religious requirement, all major temples rent traditional clothing so visitors can look Balinese. Families are welcomed as long as they show respect and don't photograph those who are praying.
If renting doesn't appeal, head to any market. Pick up your own sarong, and pair it with a typical Balinese blouse for women, or a plain white collared shirt for men. You will feel better about attending a religious shrine. Plus, these outfits make for priceless selfies and inexpensive souvenirs.
5. Tour Ulu Watu, A Favorite South Bali Cultural and Religious Attraction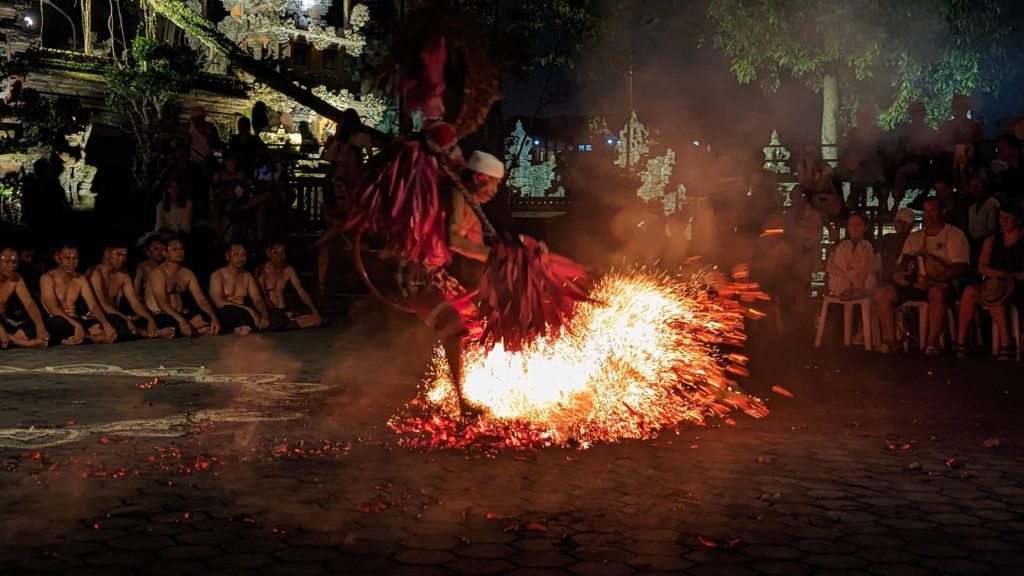 The sky-high temple at Ulu Watu is on the island's southern tip. It tops the cliffs above one of the island's best surfing spots and sunset views. That makes afternoon light ideal for photographing the ornately sculpted stonework.
Don't miss the temple's unusual albino monkey, thought to be an incarnation of the Monkey King Hanuman from the Ramayana legend. Although Hanuman is in a cage, kids will love the hundreds of monkeys who roam Ulu Watu freely.
Join a guided sunset excursion to watch the sun dramatically descend behind Ulu Watu's towers. Our tour included a traditional Balinese Kecak performance, followed by a seafood dinner served right on the sand at Jimbaran Bay.
6. Explore Northern Temples On A Balinese Culture Family Tour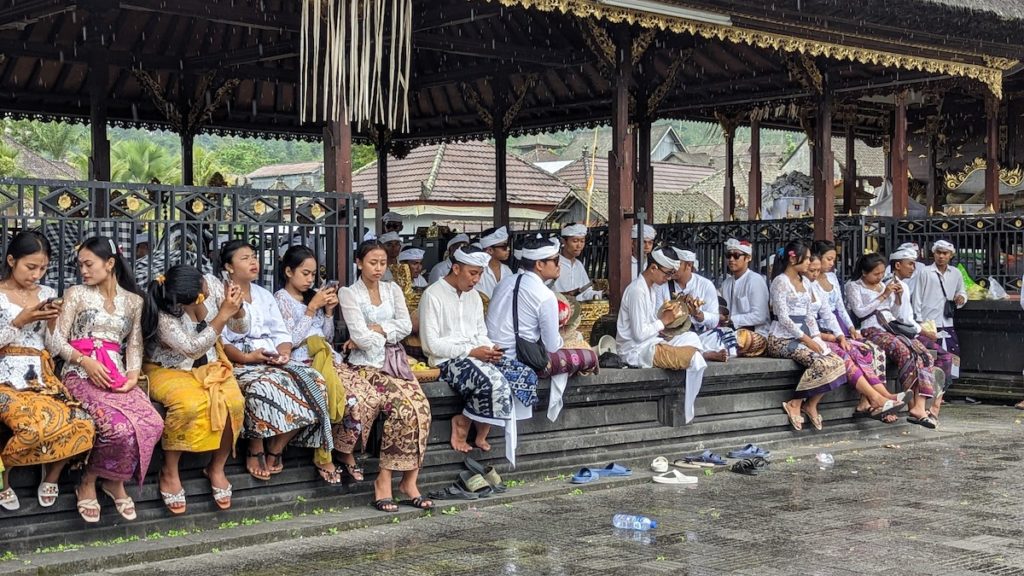 Plan a daytrip north to Pura Besakih, considered to be Bali's Mother Temple. Make time to climb to the highest level of this vast religious complex. Explore the stupas and tiered rooftops. Besakih is always very crowded with pilgrims. Ask your guide or driver where to wait your turn for a blessing from one of the priests.
If it pours with rain at your visit as it did at ours, you will be doubly blessed.
Balinese Water Temples
Another day, visit the beautiful Pura Ulun Danu Tamblingan near Munduk. Getting there requires a twin-hulled power canoe (or some guest rowing) in the wet season. Spend a few hours exploring the old temple on the lake's south shore. The 11-story tower is dedicated to Danu, goddess of Lake Tamblingan. The lake, a good spot to catfish, is beloved as the irrigation source for much of southern Bali.
Pura Ulun Danu is another startling water temple in the middle of the same lake. This one is located about 32 miles north of Ubud. The multi-faith temple built in 1633 is dedicated to Dewi Danu, goddess of the lake. In addition to Dewi Danu's temple, it comprises Hindu, Buddhist and Animist shrines. Families love the eclectic religious architecture. Sweeping, park-like lawns feature playgrounds, toy vendors and snack stands. Balinese families love to spend the day here.
7. Experience Balinese Culture At A Water Purification Ceremony
Another popular Balinese cultural tradition is being purified with holy water. Picture an adult baptism, imagine the rest. Many water purification ceremonies precede Nyepi, New Year's Day.
A wonderful place to do it in style is Tirta Empul Temple, a UNESCO World Heritage Site in the central province of Tampak Siring. Here, descend the 140 steps through a verdant garden to pools with ornately sculpted lion's head spouts.
You can put on a swimsuit in their rustic changing rooms; however, locals go in fully dressed. Immerse yourself in a brisk and powerful cascade of cold, clear water. No soap allowed! Entry tickets include a sarong wrap if you prefer to wear one, and a towel.
One of the most popular mass water purification ceremonies takes place at Sanur Beach. From dawn till dusk, a gamelan orchestra plays as devotees walk, fully dressed, into the Bali Sea.
8. One For The Bucket List: Nyepi, the Balinese New Year
Nyepi, the Balinese New Year and Day of Silence, is the greatest spectacle of all Bali festivals. It falls in March or April. The three days prior to New Year are celebrated in every village with colorful religious rituals and purification ceremonies. It is, for all visitors and all ages, a unique festival that should top any traveler's Bucket Lists.
Festivities culminate in a spectacular New Year's Eve parade of handcrafted, papier mache monsters called Ogoh-ogoh. Villagers march them through town to the beat of pounding drums and brass instruments so they will scare away evil spirits.
The parades are organized by local banjar or meeting halls. At our visit, monster effigies took on a comic book superhero flair. Regardless of the image, the 10- to 30-foot-tall creations are stunning to look at, especially as night falls. After dark, their eyes and appendages light up, flashing on and off like disco lights.
Nyepi is New Year's Day, a day of total silence. Balinese people stay home, purposefully quiet in contemplation and prayer. Shops close, restaurants shutter, tourists are asked to stay in their hotels. Our hotel, Alam Indah in Ubud, prepared a delightful Bali Box of cold foods and snacks for guests so their staff could take the day off to be with their families.
Just as locals are grateful to have time to prepare for the year ahead, visitors enjoy the day to relax. Depending on your village, you may have to unplug too, as many communities turn off their WiFi signals.
Being in the island paradise of Bali during Nyepi – or at any time – is an experience not to be missed.
Dear Reader: This page may contain affiliate links which may earn a commission if you click through and make a purchase. Our independent journalism is not influenced by any advertiser or commercial initiative unless it is clearly marked as sponsored content. As travel products change, please be sure to reconfirm all details and stay up to date with current events to ensure a safe and successful trip.
---