If you don't believe families have regained a confident mindset about vacations and travel, just ask Ron Bozman.
He's one of an estimated 51 million travelers who tried to vacation over the July 4th holiday week. And like many, his family's weeklong hiking trip to Colorado was cut to just 3½ days when his original flights were cancelled.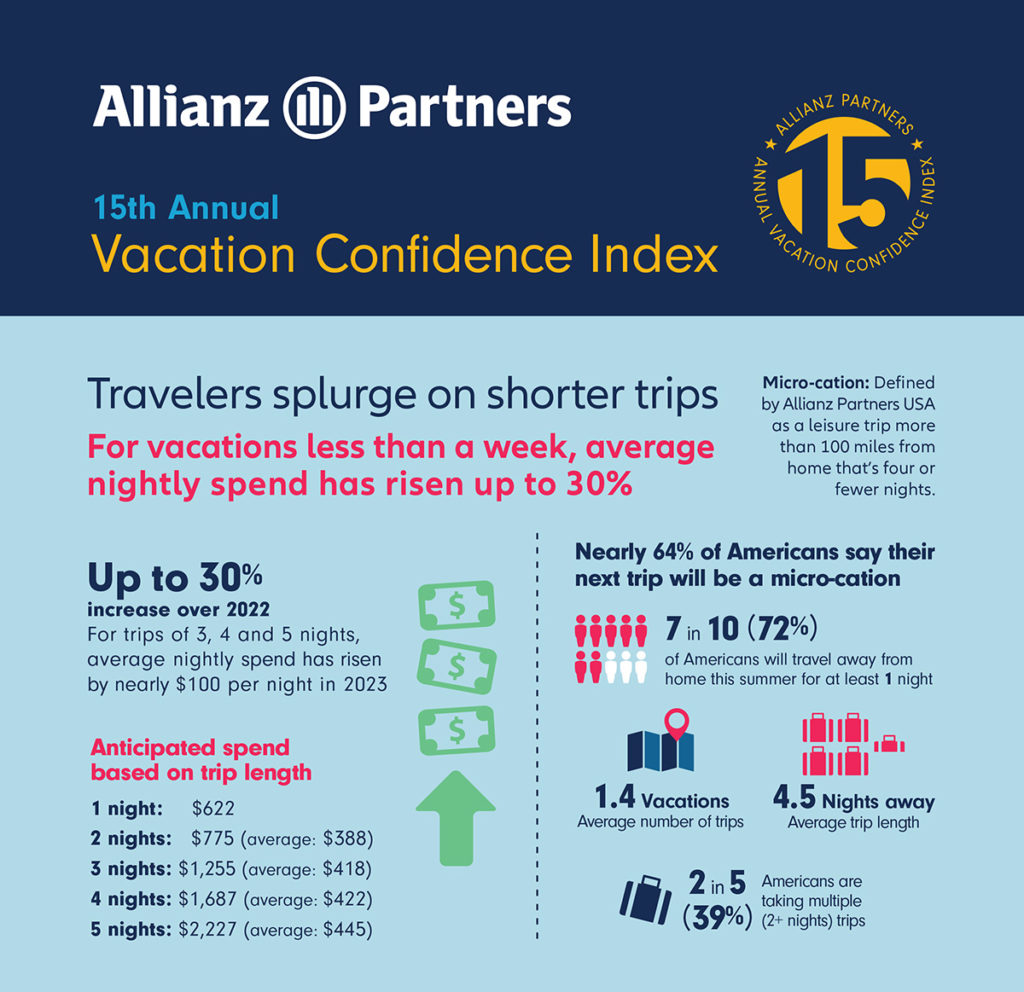 The good news is the 15th annual Allianz Partners USA's Vacation Confidence Index found 62% of Americans took a vacation in the last year. That's a five-point increase from 2022 and up from 48% in pre-pandemic 2019. And, that news comes despite airline woes and concerns about the economy, because the stated importance (74%) of an annual vacation is higher and the positive intentions (66%) to take one are well above what was observed prior to the pandemic.
Unpredictable Economy Not Deterring Travelers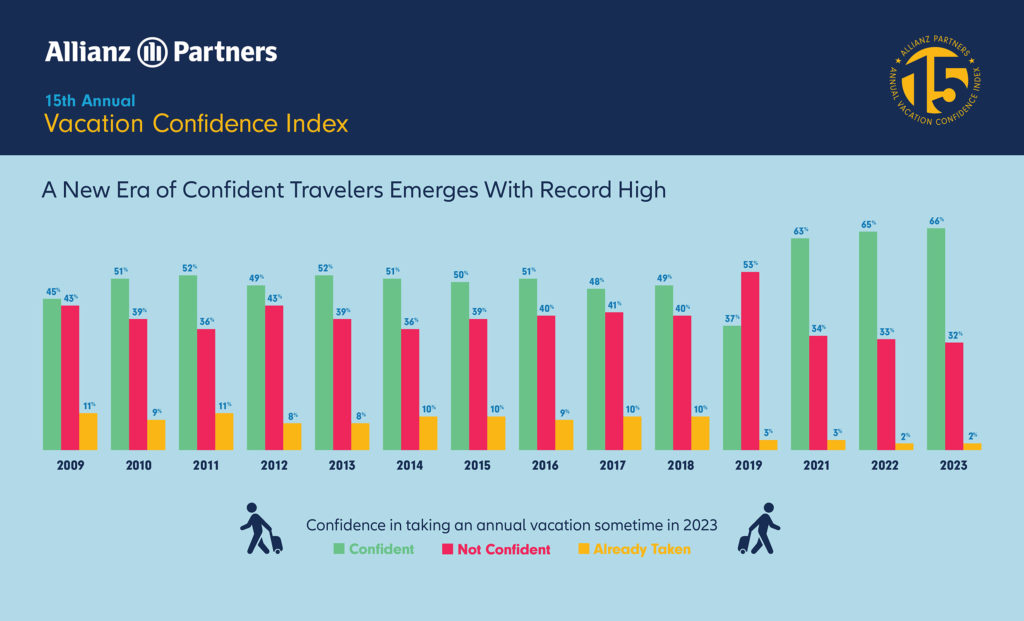 Additionally, research shows that vacation spending is up a remarkable 111% compared to 2019. Higher travel revenues are not only the result of more confident vacation-goers staying away longer – although they are. Vacations now average 4.5 nights compared to less than 4 nights — the microcation trend Allianz discovered in 2019 – but there are plenty of those, too.
"A microcation affords more opportunity to make a quick getaway and justify a splurge, and many Americans are planning multiple trips to soak in all summer has to offer from the mountains to the beaches and everywhere in between," said Daniel Durazo, director of external communications at Allianz Partners USA.
Interestingly, the survey revealed that more travelers who believe an annual vacation is important to them confirmed their trust (67% v 33%) and likelihood to use (56% v 19%) sharing economy services this summer than respondents who do not value an annual vacation. Perhaps that's how they are economizing on rising costs across all sectors of travel and tourism.
Confident About Vacations And Travel Safety
According to the travel insurance and assistance company's latest survey, the current prioritization of leisure travel time underscores a paradigm shift in travel attitudes. All that pandemic lockdown time, notes the survey from Allianz Partners USA, has made the annual family vacation even more essential.
"Americans are ranking a vacation as a top priority in 2023, and we're seeing record-breaking sentiment around vacation importance and confidence in taking an annual vacation," Durazo adds.
Where Are Travelers Going? The Same Favorite Destinations
In looking at our annual roundup of the 51 top summer family vacation ideas, we've found crowds and higher prices at most. Theme parks, water parks and breezy mountain towns where families are trying to beat the heat are filling up fast. Families are especially confident about playing outdoors together. Always popular beach resorts, dude ranches and cruise vacations – a top value — are welcoming travelers with added perks bundled into rates.
In my Wyoming travels, I found hundreds of thousands of travelers at Cheyenne Frontier Days. (It's the country's largest outdoor rodeo and Western festival.) Even hotter-than-usual urban meccas like Austin, Texas are attracting visitors and fetching sky-high hotel rates during summer music festival weekends. And despite their record heat, European cities have been packed with tourists from America.
"With an elevated number of travelers, the possibility of a travel delay looms, which some travelers have already experienced this year," Durazo said. "One way to successfully navigate that type of unexpected mishap is to invest in a travel insurance policy, which can really save the day by reimbursing costs for a covered delay."
The New American Traveler Revealed
About 23% of those surveyed already took a vacation in the three months leading up to this year's survey. That is the second highest number since the survey started in 2009. The travelers most confident about vacations are ages 18 to 34. Among the young, 30% have taken a vacation this year, compared with one in five travelers ages 35 to 54, and slightly less among those 55 and older.
In contrast, those who aren't confident they will take a vacation, the "the vacation deficit" group, is nearing a record low at 19% of those surveyed.
Wellness travel has been trending since the pandemic. Four in 10 of all survey respondents say that wellness and self-care are a priority for travel this year. A majority (54%) of those ages 18 to 34 mark it top of mind.
Prioritizing self-care is reflected in three in 10 travelers' intention to work remotely from a vacation destination in 2023. Allianz Partners are calling this a pay-cation. Solo travel is also on the rise.
Another fun trend is revealed in Allianz Partners' 15th Annual Vacation Confidence Index. More than four in 10 young travelers now take their furry best friends on vacations.
Younger Americans, Confident About Vacations, Reshape Travel
Millions of Americans were privileged to work from home the past few years. Younger families, especially, are eager to maintain that flexibility in their work / life balance. However, some may forego paid time off and have to save up months for their vacations. That's why travel insurance which provides coverage for unexpected expenses is so vital. Weather, strikes, illness – all can contribute to flight delays and cancellations, extra hotel nights, lost luggage and other unforeseen events.
"Since the pandemic, a paradigm shift has occurred in the American consumer's mindset around the importance of taking time off to recharge and the invaluable benefits a vacation offers," Daniel Durazo, director of external communications at Allianz Partners USA, concludes.
"This switch has propelled Americans' confidence in taking a vacation to its highest point in our 15-year survey and indicates a new standard commitment to travel."
Author Eileen Ogintz is a nationally syndicated columnist. She is creator of the "Taking The Kids" column and "Kids Travel Guides" series for Globe Pequot. This blog post is sponsored by Allianz Partners USA and the opinions expressed are her own.
Dear Reader: This page may contain affiliate links which may earn a commission if you click through and make a purchase. Our independent journalism is not influenced by any advertiser or commercial initiative unless it is clearly marked as sponsored content. As travel products change, please be sure to reconfirm all details and stay up to date with current events to ensure a safe and successful trip.
---