If you're looking for an amazing European experience with the kids, immerse yourself in family-friendly Saxony. One week won't be long enough. You can, however, get a great feel for German culture by visiting four Saxon cities: Leipzig, Dresden, Torgau, and Meissen.
From 1961 until 1988, the Berlin Wall made East Germany, including the federal state of Saxony, inaccessible to Western travelers. Since the fall of the Berlin Wall, the former German Democratic Republic welcomes visitors. The time is now to explore the beautiful state of Saxony.
Where is Saxony and What Makes Saxony Family Friendly?
Saxony is located on the eastern side of Germany, bordered by Poland and the Czech Republic. Dresden and Leipzig, the two largest cities in Saxony, are both under 5 hours from Munich, 2½ hours from Berlin, and just 2 hours from Prague.
International airports in Leipzig and Dresden, plus trains and buses, make it easy to get to Saxony.
If your family is interested in rich culture, picturesque landscapes, and significant cultural heritage, Saxony is a must see. During your visit, learn about Saxony's role in the Lutheran Reformation. Understand how it contributed to the fall of the Berlin Wall. Appreciate the beautifully restored Baroque and Renaissance architecture which keeps all ages spellbound.
You kids will enjoy the most beautiful zoo in Germany and boat rides on the Elbe River. Discover many interactive and immersive ways to explore the area's interesting past.
Considerations About My Family-Friendly Saxony Itinerary
This itinerary is long because the area is so interesting. You can explore Saxony in less time, but we want to make sure you have time to really enjoy the wonderful things you will experience. My weeklong itinerary includes family-friendly activities geared toward tweens and teens. Most activities are also acceptable for younger children, unless otherwise noted.
How To Get Around Saxony With Kids
You can definitely do this trip without a car, but having a rental car might save time and make it easier to get from city to city. If you're thinking about getting a rental car, make sure to read this post on driving in Germany.
When To Visit Family Friendly Saxony With Kids
If you want warmer weather, we recommend visiting Saxony during late spring, summer, or fall. We visited in early June and the weather was absolutely perfect! However, if you go during the Christmas Season, you're in for a treat! Dresden is beautiful in any season and Dresden's famous Christmas Market runs from late November to Christmas Eve.
A Note About Hotel Stays In Germany
I highly recommend eating breakfast at your hotel. At the family friendly Saxony hotels I picked, it's delicious and included in room rates! Make sure to take advantage of the delicious German bakeries at snack time.
If you find yourself with free time, make sure to wander around the downtown areas. There are many more things to see than what's included in this itinerary so take advantage by racking up the steps.
Part I: Three Night Stay In Family Friendly Leipzig
Hailed as a cosmopolitan people's city, Leipzig is a university town and the fastest growing city in all of Germany. It's a city for music, art and book lovers. Leipzig is also famous for its role in trade fairs and in helping to bring down the Berlin Wall in the Peaceful Revolution.
Lonely Planet guidebooks call Leipzig "Cooler than Berlin and more hip than Munich." With these many accolades, the bar is set high for Leipiz — and it does not disappoint.
I recommend spending three or four nights in Leipzig, depending on your mode of transportation. If you have a car, three nights is fine. If you're using public transportation, I recommend four nights. Here are a few family-friendly things to enjoy in Saxony's largest city, Leipzig. Choose your dates carefully as some cultural attractions are closed Sunday and Monday.
Day 1 In Leipzig, Arrival And Check Out The Old Town
We stayed at the Downtown Leipzig Marriott which is conveniently located across from the Leipzig Train Station. It is also right at the entrance to the historic downtown. Its rooms are comfortable; the staff is very friendly and helpful. Your kids may enjoy the pool so check out everything the hotel has to offer.
Wander in Leipzig's Altstadt to orient yourself on foot in the city center. Not only can you locate many historical buildings and squares including the Marketplace, New City Hall, Old City Hall, St. Thomas Church, St. Nicholas Church, Bach Museum, but you can also duck inside indoor alleys. These alleys, like the Mädler Passage, are covered areas where you'll find shopping and restaurants.
As you wander around the city, eat dinner in one of the many restaurants you find along the square. Dine outside on summer evenings because the atmosphere is fun and entertaining.
Spend Leipzig Day 2 At The Zoo
Grab breakfast in the hotel. The Marriott has the best breakfast spread, complete with fresh baked goods and a build your own omelet station. You can even get a coffee to-go to drink on your way out the door.
After breakfast, head to the Leipzig Zoo which is just a short walk from the Marriott.
Leipzig Zoo, A Family-Friendly Saxony Highlight
The Leipzig Zoo is one of the oldest and most beautiful zoos in Germany so plan to spend a few hours. Started in 1878, this zoo has evolved over the years and is now very focused on conservation, education, sustainability, and research.
I loved everything about Leipzig Zoo, but I did have a few favorites. First, don't miss the old bear habitat which has been turned into the most incredible play structure. I'm pretty sure even big kids will enjoy exploring this playground.
Make sure to explore the inside of the bear habitat to learn how zookeepers used to take care of the many bears that lived here. Spend time with the parakeets and watch the monkeys, other favorite zoo exhibits. I also recommend eating lunch at the Kiwara Lodge. If you're lucky enough to get a table on the terrace, you'll eat almost within reach of African animals. What a lovely place to watch zebras and giraffes as you eat!
Leipzig Zoo is open daily from 9am to 7pm. You can buy tickets online and you'll find the zoo at Pfaffendorfer Str. 29.
Saxony's Family-Friendly Attractions Include Leipzig's Waterways
After lunch, drive or take public transportation out to the city harbor. It should take you about 15-20 minutes to get there via streetcar.
Fun fact: Featuring a 200-mile network of rivers and canals, Leipzig has more bridges than Venice and is sometimes called "Little Venice." Get out on the water for a really unique way to experience the city.
After lunch, head to Leipzig's City Harbor for a guided boat ride with Stadthafen Leipzig's City Port Fleet. Knowledgeable captains make the guided boat rides a lot of fun. You can even order beer or non-alcoholic beverages on the boats. Bring snacks, sunscreen, and a hat. If you don't want to take a guided boat ride, you can rent kayaks or a rowboat. Open daily from 10am – 8pm, you'll find Stadthafen Leipzig at Schreberstraße 20.
A Leipzig Cultural Feast Over Dinner at Auerbachs Keller
According to their website, this restaurant is the fifth most famous restaurant in the world! No trip to Leipzig is complete without eating here. Located in theMädler Passage at Grimmaische Strasse 2-4, Auerbachs Keller Leipzig is celebrating 500 years of business in 2025.
The famous German poet Goethe used to eat at Auerbachs Keller and you can see inspiration for his famous epic poem "Faust." If you aren't familiar with Faust, it's a tragic play in two parts based on the medieval legend of a man who sold his soul to the devil. Make sure to tour the restaurant if you can, to see impressive historic art representing Faust and Goethe.
Auerbachs Keller is a very popular restaurant so make a reservation to ensure there's room.
Family Music Lovers Enjoy Leipzig On Day 3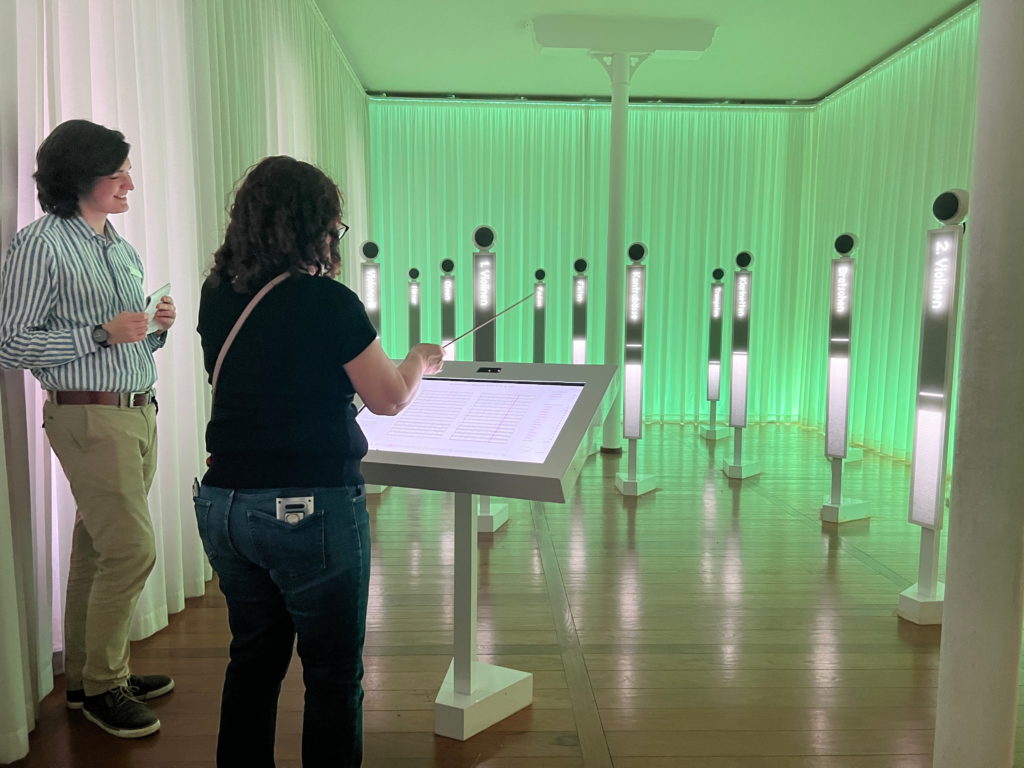 Day Three is for music lovers. Leipzig is a City of Music with a 5 km long Music Trail where you can learn about many famous musicians including Wagner, Bach, Schumann, and Mendelssohn. Leipzig is home to many music students, orchestras, choirs, and more. I highly recommend spending some time learning about the musical past. Kids will enjoy this too because the experience is interactive and immersive.
Mendelssohn House In Leipzig Highlights Best of Family Friendly Saxony Attractions
Walk 15 minutes from the Leipzig Marriott and you'll find the Mendelssohn House.
If you're interested in music, you'll want to visit to learn about the famous musician Felix Mendelssohn Bartholdy. Not only was he one of the first conductors to use a conducting baton, he's also credited for keeping Johann Sebastian Bach's music alive after he'd been largely forgotten as a composer.
Tour his masterfully restored home, the Mendelssohn House. Learn about his sister Fanny who was also a talented musician. And, if you visit on a Sunday, you might even be able to enjoy a short music concert. The Mendelssohn House features concerts every Sunday at 11am. Kids will enjoy this stop as they dress up in period clothing and practice their conducting skills with an interactive virtual orchestra called the Effektorium.
Open daily from 10am to 6pm, you'll find the Mendelssohn House Leipzig at Goldschmidtstraße 12.
Bach Museum In Leipzig
After touring the Mendelssohn house, take another short walk. In 15 minutes, reach the Bach Museum where you can learn about the life and work of Johann Sebastian Bach. (Closed Monday.)
See Bach's favorite instrument, the organ, and enjoy interactive multimedia exhibits that enable visitors to listen to his compositions. Musically minded kids will enjoy exploring musical themes and hearing historical instruments from a virtual baroque orchestra on the wall.
The family-friendly Bach Museum is open Tuesday through Sunday from 10am to 6pm. Find it at Thomaskirchhof 15/16.
Visit St. Thomas Church & The Bach Statue
The St. Thomas Church is right across the street from the Bach Museum. You'll definitely want to pop in for a quick visit to see the church and Bach's grave. Check out the calendar of events because if you're lucky, you can hear the famous St. Thomas Boys Choir practice, or you can buy a ticket to listen to a Bach motet, a variation on short, sacred voice pieces that is performed most Fridays and Saturdays.
Leipzig Spinnerei, The Cotton Mill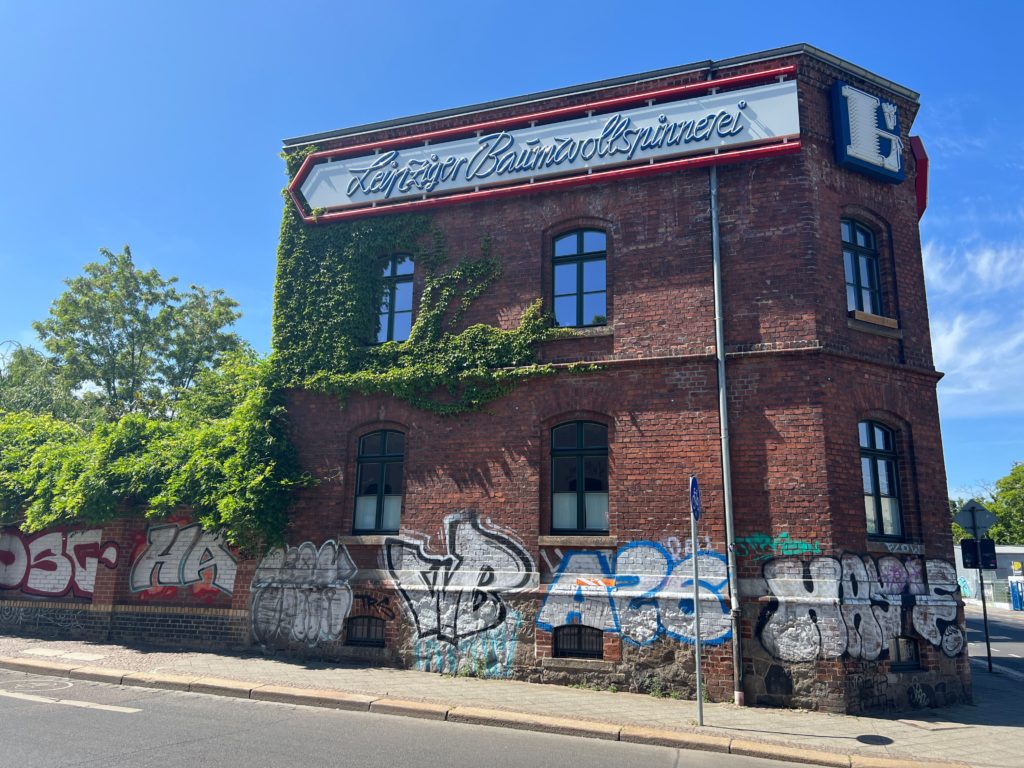 Either grab a quick bite to eat in downtown Leipzig or wait until you get out to the Spinnerei in the Plagwitz neighborhood. The Spinnerei is a former cotton mill which has been turned into a haven for artists. The historic structure features many galleries, stores, and residences. It's a great example of creatively reusing an abandoned industrial complex to make something interesting and useful.
You can take a one-hour, family friendly guided tour, check out contemporary art exhibits, or attend one of the many events or festivals.
The Spinnerei, at Spinnereistraße 7, is open from Tuesday through Saturday, 11am to 6pm. It's about a 10-minute drive or a half-hour trip on public transportation. We took the streetcar to get there and it was a very easy trip.
Family Favorite Dinner At World's Oldest Train Station: Bayerisher Bahnhof
Once called the "Gateway to the South," the Bayerisher Bahnhof is the oldest preserved terminus station in the world. One million passengers departed from here in its Golden Days of 1875 to head to Bavaria and Italy.
It's no longer used as a train station; instead, it's been restored as a delicious restaurant that you don't want to miss! Make sure to try the famous Gose beer and enjoy a Frankischer Brotzeitteller (similar to a charcuterie board).
You'll find the Bayerisher Bahnhof at Bayrischer Platz 1. It's open daily. Make a reservation for an indoor table or enjoy a first come first served spot in their lovely outdoor beer garden. It's about a 20-minute walk from downtown Leipzig or an easy hop on public transportation.
You'll find more things to do in Leipzig, Germany in this blog post.
Day 4: Explore Family-Friendly Saxony In Medieval Torgau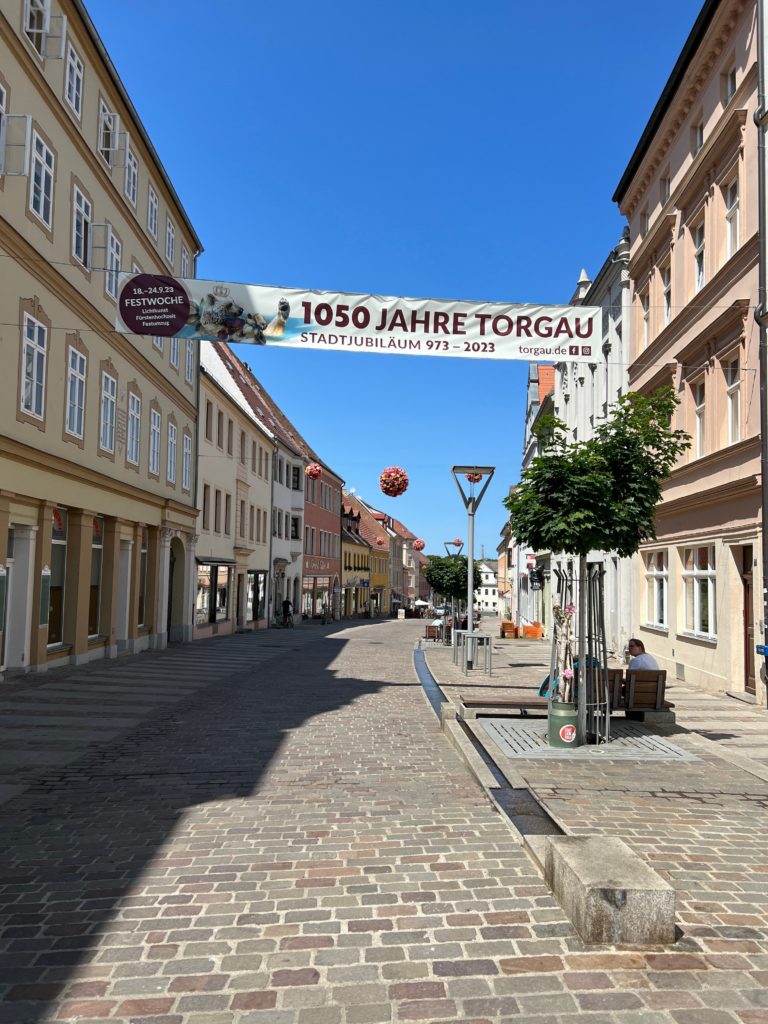 On Day 4, I recommend a day trip to the historic town of Torgau in the northwestern part of Saxony. At just under an hour from Leipzig via car or train, Torgau is the perfect setting for famililes to learn more about the history of Saxony. This charming old town is full of well-preserved medieval buildings, narrow streets, and picturesque squares. Torgau played a crucial role during both the Protestant Reformation and World War II. Talk about old! Torgau is celebrating its 1050th year anniversary with a big festival in September 2023.
Travel Tip for Days 4-5: It's easier to get to Torgau on public transportation from Leipzig than it is from Dresden. Try to leave Leipzig early in the morning to maximize your time there.
If you have a car, continue to Dresden at the end of your day in Torgau. If you aren't that comfortable using public transportation, spend one more night in Leipzig and then depart early the next morning for Dresden.
When you arrive in Torgau, stop in at the Torgau Information Center. This lovely visitor's center is located in the historic town hall and packed with information. Look for locally grown goodies, souvenirs, and arrange guided tours of Torgau. You can also download the city app to use if you choose to explore on your own.
Read on for places you will want to visit as you wander through downtown Torgau on your family-friendly Saxony tour.
Carl Loebner Toy Store, Another Family Friendly Saxony Highlight in Torgau
The oldest toy store in Germany is currently being run by the 12th generation of the Loebner family. According to its website, the "Toy Loebners survived the French occupation, the Seven Year War, the First and Second World Wars, inflation, the global economic crisis — and socialism."
You'll find the Carl Loebner Toy Store at Bäckerstraße 2. It's open from Monday through Friday from 10 to 6 and on Saturday from 9 am to 12 pm. Closed Sunday.
Priesterhaus, The Spalatin's Priest's House In Torgau
If you're interested in Reformation history, you'll want to visit the only remaining priest's house in Torgau. This restored home dates back to 1493 and is interesting from religious and architectural perspectives. It's one of seven museums you can explore when you visit Torgau; however, it is closed Mondays.
While visiting, you can take part in an interactive Sound and Faith exhibit to learn about the role of music in the Reformation. It's interesting even from a non-religious perspective.
You'll find the Priesterhaus at Katharinenstrasse 8. It's open from Tuesday through Sunday, 10am to 5pm.
More In Torgau On Day 5: Katharina Luther Stube, The Woman Behind Martin Luther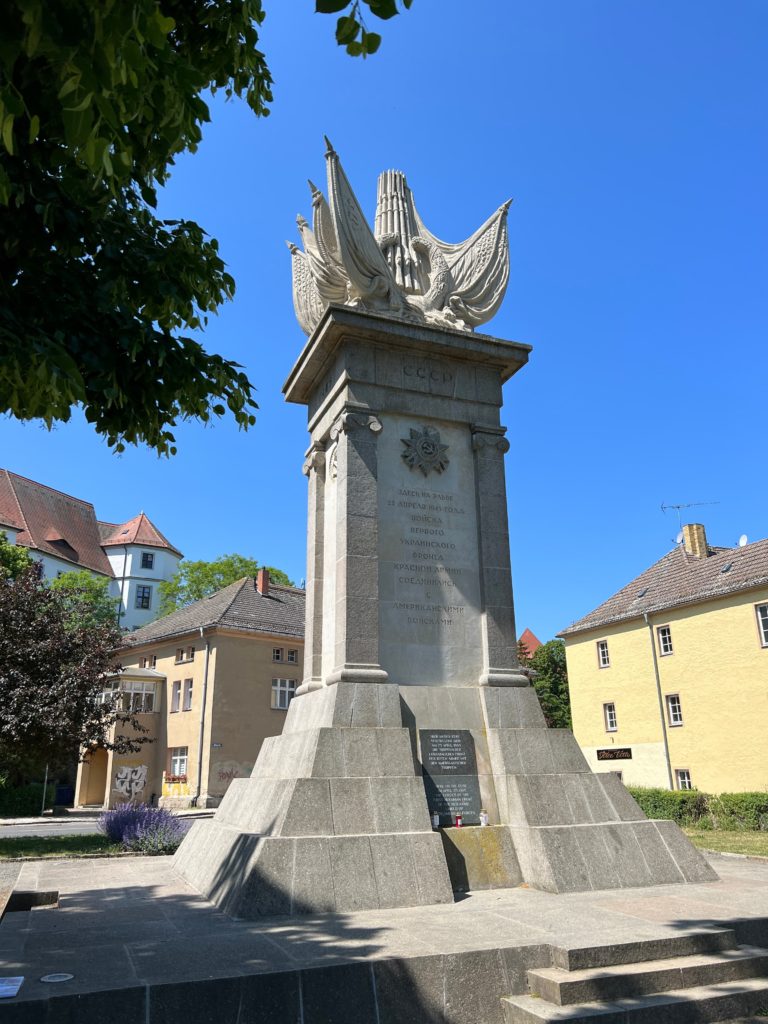 Did you know Martin Luther was married? Neither did I, but behind most famous men is a capable woman. Katharine Luther definitely played a role in Martin's success. You should learn about her very interesting life in the Stube. You'll find the Katharina Luther Stube at Katharinenstraße 11 bzw. 8. It's open from Tuesday through Sunday from 10am to 5pm.
Families Call On Marienkirche (St. Mary's Church Of Torgau)
Enjoy a break at the late-Gothic St. Mary's Church dating to the 12th century. This is where you will find the tombstone of Katharina Luther. Lucas Cranach's famous painting, "The Fourteen Holy Helpers hangs here.
For lunch, we recommend the Herr Käthe Restaurant at Katharinenstrasse 4, near the Katarina Luther Stube and the Priesterhaus. Billed as one of the best restaurants in Torgau, you'll find delicious menu options. If the weather is nice, make sure to eat in their courtyard around the back. It's so pretty and the food is delicious.
Visit Historic Hartenfels Castle And First Protestant Church In Torgau
You won't want to miss seeing the oldest surviving German castle of the Renaissance period. Hartenfels Castle still has living bears in the moat! The outdoor spiral staircase known as the Große Wendelstein is a must-see engineering marvel with no interior support column!
You can also visit an important church at Hartenfels Castle. Martin Luther consecrated the castle chapel in 1544 making the Torgau Castle Chapel the very first Protestant church in the world.
Soldaten an der Elbe Monument (Soldiers on the Elbe)
Make sure to take a peek at the monument commemorating the meeting of the Russian and American Troops, just outside the castle on the Elbe River. On April 25, 1945 Soviet and US forces met in Torgau, marking the end of World War II in Europe. To commemorate this momentous occasion, Torgau built a large monument along the Elbe River. Seeing the East Meets West Link Up Memorial Park (also known as the Monument of Encounter) in person is quite awe-inspiring.
Family-Friendly Saxony Highlights In Dresden Day 6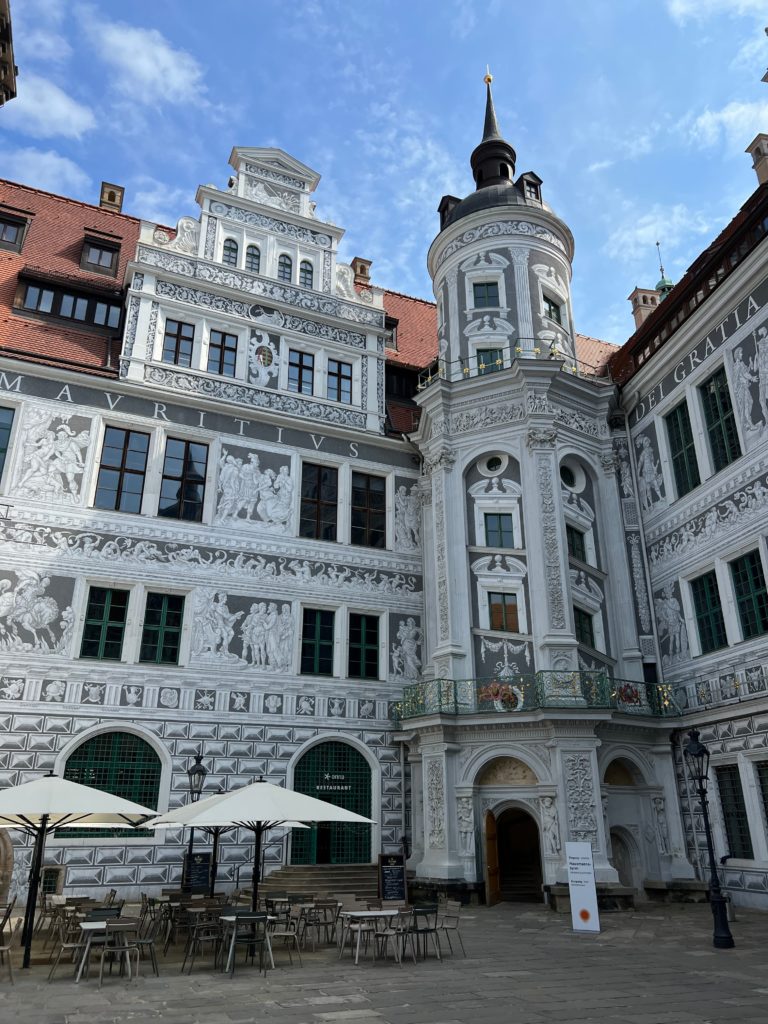 Dresden is the famous capital of Saxony, known for its stunning baroque architecture, historic landmarks, and art treasures. During the 16th century, Dresden was the home of the Electors and Kings of Saxony. Tour many spectacular buildings built during the Renaissance and Baroque era to show off the region's prosperity.
Dresden experienced a Golden Age in the late 18th and early 19th centuries under the reign of Frederick Augustus I. During these years, the city became even more ornate as the rulers became enthralled with Versailles and built even more elaborate buildings.
Sadly, Dresden suffered horribly in February, 1945. Allied bombers destroyed most of the beautiful and historic downtown area during firebomb attacks in WW2. Guides explain that the bombing of well-preserved Dresden was especially controversial.
Thanks to a massive fundraising campaign, many of the historical buildings in Dresden have been rebuilt so it is possible to see what the city looked like before WW2.
Spend Days 5-7 Exploring Dresden, Star of Family Friendly Saxony
I recommend staying three nights in Dresden. We stayed at the art hotel Penck. This hotel can be described as a little risque by American standards. A naked, anatomically correct male statue stands proudly on the hotel roof, and Penck's modern art is displayed throughout the entire hotel. That said, it's a really fun hotel. I would certainly stay here with my kids — but you'll have to do what feels right to you.
It's only right to spend a day wandering around downtown Dresden. There's enough there to keep you occupied for more than one day as you take in the historic buildings, the shops, and the restaurants. Make the most of your time! However, keep in mind that reconstruction is still ongoing. Your family will have to return when rebuilding efforts are finally completed.
Residenzschloss – The Dresden Royal Palace
Get up early to explore historic Dresden. There's so much to see. Must-visit attractions include the Dresden Castle which is home to one of the largest art collections in Europe, the Staatliche Kunstsammlungen Dresden. The Castle, also called the Royal Palace. was almost completely destroyed in 1945, but it's been rebuilt for us all to enjoy once again!
You definitely don't want to miss the Historisches Grünes Gewölbe (Historic Green Vault) or the Türckische Cammer (Turkish Chamber) exhibits. The Green Vault and the basement rooms were the only part of the palace that weren't destroyed in the war. The treasures your family can see in the Royal Palace Museum are truly magnificent.
Furstenzüg Is The Procession of Princes Mural
You'll also want to take an up close and personal look at the impressive Procession of Princes Mural. Made up of 25,000 Meissen porcelain tiles, this impressive work of art is found on the back of the Stallhof, on Schlossplatz Square. It was so lucky to have survived the Dresden firebombing. The Mural features the history of the Wettins, Saxony's royal family, and shows 35 noble men on horseback plus many other people.
This remarkable artwork was originally completed as a sgraffito (a type of Italian artwork that is made from scratching different colors in plaster or clay) between 1872 and 1876. However, it didn't last long so it was transitioned to Meissen tiles between 1904 and 1907.
Zwinger Palace And Its Fun For Kids Gardens
When we were there, the Zwinger Palace gardens were under construction. But when it's finished, this will be a great place to explore. Kids will also enjoy the Virtual Reality Zwinger Experience at the Zwinger Palace where they can experience the largest royal wedding of the Baroque age.
Make sure to visit the Frauenkirche as well. This Protestant church was destroyed in WW2 and left in ruins by the GDR government. From 1994 to 2005 it was rebuilt to its former grandeur using the original building plans from the 1700s.
Other places to explore in downtown Dresden include the Semper Opera House, Dresden's Chocolate Museum, and a few more of the 15 museums of the Dresden State Art Collections.
Any day except Tuesday, eat at the the Anna Restaurant inside the Royal Palace courtyard. It's a lovely place to enjoy a delicious meal while you take in the detailed sgraffito artwork on the outside of the palace buildings. If the weather is nice, eat outside in the courtyard. (If it's not nice, inside is also very cute.)
Day 6: Explore More Dresden Family Attractions Today
Another noteworthy thing to do in Dresden includes a visit to the Bundeswehr Military History Museum. This museum, which is located on a German military base, takes an interesting approach to the subject of war. Be sure to take along a Photo ID in case it is requested.
The new architectural design drives a literal wedge through the historic building where exhibits show the effects war has on people, the landscape, animals, and more. I would definitely take my tweens and teens here and I know they would get a lot out of it. I would not recommend a visit for young children.
If you don't have a car, you'll either have to take a taxi or navigate public transportation to get to the museum. It's not difficult to take the streetcar but you will have to transfer. Teens may prefer visiting Mondays after dinner, because the museum is open to 9pm. (The hours Tuesday to Sunday are 10am to 6pm; closed Wednesday.) Find more information about the Military History Museum here.
Afternoon Elbe River Sightseeing Cruise, Fun For All Ages
No visit to Dresden is complete without exploring the Elbe River. A boat ride on the Elbe is the perfect way to see the stunning landscape, vineyards, and castles around Dresden. We took a one-way trip from Pillnitz to Dresden, but there are lots of options for round-trip cruises departing from Dresden. The last boats depart at 5pm, so make a reservation and have fun on the water. The Weiße Flotte Sachsen GmbH company has been cruising the Elbe since 1836.
A Memorable Meal In A Gunpowder Tower At Pulvertum
Be sure to eat once at the Pulvertum Restaurant. A pulvertum is a gunpowder tower and that's exactly where you'll eat. This unique setting offers Saxon specialties like Suckling Pig and Sauerbraten. Kids love the really fun dining experience, medieval decor and live musicians. If you're feeling really brave, enjoy the "Condemned Man's Last Meal" served in the dungeon. The Pulvertum is open daily from 11am to 1am. Although the restaurant seats 400 people, you might want to make a reservation anyway.
On The 7th Day In Saxony With Kids, Tour Beautiful Meissen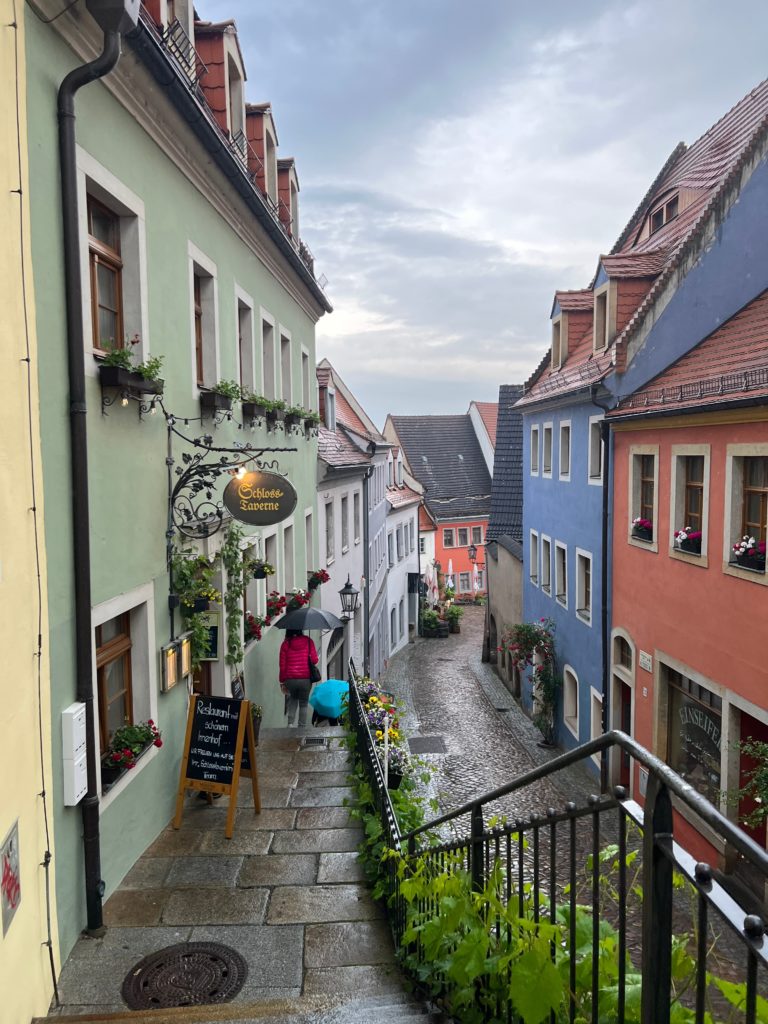 Meissen is a charming city known for its medieval architecture and the iconic Meissen Porcelain Manufactory. Visitors can certainly tour the porcelain factory and visit the Albrechtsburg Castle. Many families will just enjoy wandering through another well preserved, Saxon medieval town full of narrow streets and historic buildings.
The best part of this itinerary is that, from Dresden, it's an easy 35-minute train ride out to Meissen. Once you're there, walk around and enjoy all the lovely sites this amazing town offers.
Founded in 1807, Meissen Porcelain was the first European factory to make true porcelain in the Chinese manner. You'll want to explore the Meissen Factory, Porcelain Museum and gift shop. They are located at Talstraße 9 and are open daily from 9am to 5pm or 6 pm depending on the season.
We also highly recommend making your own unique Meissen mug. For 69 Euros, you can paint a porcelain mug which Meissen will fire and mail to your hom.! This is a really fun experience for kids and adults alike. Your custom mugs make priceless gifts or souvenirs.
Tour Albrechtsburg Castle And Meissen Cathedral
Perched on a hill overlooking Meissen, Albrechtsburg Castle was built in the 15th century and is said to be Germany's first castle. It has served as the residence of the House of Wettin, the ruling family of Saxony. (It was also once the setting of the Meissen Porcelain Factory.) The castle offers stunning views of Meissen, many medieval artifacts, and beautiful rooms that you can walk through.
Kids will enjoy the interactive HistoPad table that uses augmented reality to show how the rooms have changed over the years and what used to happen inside them. You'll find the Albrechtsburg Castle at Domplatz 1 and it's open daily from 10 am to 6 pm.
Nearby is the Meissen Cathedral, officially known as the Cathedral Church of St. John and St. Donatus. It was finished in the 13th century, making it one of the oldest cathedrals in Germany. On a perch overlooking the Elbe River, the Cathedral features an altarpiece by Lucas Cranach and an impressive Prince's Chapel.
Family owned and operated since 1873, Vincenz Richter Restaurant (reservations) is located in an historic clothmaker's guild house that dates as far back as 1523. This lovely restaurant is currently run by the sixth generation. While most businesses were expropriated by the East Germans to become government property, somehow, the owners of Vincenz Richter were able to keep their restaurant privately owned. The building is full of interesting antiques and is said to be one of the most romantic restaurants in all of Germany. You'll find Vincenz Richter at the base of the Meissen Cathedral. They open for dinner Tuesday to Saturday; lunch only Sunday and both meals on weekends.
Old Town Of Meissen Is Picture Perfect
Meissen's historic center is a delightful place to wander through narrow cobblestone streets lined with well-preserved medieval buildings. The Market Square (Markt) is the heart of the old town and features colorful Renaissance-style houses, a beautiful Town Hall, and a charming atmosphere. The square is home to a lively weekly market where visitors can find local produce and crafts.
Schloss Proschwitz – Castle & Vinoteque
For fun views of the town of Meissen, wander around this gorgeous estate open daily from 11am to 6pm. Additionally, try some of the delicious wines at Proschwitz Castle. Meissen has an 850-year tradition of winemaking. Be sure to sample a few of the delicious, high-quality wines at the oldest private vineyard in Saxony.
All along the Saxon Wine Route, visitors can explore the vineyards, visit local wineries for tastings, and enjoy the scenic beauty of the wine-growing landscape.
What are you and your family most excited to see when you visit Saxony? This seven-day family-friendly Saxony itinerary is just the tip of the iceberg. There are so many more things to do in this beautiful German state. I can't wait to go back!
The Former Eastern Germany Offers Families More European Culture
And if you're interested in touring more of the former East Germany, consider the university town of Rostock and the family attractions of the state of Mecklenburg- Vorpommern.
Author Michelle Marine is the creator behind Simplify, Live, Love. She is based in Iowa and enjoys any opportunity to visit Europe, especially Germany where she spent many childhood years with her family. The city of Leipzig and the state of Saxony sponsored her visit to the area. Michelle says "Many thanks to all involved for a phenomenal press trip! All opinions are mine."
Dear Reader: This page may contain affiliate links which may earn a commission if you click through and make a purchase. Our independent journalism is not influenced by any advertiser or commercial initiative unless it is clearly marked as sponsored content. As travel products change, please be sure to reconfirm all details and stay up to date with current events to ensure a safe and successful trip.
---