Traditional German Christmas Markets, also known as Chriskindlesmarkt, are today located in a variety of big and small towns throughout Europe. While they're also imitated around the world, the tradition began in Germany where the most historic and beautiful markets still exist.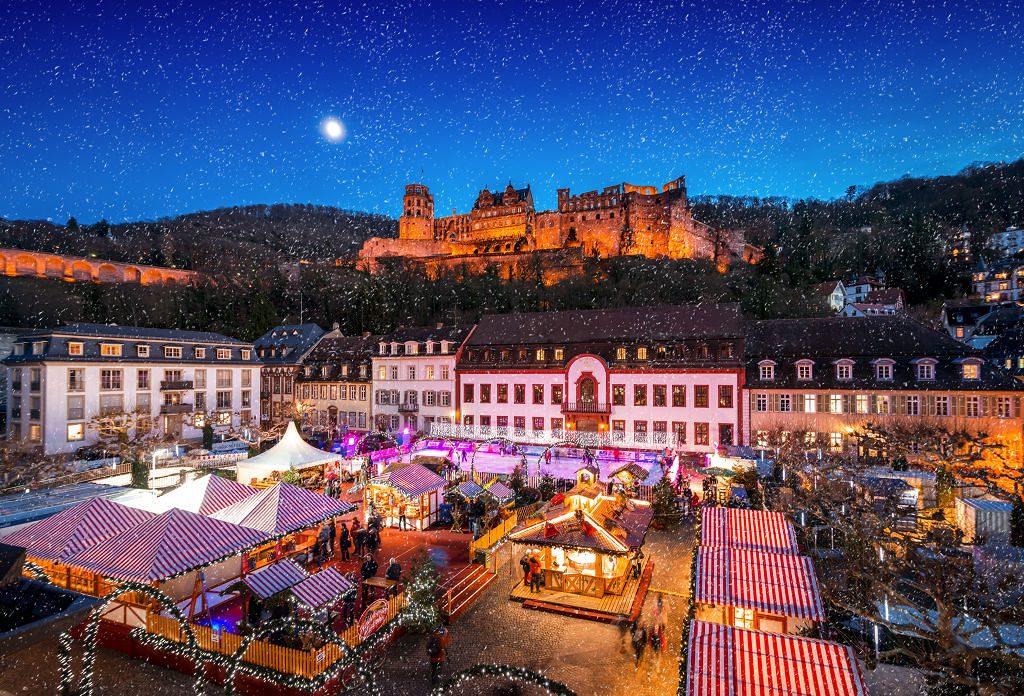 If the wonderful custom of European Christmas Markets has not yet reached your hometown, it's hard to imagine how much fun you can have shopping, drinking and dining your way through outdoor booths selling food, crafts, gift items and more. While tourists come during the day, locals turn out after work and stay late into the evening, sipping mulled wine or cocoa, helping long nights pass during this top-value season.
Typically, wood and canvas stalls are set up in town squares and public parks where musicians play, vendors sell their crafts and home-baked treats, wine bars sell 'hot toddies' and food stalls serve up seasonal specialties. The whole family will enjoy the equivalent of an outdoor food court combined with a craft fair, draped in boughs of evergreen and, often, gently falling snow. There's no better place to have dinner and no more authentic way to enjoy true European culture.
Here are some of our favorite German Christmas Markets your whole family will love.
Nuremburg Children's Christmas Market
Considered Germany's most famous Christmas Market, we like the tiny steam train, carousel and braving the Ferris Wheel that are part of the kid-size market, or Nurnberger Kinderweihnacht in the heart of Hauptmarkt square. Nuremburg's German Christmas Market usually begins that last week in November and lasts until a day or two before Christmas. Born in the 1750s, it now accommodates about 180 different vendors.
This provides guests with a variety of genuine German cuisine as well as an array of homemade Christmas ornaments and crafts. Some of the savory staples that are presented include spicy gingerbread fruit loaves, an assortment of German pastries and baked goods as well as roasted sausages and traditional gluhwein (spiced wine mixed with honey and served warm in a mug), a very popular beverage during the winter. Typical Christmas articles such as tree ornaments and toys are also offered, and several booths have hands-on crafts activities for kids. However, a favorite souvenir among visitors is the Nuremburg Plum people which are actually made from real prunes.
Dresden German Christmas Market & China Shops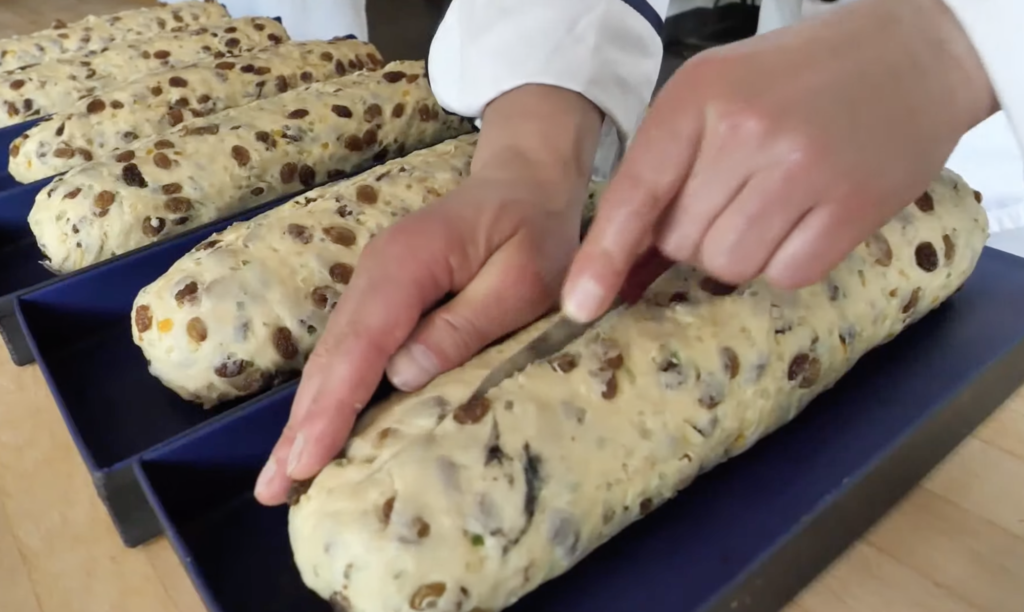 The Dresden Striezelmarkt is considered Germany's oldest Chriskindlesmarkt. Food-loving families visiting Saxony will enjoy a delicious visit to this jewel-box city because this is the region that concocted the savory Dresdener Stollen, a dense, fine-crumbed loaf cake loaded with butter, raisins, dried fruits, and nuts and covered with a sweep of powdered sugar. It is sold in bakeries all over town during the holiday season and, in fact, at all the city's delightful Christmas Markets.
The Dresden Striezelmarkt, a shopper's paradise, is located in the historical Baroque city center between the recently rebuilt Frauenkirche and the famous culinary highlight of Münzgasse. You'll find hidden gems such as Christmas pyramids, smoking figures and candleholders from the Erzgebirge Mountains, indigo-dyed printed textile products and pottery from Lusatia, gingerbread from Pulsnitz, filigree lace products from Plauen, blown glass tree decorations from Lauscha, and of course specialties from Dresden itself, such as the traditional Pflaumentoffel, a chimney-sweep figure made of dried prunes. But the most compelling image of the Striezelmarkt is the soaring Christmas pyramid, a 45-foot-tall wooden carousel with life-sized angels and scenes from the nativity.
Dusseldorf for Families at Christmas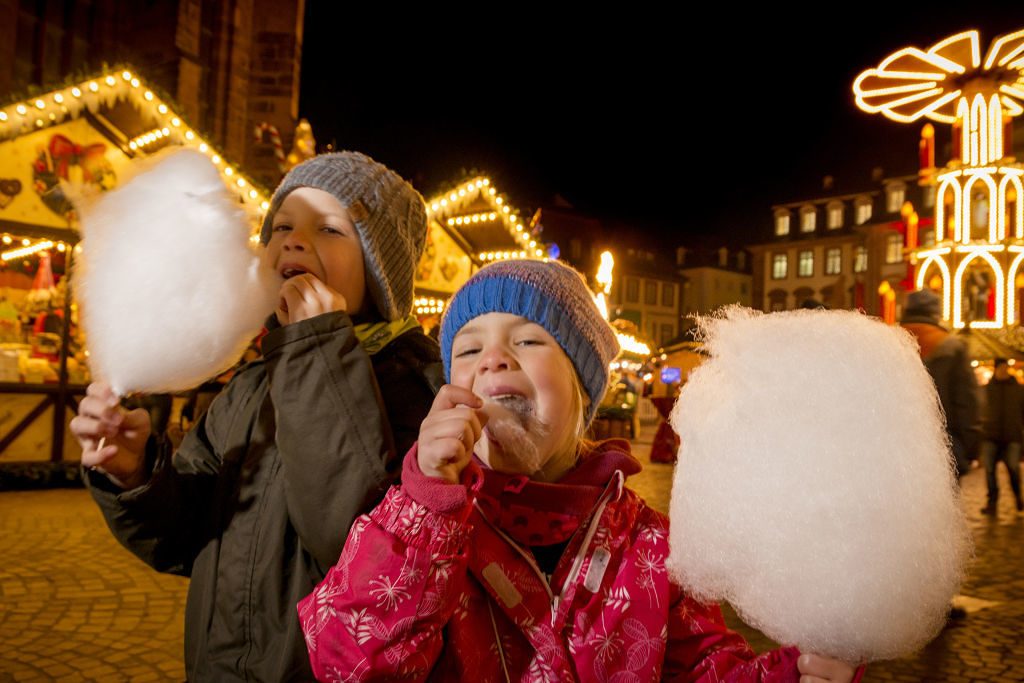 Dusseldorf, a prosperous, cosmopolitan, yet under-the-radar city of half a million people straddles the Rhine River. It effortlessly blends tradition with a dynamic cultural calendar, and kids are always invited to join in. (The city is actually dotted with statues of people turning cartwheels, sure to delight most youngsters.) From the third week of November through December, the entire city is transformed into a winter wonderland, anchored by seven themed German Christmas markets.
The festive lighting of Altstadt (Old Town) is amplified by the aroma of cinnamon, gingerbread, gluhwein and hot chestnuts — easy to sample on the guided Christmas tours stopping by each market. Families may ice skate, get a birds-eye view of the city as they ride a giant Ferris wheel or a guided Rhine River cruise, and take a spin on a restored antique carousel. Kids can enjoy sipping non-alcoholic wassail and munching on hot sugared almonds, a local holiday confection. There is even a Cartwheeling Tournament each July, so plan on returning in the summertime.
Hamburg Christmas Markets are Outdoors and In
During Advent, the season of the Christian Church, Hamburg holds a big annual German Christmas Market at Town Hall, a statuesque and majestic edifice built in 1886. It's just one of several in town, designed for all interests. As Germany's biggest and most prosperous seaport, it is fitting that Hamburg's celebration includes about 100 vendors offering an assortment of handmade ornaments, wooden toys, angels, advent wreaths, and woodcarvings, in addition to sweets and baked goods.
Also worth noting, the elaborate enclosed shopping arcades throughout this city provide a bad weather option when you tire of the colorful lights reflected in Lake Alster, the Elbe River and along the canals. While adults go shopping, children can join the fun on one of Alster's fairytale-steamers, where programs of magic tricks, painting, listening to fairytales and baking Christmas cookies are offered. What Christmas festivity would be complete without Santa Claus himself, soaring high above the roofs of the market cottages in his reindeer-driven sleigh?
Erfurt Christmas Market has Medieval Castle
Erfurt, Thuringia is located in the middle of the country and hosts one of the most unique German Christmas markets because of its medieval architecture and the local Castle Wartburg. Upon entering this Romanesque palace via the original drawbridge (the only entrance throughout the centuries), you'll marvel at the picturesque Christmas tree and the distinctive nativity scene displaying 14 hand-carved, life-size wooden characters inhabiting an enchanted forest.
If you would like to drift back into medieval times, the century-old Hotel auf der Wartburg offers a regal stay, fit for any king and queen, prince and princess. You and your family can take advantage of the traditional crafts, medieval musicians and traveling entertainers present during your winter stay.
Augsburg Christmas Market, a German Tradition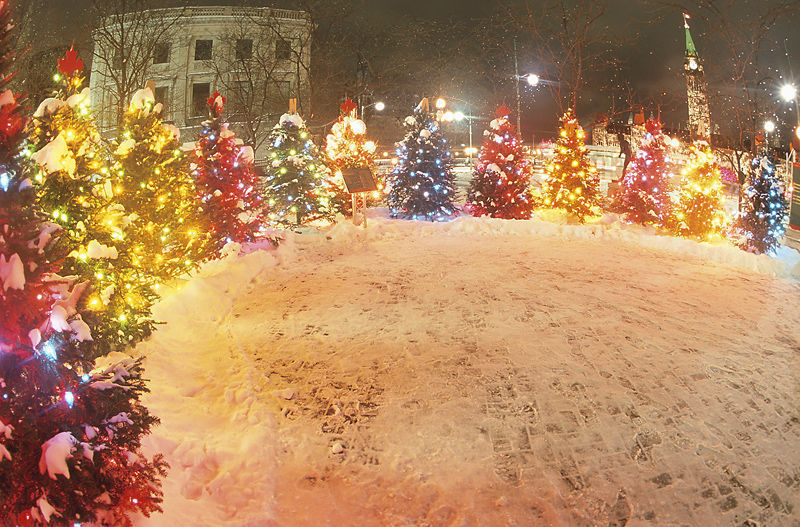 In Augsburg, gleaming lights and traditional yuletide music create the old-fashioned ambiance for this 500-year-old, one-of-a-kind celebration. Festively decorated wooden stalls selling crafts and culinary treats will fulfill any family's Christmas wishes. Another entertaining event replays a traditional holiday story on Augsburg's Fairy Tale Street. The story of "The Nutcracker" is relived in nine extravagantly designed scenes in shop windows all around the German Christmas market.
Need an affordable hotel to explore German Christmas markets?
To ensure your young travelers are entertained, the children's land Unter'm Sternenhimmel ("Under the Starry Sky") at Moritz Square include special attractions such as a puppet theater, a merry-go-round glowing with Christmas lights, and the large sugar castle from "The Nutcracker" where children can draw, bake and work on crafts. If that's not enough Christmas spirit, the Augsburg City Hall is transformed into a monumental Advent Calendar where 24 angels provide musical performances in front of the structure's windows.
Frankfurt Christmas Market, Gateway to Germany
In winter, the usual fast-paced metropolis of Frankfurt transforms into a quiet, festive town with a massive Christmas tree located in its historical hall. The Frankfurt Christmas Market at Römerberg Square debuted in 1393, and today has 200 decorated stalls offering the finest of Frankfurt's specialties including innovative artworks, crafts, and unique gift ideas.
School-age kids will enjoy a guided tour that provides more information about the market and its traditional holiday treats: Bethmaennchen, a Christmas cookie made of almonds, marzipan and rose water, and the popular Quetschemaennchen, a miniature confection also filled with the almond flavored marzipan, dried plums, and nuts. Your family can also experience a nostalgic ride on one of Frankfurt's antique carousels. If you're lucky, you and the kids may even steal a glimpse of jolly Old Nick himself. If you don't have a RheinMainCard granting free public transport (including by bike) and attractions discounts, book a tour in English from the 1st Advent — the fourth Sunday before Christmas — onwards. Another option with older kids is an evening Advent Cruise on the Main, where a DJ's beats accompany great views of the city's illuminated markets.
In Berlin, Explore Holiday Markets with Teens
The cutting-edge city of Berlin pulses with frenetic energy day and night. Locals like to call their city "poor, but sexy", a quality that should win over even hard-to-please adolescents. Splendid German Christmas markets are scattered throughout town. Between merriment, families should try and squeeze in a visit to the East Side Gallery. This 1.3-mile section of the Berlin Wall is an international symbol of freedom. It is currently an open-air gallery covered with colorful murals and graffiti-style art that's a sure-fire teen-pleaser. If you need to warm up after sightseeing, consider a hot chocolate break at Rausch Schokoladenhaus. It's the largest chocolate shop in the world, a fantasy worthy of Willy Wonka's attention. The ground floor is where you will find eye-catching renditions of the Brandenburg Gate, the Berlin Reichstag and other historic local buildings, all sculpted out of fine quality chocolate.
Heidelberg Christmas is More Contemporary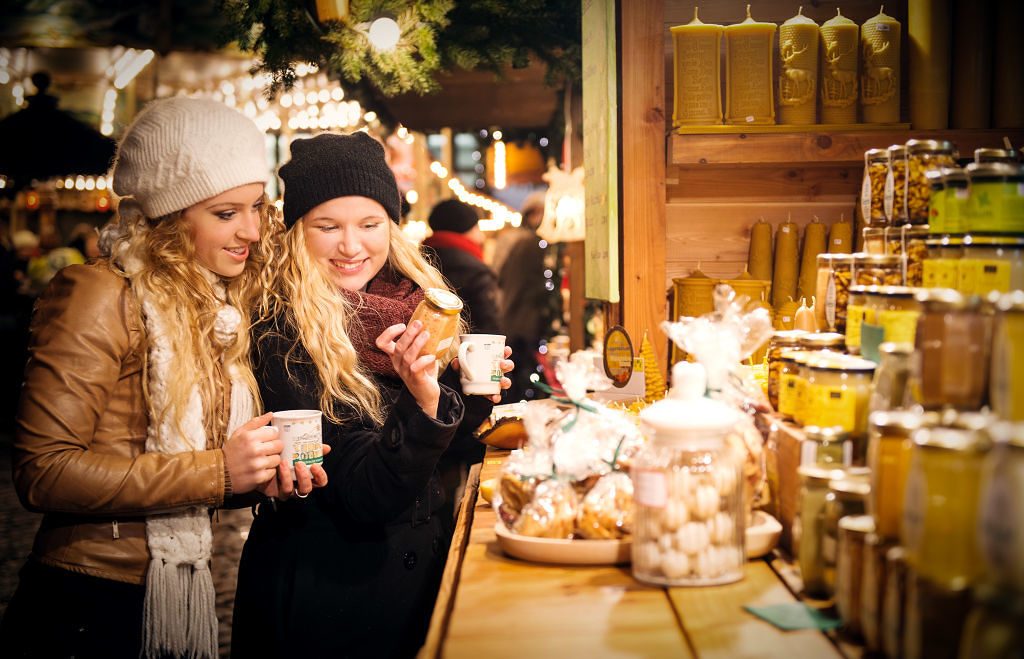 New to the Chriskindlesmarkt tradition is the city of Heidelberg, with the first one held in 1987. This market extends over six town squares and is ideal for a laid-back stroll, as families can peruse regional delicacies and crafts as well admire stunning views of the city. They even have a "Christmas on Ice" event that allows your family to link arms and glide across the open-air rink surrounded by shimmering trees and starlit skies, while listening to the whispering hum of Christmas melodies.
Munich's Christmas Markets
Munich, the capital of Bavaria, is known for having a Chriskindlesmarkt catering especially to kids, with an exceptional Christmas Market Concert daily from the balcony of Town Hall. A "Heavenly Workshop" is available to ages 6-12 so they can create their own arts and crafts, as well as bake their own German Christmas cookies. All bite-sized cherubs will be given sheer angel wings to wear. Girls can also try on lustrous, floor-length gowns, transforming them into divine and godly beings (at least until after they've received their Christmas presents.) This event is supervised by professional artists and instructors and is free for all who attend. Another unexpected venue for one of the city's best markets is Munich Airport, one of Europe's top airports. Shop outside in the lively market during the Advent season, then head into their mountain hut-style sports bar, where you can sit in an alpine gondola. The new Satellite Terminal shops feature only locally made goods, brews and Bavarian crafts.
A Black Forest Instaworthy Christmas Market
Frame your holiday photos with the soaring arches of a 120-foot high stone viaduct — Germany's steepest railway bridge — which carries local trains across the mystical Ravenna Gorge (Ravennaschluct) in the Black Forest Highlands. Open only on the four weekends of the Advent, the wooden market huts sell holiday sweets, Black Forest cakes, hot drinks and locally sourced Black Forest ham, cheese, crafts and gift items. The whole thing is tucked in at the bottom of the gorge, where steep, heavily wooded cliffs keep the outside world away. Not to worry: nearby there's a comfortable Hofgut Sternen where rates include breakfast and a glass of gluhwein. On the site of a medieval hostel, it's where Marie Antoinette and her retinue showed up in 1770 with 450 horses and demanded lunch! Stay over to try the guided forest hike by torchlight.
Wiesbaden's Twinkling Star Market
I haven't seen it, but I must include the Sternschnuppenmarkt or Twinkling Star Christmas Market in Wiesbaden. Catch what makes this one so special — the illuminated backdrop of the Wiesbaden town hall, the Hessian State Parliament, and the Market Church, all of which are bathed in a soft glow from the huge lilly-shaped lights that shelter market-goers as they pass among outdoor stalls. Expect to sample excellent gluhwein, lebkuchen and Bethmännchen, a local marzipan treat with almonds. There's live entertainment for all ages too.
Trip Planning Resources to Enjoy Germany at Christmas
For more ideas on the German Christmas market, or Chriskindlesmarkt, and information on what other attractions these towns have to offer, visit the Germany tourism Office website.
As they say, Frohe Weihnachten to all!
Dear Reader: This page may contain affiliate links which may earn a commission if you click through and make a purchase. Our independent journalism is not influenced by any advertiser or commercial initiative unless it is clearly marked as sponsored content. As travel products change, please be sure to reconfirm all details and stay up to date with current events to ensure a safe and successful trip.
---