There's never been a cheaper time to enjoy the holiday cheer radiating from the tents and stalls of Europe's Christmas Markets. Despite chill winds, snowflakes and global inflation, the US dollar exchange rate makes visitors feel welcomed and toasty warm. Here's our pick of the very best places in Sweden, Finland, France, Belgium, Switzerland, Austria and Denmark to celebrate the season with kids at Europe's top Christmas Markets.
Our review doesn't cover all of Europe, however. This tradition is so big in Germany, that German Christmas Markets have their own review.
Where to Find Europe's Christmas Markets
During winter, in towns large and small, picturesque European cities turn into holiday wonderlands. Historic town squares are filled with musicians on balconies and choirs on church steps. Each evening from mid-November until just before Christmas, dine and shop outdoors the way locals do. At booths decorated in evergreen bowers and twinkling lights, enjoy mulled wine while kids comb the stalls searching for the perfect gift. They may find a nutcracker, a hand-painted creche, or a cake baked with loving care.
Starting with the largest and most glorious of destination Christmas Markets to center your trip around (Gothenburg, Sweden) to weekend affairs that make a great complement to other sightseeing (Copenhagen's Tivoli Gardens), here's a look at what's happening over the winter holidays.
Sweden Christmas Markets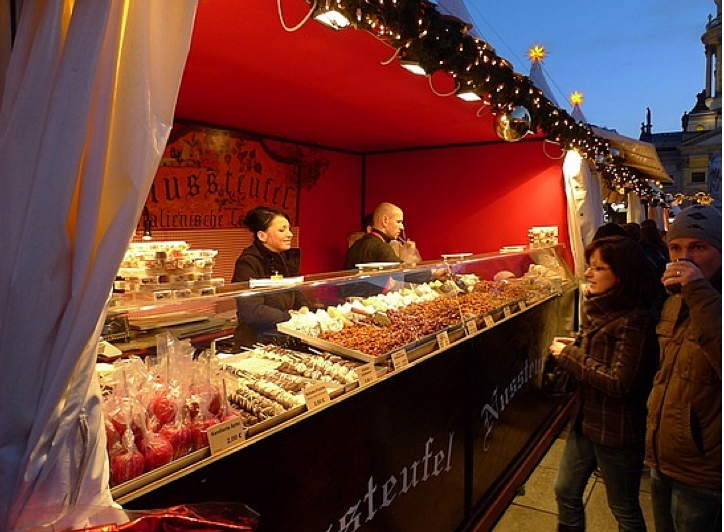 Gothenburg (Göteborg), Sweden's second largest city, home of Volvo and Hasselblad, is also the No. 1 city when it comes to Christmas celebrations. More than 1.5 million visitors go see Gothenburg when the city is decked out in all its glory. Shop for honey, knit socks and hats at several markets that only open select weekends. Be sure to sample a Swedish seafood dish — that is the holiday speciality.
At Liseberg, Gothenburg's famous amusement park, they've figured out how to do things in a really big way. Immerse yourselves in 700 evergreens, nearly 4 miles of garlands and 5 million lights sparkling from the harbor thourgh town and into the park. Be sure to book a table for their groaning traditional buffet smorgasbord known as a julbord. This is the largest Christmas market (and the largest amusement park) in Scandinavia.
Gammelstad is a traditional Christmas Market in Swedish Lapland. One December weekend, 70 stalls and cabins sell arts and crafts such as wooden toys, hand made candles and traditional straw work. Shop around for traditional foods served by the indigenous Sami people from Lapland. Don't miss the imaginative marzipan sweets, lots of mulled wine (Skaal!) and decorated spruce trees.
The country has several of Europe's most snowy Christmas Markets where you can catch reindeer sleigh rides, ice skating shows and ice bars outdoors. For more information, surf to the Visit Sweden tourism site.
All Year Round at Santa Claus Village, Finland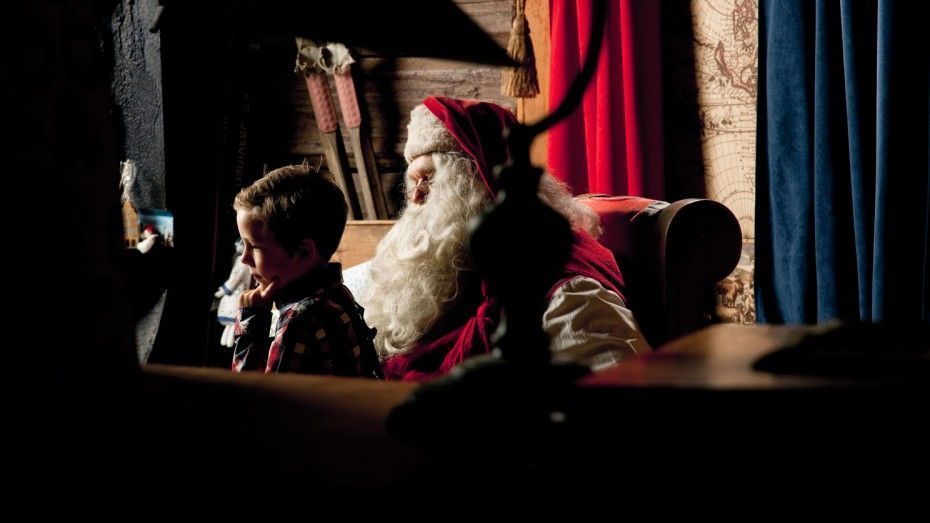 Finland has gone way beyond the European tradition of town square Christmas markets to promote itself as the home of Santa's hideaway in the North Pole. Their office is in Santa Claus Village in Finnish Lapland. (The Claus' secret home is hidden).
Since 1985 it has been open year-round. Nonetheless, it's the wintry weekends leading up to Christmas that attract charter planes with loads of British and other European families. It's a bucket list trip to fly directly into Rovaniemi for just one day, get a glimpse of Santa, and share your child's Wish List with him.
Events are planned to offset the short daylight hours and cold, cold climate of winter. That makes Europe's Christmas Market season iespecially welcome for Finns. All through December, families plan pikkujoulu or little Christmas get-togethers. At the public markets, sample the Scandinavian version of gluhwein known as glögi. Families will find special concerts and festive menus everywhere. But there's nothing quite like Santa Claus Village.
Europe's Christmas Markets in Finland: Helsinki
Helsinki's Christmas Season typically begins in late November and ends a few days before Christmas. Senate Square Christmas Market has risen outside the beautiful Helsinki Cathedral annually since 1852. On Dec. 13, 2022, St. Lucia will descend the Cathedral stairs in a pageant at the heart of the Finnish Christmas tradition. Whenever you visit, start here in the capital's largest market, browsing more than 100 stalls. In addition to fabulous Finnish art and high style clothes, delicious edible treats include marzipan animals, gingerbread cookies, Christmas fruitcake and the flakiest prune-filled Christmas tarts imaginable.
All of Aleksanterinkatu Street is lit up. Yuletide shoppers peruse beautiful contemporary and traditional craft items including fur hats, silver ornaments and wreaths made of woven oat stalks. There are small markets in Old Porvoo and lots of shopping at the Art Factory Christmas and the Women's Christmas Marksmallet at the Old Harbor.
Candles illuminate the museum village of traditional homes, Seurasaari. Visit the holiday displays about the Finns' ancient traditions and special family programming. And, your family may spend hours indoors happily exploring beautifully decorated stores such as Stockmann's, Marimekko and Iittala. For more information, see Visit Helsinki Tourism.
Europe's Christmas Markets: Experience France By Barge
River cruising has exploded in popularity as a budget and super convenient way to see Europe's great harbor cities. However, few realize that the best and most traditional Christmas Markets in France are best visited by barge. The France-based CroisiEurope river cruise company makes the discovery of France's authentically magical holiday markets comfortable and easy. This year, their French Canal Boats are calling on Christmas Markets in French Alsace. One cruise starts in Strasbourg, whose well-preserved Old Town known as Petite France is an Instagram-worthy site. This is said to be France's oldest and most popular Christmas Market of all. The other Croisieurope barge itinerary features Colmar, an Alsation town riddled with canals lined with traditional homes. Lights reflected in the bands of water make it a magical experience.
The cathedral towns of Metz and Reims (champagne territory) also host classic Christmas Markets with locally produced artisan goods and the edibles the French are famous for. Paris, a must-stop for its incredible shopping, is decorated to the hilt for the holidays. There are several Paris neighborhood Christmas Markets, including one selling recycled goods for the eco-conscious and one with African style. Opposite the Louvre, the Jardin des Tuileries comes alive with stalls Nov. 19, 2022 to Jan. 8, 2023 surrounding an ice skating rink, Ferris wheel and decked out evergreen tree.  
Belgium Christmas Markets Thrive in Brussels
Throughout Belgium, Europe's Christmas Markets season begins at the end of November, with the celebration of St. Nicholas. Belgium is a country where chocolate and french fries are the joys of everyday life. However, at the holidays, enjoy marzipan, klaasjes (flat hard cakes) and speculoos (St. Nicholas-shaped gingerbread) at the country's many traditional Christmas markets.
In Brussels, the city center hosts a skating rink within its large Christmas market, which has an illuminated Ferris Wheel and street activities to keep the family busy. Visitors can get lost in the 240 wooden chalets shared among the top three markets. You must visit the Bourse (Stock Exchange), Place Sainte Catherine and the Marché aux Poissons (fish market). Shop at each for unique Christmas ornaments, handicraft items and seasonal gourmet treats. Choirs, processions, bands and concerts complete the holiday ambiance.
Learn about the history, manufacture and artistry of chocolate, which makes a great holiday gift. In fact, the gift shop at Choco-Story Brussels is the place to buy Neuhaus, Godiva and Leonidas confections. And don't forget that a Brussels Greeter will help you shop and introduce your family to the city, at no additional charge.
Discover Europe's Best Christmas Markets in Quieter Belgium Cities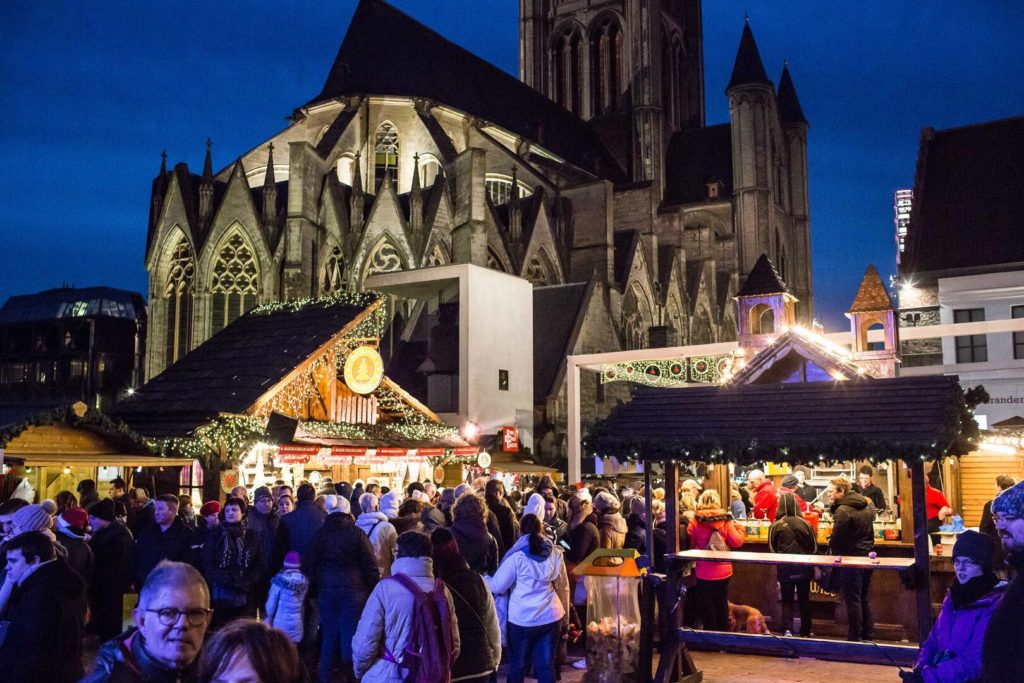 In Belgium's major towns, Europe's Christmas markets often run through the first week of January (Three Kings Day). That gives your family a chance to visit one of the large, bustling urban markets then retreat to a quieter city for a different experience.
In Bruges, Nov. 25, 2022 to Jan. 8, 2023 is the time for concerts of Christmas and carillon (bell-ringing) music. This magical city is packed with traditional architecture. Add on holiday decor comprising garlands and Christmas lights and the Bruges during the holidays looks like a gingerbread kingdom. Shops boast exquisite lacework and more, and the Procession of the Eastern Star parades across the city's canals. While in Bruges, don't miss the opportunity to sightsee in a horse-drawn sleigh.
In Antwerp, the markets run through the first week of January (Three Kings Day), with entertainment provided by jugglers, musicians, painters, poets and musical groups. Many Belgian products, as well as gourmet goodies and crafts from other European countries, are widely available.
There are exceptions to that exceptionally long Christmas market season. Throughout December only, visit a magical Christmas Village composed of 155 decorated cottages in Liege. In Ghent, famous for its cathedral and churches, one of the most photogrenic of Europe's Christmas Markets opens only Dec. 8-Dec. 31, 2022. As Ghent is a green city, and the market is located in a Low Emission Zone, most visitors driving into the zone will have to register their vehicles. Being in a car-free zone makes perusing the 150 wooden stalls even more fun for families.
Note that even the tiniest villages (many just a day trip from Brussels) will feature Nativity scenes and holiday concerts for a limited time. For more information, review the listings on Visit Belgium.
Switzerland Christmas Markets
Zurich is Switzerland's largest city so its popular Christmas markets are worth a visit. Visitors enjoy the festive shopping venues plus outdoor concerts, evening light shows, pop-up restaurants and decorated shops. During the period Nov. 24 to Dec. 23, 2022, drop by the nine Christmas markets held around the city. The best known among Europe's Christmas Markts are the very traditional ones in Old Town and the Wienachtsdorf Market at the Opera House, Sechsellautenplatz.
Additionally, Zurich Main train station hosts a contemporary market whose tree has more than 7,000 crystal ornaments. Keep this market in mind for those evenings when the temperatures drop as your kids may be more comfortable indoors.
Any time, we love the Marlitram, a festive red tram driven by Santa that circulates around Zurich. The angels onboard narrate Christmas stories for ages 4-9; tickets required from the Jelmoli department store. Don't miss the city's latest art installation that comprises 10 hotel rooms in 10 hotels, each designed by a different artist. "Hotel Noel: The Christmas Paradox" is open from Nov. 26-Dec. 26. Pick up a Zurich Card or the Bike version to make getting around the city easier and cheaper.
Don't miss the Christmas Markets in the lakefront city of Lucerne, which is so beautiful at any time of year. The Lucerne Advent Season opens Nov. 24 with tree lighting ceremonies at Europaplatz and in the Old Town. Both host Europe style Christmas Markets with a Swiss flair through the month of December. If you're new to the tradition, why not book a Pine Boughs and Bright Lights Tour. As you stay warm strolling the city's streets, an expert guide explains the local traditions and specialties to look for at the various markets.
Austria Christmas Markets
Holiday lights illuminate the Austrian capital from mid-November until right after Christmas. Vienna has several of Europe's favorite Christmas markets to marvel at. Romantics like the charming Spittelburg district, where one can find mulled wines, sweet treats and warm knitted goods nightly. At the classically regal Schönbrunn Palace, beyond the usual Christmas Market attractions, head inside for the palace's own children's activities and programs. Stay after the holiday to this imperial market convert into a New Year's market. Belvedere Castle, one of Vienna's most recognizable buildings, is home to a Christmas Village with Baroque accents. Maria-Theresien-Platz is full of regional crafts, unique gifts and culinary delights.
For traditional handicrafts and Christmas music, head for the Old Viennese Christmas Market on the Freyung which dates to 1792. Buy beautiful handmade gifts at the Art Advent in front of Karlskirche, where kids love to play in the petting zoo. Allow time to visit the candle-making workshop, listen to music and sample only organic foods. Vienna's City Hall or Rathausplatz hosts Vienna Christmas World at the Christmas Market. It is arguably the city's most famous Christmas Market with beautiful ice rinks. One can find countless ways to get lost among 150 booths sharing the intoxicating Christmas spirit.
The picture perfect Salzburg Christmas Market specializing in klotzenbrot, a bread loaded with raisins, dried fruits and nuts, also has a Christmas Museum. The main market, one of several in town, runs till December 26 in the center of Cathedral Square. All year round at the museum, visitors can see holiday decorations from the period 1840-1940, many from the famous Wienerwerkstatte which once sold as souvenirs. Did you know "Silent Night, Holy Night" was written in the city of Mozart and the "Sound of Music"? We visited in 2018 for the 200th anniverary celebrations. Make sure you gift the whole family a Salzburg Card to save on transport including cable cars, discounted skating rink tickets, local cruises and the many holiday-themed attractions.
Denmark Christmas Markets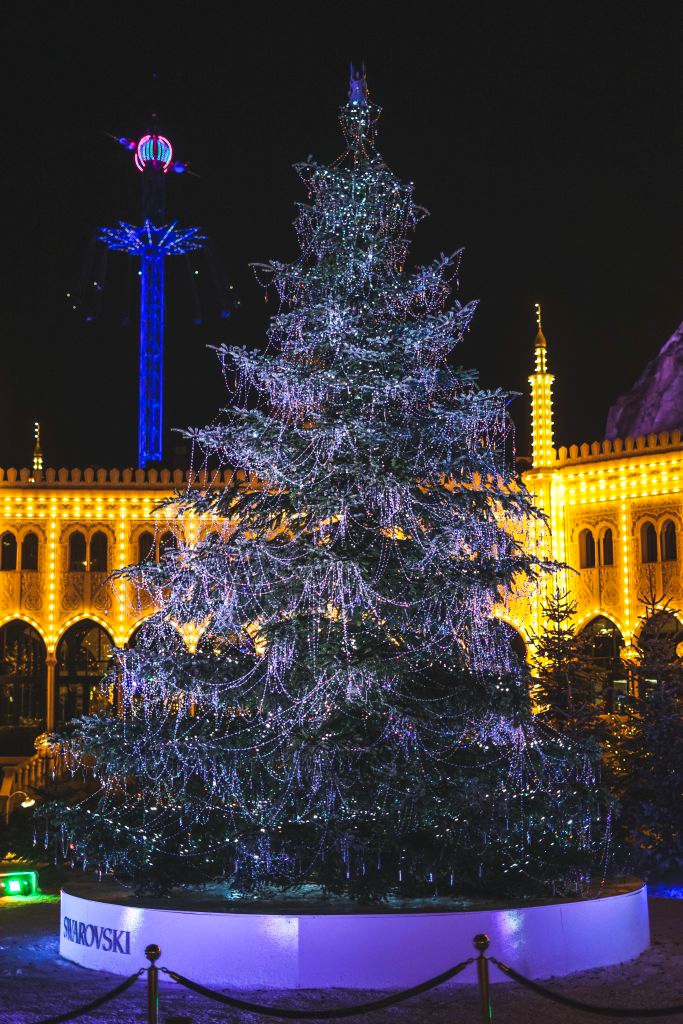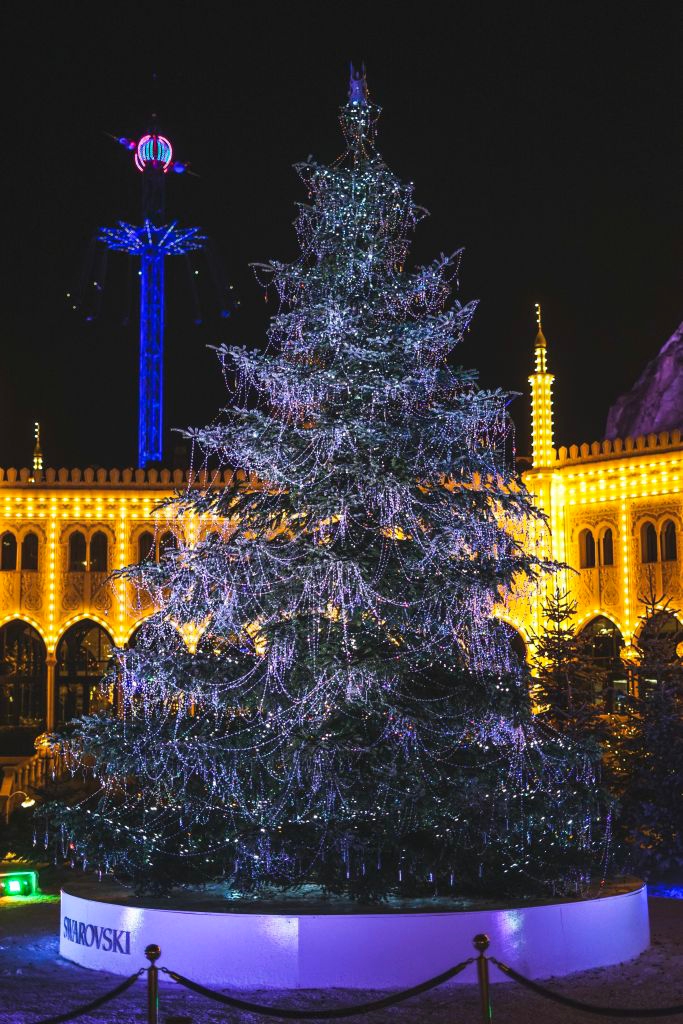 In Denmark, the hyggelig or cozy Danish Christmas season opens early, typically in mid-November, and runs about five weeks till a few days before Christmas. At Tivoli Gardens, Copenhagen's beloved pleasure park, pixies prepare more than 60 traditional stalls. The market showcases handmade decorations, Christmas gifts and sweets through New Year's Eve. Families will enjoy the three different light shows that play continuously and the Toboggan Run. Warm up and stay that way with mulled red wine, hot cocoa and other winter beverages. The park's lavish decor is inspired by Danish and Scandinavian tradition, and live reindeer add to the festive scene. Several other neighborhoods in Copenhagen host small markets, and stores everywhere show off their holiday decorations.
You may not have heard of Tonder, a market town that's reigned near the German border in Jutland for more than 750 years. They host a marvelous, very traditional Christmas market with its own Santa Post Office to send greeting cards from. At Den Gamle By, the living history site comprising 75 historic houses in Aarhus, costumed re-enactors create the spirit of Christmas' past.
Don't forget that holiday music plays at churches and cathedrals at no cost, all over Denmark, in December. For more information, look at Visit Denmark.
Dear Reader: This page may contain affiliate links which may earn a commission if you click through and make a purchase. Our independent journalism is not influenced by any advertiser or commercial initiative unless it is clearly marked as sponsored content. As travel products change, please be sure to reconfirm all details and stay up to date with current events to ensure a safe and successful trip.
---