There are few adventures that match the magnitude and exoticism of exploring Mongolia on horseback among authentic nomadic tribes. Once an impossible bucket list dream for fans of "The Eagle Huntress," a two-week immersion in this rugged mountain wilderness is now available.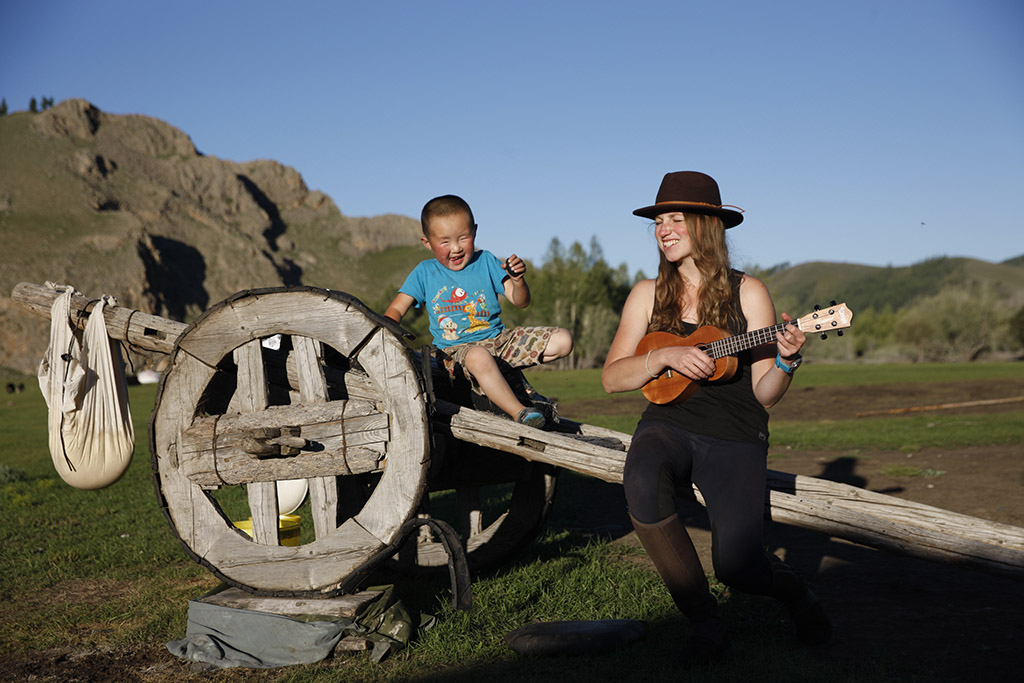 Thomas L. Kelly and Carroll Dunham are Americans who lived overseas for more than 40 years. They organize these Mongolia on horseback tours with their sons for adventure tour operator Mountain Travel Sobek. For 2023, there are four scheduled departures between June and August.
The family spent many winters in Nepal and Goa, and busy summers running a horse tent eco-camp in Mongolia. Activities were curtailed during the 2020-21 pandemic era. Yet, Kelly and Dunham's company, Wild Earth Journeys remains committed to "pilgrimages to wild and sacred places of the earth."
How Mongolia Found a Place in their Hearts
Carroll finds it very humanizing to connect with different cultures. This region was at the heart of the Silk Road, connecting Asia to Europe for millennia. For Tom, the appeal of his family's own nomadic lifestyle lies in Asia's strong traditions and the bonds of extended families. Guests on their tours are guaranteed to encounter local traditions and rituals, as well as Asia's remarkable food.
During summer, the family moves out to the Mongolian steppes to work with nomadic tribes. Explore the vastness of the terrain, simplicity of nature and the challenge of living as one with animals. This interview with National Geographic provides a better understanding of the lifelong impact the Mongolian nomads and their traditional lifestyle have had on Kelly's own sons.
Your Summer in Mongolia on Horseback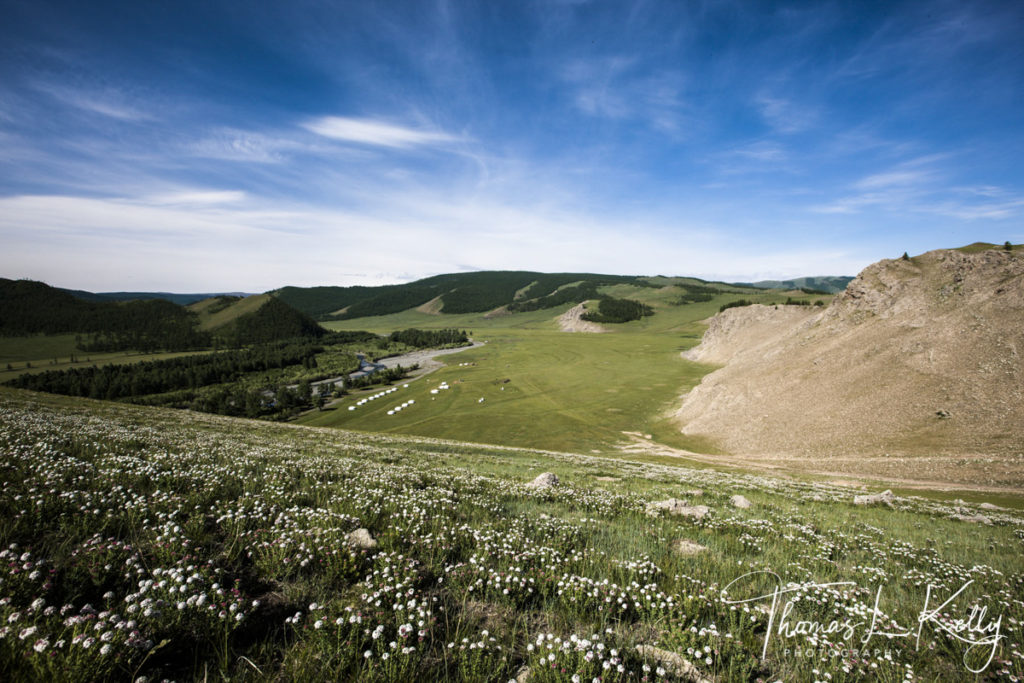 During summer, join them to live among three million people and 70 million animals in Mongolia.
Kelly and Dunham founded the Lapis Sky Camp in the Bhukhan Valley 20 years ago. The camp is totally off the grid, using solar-power and fresh water from local sources within Mongolia's Arhanghai District, Bunkhaan, Land of the ancestors. Guests experience the Mongolian lifestyle in comfortable yurts – gher housing – while exploring local culture.
All ages are challenged with brand new activities. For example, forage for medicinal herbs, learn to ride bareback and do a four-day horseback trek. Hike out to watch red-footed falcons and visit the 16th-century Kharkhorin Erdene Zhu monastery. This area is said to be the legendary capital established by Genghis Khan and his son in the 13th century.
Expect to be introduced to fishing in the Tamar River, bird watching, archery and daily yoga sessions. In camp, your family can also try milking a yak.
Most two-week trips provide opportunities to join the tribes in age-old shamanic rituals to connect with ancestors. Additionally, indulge in high-tech photography lessons with Tom, a true photography professional.
Fishing and the Nomad Life Among Mongolia Adventures
Their company Wild Earth Journeys will offer other exclusive guided adventures during 2023. Add them onto your horseback trip or sign up for these alone.
From mid-June to end of August, join Kelly and Dunham on a Mongolian Altai Horse Trekking Adventure. This rigorous ride explores an even more remote part of Mongolia in the Altai Tavan Bogd National Park.
Fishers will go for the two-week King Taimen Fly Fishing trip with three departures between July 1 to Sept. 1, 2023.
Mongolia Golden Eagle Festival
Another Wild Earth itinerary includes the famous Mongolia Golden Eagle Festival, a celebration of local tradition that's two millennia old.
Wild Earth Journeys and outfitter Kazakh Tours promise authentic cultural immersion in the Altai Mountains. Over two weeks, Sept. 7-20, 2023, guests meet the nomadic Kazakhs of Bayan Ulgii province. You will photograph and observe Kazakh eagle hunters — horseback riders who train eagles to catch prey. The show is spectacular as you watch them compete against other Mongolian eagle hunters.
It is one of the world's most remarkable events in the most remote of places.
Organizing Your Mongolia Horseback Trek
Through Kelly and Dunham's relationship with Mountain Travel Sobek, foreigners can join two week adventures. Tour Mongolia on horseback to unplug, connect with nature and learn to live with animals.
May to September is the best season to visit. They're planning four Mongolia on horseback tour departures between June 14 and August 10, 2023. Adventurous groups range from six to 16 people. Participant's minimum age is 9 years. The Ulaanbaatar airport is the main gateway to the country.
Tours begin in Ulaanbaatar, Mongolia. After an orientation and sightseeing in the capital, you proceed to the national park and gher camp. There are days of exploration, discovery, visits to holy places, feasting and sharing the ways of local nomadic people. After a week, take off on a four-day Mongolia on horseback trek, stopping at night to make camp along the way.
The trip culminates at the annual Nadam Festival. Watch Mongolian men and boys challenge each other in physical contests such as bareback horse racing, wrestling, and archery.
Trip Planning Details for a Mongolia on Horseback Adventure
On an escorted tour, everything is organized for you. They factor in the current COVID safety protocols prevalent in China at the time of your visit. You get a packing list which is very useful. Learn how to pack clothes you can easily layer, from loose cotton wear to fleeces. Don't forget waterproof outerwear to protect you from the elements. Of course, hiking shoes and personal items such as sunblock and insect repellent are a must.
Trip costs, excluding international airfare, include airport transfers, accommodations, most meals and all activities, entrance fees, horseback riding and other specialized equipment and most gratuities.
Rates for 2023 departures begin at US$7,895 and a $600 single supplement applies for those not sharing a gher. For more information about the Mountain Travel Sobek Mongolia on Horseback trips, contact the company's expert reservations agents. And tune into Wild Earth Journeys for other trips and prices.
Dear Reader: This page may contain affiliate links which may earn a commission if you click through and make a purchase. Our independent journalism is not influenced by any advertiser or commercial initiative unless it is clearly marked as sponsored content. As travel products change, please be sure to reconfirm all details and stay up to date with current events to ensure a safe and successful trip.
---