Trek 4,000 miles from the Kingdom of Xi'an west across the Gobi Desert, through the oases of Dunhuang, Turpan and Kashgar, across the Stans to the courts of India, Persia and Europe and you've traced the highlights of the historic Silk Road, one of travel's most storied journeys. And one of its most relevant.
It is a place where the civilizations of China, India, Greece and Islam met; where six religions and countless ethnic tribes worked together, learned from each other and prospered. Have we forgotten the value of intercultural communication, open commerce and sharing of ideas that were crucial to the Silk Road's success over thousands of years?
In order to explore what was, in all regards, the original information superhighway, we began our adventure in China, the country where most of the historic Silk Road oases remain. We couldn't have made this journey of a lifetime without Silk Road China Tours, whose carefully crafted itinerary and expert guides brought a fascinating story to life.
Dunhuang, Heart of the Silk Road
Travelers are often surprised by Silk Route highlights: the staggering level of artistry at religious shrines — especially Mogao Grottoes, the music of ancient string instruments, delicately painted tiles and sculpture, raging sandstorms, lambs being carried home on mopeds. A huge winery outside Jiayuguan has Asia's largest wine cellar. Highspeed trains whiz past miles of greenhouses sprouting from the desert.
Today, as it has been for thousands of years, Dunhuang is at the heart of the Silk Road. This lively, touristy Western China town with a population of just 200,000 attracts two million visitors annually between April and October. They range from caravans of domestic Chinese on family vacations to trekkers camping in yurts, from privately guided tours for Asian art lovers to wannabe' adventurers like us.
If you will only get to one town on this route, Dunhuang is it.
Before Christ there was the Silk Road
Two centuries before Christ during the Han Dynasty (206 B.C. to 220 A.D.), traders coming from India, Persia or parts of Europe aimed for the oasis of Dunhuang, already a major trading post and supply center. From here, merchants could obtain visas to continue on the well-trodden Silk Road caravan routes into China. Caravans would have to go around the notorious Taklamakan Desert, whose name means "go in and you won't come out" in Turki. Whether traders took the Northern or Southern routes to reach Chang'an (today's Xi'an) to pick up silk, it was a journey of several months.
Reflecting the Silk Road spirit, for two millennia Dunhuang welcomed all travelers, whether pilgrims spreading a new faith like Buddhism, gold-diggers or alleged explorers such as Marco Polo.
Itinerary of Silk Road Highlights Worth Seeing Today
We prepared for our journey along the Silk Route by studying Peter Hopkirk's "Foreign Devils on the Silk Road," a great read about the European archeologists who pillaged – or rescued depending on your viewpoint — the Silk Road's most important art and religious works in the 19th and 20th centuries.
Hopkirk's thorough history, however fictionalized, helpfed frame our itinerary to include at least one overnight in each of the major oases beyond Xi'an: Zhangye, Jiayuguan, Dunhuang, Urumqi, Turpan and Kashgar.
Silk Road China Tours then supplemented our requests with their own must-see stops. En route, their wonderful guides (Amy, Antony and Abdul) helped us sample all the street food and restaurants we could try; answered our endless questions; made additional stops at our whim, wherever and whenever. Although we'd made our way around eastern China independently on another visit with this first-time to China family itinerary, the imperial treatment we received from our escorted Silk Road adventure made the trip so much better.
The Charms of Dunhuang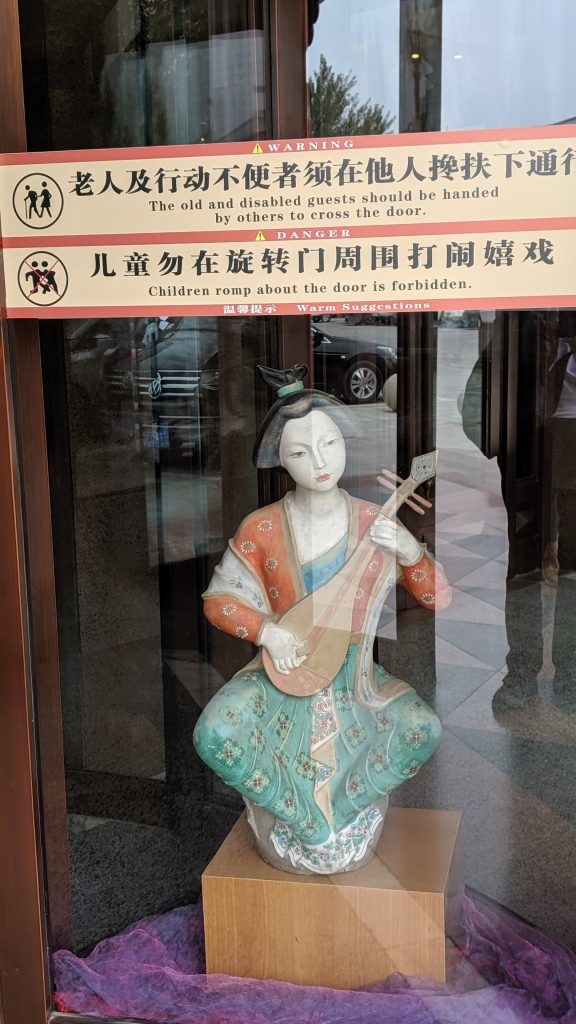 From the dramatic intersection of the arid Gobi Desert and the verdant oasis, to the sweeping dunes of golden sand, greater Dunhuang has a stunning landscape. The city itself is like many "modernized" Chinese cities with stark highrises and broad boulevards. Shops range from pharmacies to supermarkets to knockoffs of designer clothes. Dried fruits grown with state-of-the-art irrigation systems are widely sold and delicious.
The bustling Night Market is, however, more inviting to the Western eye than most– and flourishing. Barbecue cafes selling traditional Uighur lamb skewers, naan bread and beer towers vie with souvenir vendors, antiquities dealers and salesmen of rocks sculpted from the colorful dunes nearby.
Maybe it's best to be wowed by the real thing before you get to the Dunhuang Museum, but this wonderful local museum in the city of Dunhuang has something found nowhere else – a replica Mogao Grotto where you can actually take pictures. Having a chance to study the artwork and take selfies in full light, see how the caves were made and feel the straw and clay elements used for the statuary helps visitors appreciate the beauty to come.
As cosmopolitan as Dunhuang is, it's not easy for foreigners to get around. Considering the requirement that all Chinese nationals study English at school, we were surprised how few people could speak it at all. So as well traveled as our family is, we were happy to have a guide on hand.
The Stunning Caves at Mogao Grottoes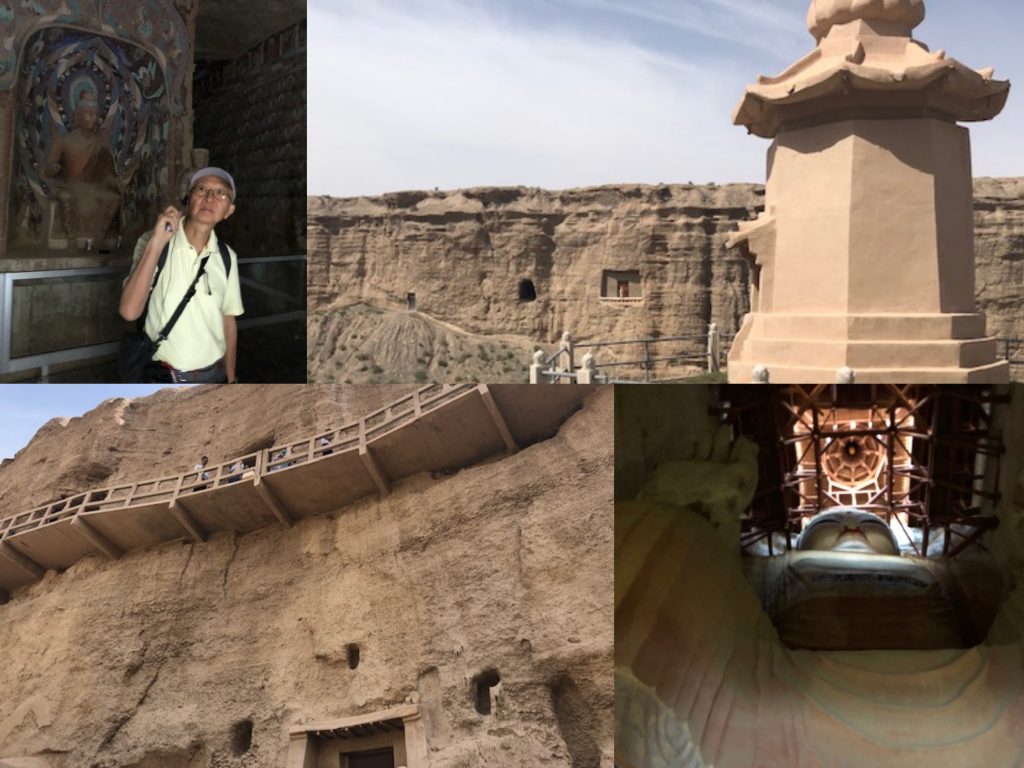 It's no wonder that Dunhuang's Mogao Grottoes was an essential stop along the Silk Road. Merchants entering China after crossing the forbidding Taklamakan Desert with their wares offered thanks and alms; those bringing silk from the capital at Chang'an (present day Xi'an) prayed for safe passage to West Asia and Europe.
Touring the inside of hand-cut caves painted more than one thousand years ago may sound dull, but when your guide turns a flashlight on the brilliant artwork, everyone in your privileged group will gasp.
The artwork at Mogao Grottoes and other Buddhist caves is extraordinarily vivid and sophisticated, with each cave depicting pilgrims in different fashions, jewelry and trendy hairdos befitting their era. Distinct facial features are typical of their ancestors' homeland. Some were decorated by monks for study and prayer; others funded by patrons who wanted to earn merit during this life.
Many caves, Buddhist paintings and sculptures illustrate the Sutras (teachings of the Buddha) and feature delicate apsaras (angels) and expressive Boddhisatvas (disciples.)
More than 1,500 manuscripts found in what's known as the Library Cave, removed by explorer Sir Aurel Stein to the British Library in London more than a century ago, have taught scholars much about the ancient world.
Visiting the Thousand Buddhas (Mogao) Grottoes
The UNESCO World Heritage site of Mogao Grottoes is more than a highlight of the Silk Road; it's a multiplex featuring exciting stories of war and conquest; love, devotion and spiritual faith; even court intrigue illustrated at banquets full of music, dance and the latest silk fashions.
Orientation begins at the shiny new Dunhuang Academy Museum. At our visit, the Pritzker Art Collaborative had assisted in the assembly of stunning art and priceless artifacts from the Tubo Kingdom to illustrate the adoption of different cultures from the Silk Road. Stop to watch the two terrific films, one a Hollywood-worthy drama recreating life on the Silk Road and in Dunhuang over the centuries. The other is an entertaining documentary about the art found in the public caves which, seen in closeup, is a great introduction to appreciating the real thing.
Called the Thousand Buddhas Grottoes in Chinese, hundreds of caves were cut into the cliffs lining the Danghe River as it flows from Qilian Mountains glacier. Eventually, they were buried and well preserved by sand. Although many have been lost to time, flooding and vandalism, the 492 decorated shrines which remain comprise the largest collection of Buddhist art in the world. This site is incredibly fragile and the caves are strictly protected. Only 25 caves are open to the public; the selection of six publicly shown by guides changes daily.
Silk Road is Alive at Yilin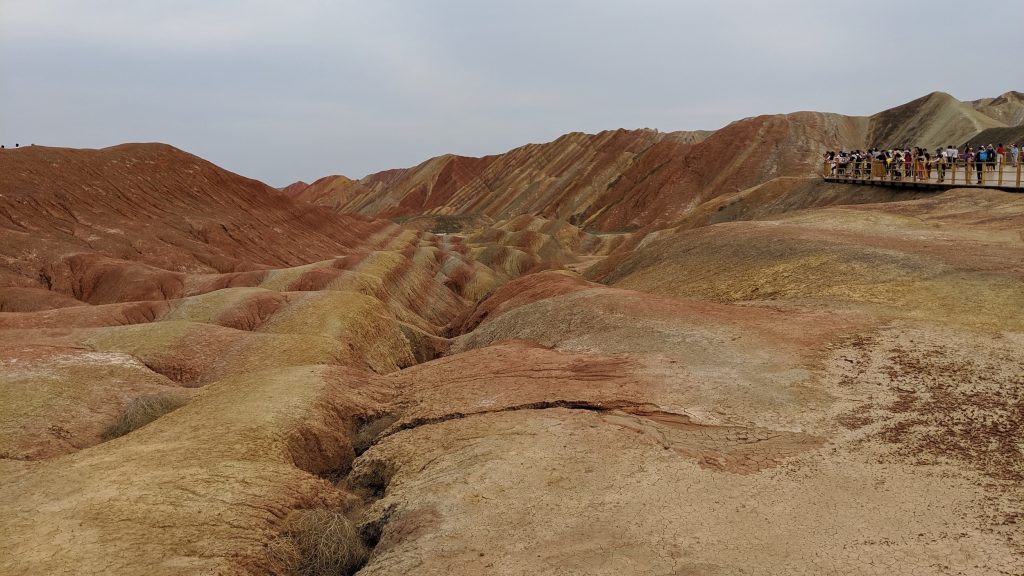 Yilin Grottoes is another cave complex like Mogao that's outside a small village about 90 minutes' drive away.
Of interest here are caves decorated with more folksy, primitive clay and painted artwork than the ones funded by noble families at Mogao. Imagine this as ancient China's heartland, not a temple complex frequented by emperors. The small town setting and pretty riverfront location make Yilin a very worthwhile excursion for art lovers.
In addition to superb Buddhist and Chinese cave paintings and sculpture, Dunhuang has lots of fun tourism activities to enhance those "Lawrence of Arabia" moments.
Giant Dunes and Sand Boarding at Echoing Sands
Don't leave Dunhuang without riding camels at Echoing Sands National Geopark. While it's the equivalent of a U.S. national park, the government doesn't squander any opportunity to engage visitors with every possible activity imaginable. Picture thousands of visitors on summer days and you'll know why there are 1,500 two-humped Bactrian camels licensed to transport visitors up the towering sand dunes. A camel ride is undoubtedly a highlight of any traverse of the Silk Road.
From almost any angle, the remarkable vista of camel caravans evokes the historic Silk Road. It's worth the hour wait's because being part of that human chain – even for 45 minutes — is thrilling. It's surprisingly comfortable and children 6 and older can ride in front of parents.
Spend as much time exploring as you can; meeting Chinese tourists eager for their children to practice English is fun, too. After the minimal entry fee, attractions such as flying in a tethered hot air balloon, renting ATVs to go dune bashing, wearing period costumes and sand boarding are a la carte. Other sections of the park are earmarked for hiking up yourself and sliding down on small saucers. Listen closely and you'll hear the sand squeaking in harmony as several people slide down, a phenomenon that gave the park its name.
Traders first came upon the miraculous natural spring that forms the quarter moon-shaped Crescent Spring Lake on their way to the Dunhuang oasis. You'll find this small picturesque lake near the entrance to Echoing Sands. While it's always framed by a pristine dune and a pagoda on the shore, in order to capture that Instagram-famous reflection in the water, it's best seen lit by the sunrise, sunset or on a full moon after the crowds have departed.
Xi'an was China's Silk Capital
Assuming you've fallin in love with the Silk road, most itineraries start from the East, in the trade center of Xi'an, a fascinating city best known for the Tomb of Emperor Qin Shihuangdi (221-206 B.C.) and the 8,000 unique terracott warriors buried with him.
During the time of the Han Emperor Wudi, emissaries were sent from the capital (known then as Chang'an) to explore India and begin trading. Chang'an/Xi'an was the source of prized silk – thus the "Silk Road" — and the arrival of crops like alfalfa, pomegranates, grapes and even horses from India and Europe was immediately transformative. In fact, China's wine industry, seemingly recent to us, dates to this era.
Several sights in Xi'an such as the Big and Little Goose Pagodas, Ming walls and Drum and Bell Tower attest to the city's grandeur.
The infusion of cultures that arrived with Silk Road traders is most easily seen at the comprehensive Shaanxi Provincial Museum, where galleries highlight local arts and culture over millennia. Follow the display to see how new influences from afar sparked changes in architecture and religion, how the goods traded impacted what the Chinese were using in their everyday lives, and how creativity exploded when more formal Greek, Persian and Roman styles were overlaid onto flowing Indian patterns and traditional Chinese scenes.
It's time to begin your Silk Road journey.
Jiayuguan and The Great Wall
Keep in mind that the Silk Road's commercial, cultural and strategic role between the 2nd and 17th centuries A.D. was so important to China, that successive emperors ordered the UNESCO-designated Great Wall extended westward from Xi'an to protect it. Wealth was everywhere along the route.
Jiayuguan Pass is the famous westernmost end of the Great Wall and brings may visitors to this bustling small city of the same name, a plane flight west from Xi'an.
After passing several beacons (soldiers' watchtowers) along the region's highways you arrive at the remarkably intact fortress of Jiayuguan Pass, built in 1372. Don't miss the chance to rub its superb Ming Dynasty-era stonework, climb the battlements, study the sophisticated defenses and appreciate the human capital used to build it in the harsh Gobi Desert. Kids love this place. If you and your family are tired of climbing old stones, a helicopter stands by for flightseeing tours.
A lesser known highlight in this desert are the Wei-Jin Tombs, a collection of brick underground tombs built during the Wei and Jin dynasties (about 3rd to 5th century A.D.) Scholars believe there are up to 1,400 tombs under these barren fields outside Jiayuguan, although only a few are open to visitors. Imagine walking down a perfectly spaced brick staircase more than 1,800 years old into a series of vaulted chambers. There's a bit of a weird echo.
Allow plenty of time to study the sculpted stucco trim and brightly painted tiles depicting flowers, animals and vivid images of daily life. The Wei Jin picture book isn't high religious art, it's about life in ancient China and very accessible to all ages.
Zhangye's Dafo or Giant Buddha
Zhangye is a much smaller, quieter Silk Road oasis with a laidback vibe on display at the city's Dafo or Great Buddha Temple. This somber, carved wood temple houses a famous reclining Buddha. In the darkened temple, you can just make out that Buddha's meditative eyes are shaded by half-lowered lids. A hushed grace fills the room.
Then you realize he's positively huge! Buddha is lying on his side, at 113 feet in length with 24-feet-wide shoulders, and it is said that eight people can stand on his ear. Another legend says Kublai Khan, the emperor whose grandfather Genghis Khan established the vast Mongolian empire, was born in the temple.
Dafo has been a holy place since 1098 and the cache of Buddhist sutras, or scriptures, found hidden in the sculpture's belly is said to be one of the most important finds of antiquity.
Mati Si Caves and Trending Treasure: Rainbow Mountain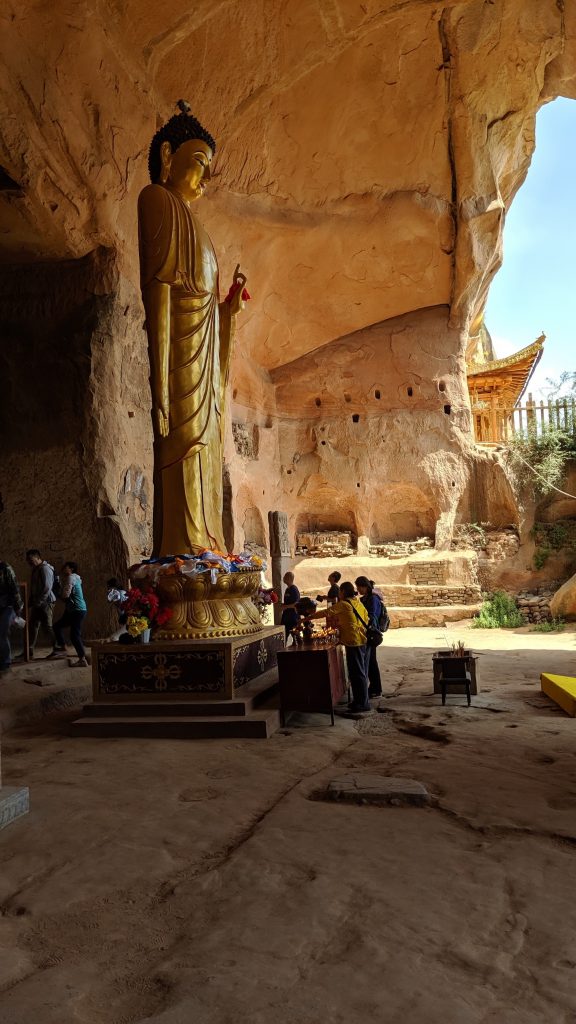 Not to minimize the impact of Mati Si Grottoes, where nearly 18 miles of sheer rock hillside are freckled by clusters of painted wooden shrines clinging like spider webs. They hide caves, some dating back 1,600 years, full of Tibetan Buddhist art. You'll have to climb up to seven stories of sandstone ladders – that's rigorous — and cross rickety wood walkways to see for yourself.
On the highest level are the oldest original Buddhist wall paintings and statues which were influenced by the local Tibetan and Uighur tribes, here called the Yugu, can be seen. Mati Si is also called Horse Hoof Monastery, inspired by the tale of a flying horse whose hoofprint is embedded in stone.
Zhangye's other famous attraction is Danxia Landform, popularly known as Rainbow Mountain, an Insta-worthy ecopark made up of beautiful hills composed of red, white, pink and gold sand that swirls through every vista. The crowds are unreal.
Sunset is the best time to visit; board a guided tour bus to four stations, stick to the protective boardwalks and shoot away.
Highspeed Trains, Amazing
The road west from Dunhuang west is so harrowing that locals call it Massage Highway. After three kidney-rattling hours crossing the Taklamakan single file between freight-laden trucks, we reached the highspeed train station at tiny Liuyuan Nan.
The recently built western China highspeed train system known as the New Eurasian Land Bridge rivals the Japanese shinkansen and is so much more efficient than a camel caravan. It's true we were crossing from Gansu to the politically sensitive Xinjiang Uighur Autonomous Region but every train you take requires an airport-level security routine: show passport and train tickets to police at the entry, be checked against the countrywide facial recognition security database, put luggage through the scanners, wait until the track is posted, line up to have your tickets scanned again…
Three hours later we were in Urumqi, capital of Xinjiang UAR.
Nights in Urumqi
The province's traditional ethnic makeup has been deliberately upended through immigration from the eastern cities, so that 70% of the local population, once Uighur and Muslim, is now Han Chinese of varying faiths. Urumqi is a colorless new style Chinese city where private homes have been leveled to make way for hundreds of high-rises. Despite its lack of charm, a snow-capped peak in the distance calls out.
The next day we make an excursion there, to Tian Shan or Heavenly Mountain, the region's primary water source. Thousands of Chinese are there to admire Heavenly Lake, join a guided cruise, ride e-bikes along the shore (having a WeChat or Alipay app is essential for most purchases) and take selfies in traditional Kazakh costumes.
We see right away they look little like the blond, blue-eyed Kazakh tribes who graze sheep and goats here.
The Four Firsts of Turpan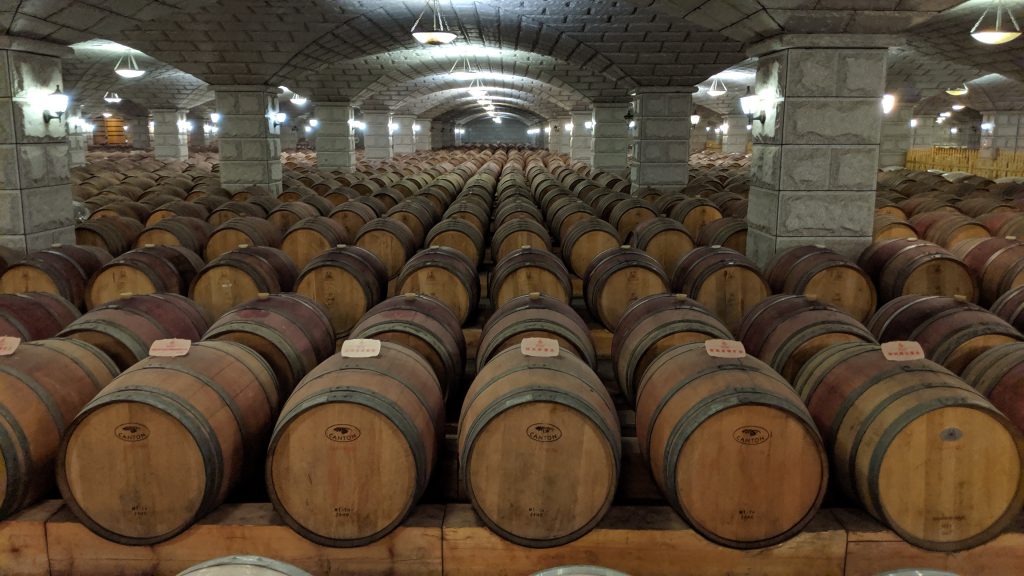 We have less than 50 minutes to look out the highspeed train window and understand how Silk Road traders passed 21 grueling days trekking between the oases of Urumqi and Turpan.
Turpan is known for Four Firsts: as China's hottest city, driest city, lowest city (507 feet below sea level) and… drumroll please… China's sweetest city, for its massive table grapes known as Mare's Nipples and its robust wine industry. It is all true.
From the heavily guarded, funky Night Market sheltering a few Uighur food stands to the Chinese massage parlor in our hotel (yes, a Chinese massage is another highlight of a Silk Road tour), Turpan exudes a weirdly authentic charm. Stay a few nights and enjoy it.
Touring Jiao He, Ancient Yarkhoto
We toured Jiaohe City, the ancient Yarkhoto, in the 115-degree morning heat and were as startled by its sophistication and beauty as the many who had passed through this famous ancient kingdom along the Silk Road.
Built on a tall island hilltop surrounded by flowing rivers with very steep banks, Yarkhoto was the naturally fortified capital of the prosperous Jushi Kingdom from 108 B.C. to 450 A.D. Contrary to expectation, Yarkhoto's residents expanded over the centuries by digging down into their islet, making the worn sandstone paths we walked the oldest real estate there. To explore the intact two- and three-story buildings, we had to descend a hand cut stone staircase to see an ancient town hall open out before us.
Xinjiang's Silk Road Sights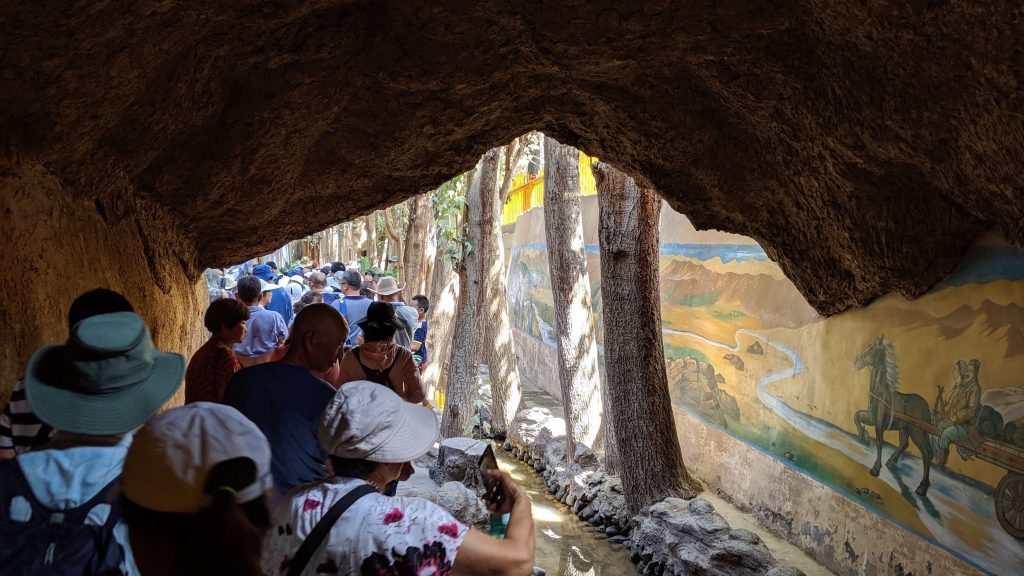 Turpan is home to another engineering marvel, covered irrigation tunnels. Karez is the name of a remarkable system of underground water tunnels dug to transport water from Heavenly Mountain to the fields.
Another natural geopark that probably shouldn't be toured in the summer high season was the burning sand of Flaming Mountain. Like the multi-hued reds and golds of Rainbow Mountain, the rolling hills were dazzling and blinding in the harsh sunlight.
Nearby, however, were the ruins of Bezeklik Thousand Buddha Caves. Another magnificent monastery cut into a cliff that rivaled Dunhuang, it was pillaged by German archeologists around the turn of the 20th century. What a wakeup call to see cave after cave of ravaged artwork, scarred murals and faceless Buddhas left by Western scholars.
While the culturati toured these almost forgotten caves, the boys took off on ATVs to do some dune bashing, claiming their dusty excursion another highlight of the trip.
Kashgar, Thriving Then
Our Silk Road journey ended in Kashgar, the oasis so far west in China that it is closer to Istanbul than to Beijing. The Muslim festival of Eid-al-Adha celebrated by the local Uighur people had begun.
There were unconfirmed reports in the news (since confirmed) about the harsh efforts to silence these Muslim "rebels" by the Chinese government. No one would discuss it.
We wanted to see the legendary Kashgar Sunday animal market where, for centuries, silk traders had bartered weary camels for fresh ones and purchased sheep and goats to walk with them. Save for a few Halal butchers and an elderly man carrying a bleating sheep home on his moped, it was empty.
We went to the central market where the region's famous Hami melons lay in piles; unsold, uneaten. The Id Kah Mosque in the city center is one of the oldest in China. On one of the holiest days in the calendar, the dozens of surveillance cameras hung on its gate had no one to monitor. The central government's policy of forced cultural assimilation had terrified Kashgar's residents, decimated the ranks of the religious and devastated the local culture.
Kashgar, Now Forgotten
Kashgar was the filming location for "Kite Runner." That look is gone today. We strolled the old city, a maze of mud-brick houses which the Chinese government began rebuilding in 2009. They've restored some facades, widened lanes and, we were told, added reinforced concrete, indoor plumbing and electricity for the original Uighur residents who've returned.
Efforts are made to maintain it as a tourist attraction. There is traditional dancing and music by costumed Uighur staged a few times a day for the many Han Chinese who visit. It made us very uncomfortable.
The most evocative Silk Road sight was the original British Consulate. Many books describe it as the home of Consul-General George Macartney who warmly welcomed explorers from every Silk Road expedition between 1890-1918. The boarded-up Victorian consulate now sleeps quietly on a back lane behind the Luxemon Qinibagh Hotel. Out front, a dusty elm tree bears a plaque dated 1888.
Silk Road Spirit is so Relevant Today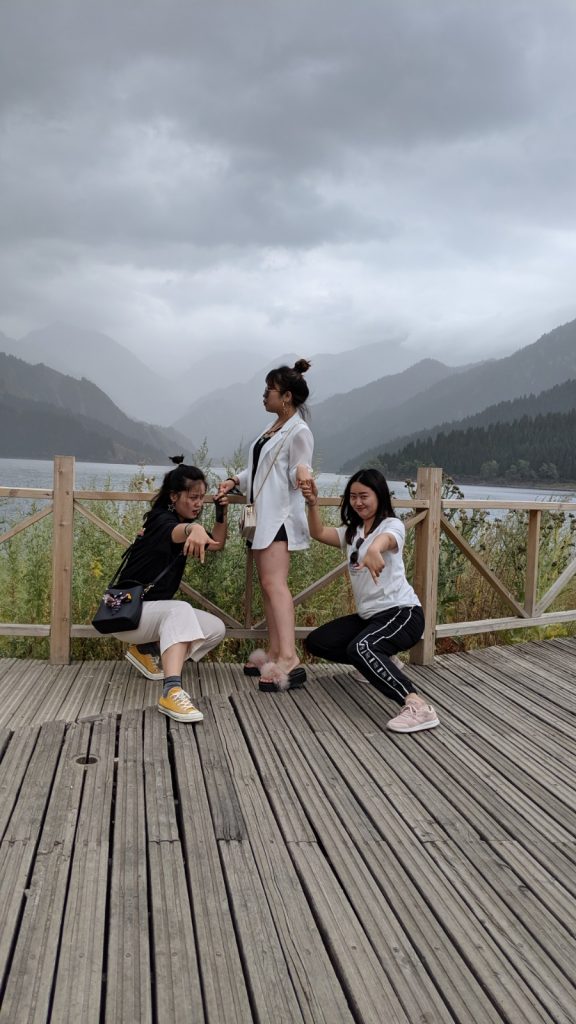 Our August visit coincided with a global conference entitled, "Dunhuang: Representing an Inclusive, Cooperative and Mutually Beneficial Cultural Development in the World." Several academic and government leaders spoke to that theme, basically summing up what our family experienced as travelers along this length of the Silk Road.
According to Gao Anming, VP of the China International Publishing Corp. who was launching an English language translation of a noted Dunhuang guide, the Silk Road's historic role was not just as a corridor of trade but also as a major civilizing force in the ancient world. He referred to this mutually beneficial cooperation as the "Silk Road Spirit."
Dr. Elizabeth Woo Li of the Sinological Development Charitable Foundation (SDCF), which supports foreign scholars in learning firsthand about Chinese cultures and philosophy, agreed. She called Dunhuang an extraordinary and sacred site that thrived on harmonious coexistence.
Today's Silk Road travelers can still feel the harmony between Indian traders, Muslim merchants, Buddhist pilgrims, Mongol raiders, Persian artists and Greek and Roman soldiers, who were united in efforts to seek their fortunes in the easternmost region of their world.
That Silk Road Spirit is what makes it such a compelling journey still.
Dear Reader: This page may contain affiliate links which may earn a commission if you click through and make a purchase. Our independent journalism is not influenced by any advertiser or commercial initiative unless it is clearly marked as sponsored content. As travel products change, please be sure to reconfirm all details and stay up to date with current events to ensure a safe and successful trip.
---