Having tested negative for COVID-19 after a two-week road trip where we slept in a B&B, Airbnb, motel, historic inn, boutique resort and several chain hotels, we can confirm that hotels are safe in the age of coronavirus. The trick is staying alert to the many ways you can protect yourself and your loved ones.
A family emergency prompted our sudden road trip from New York to Florida and yes, we were very anxious about our personal health. Yet our fears were somewhat soothed by all the hotel chains' reassuring health statements.
What Hotels Say They're Doing to Keep You Safe
We had read about Marriott's early initiatives to set up a council of experts to review cleaning protocols and establish social distancing guidelines across the world's largest collection of hotel brands. In addition to contactless check-in and checkout, sanitizing public spaces with electrostatic sprayers, closing gyms, cafes and communal facilities and removing most guest touchpoints (or sanitizing them with UV light), Marriott said they were also following the guidelines of the CDC and WHO at all properties.
We had read about Hilton's work with the Mayo Clinic and Lysol. Hyatt, Best Western
, Accor
and other brands each announced their own plans to keep staff and guests safe from travelers who might bring the disease with them. It's probably all true.
The reality on our trip: The safety protocols of overnight accommodations are all over the place.
Editors Note July 20, 2020: American Hotel & Lodging Association members (pretty much the entire U.S. industry) mandated clear safety guidelines, including the wearing of facemasks indoors and in public spaces, for their members. Please let us know in the Comment Field below if hotels are complying with these new rules.
The Real On-the-Road Hotel Experience
Call us hotel experts because we spent disorienting nights in Smithfield, Wilmington, Beaufort and the Outer Banks of North Carolina; Savannah, Georgia; Deerfield Beach, Melbourne and St. Augustine, Florida; and Fredericksburg, Virginia.
The only states we skipped sleeping in were New Jersey and Pennsylvania (too close), Delaware (14-day quarantine required) and South Carolina (too many COVID cases) as we made our way on I-95 and several other major and minor roads comprising the East Coast's most popular road trip.
What We Learned about Hotels and Safety
Having slept in so many different places, we had ample time to read the Welcome Letters handed out at check-in, and digest what each of these places was doing to protect staff and guests. COVID-19 protocols range from the sublime to the ridiculous.
One chain hotel left garbage bins by the elevators and asked guests to throw in their own used sheets and towels to reduce contact for their housekeeping staff. Another removed all toiletries, coffeemaker, minifridge and even plastic cups from the room. In contrast, an elegant Southern inn provided such a warm welcome that our room was cluttered with antiques, the bathroom had single-use toiletries and the bellman wanted to shake our hands.
At some of our overnight stops, the pools were closed and the gyms open; at others the reverse. None served food but some gave away coffee and a breakfast muffin while others sold them. Breakfast was terrible everywhere so don't think you're getting a deal if it's included in room rates.
Most importantly, at some hotels, staff and guests wore mandatory face coverings. At others, no one did (except us, of course).
Research You Can Do to Choose Safe Hotels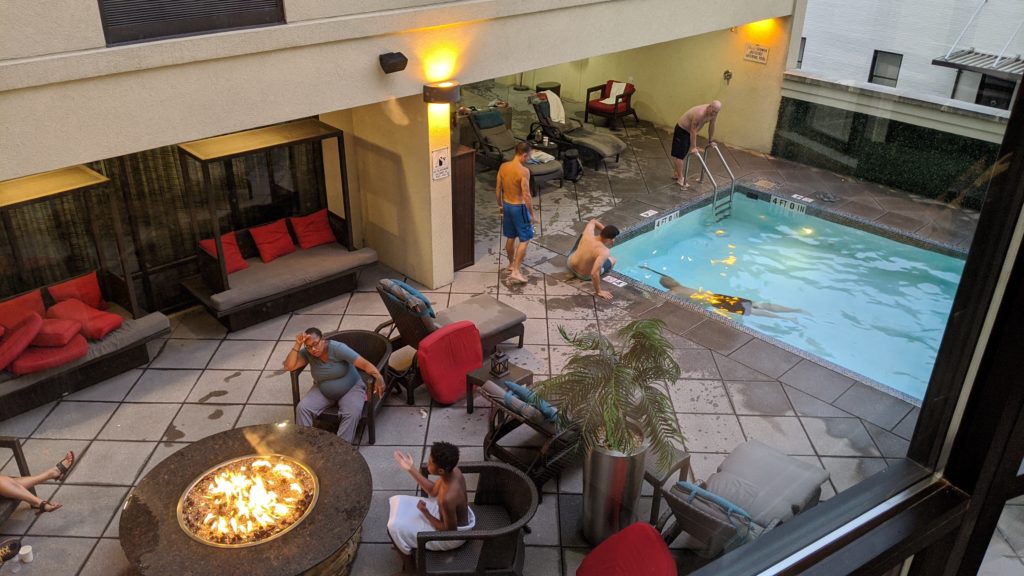 Did we plan ahead about where to stay based on the number of COVID-19 cases being tracked in the area? No, but it would have been a good idea. Everything for us was last minute, and we did have to change our itinerary when we discovered that the virus numbers had spiked in an "open" county. We were lucky that, as Marriott Bonvoy members, their customer service allowed us to cancel a non-refundable hotel room and transfer points to another stay in another city.
Did we call ahead to each hotel to discuss their COVID-19 anti-spread policies? No, but we did call ahead to check on whether their pools would be open – very important, especially with kids.
Did we research how reliable these hotels were? Yes, we only booked hotels with high ratings on Booking.com
and other apps that showed recent, post-pandemic reviews, many from first responders. We did pick one dud – a vintage motel that looked very cute but had a mildewed carpet and stained tub. Still, while gross, those issues are not what transmits coronavirus, so we stayed anyway.
Did we follow the CDC's new guidelines on staying safe during hotel stays? Yes, we did follow their general recommendations for wearing face masks, washing hands frequently and using wipes every time we touched a door knob or other possibly infected surface, while recognizing that surfaces are not the primary way the virus can be spread.
Why Hotel Safety Protocols are Inconsistent
As in many other aspects of coping with the pandemic, the standards for preventing the spread of COVID-19 are inconsistent, not enforced or perhaps just unenforceable by the hospitality industry.
Confusion reigned in big and small places, and even between hotels managed by the same chain. We attributed it to inadequate staff training and local management that succumbed to political will rather than federal health guidelines. And greed was probably a factor, considering the huge losses the industry has suffered this year.
At our Airbnb, for example, where bookers were told there was 24 hours between rentals to ensure hygiene, we were allowed to stay an extra night even though a new family was moving in two hours after we left.
More important than the safety protocols of the hotel brand you're loyal to is the county and state you're traveling in. Be prepared for COVID-19 protocols to change every place you stop!
Now we say: Be prepared for everything and if the overnight accommodation doesn't meet your expectation for risk, cancel your stay.
6 Tips for Safer Road Trips
You've probably read lots of tips for car trips and advice on better road trips. Here are a few more from our recent family adventure.
1. Carry your own water bottle, face mask, wipes and hand sanitizer for every member of the family. You'll need them for every rest stop and going in and out of shops and food courts during your road trip. We also carried a half-gallon of spring water to refill our water bottles.
2. In addition to a cooler, bring breakfast. We brought cereal, fruit and juice boxes so we could supplement the terrible hotel breakfasts. Local coffee places that were serving at limited capacity usually had long lines or zero social distancing enforcement.
3. Don't be afraid of last-minute booking. We booked every stay (except the Airbnb) on the same day we arrived and the only time we called to enquire about a room, we were offered a higher rate than shown on an app.
4. We love offbeat roadside attractions but as rest stops, these were often dicey choices from a health standpoint mainly because they are old and not as well maintained. But they are priceless bits of Americana and great fun with kids. Mask up and enjoy them.
5. If you're doing a coastal road trip like we did, keep out an extra bag with bathing suits and beach towels in case you have time to stop at the beaches en route.
6. Last but not least, always make a daily stop for ice cream. It really makes the miles fly by.
Dear Reader: This page may contain affiliate links which may earn a commission if you click through and make a purchase. Our independent journalism is not influenced by any advertiser or commercial initiative unless it is clearly marked as sponsored content. As travel products change, please be sure to reconfirm all details and stay up to date with current events to ensure a safe and successful trip.
---